5th July 2019 | York
Manager's Welcome
Summer of fun!
Welcome to the summer… we all hope! This week has really felt like the start of the summer, the record temperatures, watering our new lawned garden area, lots of red faces amongst the staff… and not just because of the hot weather :-)
Also for some reason, probably all of the above, there has also been a great atmosphere in the club with lots of new and old faces having a great experience and really making the most out of their club memberships.
There are lots of new activities taking place over the coming months (including Health MOT day all day on Monday 8th July) so please continue to read below and keep an eye out for updates within the club. Be sure to read on for details about our brand new spin bikes - also make sure to visit our Facebook page where we have posted some great instructional videos about the new bikes.
Have a great July!
Gary Jepson and your Roko team.
Member Referral
Tell Your Friends & Family - 4 Weeks at Roko For Just £44
You are more likely to achieve your fitness goals when you work out with a buddy. And right now your friends can spend 4 weeks with you at Roko with a no commitment trial membership. Tag your friends on our 4 week Facebook post, refer them via the app or email them this link: https://www.roko.co.uk/york/offers/4-weeks-44
Club News and Events
Continued Investment - New Spin bikes
We were delighted to welcome brand new spin bikes into the club at the end of June and really looking forward to seeing lots more members getting an even better workout on the new matrix spin bikes.
The new bikes have some fantastic features which you can read about below:
• Ideal for precision tracking during workouts that target watts, heart rate, RPMs, distance or calories, providing personalized intensity and progress metrics
• Intuitive touchscreen Target Training Display offers engaging graphics and an LED colour wrap that helps instructors and riders gauge intensity (compatible with ANT+ and Bluetooth)
• A variety of programs including interval, pace, heart rate, goal-based workouts and Sprint 8 give riders individual training options
• Narrow Q-factor optimizes ergonomics for a real outdoor riding feel
• Low-maintenance, well-protected rear flywheel design includes magnetic resistance for smooth, consistent adjustments and watt measurement within 3% accuracy
• Contoured resistance lever provides tactile feedback for quick changes
• Intuitive adjustments customize the cycle to each user's body
• Ergonomically sculpted seat relieves pressure on touchpoints
• Comfortable multi-position handlebars with an integrated water bottle holder simulate the different grips of real road racing
• Forged steel pedal cranks include quick-adjust straps
• Quick-release access panels and easily removable pedal cranks simplify service
• Dial levelers make it easy to adjust the levelling foot after installation, maintenance or hard use without lifting the cycle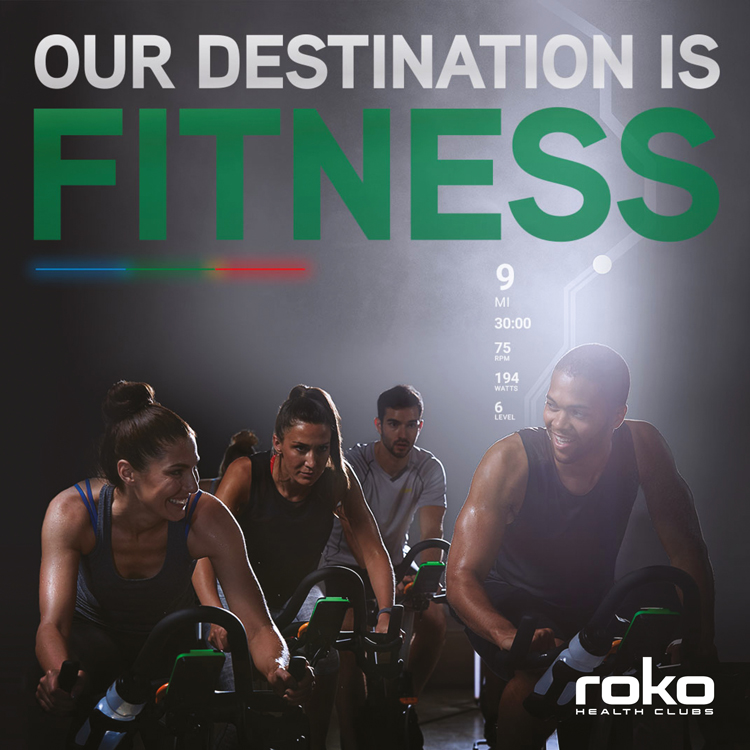 Fitness News
Summer Timetables
The summer 2019 fitness timetable and junior fitness timetable are now ready at reception for you to take a copy.
The summer timetable will run for 6 weeks from Monday 22nd July – Sunday 1st September.
Health MOT!
Health is running a Health MOT day all day on Monday 8th July! Slots are filling up quickly so don't hesitate to book your half hour slot at reception! Your Health MOT will include body composition testing, fitness testing and strength testing to give you a great over view of your overall health and fitness! The Health MOT provides a perfect starting point to kick start a new workout regime or just check up on the effectiveness of your current workout regime.
New BodyPump Instructor
One of our regular club members has recently become a qualified BodyPump Instructor!!
Darren Sage is a regular face at the club and is a keen participant of our BodyPump classes. After some encouragement from instructors, he put himself through his paces at a two-day Body Pump Instructor's Course in Manchester at the end of March. Darren recalls that "the initial training was a brilliant day - I was one of 16 students on the course and even though it was hard work, it was a very enjoyable weekend".
After passing the initial training, he then shadowed Rachel Dickenson and Hannah Ingleby whilst they took their regular Tuesday and Thursday morning classes, with the final objective in mind – he had to video himself taking a BodyPump class and submit that to be assessed. They say "third time lucky" and so after the third attempt of him videoing a class, he submitted it and ten days later, he received confirmation that he had qualified; "I found out whilst I was having a meal with my brother. I really didn't think I would qualify but to see an email from Les Mills pop up on my phone confirming that I had done it was such a relief."
"I want to pass on my thanks to Rachel Dickenson and Hannah Ingleby for allowing me to get involved in their class, to Jo Archer, Emma Moore and Marius Matulevicius for their faith and most of all, for the patience and support of my fellow club members."
Well done Darren! We will look forward to you covering some PUMP classes in the future :-)
The Les Mills Re-Launch - 6th July
Roko York is launching the NEW choreography from Saturday 6th July. A lot of our Les Mills instructors have already experienced the NEW releases and we hope you enjoy them as much as we do!
Drop It Like It's Hot!
Don't miss out on Heather's fat loss bootcamp! This 6 week course will get you through summer with weekly weigh-ins and weekly bootcamp sessions! It's JUST £50 for 6 weeks! Book at reception today to reserve your place! Bootcamp will run every Monday from the 22nd July at 7pm and will be suitable for anyone who want to drop fat and tone up! See you there!
Children's News
Summer Swim 2019
With the Summer Holidays fast approaching we are offering lots of swim lesson options to keep your children swimming and progressing over the Summer! Below are the different options we are offering and all the information you need
Group Swimming Crash Courses
Would you like to keep some structure in your child's routine this Summer Holidays? Are you going on holiday soon and would like your child to have more confidence in the water? Would half a term's worth of swimming lessons help bring them on a bit quicker with their swimming?? At Roko we highly recommend a crash course during the school holidays to help with all of the above!
Course 1:Monday 5th – Friday 9th August with Jane Power
Course 2:Monday 12th – Friday 16th August with Mel Reid
Price:£35 Members & £45 Non-Members
All lessons will be held at the same time every day:
Stage 1: 9am in the small pool
Stage 2: 9:30am in the small pool
Stage 2Advanced: 10am in the small pool
Stage 3: 10:30am in the main pool (please note Stage 3 is only available on course number 2)
*Bookings for this course open from 9am Monday 17th June
*There are 6 spaces available in each Stage.
*When signing up you must commit to the whole week
NO discounts, refunds or exchanges will be given for any missed sessions Bronze & Silver & Gold Awards
During the Summer Roko are running a Bronze & Silver & Gold courses for children in Stage 6+ or for those who have passed all the Roko stages.
The course is a great way to increase their stamina and for them to achieve a higher badge. The week intensive course does not guarantee they will achieve the badge but there will be a test on the last day to give them the opportunity to pass their Bronze, Silver or Gold award.
The course will run Monday 5th August –Friday 9th August with Jo Archer
Time:BRONZE - 09:00am, SILVER – 09:40am & GOLD – 10:20am
Price:£40 Roko members & £50 for non-members
If you would like to book a place on the course please see the reception team. If you would like further information please contact jarcher@york.roko.co.uk
Summer 2019 Intensive 1-1 weeks
This year during the Summer Roko are running a week of intensive 1-1 lessons as well as group lessons. We understand the importance of offering what each child needs and we know that a lot of children thrive from 1-1 tuition. The week intensive 1-1 course is designed around your child's needs, what you would like them to achieve and with the lessons being at the same time Monday – Friday, we are also adding structure and routine to yours and their week.
Course 1:Monday 22nd July – Friday 26th July
Course 2:Monday 29th July – Friday 2nd August both with Josh McDowell
Price:£80 Roko members & £100 for non-members
*The lessons will run between 9-11:30am Monday – Friday.
*The time of your lesson is subject to availability when making the booking.
*There are only 5 places available each week(so you need to be quick!)
*Bookings opened on Monday 17th June
If you would like to book a place on the 1-1 Intensive course, please see the reception team. If you would like further information please contact jarcher@york.roko.co.uk
Swim Enrolments Term 4 August – October 2019
The enrolment process for the August – October swim term will commence on Monday 8th July until Sunday 21st July at 1pm. Your deadline for booking on is Sunday 21st July at 1pm! All swimmers on the swap list or waiting lists will be called from Sunday 21st July from 2pm so please book your child back on before the deadline so you do not miss out! Anyone on the waiting list for swimming lessons will be called from Monday 22nd July.