3rd May 2017 | Gillingham
Manager's Welcome
As we leave April behind, our focus shifts to long hazy days and shaping up for summer. Roko is the place to be. It's time to take a fresh look at fitness and try something new. How about a new class, trying out our functional area or even better than that, booking in for a stayfit. session with one of our fantastic fitness coaches? Let us help you navigate your way through the journey to health and fitness with our team by your side. We can tailor a programme for you, reassess your goals and help with every aspect of your current programme. Whether you're struggling to lose that last few pounds or increase your muscle mass or recover from an operation or simply just want a few new ideas, we are here for you. All you need to do is book at Reception.
We are starting to repaint the club amongst other building maintenance and look forward to making things look smarter for you. Thank you for bearing with us in the meantime and we hope you will love our smarter look.
We welcome several new members off staff into the club and I am sure you will see them around over the next few weeks: Curtis to sales, Amy to Beauty, Pete to Bistro plus Wendy and George to admin.
We have just launched Nutrimino to the club, a fantastic new supplement of ready to go protein shakes and bars suitable for weight loss, maintenance and gaining. The bars are made to resemble all our chocolate favourites such as Snickers, Mars and Bounty so give one a try and let us know what you think. These are all available from the shiny new vending machine located near the beauty salon.
We will shortly be looking to launch new improved spa days, afternoon teas and other day time events so keep a look out.
In June, just in time for the summer holidays we will also be launching our children's time table including a running club, aqua and yoga to name just a few. Keep a look out around the club for launch information.
Congratulations to Andy Hill our Senior Membership Consultant who ran the London Marathon in April along with all our many loved members who also triumphed. Good luck with your entry for next year and keep a look out for our Marathon training course.
I still haven't met you all so please do stop by for a coffee and a hello. Your feedback is everything to us. We love to hear about your goals and successes too!
Have a fantastic May and don't forget Roko is here for you. Fitness, health, leisure and lifestyle.
Sam Lewis, General Manager
Member Referral Offer
Refer a friend who joins Roko and YOU BOTH receive an Elemis pro-collagen kit worth £38.70 plus a £10 pro-collagen facial voucher.
Click here for details and to refer a friend.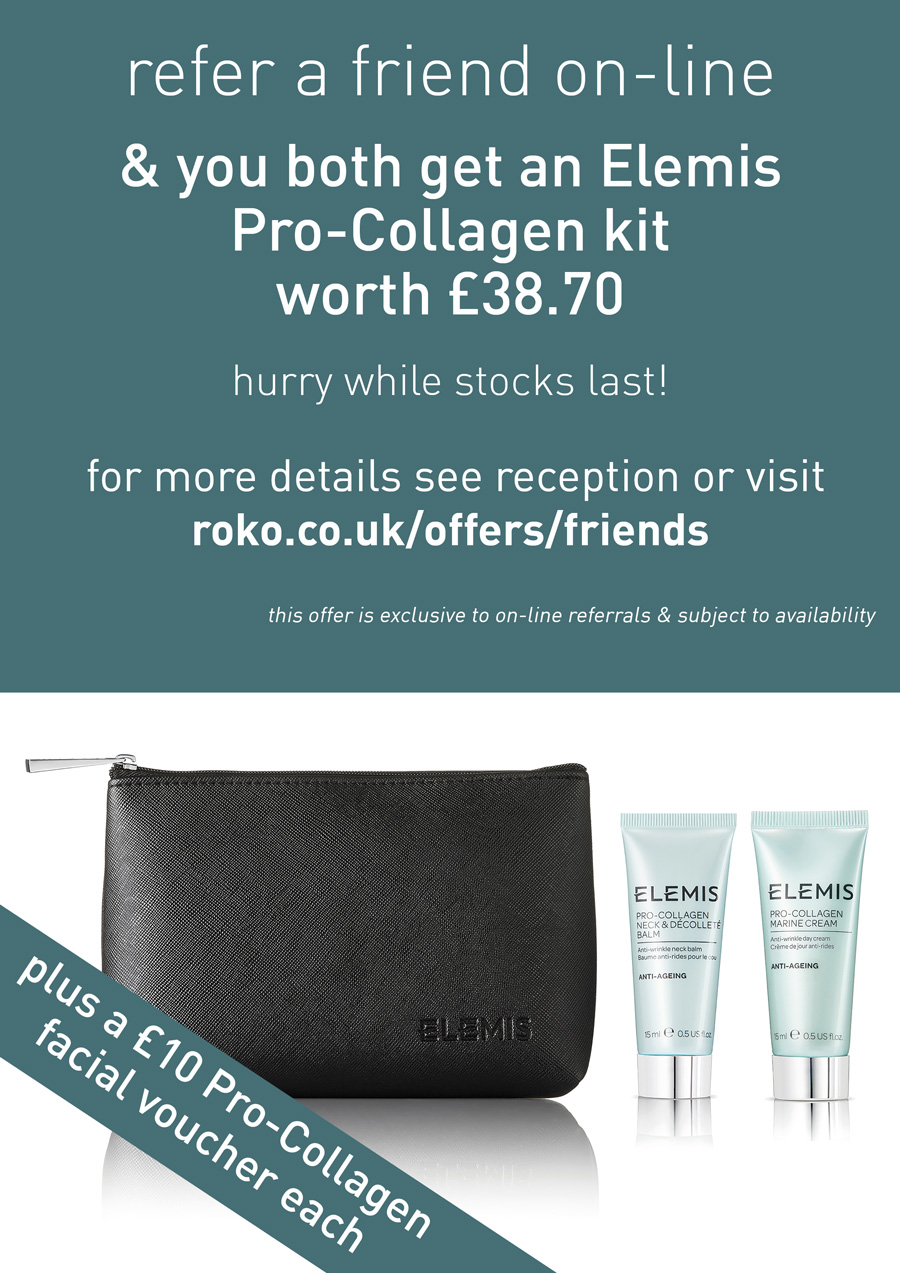 Fitness News
Here are five tips to help you set realistic goals:
1. Keep it real
A goal needs to represent something which you are willing and able to work to. If your goal is to run a marathon when you don't enjoy running and are not likely to go running, then you're setting yourself up to fail. Instead focus on something you know you will work hard to achieve. Goals will require consistent effort and specific actions that need to be taken on a daily basis.
2. Write your goals down
You are far more likely to achieve your goals if you write them down. This way you can refer to them daily to keep them at the front of your mind. Writing down goals also makes them real. It helps us commit to the goals and gives us something to visually see and reflect on.
3. Start with just one goal
If you set one goal at a time, you are more likely to achieve it rather than becoming overwhelmed and giving up on the lot. As you get that goal under control, you can slowly start to add more goals to the mix. If your goal is to get fit, start with a small dose. Too many people make the mistake of leaping into exercise when baby steps are what's needed. As your fitness increases and you feel more confident, you can start lengthening your workouts and adding more variety to the mix.
4. Make a plan
Take your one big goal and sub-group it into achievable smaller goals which are concrete, measurable and time-based. Having a deadline often helps as without a timeline, there is no sense of urgency.
5. Reward your hard work
Have rewards in place for when you reach your goals. They will not only motivate you but make you feel good when it's time for pay out. It might be that new pair of jeans you have had your eye on but not quite fitted into (until now), or a treat at a day spa.
Studio
WHAT IS BODYBALANCE?
Ideal for anyone and everyone, BODYBALANCE™ is the yoga-based class that will improve your mind, your body and your life.
During BODYBALANCE an inspired soundtrack plays as you bend and stretch through a series of simple yoga moves and embrace elements of Tai Chi and Pilates. Breathing control is a part of all the exercises, and instructors will always provide options for those just getting started. You'll strengthen your entire body and leave the class feeling calm and happy.
We run classes throughout the week so why not book on a class today!
The Spa
Hi everyone! We hope you all had a lovely Easter Bank Holiday and are enjoying the lighter evenings and warmer weather.
We have a great offer in the spa this month: Jessica GELeration manicure or pedicure for only £35.00, saving £10.00.
To accompany this offer, we will also be selling the Jessica Polishes 2 for £18! This is a fabulous way to get your nails summer holiday and sandal ready!
Don't forget we have another Bank Holiday coming up in May and the Spa will be open for business as usual. Why not treat yourself to the offer of the month or one of our other lovely treatments.
New Treatment Coming Soon : Peaceful Pregnancy Massage
If you are expecting, Roko is the place to come for your specially adapted treatments during that special time. The massage will be adapted to each stage of pregnancy and your therapist will make it as comfortable and relaxing as can be.
This inspirational therapy connects mother and baby through the power of touch, working with two heartbeats as one. Specialised positioning is used to ensure the ultimate in safety, comfort and relaxation. Helping to relieve tension in the back and alleviating swelling in the hands and feet, while easing the mind and uplifting the spirit.
Keep your eyes peeled for any other offers on products and treatments around the club or on our Facebook page.
Club Lounge
Looking for a Party Venue?
If you have a special occasion we are here to help you celebrate.
Roko Health Club is your perfect party venue for a landmark birthday, Anniversaries, Weddings, Christenings, School Parties or a simple "get together" and much more.

What we can offer you….
• Fully licenced bar from 7.30pm – 1am (Saturdays)
• Modern bar and lounge area ,air conditioned for year round comfort.
• A variety of soft and alcoholic drinks at a competitive price
• Resident DJ
• Welcome drink on arrival (optional)
• Decorations to suit your taste (optional)
• Finger Buffet available (optional)
. Ample complimentary secure overnight parking
• Discounted club hire for members
• Non-members welcome
Start thinking about your works Christmas Party… give us a call!