10th April 2018 | Gillingham

Manager's Welcome
Thank you to those who came along to the Member's Forum, it was good to have a chat and there are some really good suggestions and views that we will certainly be looking into over the coming months. I am planning our next Forum for early June, more details nearer the time.
Please ensure that you click on the links provided to update your communication preferences with us. In line with new GDPR regulations we are unable to send you this monthly email newsletter from June unless you opt-in for us to do so - thanks!
We will be re-launching our Elemis treatments and products over the next few months so keep a look out for our Elemis Re-Launch Evening and new products.
Over Easter the Bistro will be offering their daily homemade soups and also buy one get one half price on kids meals over the Easter holidays.
I hope you had a fun Easter and have an amazing April.
Sue Brothers and you Roko Team
Member Referral
Continuing for a Short Time Only
Tell Your Friends & Family - 2 Weeks at Roko For Just £20
You are more likely to achieve your fitness goals when you work out with a buddy. And right now your friends can spend 2 weeks with you at Roko with a no commitment trial membership. Tag your friends on our 2 week Facebook post or email them this link: https://www.roko.co.uk/gillingham/offers/2weeks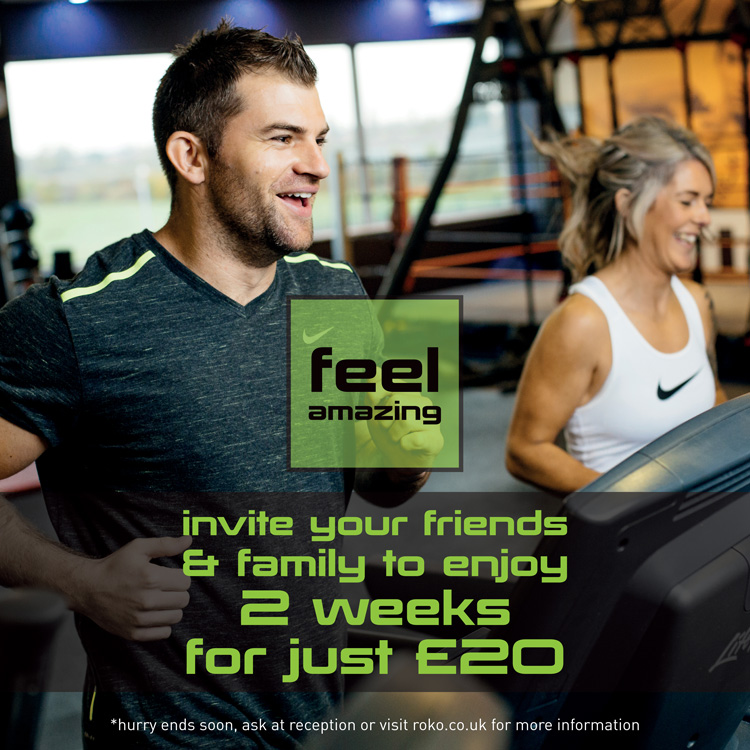 Fitness News
It's Easter month, which we all know is an excuse to eat as much chocolate as possible! But it also means were are slowly creeping towards summer and so time to start getting that summer body ready - and we have got just the thing!
Look out for the Rok-x classes on the studio timetable where you do just 30 minutes of hard work for great results. These Hiit (high intensity interval training) style workouts vary from body weight, plyometric, strength and finally circuits, where we mix it all together and provide a great way to burn fat and build strength. Either uses it as your workout or as a further addition to your training if you think you can handle it!
The Spa
It is officially summer! Make your fingers look fabulous and your toes flip flop ready with our April offers:
1. Manicure or Pedicure plus take home polish - just £26
A standard manicure or pedicure for only £26 and you can take your chosen Jessica nail polish home with you (worth £10.50)
or
2. Save £7 off Geleration
Choose a Jessica geleration manicure or pedicure for only £25 (normally £32)
For bookings and enquiries please call us on 01634233348
We look forward to hearing from you.
The Spa team