3rd July 2017 | Chiswick
Manager's Message
Welcome to this month's newsletter. We are very excited to announce that we have now agreed Stage 1 of a two-phase gym floor refurbishment! Plans are starting to take shape which is very exciting and as soon as we have the confirmed dates for the equipment installation we will ensure all detail is advertised in the club for your information. The refurb will not involve any closure but may include some minimal disruption, please see club notices for details or click here for more details.
With the holiday season due to start we expect to see an increased amount of cover for classes. For details please see notice boards and our reception team who will have an up to date cover list.
Just a reminder to both new and long term club members, you are able to take advantage of a Roko Fit session with one of the fitness team. The session is a 121 designed for you to spend time with one of the team to identify how we can best support and assist you with your training, fitness and enjoyment. Gym Fit and Stay Fit are available on the gym floor; Class Fit for the studios and shortly we will be able to offer Swim Fit with the team from sports generation. Please see notice boards or speak to any of the team for further details and to book.
Family swim hours proposed changes from 1st August – we plan to extend the current family hours to include Tuesdays and Thursdays, 3 - 530pm. We anticipate this having limited disruption on your swim experience and will continue to offer 1 adult only swim lane throughout the time. If you have any feedback on this proposal please contact me on: bholden@chiswickbridge.roko.co.uk
THANK YOU to those of you who sponsored our Beauty Manager Lara for her first London Marathon. Lara completed it in 5 hours raising over £1500 for Cancer Research. An incredible achievement, having got her place at short notice. It is safe to say she was very sore for the few days following but is now hooked! We welcome Jamie Baker to the team this month to our membership team.
Member Forum – I will be offering the usual opportunity to come and meet me in the club. With a view to the family swim changes the times will be: Tuesday 11th July 3pm & Tuesday 13th July 430pm
Warm regards,
Ben Holden, General Manager
Friends & Family Offer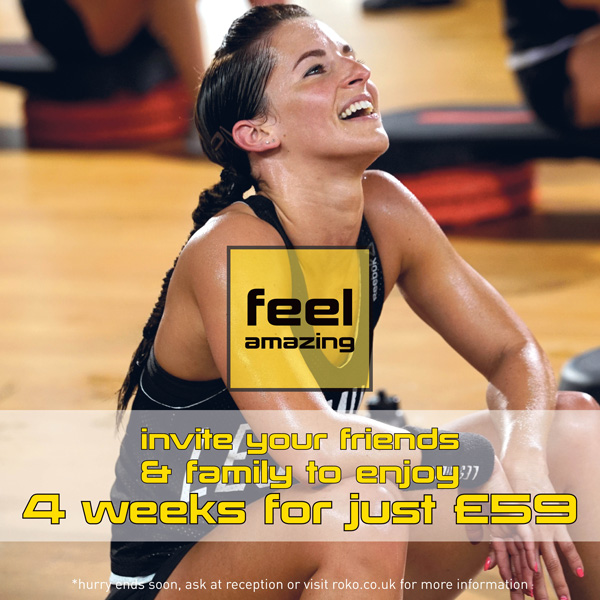 Invite your friends & family to join you at the club this month with a 4 week membership for just £59.
Fitness News
from Liz Jones Fitness Manager
Great News ahead!
We have confirmed the First phase of our Gym floor refurbishment works! We are currently looking at an installation date of the new kit in late August but will confirm this via the August Newsletter and in-club notices.
The initial investment will see cardio kit from the latest Life Fitness range, New Hammer Strength kit and a Brand new Synergy XL Rig.
We will follow this initial install with further kit later in the year! More details can be found here
In other news, survive the heatwave and do remember to drink plenty of water. The recommended daily intake is 3litres/day so do bear in mind drinking extra when it's hot. We recommend drinking 1litre of water within the first hour of waking to help keep hydrated during your day.
Do keep an eye out for our reduced summer timetable during the summer holidays, cover details will be on notice boards.
Club News
Members are reminded that they are members of Roko health club and this does not include the grounds outside of the club which is owned by the university. Sun bathing is not permitted as it is not a public park, and if members wish to train outside they can hire the space by contacting the university. Thank you for your co-operation.
Membership Team
This month we say goodbye to Tess Saint-Towers who will now be working as a part time Duty Manager. We welcome Jamie Baker to our team of three which includes Darrell Harris. Jaimie starts on the 3rd July and soon after will be out in the club getting to know you all! Last month saw 80 new members join Roko Chiswick, may I take this opportunity to extend a very warm welcome again to them all. Warm regards, Atik Oumast, Sales Manager
Family Swim Times
Family swim hours proposed changes from 1st August – we plan to extend the current family hours of 3 - 6pm Friday and 1-6pm Saturday & Sunday to include:
Tuesday and Thursday 3 - 530pm
We anticipate this having limited disruption on your swim experience and will continue to offer 1 adult only swim lane throughout the time.
If you have any feedback on this proposal please contact Ben Holden, General Manager on: bholden@chiswickbridge.roko.co.uk
Café Terra News
from Eric Fatah Manager of Café Terra
Hello and a warm welcome to both new and long term customers from Eric, Faycel and Mahdi. We aim to provide a great selection of hot and cold food and refreshments every day:
8am - 8pm Monday to Friday and 8am - 6.30pm on weekends.
If you train outside of these times don't hesitate to pre-order from our menu and we can ensure it is ready for you to collect when you finish
New this month – Vegan Shake
& don't forget to collect your loyalty card from the team for tea and coffee.
We look forward to seeing you soon!
Maintenance Update
from Chris Nicolaou, Maintenance Manager
A great deal of work and maintenance has been done on the club in the past 3 months or so. Most recently new showers on poolside; upgrading of spa controls; deep cleaning of the drains; new ventilation panel by spa pool and the spa pool actuator has been replaced so we can better control the water temperature. The water has been on the hot side! Thank you to members for their feedback in the club, bringing any issues to my attention and for noticing the improvements day to day. We appreciate your patience with all maintenance issues and please be assured that we do our utmost to act on issues as promptly as we can.
Beauty Spa Update
from Lara Chatten Spa Manager
News
New opening times for Mondays 9 - 5.30pm!
Get that Monday summer feeling with 30% off treatments every Monday in the month of July!
ELEMIS Targeted Toning Tightener now available in The Spa (Booked with Lara & Kaye only)
New Prices for Gellux Manicure (£40) and Pedicure (£45)
NEW MEMBERS – all new members who joined January-June 2017 are welcomed to come to The Spa for a free 15-minute Beauty and Lifestyle Consultation. We will be able to discuss your skin and body needs, explain our treatment and retail range and also offer you a one off discount on our treatments. If you would like to book, please call us on 0208 747 5756.
Another new therapist joining our team, Helai Mangal. She will be working with us on Sundays.
July Offers
July-September Offer – Save £20 off Eyelash Extensions was £75 now £55 (Booked with Lara only)
Targeted Toning Tightener £10 off
Spray Tan Thursdays - £15 (Thursday Only)
½ Price Intensely Clean Salt Scrub with every Spray Tan booking
Fun Fact for July:
Lipstick was an essential item in World War II
Even though any type of make-up was pretty scarce at the time, female nurses in the Second World War always wore red lipstick. This was done to remind the nurses that they were still ladies, and it was also believed to have a calming effect on the injured soldiers.
Top Tips for the Summer
Wash your face: Wash your face at least 4 times a day with a mild cleanser. Avoid cream based cleansers (unless you have very dry skin!) because they tend to leave your skin oily. Use a gel based scrub at least twice a week to get rid of the tan and dead skin cells. The exfoliation will help to keep your face look smooth and clear.
Oil your hair: Oil you hair and let the oil soak in for just about an hour before you shampoo. After you shampoo, ensure that you deep condition your hair at least twice a week to keep your hair healthy and free from dirt
Pamper your face with packs: Stick to homemade packs, because they are the best, not just in summers, but all year round! Use a mix of yogurt, sandalwood powder, tomato juice and aloe vera gel. This mix will not only cleanse the skin, but also add a glow to your face.
Stepping out: Ensure that you carry some facial blotting paper to soak up the excess oil, a sunscreen lotion, wet wipes and a lip balm when you step out. Apply the lip balm frequently so that your lips are hydrated. Apply a sunscreen if you are outdoors and reapply at least once in four hours if your work demands you to be outdoors.
Add the glow to your face: Want to look fresh instantly? Use a face spritz to add that instant glow to your face. Remove the excess spritz with some blotting paper to reveal smooth and glowing skin.
Alternative Therapists
Samia Gomez – Clinic4Sport
Clinic4Sport is a Sports Injury Clinic based at Roko Chiswick Bridge (upstairs in gym floor) and is here to look after your injuries. Therapists are trained to provide you with: Injury assessment and treatment, Injury Rehabilitation, Massage Therapy, Pilates and Fitness specific following injury.
Special Offer: Book an initial consultation and receive 30 minutes free massage (offer valid till 31st August 2017)
JULY Staff Member in focus:
Name: Helai Mangal
Job Role: Spa Therapist
Brief Background: I have Afgan roots and have lived in Germany my whole life until December 2016 when I moved to London. I finished my cosmetic diploma and university degrees in Germany.
Favourite thing about your job: Cosmetic Treatments as they can be part of your lifestyle, can influence your soul and are good for your health.
Hobbies outside of work: Different kinds of sports and being close to nature.
An interesting fact about yourself: I'm a little bit crazy and people have fun with me.
If you were stuck on a desert island what would you have with you and why? I'd like to have a nice bikini and my cosmetic creams J