1st February 2017 | Chiswick
Manager's Welcome
So January has already come and gone! It has been great to see so many of you in the club getting back into the routine. There has been lots of conversation around new goals and a renewed focus on those New Year resolutions.
Below Liz shares some of the details of our new your rokofit. programme. If new goals are a focus for you let me encourage you to make sure you book in with one of the team for a stayfit. session this month.
There is great news to share with changes to the fitness team with Sam and Chrispin starting with us as trainers. You will see them in the club throughout the month, I'm sure they would love to chat to you and help you with any questions you may have.
We have decided to add an operational update to the newsletter this month to keep you in the loop with the changes, improvements and fixes across the club. We are constantly looking for ways to improve
Lastly January was the first month that we held GM forum times; providing you with an opportunity to come and discuss the club with me in a relaxed, informal setting.
The times for this month are as follows:
Thursday 9th February 7pm
Wednesday 15th February 6.30pm
Outside of these if you have any feedback or would like to talk things through then please do get in touch on bholden@chiswickbridge.roko.co.uk
Ben Holden and Your Roko Chiswick Bridge Team.
Member Referral Offer Continues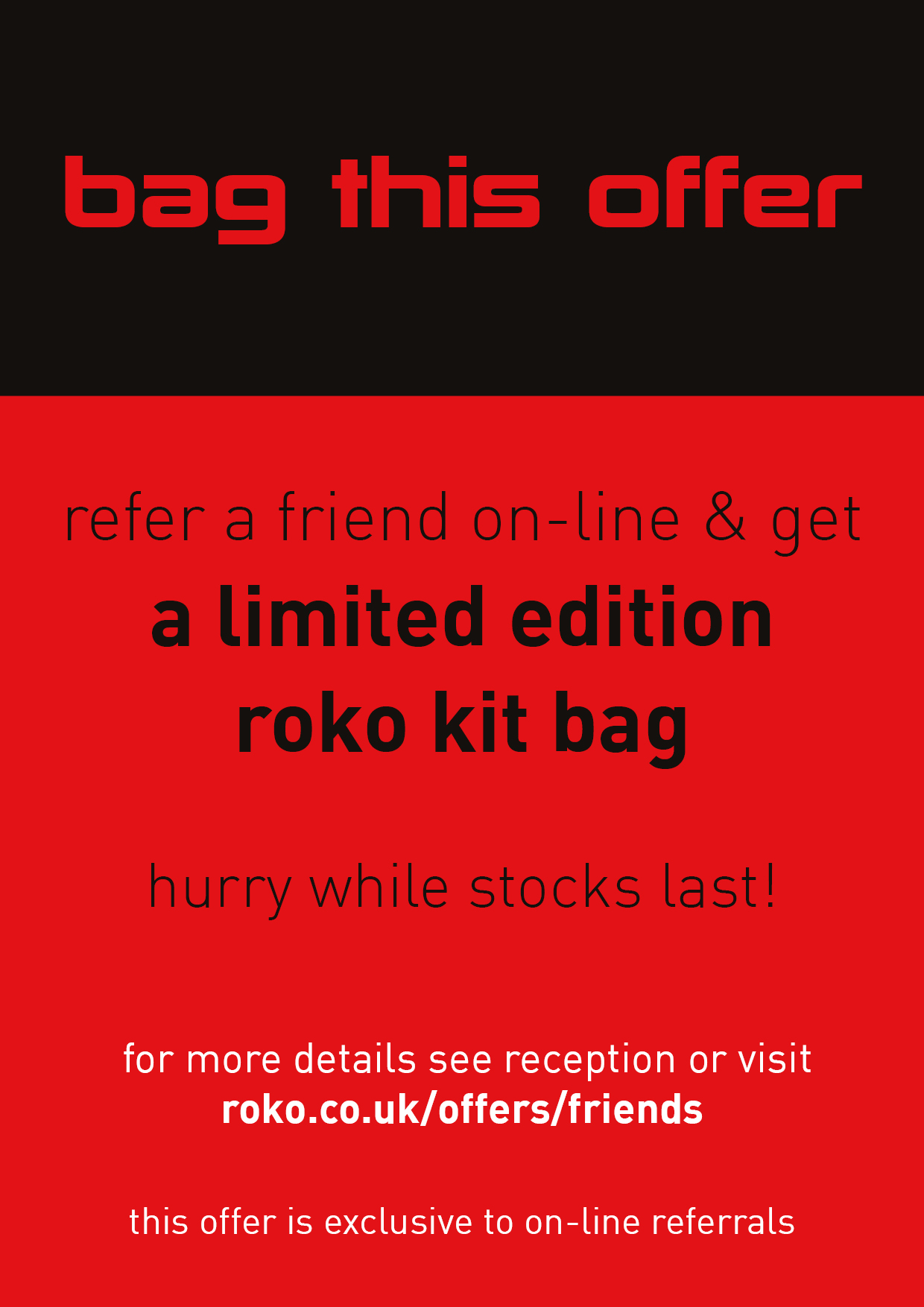 Free Half Term Family Open Week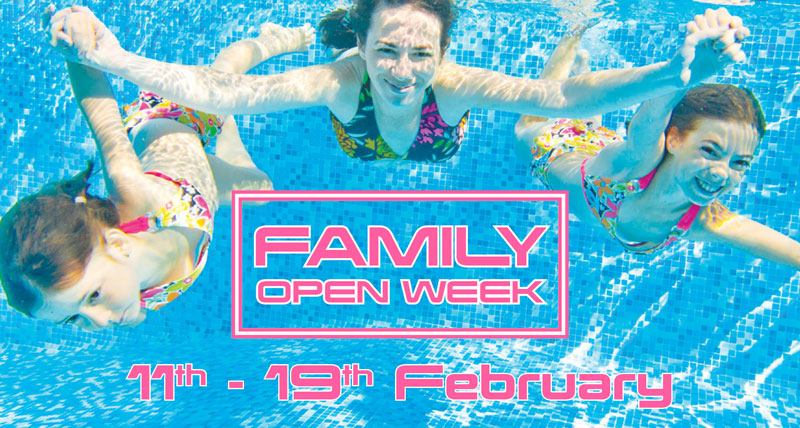 invite your friends and family to a free day during our free half term open week
To book a friend, couple or family onto one of our free open week days between Saturday the 11th February and Sunday the 19th February call the club, ask at reception or fill out an on-line form by clicking here.
It's A ♥ Thing

Add a loved one to your membership during February to create a couple membership and your partner will get the rest of February for FREE. Click here for more information.
Operations Update
Many of you have mentioned the frustrations with the car park barrier. We hope that this will be resolved in the first week of the month. At this point we will be changing the code on a regular basis. Please look out for the new code at Reception.
We have also had the Sauna operating below temperature for a few weeks now. We are delighted to say that the Sauna heating elements will be replaced in early February. This will mean the Sauna is operating normally to allow you to relax and unwind!
We hope to make some other improvements to the club throughout the month and will keep you updated through the notice boards and Ben's GM forum. If there is anything that you would like to feedback on directly then please drop me a line on: Jennifer.Sanders@sportsleisuregroup.com
Fitness News
Update from The Gym Floor
From Monday 6th February there will be two new members to the Fitness Team. Chrispin will be joining as a free-lance Personal Trainer, and Sam will be a Fitness Coach and Personal Trainer.
Chrispin has been running his own Personal Trainer business around West London for over 8 years and has worked internationally in the past. He works one-on-one or with groups to provide a range of training including power training, functional training, special populations as well as core stability. A well-rounded trainer with knowledge of nutrition and qualified sports masseur, who will certainly be an asset to the club.
Sam will join us on the gym floor as a Fitness Coach primarily but will develop to build a Personal Training clientele also. He is an experienced Fitness Instructor and rugby player bringing a strong sporting background with him into the club. Sam, originally from South-west London, is going to provide all our members with service and support during training, and that option to work harder for Personal Training.
Look out for both Chrispin and Sam's profiles in club soon.
Achieve your goals at Roko
Keep your training on track with a stayfit. appointment. The opportunity to have your programme reviewed and gain advice on achieving your goal. We will soon be providing body statistic measurements to help track your progress.

Every member within our Club is unique so whatever your health and fitness goal we are here to help and support you – it's personal. Your rokofit ensures you have the best possible opportunity to achieve your health & fitness goals throughout the life of your membership. And there's no better time to book in with one of our fitness professionals to keep your new year's resolutions on track or simply to have a play on some of the new equipment within the gym. All Your rokofit appointments are included as part of your membership and we recommend you see an instructor for 30 minutes every 6 weeks or so to ensure you stay focused and are achieving your all-important lifestyle goals. If of interest, a short fitness assessment is also included to track your progress.

gymfit.
1 hour in the gym with a member of the fitness team. gymfit. sessions are for all members regardless of experience; we will tailor the session to you, your experience and needs. We will take measurements and design a programme to help you achieve, then track your progress over time. More simply we can show you some new techniques and make sure you'll be using the equipment safely and effectively.

swimfit.
30 minutes in the pool with a swim specialist. Our swimming specialist will guide you through pool based activities available within the Club. swimfit. is also a supervised pool based session where you can get in the water, try out a session and pick up hints and tips on technique to ensure you fully enjoy your swim sessions.

classfit.
30 minutes with a member of the fitness team. classfit. gives you the opportunity to meet with one of our qualified and experienced instructors to get the full run down on all things class related. You can find out all about the group exercise classes we offer in our Studios, Pools and on the Gym floor - which ones are right for you and how to get involved.

stayfit.
30 minutes in the gym with a member of the fitness team. stayfit. sessions can be motivational, give specific programme advice or get you re-focused and back on track – it's what you need it to be. stayfit. also lets you have your measurements re-taken to check your progress and reset goals. It's worth having regular stayfit. sessions every six to eight weeks to keep you focused and moving forwards.
Next time you're in club, why not book your next rokofit. session.
Clinic 4 Sport
Don't miss out on Monday evening sports clinic with the team from Clinic 4 Sport, 5.30-8.30pm during January and February. They are on hand to provide:
Free 10min injury assessments
Free short stretching session
Free 10min sports massage
Free short foam roller session
Look for their tables set up outside the spin and energise studios.
Clinic4Spot is your Sports Injury Clinic based upstairs in the gym at Roko Chiswick Bridge and they are here to help you get rid of your injuries/niggles this winter. Visit their website to book and request appointments: www.clinic4sport.com
Stay injury free with Clinic4Sport!
The Spa @ Roko Chiswick
This February Love is in the air! Why not treat your loved ones to a spa day? Or Purchase one of our fantastic Gift Sets for that special someone.
For a limited time only we will be offering an extra 25% off all gift sets. Hurry while stocks last!
Also this month, our Absolute Spa Ritual or Men's Total Time Out treatments will be £95, which is a 1 hour full body massage followed by a 1 hour facial tailored to your needs, for total top to toe relaxation!
Our quarterly offer, valid until 31st March, we are offering a Deluxe Manicure for £31.
Pop in to The Spa or call us on 0208 747 5756 to book or enquire about these treatments.
Vouchers are available for all treatments, offers and spa days. We look forward to seeing you soon!
Lara Chatten
Alternative therapists available at the club:
Sebastiano & Maria – Bellezza Clinic
Profhilo is the first BDDE-free stabilised ectable hyaluronic acid (HA) based product for treating skin laxity. With one of the highest concentrations of HA on the market (64mg/2ml) it is not only boosting and hydrating the skin, but also remodels the ageing and sagging tissue. Profhilo delivers great results as a treatment on its own or in combination with other aesthetics treatments currently on offer.
Profhilo is creating a real buzz amongst the practitioners many referring to it 'as something they have been waiting for' or as 'the most exciting development in injectable treatments in a long time'. A new discovery that will change the way we use skin boosters. Profhilo is bio compatible, which means it can be used alongside other treatments, even botox and dermal fillers.
Its secure, due to its high purity and absence of additives, Profhilo offers greater safety and therefore reduced side effects.
Its effective, the patented technology of Profhilo offers a prolonged duration and is also innovative.
Two treatments are needed at 4 week interval and repeated again within one year.
Follow us on Instagram for further information: @bellezzacliniclondon