3rd October 2017 | York
Manager's Message
New Equipment
I have to say it's fantastic to see so many members using our fabulous new equipment. Reading all of the positive comment cards about the improvements we have made to the fitness arena is great for all the team here who work hard every day to ensure your member experience is an excellent one.
Our newly created performance zone enables you to take your fitness and ability to a new level. The performance zone helps you to get more variety and results from your workouts with specialist performance equipment including Technogym Skillmills, Wattbikes, Life Fitness Power Mills and Row GX Trainers and Power Plates.
Don't forget this is phase 1 and soon we will be announcing plans for phase 2 so watch this space but for now keep enjoying the area and if you need any help our fitness team are always available.
Have a great October - and special congratulations and cheers if you are challenging yourself with Stoptober or Go Sober For October! Don't forget that exercise is fantastic for both of these challenges because it releases feel good endorphins and can stave off the craving for nicotine and/or alcohol.
Gary Jepson and your Roko York team
Member Referral Offer
Introduce a friend to Roko and if they decide to join then we'll give you both a Roko voucher pack worth over £100. There's no limit to the number of friends you can refer and receive rewards for and we hope you can really benefit from this voucher pack.
Simply click here to refer your friends on-line and we'll contact them to arrange their personalised tour
Fitness News
Synergy X
Last month saw us undergo a complete gym transformation with the introduction of our Synergy Rig, Power Mills, Skill Mills, Watt Bikes, Water Rower and Hammer Strength Power Rack. October sees the launch of our new Synergy Fast Classes on the gym floor! Keep your eye out for our new synergy x and synergy gold class timetable for your chance to have fun whilst learning exercises that unleash the full potential of our exciting new kit!
Welcome to the Team
Roko are excited to welcome 3 new members of staff to our fitness team. Marius is a qualified chef and has recently undergone a body transformation himself losing a massive 2 stone. Marius is also completing his level 4 in exercise and training for lower back pain. Nadia is another fantastic new addition to the team, with her extensive training at master's level in psychology she is perfectly equipped to motivate you on your fitness journey. Nadia also has a keen interest in strength training and CrossFit style training! Finally we would like to welcome Sarah to the fitness team. Not one to be messed with Sarah is completing her 2nd Dan in taekwondo and also has a keen interest in adventure sports and cycling having trained and coached in both these areas. Marius, Nadia and Sarah look forward to helping you on your fitness journey with Roko Health Club. Please join us in giving them a big Roko welcome.
BO*AB Hair & Beauty
Don't forget we have Adam Brady, of BO*AB Hair & Beauty, operating as a stylist for both men and women with Edwina Moses providing beauty treatments and complementary therapies. They can both be contacted on 01904 476 391 for booking and more information
Latest Beauty News
Due to being so busy we now require another hair stylist. You will require previous experience and references and chair rental is available. All interested parties should contact the club or email GJepson@york.roko.co.uk
Children's News
Swim Enrolments
It is that time again! The deadline for booking on to the next swim term is Saturday 7th October at 1pm! All spaces remaining after this date and time will be offered to people on the SWAP list and waiting lists! You MUST present your enrolment form at reception to book you child back on. No Form = No Booking!
NEW Swimming Lessons Term Dates
When it comes to swimming lessons term dates we usually do 5 x 10 week courses throughout the year and have 2 weeks off at Christmas. This year is going to be slightly different because we are getting the pool floor re-surfaced in August. This current swim term, term 4 will run until week ending Friday 13th October. The dates for Term 5, the final term of the year, will run from SATURDAY 14TH OCTOBER – FRIDAY 22ND DECEMBER. The information will be clearly marked on your child's enrolment letter each term so please read and make a note in your diaries. For any information please email jarcher@york.roko.co.uk.
Term 5 Enrolments
Enrolments for January 2018 will open on week 7 of Term 5. This is a week earlier than normal so please make a note in your diary. The bookings for January 2018 for current swimmers will close Sunday 10th December at 1pm!! Context directly underneath

Bronze, Silver & Gold Swim Course
Following the success of the summer swim BRONZE crash courses, we are pleased to announce that there will be another course in the October half term! This is for children who are in Stage 6 or above and we invite members and non-members on to the course. Bookings for this crash course are made through the swim coordinator. If you would like more information or would like to book in please contact, jarcher@york.roko.co.uk
Half Term Crash Course
ROKO are offering an intense swimming course over the Half Term. The course is designed for complete beginners as well as children who have been in swimming lessons for a long time but seem to be stuck at the same level! During the 1 week course your child will have the consistency of the same teacher and the class will be at the same time Mon-Fri. By booking your child on to the intensive course you will be giving them half of a full 10 x week swimming term in just 1 week!! If you want to see results in a short period of time, then these "Crash" courses might be the answer for you and your child.
Dates: Monday 30th October – Friday 3rd November with Mel Reid
Course Price: £35 Members /£45 Non-Members
Spaces go on sale on Monday 2nd October at 9am. There are 6 spaces available in each Stage. Each stage will be at the same time every day for each of the 3 courses:
Stage 1: 9am
Stage 2: 9:30am
Stage 2 Advanced: 10am
Stage 3: 10:30am (Main Pool)
When signing up you must commit to the whole week –NO refunds will be given for any missed sessions!
If you require further information about the October Half term Crash Courses, please email jarcher@york.roko.co.uk
Club Lounge
Protein Shakes
Tired of the same old protein shake after your work out?
Why not choose one from our menu, blended with fresh fruit and top quality ingredients…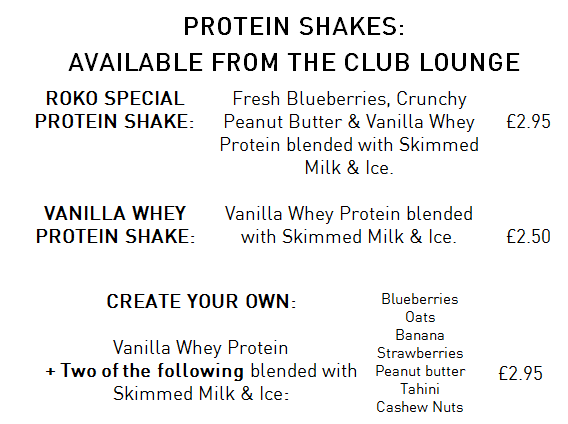 Nutramino XL Shakes
Worked hard?
With 50 grams of protein and quickly-absorbed carbohydrates, the Protein XL shake is the perfect work out companion!
Available from the Club Lounge