6th March 2019 | York
Manager's Welcome
Help Required!
Car Park
Can we please ask you to help us manage car parking at the club and members with cars to not to park in the first bay as you drive into the club. This is causing a number of issues with high sided vehicles having to park in front of the entrance gate which is resulting in congestion and an obstruction.
There are also cars parking in the bus stop area that is causing issues when children are using the crossing as they cannot see past the parked cars which could potentially cause an accident.
While it may seem a small matter it also caused an issue in February when we had to call an ambulance to deal with an incident but the ambulance couldn't get close to the building because the entrance gate was blocked.
Thank you in advance and have a great month
Gary Jepson & your Roko Team
tell your friends & family - 2 weeks for just £20
You are more likely to achieve your fitness goals when you work out with a buddy. And right now until the 17th of March, your friends can spend 2 weeks with you at Roko with a no commitment trial membership. Tag your friends on our 2 week Facebook post or email them this link: https://www.roko.co.uk/york/offers/buynow20

Fitness News
Adult Swimming Lessons
Have you ever wanted to learn front crawl but not known where to begin? Can you swim a strong breaststroke but would like to learn a new stroke? Can you swim front crawl but would like to advance your techniques for a triathlon? Well Roko York offers these types of courses for adults all the year through.
The next course will run from Tuesday 5th March – Tuesday 9th April with James Taylor. We have a beginner's front crawl 7-7:45pm and an intermediate to advanced course 7:45-8:30pm.
The price of the 6 week course is £60 for Roko members and £75 for non-members. If you would like more information, please do not hesitate to contact jarcher@york.roko.co.uk Bookings are now open so if you would like to book on please speak to the reception team.
Swimfit.
Roko York also runs a session on a Tuesday night called swimfit. This is FREE to our adult members and in this session one of our expert swim instructors will help you to improve your fitness or stroke (or both) by advising which practices to do and suggesting technique to improve your overall stroke.
The session is 6:30-7pm on a Tuesday night with James. Book via the app or at reception.
Beauty By Victoria
Don't forget all Roko members receive discount off treatments at Beauty by Victoria. To book please contact 07872909695. Pick out your favourites from the treatment menu below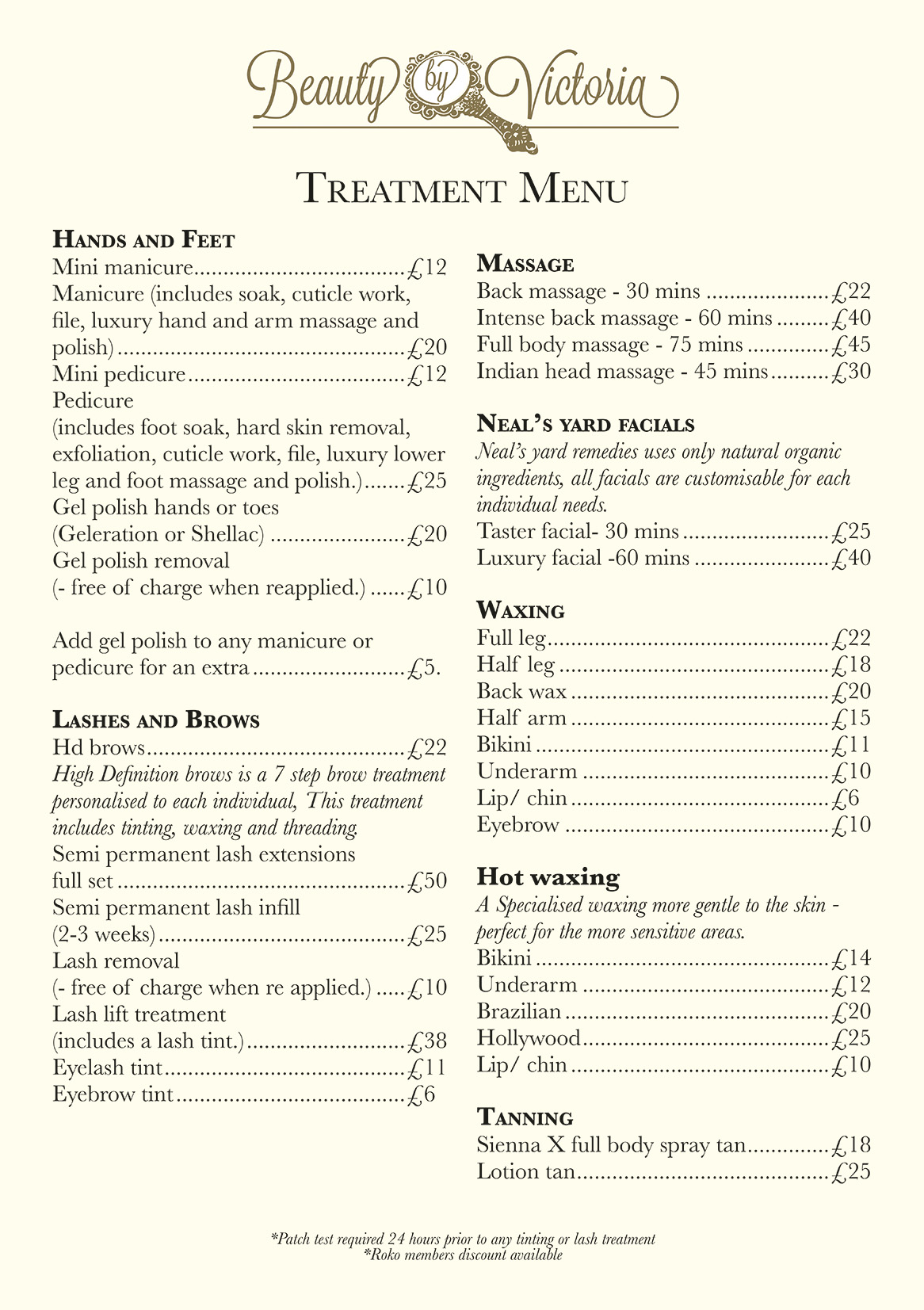 Ascenti Physiotherapy
Meet your on-site Ascenti physiotherapist
Ascenti is the leading independent provider of physiotherapy and associated services in the UK, helping people to elevate their health and live active lives.
Anna Martin is a Senior Physiotherapist with Ascenti, and delivers physiotherapy appointments from the BO*AB Hair & Beauty Salon on the main gym floor every Monday. If you are looking for advice on how to manage an injury or if you have any other physio-related questions, please feel free to approach Anna in the gym and she will be happy to assist you.
Anna has worked for Ascenti for over four years. She completed her Physiotherapy degree at York St John University in 2014 following on from her degree in Sport and Exercise Science from Nottingham Trent.
Having been involved with sport from a young age, Anna has always had a keen interest in swimming and athletics, having competed at regional and national level. She has significant experience in the treatment and management of neck and back injuries, and has recently been focusing on knee and shoulder injuries as well as exploring pain management in long term chronic conditions. To book an appointment with Anna, please contact our central booking team on 0330 678 0580.
For more information about Ascenti, please visit our website at www.ascenti.co.uk.
Club Events
Sport Relief
Keep your eyes peeled and get involved in our FUNdraising activities on Friday 15th March! Help us get active and raise money for Comic Relief.
Premier Partners
New premier partner deal alert
20% off food & drink at The Principal York
From cocktails in Chapter House bar to afternoon tea in The Garden Room and dinner in The Refectory Kitchen& Terrace, Roko gym members receive 20% off food and drink in one of York's grandest hotels.
To find out more and to book, visit: https://www.phcompany.com/principal/york-hotel/
Discount valid for Roko gym members only. Membership card must be shown to claim the 20% discount on food and drink. Available seven days a week until 31 December 2019. Not valid in conjunction with any other offer.
Principal York, Station Road, York YO24 1AA
Children's News
Timetable Changes!
Family bootcamp 4.45pm -5.30pm
​This class is for both parents and children suitable for 5 years plus! This bootcamp style class will get everybody working hard and as a team. Children must bring their grownups with them as it is fun for ALL the family
Welcome to the Swim team Josh McDowell!!
Josh is our new swim teacher and will be teaching swimming lessons on a Saturday morning. Josh was the boys Captain of the York swim squad for many years and now he is sharing his knowledge and skills with our young swimmers here at Roko.
To introduce Josh to the Roko family we have an exclusive swim 1-1 offer for our young swimmers! Josh is offering 6 x half hour 1-1 sessions for £96! These sessions will be held on a Saturday afternoon for 6 consecutive weeks. If you are looking for some 1-1 sessions to bring your children on with either a particular element of swimming or confidence, we strongly recommend this 6 x week course. If you would like further information or would like to book a place please email jarcher@york.roko.co.uk
March 2019 Swimming Lesson Enrolments
The enrolment process for the March – May swim term has begun and your deadline for booking on is Sunday 3rd march at 1pm! All swimmers on the swap list or waiting lists will be called from Sunday 3rd March from 2pm so please book your child back on before the deadline so you do not miss out!
Easter 2019 Swim Crash course!
If you are already looking ahead to the Easter holidays, here are the details of the intensive swim course so you can plan your children's time off!
Would you like to keep some structure in your child's routine this coming Easter Break? Would half a term's worth of swimming lessons help bring them on a bit quicker with their swimming?? At Roko we highly recommend a crash course during the school holidays to help with all of the above!
Monday 15th April – Friday 19th April with Jo Archer
£35 Members & £45 Non-Members
All lessons will be held at the same time every day:
Stage 1 & 2: 8:30am in the small pool
Stage 2 Advanced & 3 Beginners: 9am in the main pool
There are 6 spaces available in each Stage.
When signing up you must commit to the whole week.
NO discounts or refunds will be given for any missed sessions.
If you would like any more information please contact Jo Archer jarcher@york.roko.co.uk or to book, please speak to the reception team
Bronze, Silver and Gold Swim Awards Course
During the first week of the Easter holidays Roko are running a Bronze & Silver & Gold courses for children in Stage 6+ or for those who have passed all the Roko stages. The course is a great way to increase their stamina and for them to achieve a higher badge. The week intensive course does not guarantee they will achieve the badge but there will be a test on the last day to give them the opportunity to pass their Bronze, Silver or Gold award.
The course will run: Monday 15th April –Friday 19th April with Jo A
Time: 9:30am-10:10am Bronze, 10:10am – 10:50am Silver 10:50am – 11:30am GOLD
Price: £40 Roko members & £50 for non-members
If you would like further information about the course please contact jarcher@york.roko.co.uk