2nd March 2018 | York
Manager's Welcome
Roko's 10 Year Anniversary
As I'm sure many of you will be aware, Roko York is 10 years old this year and the team and I are busy planning a celebration at which we hope members and staff alike can come together for a great day and night! We are working hard at the minute to decide on the date and what the celebrations will entail so keep an eye out for next month's newsletter where we will announce our plans.
The BIG Freeze
As we come out of the back of some awful weather (and hopefully moving towards spring time) I just wanted to thank our members for their patience with us when it came to classes being altered and re-arranging gym appointments. On a more positive note it was great to see so many members continuing with their routines and not letting the snow, ice, or cold snap put you off something you really enjoy… good on you!
Have a great March and may it put a spring in your step!
Gary Jepson and Your Roko Team
Member Referral
Tell Your Friends & Family - 2 Weeks at Roko For Just £20
You are more likely to achieve your fitness goals when you work out with a buddy. And right now your friends can spend 2 weeks with you at Roko with a no commitment trial membership. Tag your friends on our 2 week Facebook post or email them this link: https://www.roko.co.uk/york/offers/2weeks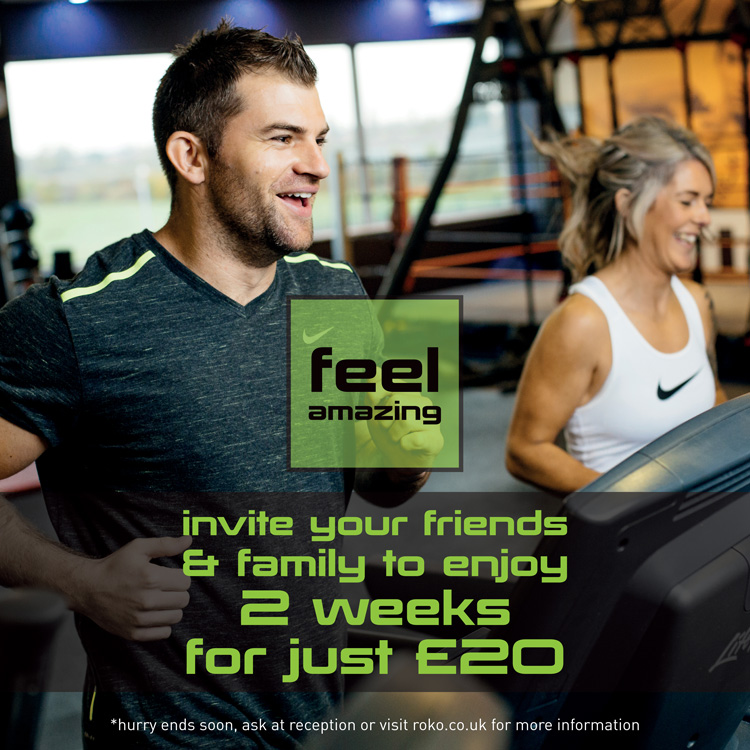 Fitness News
New Team Member
Huge welcome to our newest member of the fitness team: James. James will join the team in leading the Rok-x classes and delivering your gymfit. and stayfit. sessions. James is an experienced personal trainer and is currently studying a degree in strength and conditioning so is more than qualified to help you set and achieve your goals at Roko Health Club.
Competition Winner
Congratulations to members Devon Broughton and Louise Barker for winning our Roko wide social media competition. We loved your #lovemyroko posts and we hope you both enjoy your two PT sessions!
Adult Front Crawl Swimming Courses
This year Roko are focusing on getting more adults to try something new in the pool. We know people are busy so instead of long courses with weeks of commitment, we are cutting the courses down and specialising in different areas such as front crawl breathing, front crawl for beginners, front crawl for triathlons etc. We are now taking bookings for our 2nd Front Crawl course of the year. The course will be held on a Tuesday night between 7-7:45pm with James Taylor. The first session is Tuesday 6th March. If you are interested in booking on to this course or would like more information, please email jarcher@york.roko.co.uk
Club News and Events
New Premier Partner
Fleetways Taxis provide your customers with 10% discount on all journeys to and from Roko . In order to receive this discount please show your Roko membership card and quote Roko when booking.Below is a little bit of information about Fleetways for anyway wanting to use their services:

Fleetways Taxis advise you to book your taxis with advance notice wherever possible, as we are a prebook taxi service, so our prebooked customers must take precedence over any ASAP journeys. Fleetways Taxis will, however, provide ASAP taxis wherever possible.

Please note that Fleetways Taxis is so much more than just a taxi service. We also provide the following services:

• Wheelchair Accessible Vehicles
• Female driver requests for young or vulnerable customers • Multi seater vehicles to seat up to 8 passengers.
• Low car requests
• Dementia Friendly service
• Card payment facilities in every car
• Downloadable app to book journeys
• Wedding Cars
Speedo Product of the Month
Aquapulse Max Goggles have been designed for those who take swimming seriously, for training or for keeping fit. The goggles feature Speedo's revolutionary IQfit™ Technology which is engineered to fit real face contours, and include a unique 3D seal which offers maximum leak resistance even during starts and turns. Wide lenses offer maximum vision whilst the anti-fog coating ensures clear vision and clarity underwater. The result is a precision fit which gives you the freedom to achieve your best in the water.
See the complete Speedo range we have to offer upon your next visit to the club at reception!
Children's News
Easter is around the corner and we want to make your life as easy as possible by providing the kids with more activities while they are off school. We have planned sessions for the kids to fit in with your sessions, so you do not miss out on your "gym time"! The kid's activity timetable will be ready for you to pick up week commencing 5th March.
Swimming Lessons
Letters for swim enrolments were handed out week commencing 26th February. If you are unable to attend lessons during the 2 weeks of enrolments, please inform your child's swim teacher and they will make arrangements for you to collect your letter at an earlier date. REMEMBER: No enrolment form = NO booking, you must present your enrolment form when booking your child on to the next course. The DEADLINE for booking your child on to the next course is: Sunday 11th March 1pm. All available places after this date will be offered to the swap list and waiting lists.
Easter Swim Crash Course
The Easter Crash course will be held during the first week on the Easter Holidays, Monday 26th March – Friday 30th March. This course will be taught by Rhiannon and bookings open on Monday 5th March at 9am. This course is a fantastic way for your child to improve their swimming in a short period of time. There will be Stage 1, Stage 2, Stage 2advanced and stage 3 classes available during that week. There are only 6 spaces per class so please book early to avaiod disappointment! If you require further information about the Easter crash course please email jarcher@york.roko.co.uk
Bronze, Silver & Gold Swim Course
Following the success of last year's BRONZE & SILVER crash courses, we are pleased to announce that there will be one during the first week of the Easter Holidays! This is for children who are in Stage 6 or above and we invite members and non-members on to the course. Bookings for this crash course are made through the swim coordinator. If you would like more information or would like to book in please contact, jarcher@york.roko.co.uk
Club Lounge
Why Does Your Body Benefit From Protein After A Work Out?
Repair, Maintain, Grow: Protein is especially important to consume after a workout as during the exercise you are effectively breaking your muscle tissue down. If you are exercising but find yourself with low energy or feel that you are not building any muscle, it may be down to not having enough protein in your diet!
Grab your protein fix from the Club Lounge!: We make a range of protein shakes using fresh fruit and other ingredients such as our Roko Special Shake… Fresh Blueberries, Crunchy Peanut Butter, Whey Protein & Skimmed Milk.
We also provide a range of premium Nutramino products, available from either the Vending Machine or over the Club lounge counter.
Come see what your Club Lounge has to offer!
NEW Fresh Toastie Menu
Our new toasties are going down an absolute treat…Choose from:
Gammon Ham & Cheese
Turkey, Cheese & Pesto
Cheese, Tomato & Basil
Tuna Mayonnaise & Cheese

Have You Got A Celebration Coming Up?
We have a few spare dates in our Function Room diary, so if you are planning an event this year please speak to Tom our Club Lounge Manager to discuss free hire of your member's lounge.