7th March 2017 | York
Manager's Welcome
This March it's time to spring into fitness at Roko York . I hope you are all still enjoying the New Year fitness boom and are well on track to achieving your all important goal… until the next goal arises!
The club feels great at the moment with lots of members enjoying the programming and a real positive atmosphere as you are working out or relaxing. We have a fabulous team on hand to help should you need it whether it is in the gym or on poolside we are always here to assist.
FitLinxx is now powered by ActiveLinxx so if you need a reminder how it works, ask one of our friendly fitness team. Keep a look out for the website and app launching this year.
Wishing you a Marvellous March!
Gary Jepson and your Roko YorkTeam.
Invite Your Friends & Family
to Enjoy 2 Weeks For Just £20 - click here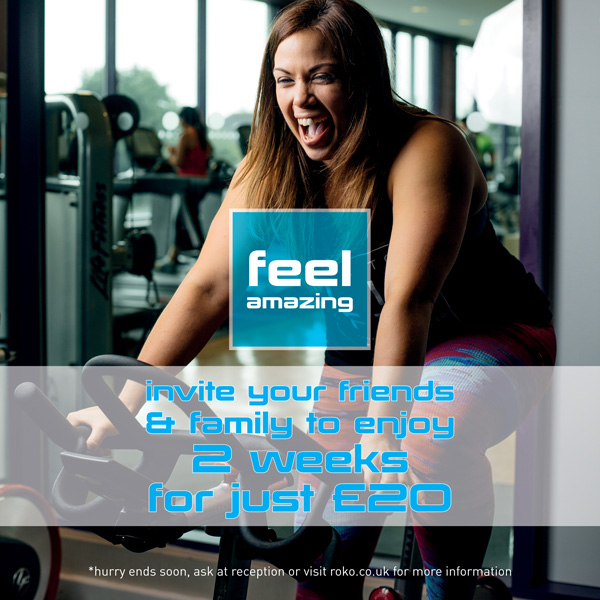 Fitness News
This is a great time of year to try new classes and fall in love with fitness! There is a real buzz around the gym and fitness classes at the moment and we want you to get the best experience every time you attend the club.
All we ask is for all members book on to every class you would like to take part in and cancel if you cannot attend. The process is very quick & easy. You can call to book or you can do it at reception. We ask that you cancel your place if you are unable to attend, because this time of year most classes have people on the waiting list. If you do not cancel and the person on the waiting list does not attend then a place has gone to waste in the class.
BodyPump for 50 years +
During March we are running a taster BodyPump class for over 50's. BodyPump is a weights class for all muscle groups, which focuses on high repetitions to speed up metabolism and burn fat. Resistance workouts are the safest and best way to help prevent or help osteoporosis and bone density. The taster classes are a great introduction in to Les Mills' BodyPump. The class has been designed to give technique and advice throughout and the music has been slowed down to give enough time for each rep to be delivered correctly. The class is Monday 12:30-1:30pm, with Angela in the Energise studio. Bookings for this class are open now! If you would like to book or need further information, please speak to the reception team.
Monday Morning Circuits
After reviewing the numbers and attendance for the Monday Morning Circuits class, we have decided to bring the session forward to 10:20am. The majority of people attending this class are coming from the 9:30-10:15am spin class, so why wait 15 minutes for it to start! We want you to have a safe and effective workout so we would rather you stay warm straight after spin then cooling right down! As this class is busy and well attended, please make sure you book in advance so the instructor can arrange enough stations for you.

Swimfit. – have you lost motivation in the pool? Would you like to have more structure to your workout when in the pool? Are you unsure when the best time to swim is? Do you need advice about a particular stroke? Swimfit. might be the answer for you...
Roko Swimfit. is a new half hour session to give you motivation and advice when training in the pool. The class is designed to give you as much information about what Roko has to offer with regards to swimming and to also give you a taster of what a 1-1 swimming lessons could do for you. Whether you want advice about your swimming or the best practices for technique or calorie burning, our swim specialists are here to help and guide you through.
We have 3 sessions per week and you can book a space with the reception team today. The classes are:
*Tuesday 6:30pm with James
*Wednesday 3:30pm with Tracy, and
*Sunday 1pm with Tracy.
For more information or to book on to a session, please speak to the reception team.
Children's News
Swimming Lessons
March sees the start of a brand new swim term. The deadline for booking your child on to the next course was Sunday 5th March. Remember: No enrolment form = no booking, you must present your enrolment form when booking your child on to the next course. The swap list was called on Sunday 5th March and all remaining spaces will be filled from the member's waiting list from Monday 6th March. After the list has been called the remaining spaces will be opened up to non-members. If you would like more information about the swim programmes we provided please contact jarcher@york.roko.co.uk
Premier Partners
Vantage Toyota York are your local automotive experts in the York, Selby and surrounding areas that are truly passionate about all things Toyota. Providing state of the art facilities together with the knowledge and skill of our team members to ensure you receive the best customer experience, Vantage Toyota York will take care of all your mobility needs.
Roko members can access exclusive special prices and discounts for all your motoring sales, servicing and parts needs; just present your membership card when you visit. Vantage Toyota York also offer all makes and models service and MOTs, plus with complimentary collection and delivery of your car to Roko Gym, you can work out while they look after your car.
Plus, you can be one of the first to drive away a new 17 plate when you order your car with Vantage Toyota York and what's more, all of our new cars are available with fantastic offers. There really has never been a better time to treat yourself!
Visit them at Vantage Toyota York located on Clifton Moor Gate, or click www.vantagemotorgroup.co.uk