5th July 2017 | York
Manager's Message
Busy, Busy, Busy
I know we are heading into a very busy time with lots going on… school holidays, family trips, children back from University, just to name a few but it is still important to put that time aside to enjoy the things you love and we hope Roko fits into that category.
During the summer months we have lots of activities happening for the family and for individuals with many of them included in this newsletter such as a summer BBQ, Race for life event and intensive swimming courses. We also have potentially less obvious things happening every week in the club such as an extensive fast class timetable, fabulous onsite personal trainers plus our swimfit. sessions which give you coaching in the pool!
So while all the busyness is happening take some time out for yourself and enjoy all of the facilities Roko has to offer. Better still: enjoy this time with your friends and family as they can take advantage of a special 4 week membership during July!
Yours in fitness
Gary Jepson, General Manager
Friends & Family Offer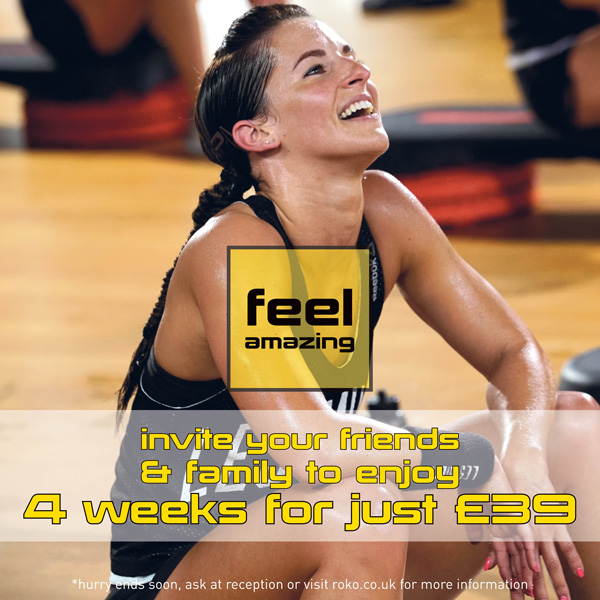 Invite your friends & family to join you at the club this month with a 4 week membership for just £39.
Club News and Events
The small pool is getting re-surfaced in August!
The time has come to re-surface the splash pool! The splash pool will be closed from Sunday 30th July 1:30pm – Saturday 5th August 8:30am. This will not affect swimming lessons as we are going to take a break during this week but it will affect the summer holidays. During this time please expect the main pool to be busier than normal especially during water fun sessions 10:30-11:30am and Aqua Fit sessions.
The Big Summer BBQ
Amazing news! We have a charity summer BBQ planner for all our lovely members and your families and friends. Let's celebrate the summer in the community spirit we show towards each other on Saturday 15th July! Plus enjoy the following: Live band, Music, Bar, BBQ, Bouncy castle, Face painting, Cocktails. The money from the ticket sales will be split equally between- Global's Make Some Noise: a charity giving a voice to small projects supporting disadvantaged children and young people across the country And LAMP: a mental health support charity
This event will be fun for all the family and for a very good cause. We look forward to seeing you there.
Tickets include a burger and welcome drink!
Tickets available from reception for: £10 for adults (16+) and £6 for children (5+) Or get a family ticket for ONLY £30 (including 2 adults and up to 3 children)
We look forward to seeing you there. Any questions call our friendly reception team on 01904699750.
Fitness News
Summer Bootcamp
The time of year has come where more and more members want to work out outside! With the success of Jess' Tuesday evening Bootcamp we have decided to add our very own outside Bootcamp to the fitness timetable….FREE of charge!
This class is on a Saturday 10:05-10:50am outside with Tom Lininsh. The class is designed to push you to your limits and work you at your own pace if needed. The class is outside come rain or shine and is for ALL members and fitness levels over the age of 12years. To book your place on the next session, please call the reception team on 01904 699740.
Race For Life
Join Lynn, Jo & Hannah and be a part of the Roko Race for Life team in support of Cancer Research!
We have decided to make our very own team this year and we want you to join us! You can run, jog or walk your way around the 5KM course. We have a training plan in place for anyone who would like to join in and even if you do not want to take part just come down to the Knavesmire on the day. There are lots of things to do and it is a fantastic day out for ALL the family!
Date: Sunday 9th July
Where: York Knavesmire Racecourse
Distance: 5KM walk, jog or run!
Entry Fee: £15 Women 16+, Girls 6-15yrs £10, Boys 6-12yrs £10 & Boys & Girls under 6 years FREE
For more information of how to join our team please email jarcher@york.roko.co.uk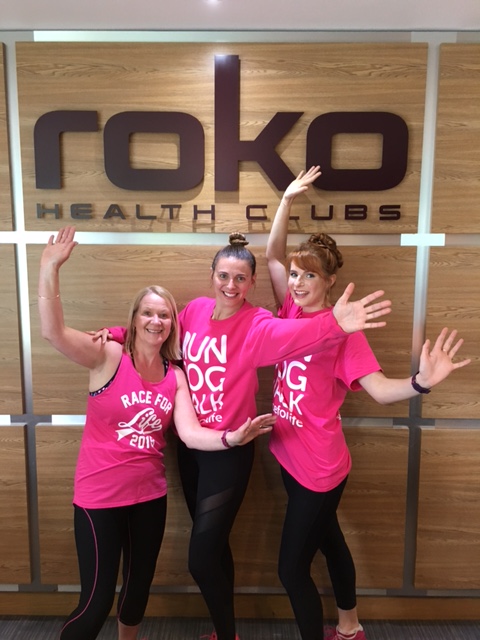 Children's News
NEW Swimming Lessons Term Dates
When it comes to swimming lessons term dates we usually do 5 x 10 week courses throughout the year and have 2 weeks off at Christmas. This year is going to be slightly different because we are getting the pool floor re-surfaced in August. This current swim term, term 3 will run until week ending Sunday 30th July. The dates for Term 4 will be SATURDAY 5TH AUGUST – FRIDAY 13TH OCTOBER. The final term of the year, term 5 will run from SATURDAY 14TH OCTOBER – FRIDAY 22ND DECEMBER. The information will be clearly marked on your child's enrolment letter each term so please read and make a note in your diaries. If you need any more information about how the re-surfacing will affect you or if you would like more information about the next 2 swim term dates, please email jarcher@york.roko.co.uk
Swim Enrolment Time!
Enrolment letters will be handed out on week 8 of this current swim block (Week Commencing 10th July). The deadline for booking your child back on to the next swim course is Sunday 23rd July at 1pm! After 1pm the spare spaces on the programme will be offer to those on the SWAP list and waiting lists so to avoid losing your child's place please book as soon as you receive your enrolment letter. If you are going to be away during the enrolment period, please email jarcher@york.roko.co.uk and Jo can arrange for the swim booking to be made before you go.
Summer Swim Crash Courses
Roko are offering intensive swimming courses over the school summer holidays. These courses are designed for complete beginners as well as children who have been in swimming lessons for a long time but seem to be stuck at the same level! During the 1 week course your child will have the consistency of the same teacher and the class will be at the same time Mon-Fri. By booking your child in to the intensive course you will be giving them half of a full 10 x week swimming term in just 1 week!! If you book your child on to 2 weeks of intensive courses, that will a full 10 x week course complete in 10 days!! If you want to see results in a short period of time, then these "Crash" courses might be the answer for you and your child.
Course 1: Monday 7th August – Friday 11th August with Mel Reid
Course 2: Monday 14th August – Friday 18th August with Jane Power
Course 3: Monday 21st August – 25th August with Ryan Powell
Course Price: £35 Members /£45 Non-Members
Spaces go on sale on Monday 3rd July at 9am. There are 6 spaces available in each Stage. Each stage will be at the same time every day for each of the 3 courses:
Stage 1: 9am
Stage 2: 9:30am
Stage 2 Advanced: 10am
Stage 3: 10:30am (Main Pool)
When signing up you must commit to the whole week - NO refunds will be given for any missed sessions!
If you require further information about the Summer Crash Courses, please email jarcher@york.roko.co.uk
Junior Activities Summer Timetable
The junior Summer activities timetable is now ready for you to pick up from reception. This timetable will run from Monday 31st July - Sunday 3rd September.
Club Lounge
New Product
Bare Minimum Meals now being served!
Introducing Bare Minimum - Great tasting, high protein, low calorie meals available to eat in, take away or cook at home.
Choose from:
Chicken with Sweet Potato & Steamed Leeks
Mexican Chilli Con Carne & Brown Rice
Hotbox Chicken with Noodles & Mixed veg
Piri-Piri Chicken with Brown Rice
For more information please do not hesitate to ask one of our friendly Club Lounge team.
FREE Function Room Hire
We still have a few dates left in the Function Room Diary over the next few months – whatever function you're trying to organise why not use your very own Club Lounge? We will happily consider any event that you may need to host – please speak to Tom on the Club Lounge counter who will be able to assist with any queries.

Vending News:
Nutramino Dark Chocolate Orange protein bars now available from the Nutramino vending machine.
Keep your eyes peeled for two brand new vending machines making an appearance over the next month… Lucozade is back!!