5th February 2018 | York
Manager's Message
No resolution broken yet!

Welcome to the member's newsletter to all our new starters in 2018 and a warm welcome back to all our dedicated members from 2017. The club is really vibrant at the minute with lots of members determined to not break any resolutions just yet!
We have some great things going on in the club and it's lovely to see you all participating and looking like you are having fun! I am hearing some great things when I'm walking the club… the classes are getting some great feedback, new classes such as weights for women, and the favourites from last year, Pure Stretch & BodyPump! Also re-joining ex members and current members seem to all be enjoying the new functional and performance zones and the area looks to be a hub of activity all day long. It's also great to see so many of your wearing your '#Own it' t-shirts and remember it is not too late to refer a friend to join and receive your t-shirt too.
This promises to be a great year and we look forward to seeing more of you in the club enjoying the activities than ever.
Gary Jepson - General Manager
Member Referral Offer Continues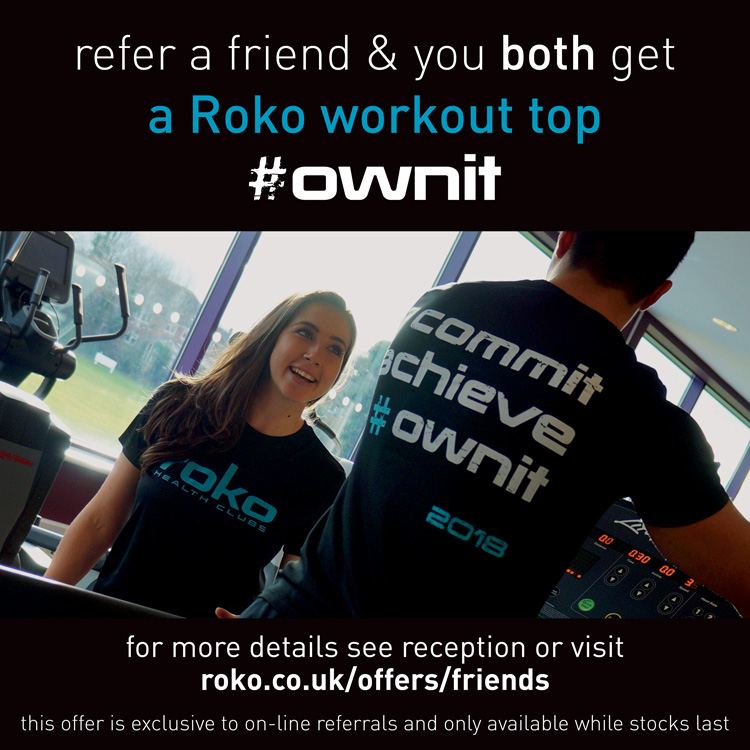 Did you know that you are more likely to achieve your fitness goals with a workout buddy?
So introduce a friend to Roko and you'll both benefit from the additional motivation that you will provide to each other. PLUS, when you refer a friend right now and they decide to join, then we'll give you both a limited edition Roko workout top.
Simply click here to refer your friends on-line and we'll contact them to arrange their personalised tour.
Win 2 FREE PT Sessions Via Facebook

Roko Member Competition:
Upload your best Roko gym photograph, video or selfie and tell us what you love about your workout, tag Roko in to your post and use the hashtag #LoveMyRoko for your chance to win 2 free PT sessions. Visit our Facebook page to read more.
T&C's: New PT clients only. Competition closes 14th February. Winner will be drawn and notified on 15th February. PT Sessions must be redeemed by 15th March
Fitness News
Fall in love…
This is a great time of year to try new classes and fall in love with fitness! There is a real buzz around the gym and fitness classes at the moment and we want you to get the best experience every time you attend the club.
All we ask is for all members book on to every class you would like to take part in and cancel if you cannot attend. The process is very quick & easy. You can call to book or you can do it at reception. We ask that you cancel your place if you are unable to attend, because this time of year most classes have people on the waiting list. If you do not cancel and the person on the waiting list does not attend then a place has gone to waste in the class.
Group X Timetable 2018
This current Adult Group X timetable will run from Tuesday 2nd January – Sunday 25th March. There will be a 2 week special timetable for Easter with the spring timetable starting on Monday 9th April. This new 2018 timetable sees a return of the good old days with a fantastic "Freestyle Step and Tone" class on a Thursday evening with Vicky. This class has proved to be very popular with our day time members so we are certain it will have the same popularity with the evening members. There have also been some changes to the time and day of our evening Pilate's class. This is now on a Thursday evening with Anika. If you have never tried Pilates before or you are not sure what it entails, please give it a go! The benefits are endless! This year we have said goodbye to one of our Les Mills programmes, but with all the HIIT training and circuits classes on the gym floor we feel like these are a great replacement. Not only will you improve your fitness quicker with HIIT training but you can be in and out in half an hour! If you are unsure where to start with the gym floor classes please speak to one of the Gym team who will be happy to guide you and help you with your class journey.
NEW Studio Equipment
We are very excited to announce that we are now using Les Mills 'Smart' Bars in the Energise Studio. These bars have a quick release mechanism for your Body Pump weights. In addition, all the hand weights and steps are also brand new… along with the Body Pump choreography!
The Body Pump 104 choreography has recently been launched, so if you're new to Body Pump now is an amazing time to try this class! All participants are learning this new choreography together, so come try a Body Pump class today!

Swimming News
Swimmers and non-swimmers Did you know…….??
Roko offer a FREE specialist service to help you improve your workout in the pool by giving you fitness tips and helping you correct your pool techniques and swimming strokes. This session is called swimfit. and is held on a Tuesday evening 6:30-7pm in the main pool. During this half an hour session a qualified member of the wet side team is available on poolside to answer questions and steer members to the appropriate swimfit. Training programme. They can also recommend drills and practices to increase your fitness in the pool. To book on to this session please speak to the reception team.
Adult Front Crawl Swimming Courses
This year Roko are focusing on getting more adults to try something new in the pool. We know people are busy so instead of really long courses with weeks of commitment, we are cutting the courses down and specialising in deferent areas such as front crawl breathing, front crawl for beginners, front crawl for triathlons etc. We have just started a basic front crawl course which is fully booked so please look out for the next course details around the end of February.
Children's News
February Half term is fast approaching so make sure you pick up a copy of the Junior Activities Timetable from today!
The half term junior timetable sees the return of the popular "Stretch & Fun" class for 5-11year olds, Family ZUMBA, Gymnastics, SPIN for the over 12's and many more active classes to keep your children moving over half term! Where there is a kid's class there is always something for the parents to do, whether that be your own work out in the gym, a swim or a class. Plan you workouts so you don't have to miss out just because the kids are off school! The bookings for these classes are open from week commencing Monday 5th February.
February Half Term Crash Course
There will be a Swim Crash Course during February half term with Mel Reid. The week intensive course is for Stage 1, 2, 2advanced & 3/4 and there are 6 places available in each class. The bookings will open on Monday 22nd January from 9am. If you would like more information please contact Jo Archer at jarcher@york.roko.co.uk
Swimming Lessons
Letters for swim enrolments will be handed out week 8 of this current swim term, week commencing 26th February. If you are unable to attend lessons during the 2 weeks of enrolments, please inform your child's swim teacher and they will make arrangements for you to collect your letter at an earlier date. REMEMBER: No enrolment form = NO booking, you must present your enrolment form when booking your child on to the next course. The DEADLINE for booking your child on to the next course is: Sunday 11th March 1pm. All available places after this date will be offered to the swap list and waiting lists.
Club Lounge
Join us for Lunch this February
We have loads of food and drink options for a quick lunch!
Why not grab a bite to eat before you head off to work or back home to save yourself some cooking at home!?
Have you got a celebration coming up? We have a few spare dates in our Function Room diary, so if you are planning an event this year please speak to Tom our Club Lounge Manager to discuss free hire of your member's lounge.