1st February 2017 | York
Manager's Welcome
I trust you are all settling back into everyday normality after the festive break, and as yet hopefully no resolutions have been broken.
I have to say it is great to see the club so busy with old and new members alike, fitness really seems to be a personal focus in 2017 for a lot of people and we hope that Roko can continue to provide the facilities and team to keep you supported and on track.
As 2017 gathers pace we hope to see more and more of you achieving your goals but if you are feeling in the need of any motivation or help we do have a fabulous team on site that are always willing to help.
Wishing you a fabulous February.
Gary Jepson and Your Roko York Team.
Member Referral Offer Continues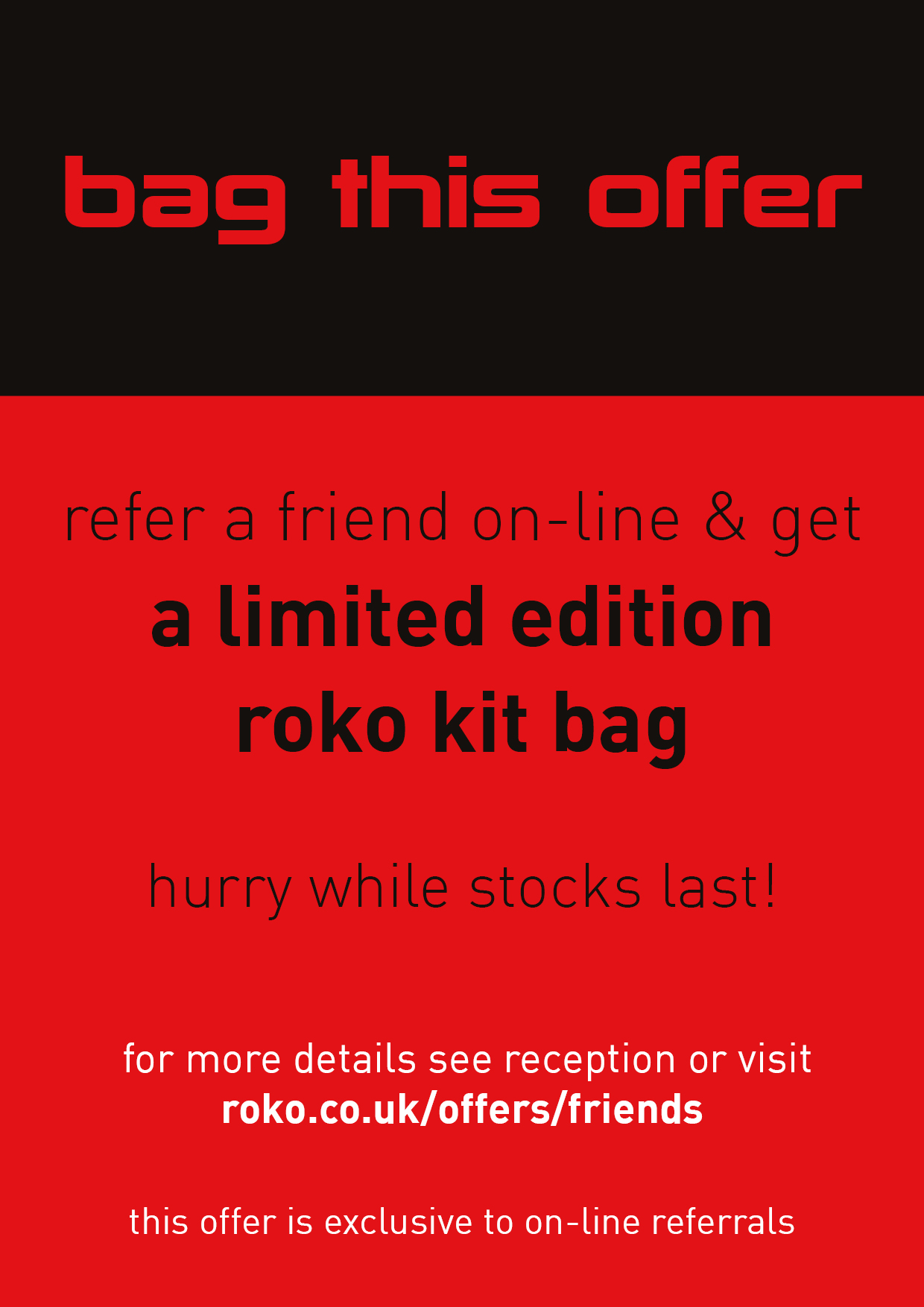 Free Half Term Family Open Week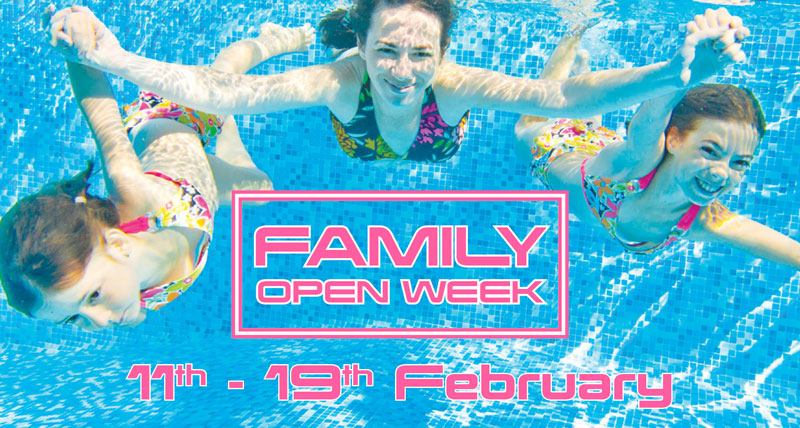 invite your friends and family to a free day during our free half term open week
To book a friend, couple or family onto one of our free open week days between Saturday the 11th February and Sunday the 19th February call the club, ask at reception or fill out an on-line form by clicking here.
It's A ♥ Thing

Add a loved one to your membership during February to create a couple membership and your partner will get the rest of February for FREE. Click here for more information.
Fitness News
your rokofit. Achieve your goals at Roko

Every member within our Club is unique so whatever your health and fitness goal we are here to help and support you – it's personal. Your rokofit ensures you have the best possible opportunity to achieve your health & fitness goals throughout the life of your membership. And there's no better time to book in with one of our fitness professionals to keep your new year's resolutions on track or simply to have a play on some of the new equipment within the gym. All Your rokofit appointments are included as part of your membership and we recommend you see an instructor for 30 minutes every 6 weeks or so to ensure you stay focused and are achieving your all-important lifestyle goals. If of interest, a short fitness assessment is also included to track your progress.

gymfit.
1 hour in the gym with a member of the fitness team. gymfit. sessions are for all members regardless of experience; we will tailor the session to you, your experience and needs. We will take measurements and design a programme to help you achieve, then track your progress over time. More simply we can show you some new techniques and make sure you'll be using the equipment safely and effectively.

swimfit.
30 minutes in the pool with a swim specialist. Our swimming specialist will guide you through pool based activities available within the Club. swimfit. is also a supervised pool based session where you can get in the water, try out a session and pick up hints and tips on technique to ensure you fully enjoy your swim sessions.

classfit.
30 minutes with a member of the fitness team. classfit. gives you the opportunity to meet with one of our qualified and experienced instructors to get the full run down on all things class related. You can find out all about the group exercise classes we offer in our Studios, Pools and on the Gym floor - which ones are right for you and how to get involved.

stayfit.
30 minutes in the gym with a member of the fitness team. stayfit. sessions can be motivational, give specific programme advice or get you re-focused and back on track – it's what you need it to be. stayfit. also lets you have your measurements re-taken to check your progress and reset goals. It's worth having regular stayfit. sessions every six to eight weeks to keep you focused and moving forwards.
Next time you're in club, why not book your next rokofit. session.
NEW HIIT Classes on the Gym Floor
ROK - X Training Systems:
Roko York is proud to launch our NEW Xpress training systems on the gym floor.
These classes are express half hour functional training classes for all ages and abilities. The method behind the NEW systems is to show participants that there are many benefits to HIIT (High Intensity Interval Training) and you only need half an hour to have a fantastic all over body workout!
When attending these classes please ensure you are already warm so you can make the most out of the half hour session and always take time to cool down and stretch if the instructor does not add this to the programme.
BODY – X: Weight baring circuits. This class is designed to push you to your cardiovascular and muscular endurance limit using mainly bodyweight.

W W – X: (Weight for Women) This class is a great way to introduce your body to using weights as part of your workout. You will learn the basics and the importance of resistance training. Perfect class if you want to learn more but just a little unsure where to start.

PLYO – X: Fast-paced, sport based, high energy plyometric (also known as jump training) workout. This class is designed to increase your power strength and speed!

STRENGTH – X: This class is designed to push you to your cardiovascular and muscular endurance limit using weighted equipment.

BOX – X: Is a safe, fun and effective workout using pads and boxing gloves. It is based on training concepts used by boxers to keep fit. This is an express class is for ALL ages and abilities.
Fitness Class Timetable 2017!
The New class timetable will run from week commencing 4th Jan – week end 9th April 2017. We have added some NEW and exciting classes for all abilities and levels of fitness. We are excited to welcome our NEW Body Attack instructor to the team, Anika Reichert! Anika will be teaching Body Attack on a Tuesday evening at 5:30pm, for members from 12years +. This is a high energy Les Mills class and I am sure you will all love Anika's motivation and personality! She will certainly put you through your paces. As well as all the usual variety, we have added 2 extra ZUMBA classes to the timetable; Monday 11:30-12:30pm with Lidia and Tuesday 7:30-8:30pm with Ann-Marie and due to high demand we have also added an extra evening Body Balance. This class will be taught by Jo A and Kate M, Friday's at 8pm. Weights 4 Women was very popular in 2016 so we have added another day time class to the weekly timetable. This will be with Hannah K Thursday 11:30-12pm.
This is a great time of year to try new classes and fall in love with fitness! There is a real buzz around the gym and fitness classes at the moment and we want you to get the best experience every time you attend the club.
All we ask is for all members book on to every class you would like to take part in and cancel if you cannot attend. The process is very quick & easy. You can call to book or you can do it at reception. We ask that you cancel your place if you are unable to attend, because this time of year most classes have people on the waiting list. If you do not cancel and the person on the waiting list does not attend then a place has gone to waste in the class.
Children's News
February Half term is fast approaching so make sure you pick up a copy of the Junior Activities Timetable from Wednesday 1st February!

February Half Term Swim Crash course
There will be a Swim Crash Course during February half term with Jo Archer. The week intensive course is for Stage 1, 2, 2advanced & 3/4 and there are 6 places available in each class. The bookings will open on Wednesday 1st February from 9am. If you would like more information please contact Jo Archer at jarcher@york.roko.co.uk
Swimming Lessons
Letters for swim enrolments will be handed out week commencing 20th February. If you are unable to attend lessons during this Half term week, please inform your child's swim teacher and they will make arrangements for you to collect your letter at an earlier date. REMEMBER: No enrolment form = NO booking, you must present your enrolment form when booking your child on to the next course. The DEADLINE for booking your child on to the next course is: Sunday 5th March 1pm. All available places after this date will be offered to the swap list and waiting lists.
Junior Fitness Class Timetable
The junior fitness timetable will run from 4th January – 19th February. We have added 3 x classes to the timetable for youths aged 12years+. These classes are Monday 6:15-7:10pm Body Combat with Jo A, Tuesday 5:30-6:30pm Body Attack with Anika & Thursday 6:15-7pm Body Combat with Angela. When attending these classes the young members MUST be accompanied by an adult of 18years+. The classes are fast paced and the young members need to be mature enough to attend and take it seriously. The other classes on the junior timetable are there for the kids to enjoy. Please be mindful of the other children when booking your children in. If your children do want to be in the class are they going to disrupt the other children in the class and make it hard work for the teacher?? If the answer is YES, please do not book them in! The timetable is to keep the children active and not to act as a supervisory service while parents have their own workout!
Club News
Conference Room
Do you struggle to find space for that early morning breakfast meeting? The business suite here at Roko Health Club York is available from 07.00 to 21.30 weekdays or 08.00-19.00 Saturday & Sundays. We offer excellent rates on hourly, day or weekend basis. Light refreshments can be provided, along with free parking and use of our fabulous spa to unwind afterwards. For more information please contact Gary Jepson gjepson@york.roko.co.uk