10th December 2017 | York
Manager's Welcome
Continued Investment
I'm sure you will have noticed that since September we have had a 2 phased fitness arena refurbishment which is due to be complete by early December. You will be able to read all about our fantastic new equipment in the fitness section below but I just wanted to assure members that although we have made a considerable investment in the upstairs fitness arena we still want the rest of the club to be as fantastic as it can be.
We have had some testing times in the pool area with an ongoing spa issue but we believe this is now sorted and over December the club team will be concentrating on decorating the pool area to ensure our members get the best possible relaxing experience when in the wet side of the club.
We'd like to finish the year by asking you to take a short survey about your membership and your experiences at the club. It should only take around 3 minutes to complete and we'd really value your feedback so please click on the link to complete our survey - thank you!

For now I just wanted to thank you all for your continued support during 2017 and on behalf of the team and I we wish you and your families a very Happy Christmas.
Gary Jepson and your Roko team
Member Referral Offer
Tell your friends and family about our 2 weeks of Fitmas Offer - invite them to spend 2 weeks at the club for just £20 this December.

CHRISTMAS OPENING HOURS
Christmas Eve 24th December - 08.00 – 16.00
Christmas Day 25th December - CLOSED
Boxing Day 26th December - CLOSED
Wednesday 27th December - 08.00 – 20.00
Thursday 28th December - 08.00 – 20.00
Friday 29th December - 08.00 – 20.00
Saturday 30th December - 08.00 – 19.00
New Years Eve 31st December - 08.00 – 16.00
New Years Day 1st January - CLOSED
Tuesday 2nd January 2018 - 06.30 – 22.00 – Normal operating hours resume.
Fitness News
Advent Calendar Fitness challenges
Each day in December leading up until xmas our fitness team will be unveiling a new workout each day and subsequently a daily leader board to track members progress.
The calendar is located at the top of the gym stairs and we want as many members as possible to get festive with us!
Phase 2 – Gym Refurbishment
Phase Two will involve the Introduction of some new zero–impact training machines enabling you to get more variety and results from your workouts.
Octane Lateral X
Combining elliptical and lateral movement, the LateralX utilizes varying plans of motion to create muscle confusion for functional exercise that can build stamina, muscular endurance and coordination.
Research shows a 27% increase in caloric expenditure going from lateral width 1 to lateral width 10, and the LateralX motion represents a 30% increase in hip abduction, adduction and knee extension over traditional ellipticals.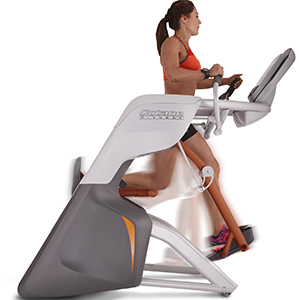 The Zero Runner
The treadmill reinvented - walk or run safely and comfortably, without impact. This state-of-the-art design replicates an exerciser's natural form but eliminates the stressful impact.
Built with cutting-edge innovation, and without a belt, deck or cord, the Zero Runner revolutionizes the gym floor and enables exercisers to maximize workout effectiveness while minimizing discomfort.
xRide
Thanks to its exclusive PowerStroke technology, university studies show that xRide users demonstrate 343% more activity in their glutes, produce 22% more mechanical power and burn 23% more calories than when using a recumbent bike at the same exertion level. That means better results for you.
Plus, the upper body is challenged by the patented MultiGrip handlebars which means you have the ability to incorporate upper and lower-body strength training.
New Staff Welcome
We would like to welcome Liam to our fitness team. Liam has graduated from Loughborough University with a degree in Sport and Exercise Science. He currently runs a men's health programme and works closely with the York Knights. We are delighted to have Liam as part of our team!
Ski Slope Ready
Have you got a Ski holiday booked for 2018? Take this opportunity to prepare and ensure you get the most out of your holiday! We are offering 4 Ski Specific Group Personal Training sessions for just £35. This also includes your own personalised Ski Fit programme! Starting 6th December the course will run on Wednesdays at 6.30pm for 1 hour a week. Choose any 4 out of the 6 available sessions to help improve your strength and stamina for the slopes. Speak to Liam for further information and book your place at reception today!
Group X Christmas Timetable
This will be available in the club on Monday 4th December. We have stripped the week between Christmas and New Year right down so you could do your favourite classes back to back rather than having to choose between one or the other. This is also the time when our fantastic team of instructors enjoy a break with their families. There may be changes to whom is teaching the classes this week so please check the programme carefully. The new 2018 timetable will commence on Tuesday 2nd January 2018! This will be available in the club Monday 18th December.
Children's News
Swimming Lessons Enrolment Deadline
Enrolments for January 2018 are now underway. All current swimmers had until Saturday 9th December 1pm to book on for the January 2018 course. After this deadline all remaining places will be released to the SWAP list and waiting list. The SWAP list will be called on Sunday 10th December from 9am and the waiting lists from Monday 11th December. The January course will run from Monday 8th Jan – Sunday 18th March.
Christmas Activity Programme
The Christmas Junior activity timetable will be out in the club on Monday 4th December. All classes can be booked 7 days in advance and there is something for everyone! This timetable will allow you to plan your own workouts whilst your children are burning some festive energy off in a controlled environment. The timetable will run for 2 weeks Wednesday 27th December to Sunday 7th January.