5th August 2019 | York
Manager's Welcome
Firstly I would like to introduce myself as the new General Manager of Roko York, I have taken over from Gary Jepson from the 1st August who will still be working for Roko in an area role. I'm sure you will see him in and around the club in the future.
I've now worked at Roko York for almost 6 years, I'm very excited about this new challenge and continuing the great work Gary has done during his time here. We have a fantastic club with great facilities and the whole team will be striving to give you, our members, the very best experience going forward.
Over the years I've got to know plenty of you and it will be fantastic to meet any new members
Thank you again for your continued support
Craig Johnson & your Roko Team
tell your friends & family - 2 weeks for just £20
You are more likely to achieve your fitness goals when you work out with a buddy. And right now until the 18th of August, your friends can spend 2 weeks with you at Roko with a no commitment trial membership. Refer your friends via the app, tag them on our 2 week Facebook post or email them this link: https://www.roko.co.uk/york/offers/buynow20

club news
Bank Holiday 26 August 2019
Opening Hours 08.00-20.00
We will have a revised timetable on that day so please do check our App and Facebook for timetable
Member use of other Roko Health Clubs
We wanted to update you on our Member use of other Roko Health Clubs – Policy. All members can use and enjoy all other Roko Health Clubs as part of their membership price. In order to do so you must have a current status membership and also use the club you are visiting within the same access times as per your home club allowed access times.
Please note that there are two exceptions to this:
Roko Gillingham, Nottingham and York members must pay £7.50 per visit to use Roko Chiswick Bridge.
Roko Health Club Portsmouth members must pay £5 per visit to use Roko Gillingham, Nottingham and York. And £10 per visit to use Roko Chiswick Bridge.
Sales of high-caffeine energy drinks to children under 16
With health and wellbeing in mind please be aware that we are stopping the sale of high-caffeine energy drinks to children under 16 from 1st August 2019.
High-caffeine energy drinks carry advice stating that they are not recommended for children, and there are widespread concerns about the impact that these types of drinks can cause when consumed by children under 16.
Therefore Roko is choosing to proactively act on the manufacturers guidance and these health and wellbeing concerns.
Relay For Life
We are excited to be supporting this year's Relay for Life raising money for Cancer Research UK at the Railway Institute on August 3rd. Don't forget to head down to take part in all of the fantastic activities happening on the day from live music, to discos, magic acts and games. Don't forget to enter the raffle to win some Roko prizes all while helping raise money for Cancer Research UK!
Fitness News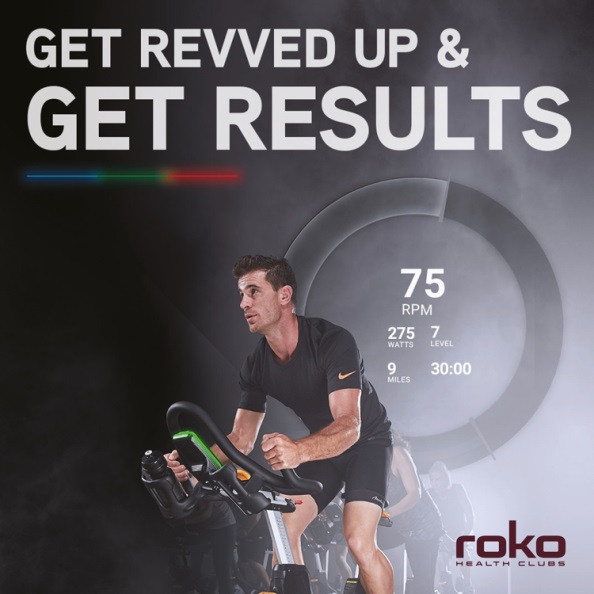 Introducing RokoRIDE
By now you may have had chance to familiarise yourselves with our fantastic new Matrix Training Cycles. RokoRIDE takes the best practices of a studio cycling class and layers in fresh ways to infuse metrics that matter to you. RokoRIDE classes incorporate RPM, calories, distance and watt target training to create purposeful training sessions that will engage both new and experience riders. Book your class via the Roko app today!
Introducing Sprint8
Furthermore we will be adding brand new Sprint8 classes to the timetable. This is an exclusive 20-minute high intensity interval training programme scientifically proven to boost energy, reduce body fat and promote lean muscle development. Sprint8 incorporates sweat scores to ensure you are getting the most out of your workout! Keep your eyes peeled for these brand new classes coming this month!
Introducing Functional Threshold Power
How hard can you pedal for 1 hour? How fast can you go over a long period of time? Join an instructor on the first Friday of every month to calculate your Function Power Threshold (FTP)! Power takes in to account how hard you are pedalling as well as how fast you are going and is a great way of keeping yourself accountable on the bike! FTP testing will help you monitor improvements in both power and fitness in the gym and will also help you target your training better in RokoRIDE classes! Book in for half an hour with Hannah on the 7th September at 10.30am or 6.30pm! Speak to a member of the team for more information!
Adult Swimming Lessons
Have you ever wanted to learn front crawl but not known where to begin? Can you swim a strong Breaststroke but would like to learn a new stroke? Can you swim front crawl but would like to advance your techniques for a Triathlon? Well Roko York offers these types of courses for adults all the year through. The next course will run from Tuesday 10th September – Tuesday 15th October with James Taylor. We have a beginner's Front crawl 7-7:45pm and an intermediate to advanced course 7:45-8:30pm. The price of the 6 week course is £60 for roko members and £75 for non-members. If you would like more information, please do not hesitate to contact jarcher@york.roko.co.uk Bookings are now open so if you would like to book on please speak to the reception team.
Meet the Instructors!
Keep your eyes on our social media all month to find out more about your favourite gym and class instructors.
Beach Bums and Tums
Congratulations to all of the members who took part in our Beach, Bums and Tums programme in preparation for this summer. Collectively they lost a massive 10lb, 13% body fat, 15cm's and they took a massive 22 seconds off their rower time. They have not only undergone fantastic body transformations in time for summer they have increased their fitness and strengths levels too! Well done for all your hard work ladies over the last 6 weeks!
Beauty by Victoria
Beauty by Victoria have a summer offer which is Gel hands or feet & Lash lift for just £50
Please call 07872909695 to book or find out about the full treatment menu
Children's News
There are still places available on our intensive Summer Swim courses in August!! All the options are below but if you need further information or would like to book please call 01904 699740 or email jarcher@york.Roko.co.uk
Group Swimming Crash Courses
Would you like to keep some structure in your child's routine this Summer Holidays? Are you going on holiday soon and would like your child to have more confidence in the water? Would half a term's worth of swimming lessons help bring them on a bit quicker with their swimming?? At Roko we highly recommend a crash course during the school holidays to help with all of the above!
Course 1:Monday 5th – Friday 9th August with Jane Power
Course 2:Monday 12th – Friday 16th August with Mel Reid
Price:£35 Members & £45 Non-Members
All lessons will be held at the same time every day:
Stage 1: 9am in the small pool
Stage 2: 9:30am in the small pool
Stage 2Advanced: 10am in the small pool
Stage 3: 10:30am in the main pool
(please note Stage 3 is only available on course number 2)
*Bookings for this course open from 9am Monday 17th June
*There are 6 spaces available in each Stage.
*When signing up you must commit to the whole week
NO discounts, refunds or exchanges will be given for any missed sessions Bronze & Silver & Gold Awards
During the Summer Roko are running a Bronze & Silver & Gold courses for children in Stage 6+ or for those who have passed all the Roko stages. The course is a great way to increase their stamina and for them to achieve a higher badge. The week intensive course does not guarantee they will achieve the badge but there will be a test on the last day to give them the opportunity to pass their Bronze, Silver or Gold award.
The course will run: Monday 5th August –Friday 9th August with Jo Archer
Time: BRONZE - 09:00am, SILVER – 09:40am & GOLD – 10:20am
Price: £40 Roko members & £50 for non-members
If you would like to book a place on the course please see the reception team. If you would like further information please contact jarcher@york.Roko.co.uk
August – October Swim term Begins…
The new swim term will run from Monday 5th August – Sunday 13th October.
We still have places available on this swim term so if you would like to book your child on to our 10 week programme please contact jarcher@york.roko.co.uk for more information.
Club Lounge

Introducing May Tea, now available in the Club Lounge! Green and White Tea infusions, Low Calorie, Natural Fruity Flavours. Peach and Mango or Raspberry and Lychee- what's your favourite?
@mayteauk (#maytea #lowcalorie #naturalflavours)
Cool off this Summer with an iced cold beverage from the Club Lounge!