1st August 2017 | York
Manager's Welcome
Exciting News
Welcome to the Members Newsletter. I am very excited to announce plans for a considerable investment into your club. On the back of our recent investment in state of the art spin bikes we are now investing into the Fitness Arena to ensure we provide the best possible platform for our members to achieve their all-important goals.
Commencing on the 1st September with minimum disruption we will be creating three brand new training zones featuring the most up to date equipment on the market. Additions will include a synergy 360 rig which allows multiple people to work out at the same time using the same equipment with features including a rebound board, battle ropes, pulleys, platforms, monkey bars and much more. If you prefer a machine based program we have the latest in cardio performance equipment arriving including SkillMills, WattBikes, Water Rowers, and PowerMills.
We really have all the bases covered to create a training platform for each and every one of our members and the team and I are so excited to announce these plans and look forward to sharing images with you very soon. In the meantime, click here to read more.
Have a great August
Gary Jepson and your Roko York Team.
Invite Your Friends & Family
to Enjoy 2 Weeks For Just £20 - click here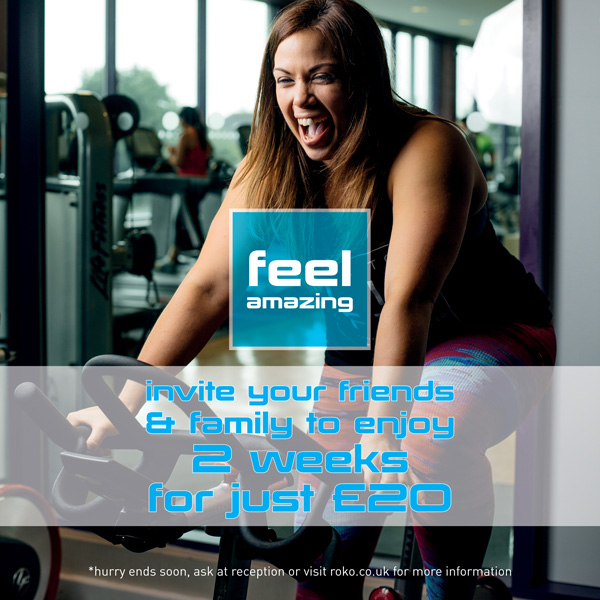 Club News and Events
The small pool is getting re-surfaced!
The time has come to re-surface the splash pool! The Splash pool will be closed from Sunday 30th July 1:30pm – Saturday 5th August 8:30am. This will not affect swimming lessons as we are going to take a break during this week but it will affect the summer holidays. During this time please expect the main pool to be busier than normal especially during Water Fun sessions 10:30-11:30am and Aqua Fit sessions.
Fitness News
Bank Holiday Monday 28th August we are open 8am-8pm
The Fitness Classes available on Bank Holiday Monday are:
9:30am LBT – Kate M
9:30am Spin – Emma
10.30am Xpress Circuits – Josh
10:30am Yoga – Emel
11:30 Pure Stretch – Kate M
6pm BOX X – Gym Team
6:15pm Combat – Hannah
6:15pm Spin – Rach D
7pm PLYO X – Jess
Children's News
NEW Swimming Lessons Term Dates
When it comes to swimming lessons term dates we usually do 5 x 10 week courses throughout the year and have 2 weeks off at Christmas. This year is going to be slightly different because we are getting the pool floor re-surfaced in August. This current swim term, term 3 will run until week ending Sunday 30th July. The dates for Term 4 will be SATURDAY 5TH AUGUST – FRIDAY 13TH OCTOBER. The final term of the year, term 5 will run from SATURDAY 14TH OCTOBER – FRIDAY 22ND DECEMBER. The information will be clearly marked on your child's enrolment letter each term so please read and make a note in your diaries. If you need any more information about how the re-surfacing will affect you or if you would like more information about the next 2 swim term dates, please email jarcher@york.roko.co.uk
Summer Swim Crash Courses
Roko are offering intensive swimming courses over the school summer holidays. These courses are designed for complete beginners as well as children who have been in swimming lessons for a long time but seem to be stuck at the same level! During the 1 week course your child will have the consistency of the same teacher and the class will be at the same time Mon-Fri. By booking your child in to the intensive course you will be giving them half of a full 10 x week swimming term in just 1 week!! If you book your child on to 2 weeks of intensive courses, that will a full 10 x week course complete in 10 days!! If you want to see results in a short period of time, then these "Crash" courses might be the answer for you and your child:
Course 1: Monday 7th August – Friday 11th August with Mel Reid
Course 2: Monday 14th August – Friday 18th August with Jane Power
Course 3: Monday 21st August – 25th August with Ryan Powell
Course Price: £35 Members /£45 Non-Members
There are 6 spaces available in each Stage. Each stage will be at the same time every day for each of the 3 courses:
Stage 1: 9am
Stage 2: 9:30am
Stage 2 Advanced: 10am
Stage 3: 10:30am (Main Pool)
When signing up you must commit to the whole week –NO refunds will be given for any missed sessions!
If you require further information about the Summer Crash Courses, please email jarcher@york.roko.co.uk
Junior Activities Summer Timetable
This timetable will run from Monday 31st July – Sunday 3rd September. There are more classes available for our 12yr+ members this time around so why not encourage your kids to have a workout with you in Step Aerobics, Body attack, Body Combat or even SPIN! Fun for the whole family and a great way to show them how fit and awesome you are!
Club Lounge
New & Improved Kid's Meal Deal
Why not grab a kid's meal deal bag over the summer holidays for your children!
Choose from either a Ham & Cheese Toastie, Beans on Toast, Ham Sandwich or a Tuna Sandwich… add a bag of crisps or a piece of fruit… add any Fruit Shoot drink … and finally add either one of our Cookies or a Gingerbread Man…
All for only £4.95!
Protein Shakes
Tired of the same old protein shake after your work out?
Why not choose one from our menu, blended with fresh fruit and top quality ingredients…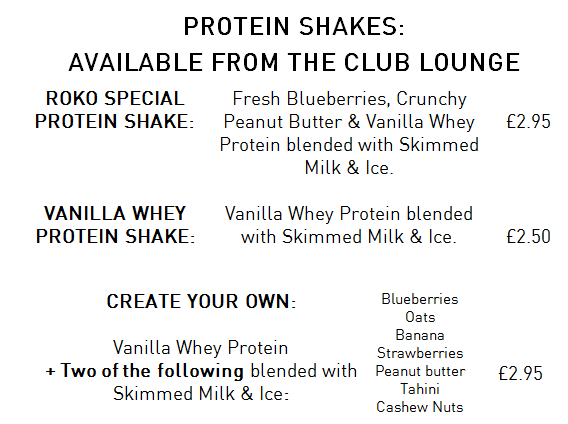 The Return of Lucozade!
We now have two brand new Lucozade vending machines – one located in the Club Lounge & one located in the Male Changing Room. Fuel your workout with one of many flavours to choose from! Our Vending Machines also take card payments so do not worry about having the correct change.