1st April 2019 | York
Manager's Welcome
Hopefully (fingers crossed!) the sun is beginning to burn through and the spring weather is on its way… bringing with it lighter mornings and sunset evenings. We even managed lately to get some classes outside and will try, if the weather allows, to get more outside in the fresh air in the coming weeks.
As we are just about to enter the Easter holidays we are looking forward to welcoming lots of families into the club and the programming team are busy putting together activities that I am sure you will all enjoy. Look out for information on the front desk.
Paulo's Circus
Once again we welcome back the circus to the club, this time with their Rockets Tour. They will be bringing with them lots of fun filled family entertainment from now until Sunday the 12th of May.
Performance Times:
Thursdays and Fridays. 5pm & 7.15pm
Saturdays and Sundays 2pm & 4.30pm
Bank Holiday Monday 22nd of April & 6th May – 2pm & 4:30pm
Box Office open on site.
Wishing you a great month
Gary Jepson & your Roko Team
back for Easter: tell your friends & family - 2 weeks for just £20
You are more likely to achieve your fitness goals when you work out with a buddy. And we've continued our 2 week membership offer until the 17th of April, so your friends can spend 2 weeks with you at Roko with a no commitment trial membership. Plus, perfect for the Easter holidays; they can add their children to their 2 week membership for just £10 each. Tag your friends on our 2 week Facebook post or email them this link: https://www.roko.co.uk/york/offers/buynow20

Club News & Events
Club Lounge
Save some money off your next hot drink and also help save the environment. We will now be offering a discount on all hot drinks if a member uses their own re-usable takeaway cup. We have also sourced some great Roko branded cups if you haven't already got one, which when purchased from the club lounge, your first hot drink in it is on us!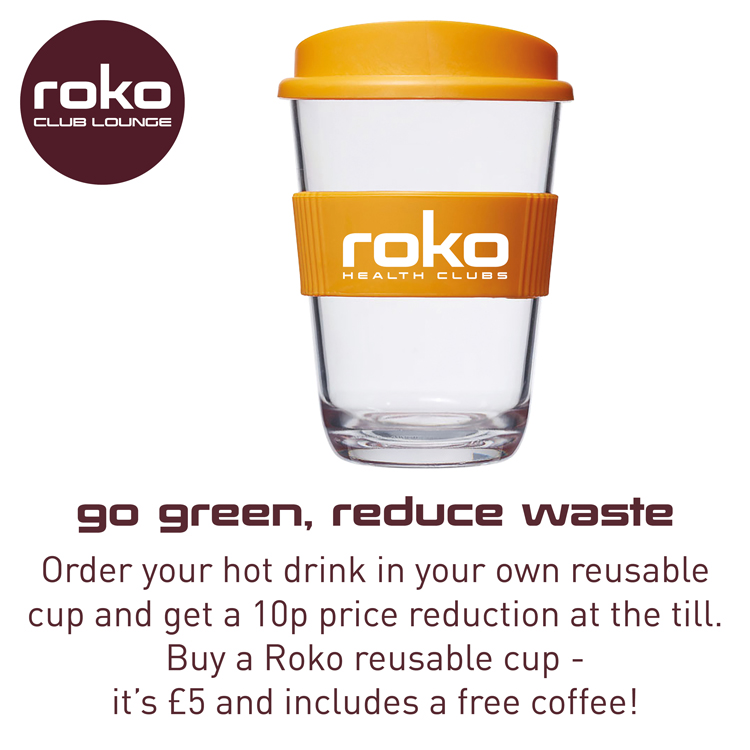 Fitness News
Les Mills Re-launch
The NEW choreography was launched in the club from Friday 5th April. We hope you enjoyed the re-launch experiences and are getting the most out of the new tracks.
Beauty By Victoria
Don't forget all Roko members receive discount off treatments at Beauty by Victoria. To book please contact 07872909695. Pick out your favourites from the treatment menu below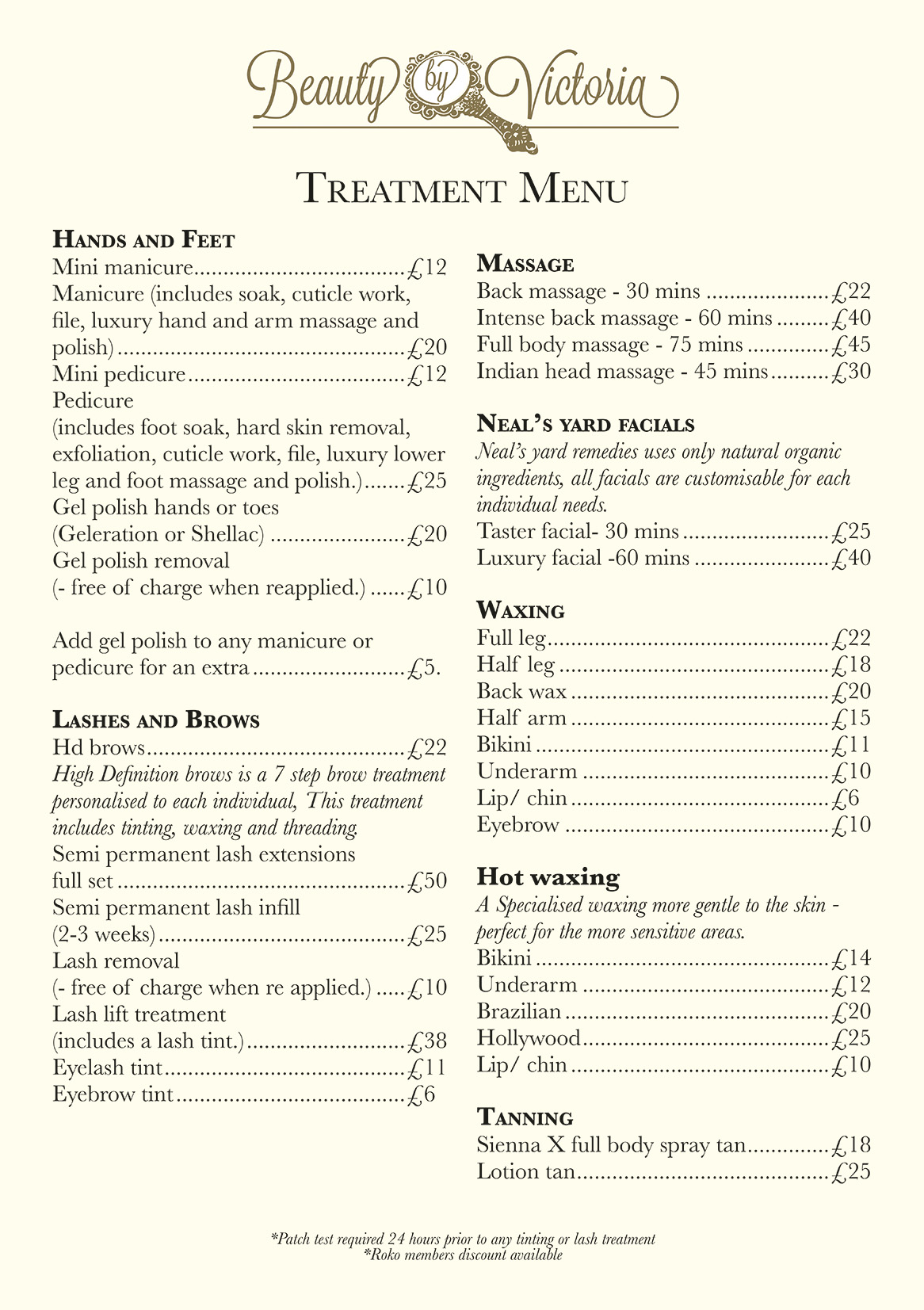 Children's News
Easter 2019 Swim Crash courses 15th - 19th April
Would you like to keep some structure in your child's routine this coming Easter Break? Would half a term's worth of swimming lessons help bring them on a bit quicker with their swimming?? At Roko we highly recommend a crash course during the school holidays to help with all of the above!
Monday 15th April – Friday 19th April with Jo Archer
£35 Members & £45 Non-Members
All lessons will be held at the same time every day:
Stage 1 & 2: 8:30am in the small pool
Stage 2 Advanced & 3 Beginners: 9am in the main pool
There are 6 spaces available in each Stage.
When signing up you must commit to the whole week.
NO discounts or refunds will be given for any missed sessions.
If you would like any more information please contact Jo Archer jarcher@york.roko.co.uk or to book, please speak to the reception team
Bronze, Silver and Gold Swim Awards Course
During the first week of the Easter holidays Roko are running a Bronze & Silver & Gold courses for children in Stage 6+ or for those who have passed all the Roko stages. The course is a great way to increase their stamina and for them to achieve a higher badge. The week intensive course does not guarantee they will achieve the badge but there will be a test on the last day to give them the opportunity to pass their Bronze, Silver or Gold award.
The course will run: Monday 15th April –Friday 19th April with Jo A
Time: 9:30am-10:10am Bronze, 10:10am – 10:50am Silver 10:50am – 11:30am GOLD
Price: £40 Roko members & £50 for non-members
If you would like further information about the course please contact jarcher@york.roko.co.uk
Club Lounge
Why does your body need protein after a work out?
Repair, Maintain, Grow!
Protein is especially important to consume after a workout as during the exercise you are effectively breaking your muscle tissue down.
If you are exercising but find yourself with low energy or feel that you are not building any muscle, it may be down to not having enough protein in your diet!
Grab your protein fix from the Club Lounge!
We make a range of protein shakes using fresh fruit and other ingredients such as our Roko Special Shake… Fresh Blueberries, Crunchy Peanut Butter, Whey Protein & Skimmed Milk.
We also provide a range of premium Nutramino products, available from either the Vending Machine or over the Club lounge counter.
Come see what your Club Lounge has to offer!
Fresh Toastie Menu
Our new toasties are going down an absolute treat…
Choose from:
Gammon Ham & Cheese
Turkey, Cheese & Pesto
Cheese, Tomato & Basil
Tuna Mayonnaise & Cheese

Have you got a celebration coming up?
We have a few spare dates in our Function Room diary, so if you are planning an event this year please speak to Tom our Club Lounge Manager to discuss free hire of your member's lounge.