5th April 2017 | York
Manager's Welcome
Hopefully (fingers crossed!) the sun is beginning to burn through and the spring weather is on its way… bringing with it lighter mornings and sunset evenings. With that in mind we have an outdoor Bootcamp launching on the 2nd May to take advantage of the late sunshine. 6:30pm with Jess starting on Tuesday 2nd May but places are limited so please book early!
Paulo's Circus
Once again we will be welcoming back the circus to the club in May. They will be bringing with them lots of fun filled family entertainment so please monitor posters in the club and social media posts for more details including dates, timings, and ticket details.
Wishing you a lovely Easter
Gary Jepson and your Roko YorkTeam.
Easter Opening Times
Good Friday 14th April 8am-8pm
Saturday 15th April 8am-7pm
Easter Sunday 16th April 8am – 8pm
Bank Holiday Monday 17th April 8am -8pm
Invite Your Friends & Family
Continuing until April 17th: Invite your friends and family to Enjoy 2 Weeks For Just £20 - click here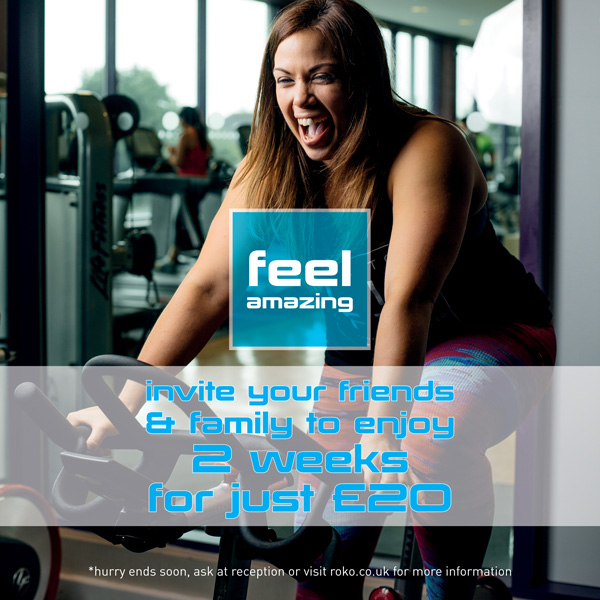 Fitness News
Roko York are proud to present our new spin bikes!

We have invested in new spin bikes! The Matrix IC7 has the cutting edge when it comes to spinning. Not only do they look amazing, they have the most accurate WattRate® power meter the market has to offer, along with Coach By Colour®. Take the test and push yourself to new limits with this innovative method of training
Welcome To Our New Gym Floor Staff
Jess is a previously existing member who has now become an apprentice Level 3 Personal Trainer!
Josh is completely new to the club and has become an apprentice Level 2 Gym Instructor before following on to be a Level 3 Personal Trainer!
Easter Timetable
Our Easter Fitness timetable will run from Monday 10th April – Sunday 23rd April. There are copies at reception for you to take with you. There are a few changes to the timetable due to instructor's holidays and the Easter weekend will see a reduced schedule. There will be a brand NEW fitness timetable out very soon which will run from April 24th – summer.
Children's News
The Kids Easter timetable is out now for you to collect and start planning your gym session around. The Easter timetable sees the return on Ryan's Kick Boxing School, a session that was very popular last summer with our young members. We also have more classes on for 12 years+. Body Combat and Body attack are great classes to motivate and train the teenagers hard with modern tunes and dynamic movements, all done safely with their own body weight. Other classes on the timetable include Gymnastics, Cheer Dance, Basic Tumble, Spin and many more…
Easter Swim Crash Course
The first week of Easter there will be an intensive swim course with Mel. The lessons are half an hour long and there are up to 6 children in a class. The Stage of the class will run at the same time Monday – Friday and bookings can be taken right up to the Monday before it starts. The crash course is for children in Stage 1, 2, 2advacned and Stage 3/4. If you would like further information about the crash course or would like to book in, please speak to the reception team or alternatively contact jarcher@york.roko.co.uk
Club Lounge
Take a FRESH Look at the Club Lounge this April
Jacket Potatoes
We have a selection of FRESH new products, including Jacket Potatoes - they are gluten free, allergen free, suitable for vegetarians and are perfect way to re-fuel after your work out. Choose one or more toppings from Heinz bakes beans, Cheese, Tuna Mayonnaise or Coleslaw.

NEW Luxury Muffins
Choose from mouth-watering Triple Chocolate or Lemon & White Chocolate – a perfect treat with a tea or a coffee whilst you relax with a complimentary newspaper. Also, look out for our Gingerbread Easter bunnies over the Easter half term!
Revised Breakfast Menu
If you use the club before heading off to work on a morning, come take a look at our revised Breakfast Menu – from Fresh Organic Coffee to take away to an extensive menu of hot and cold options…
Revised Protein Shake Menu
Add a wide selection ingredients to your protein shake, including fresh fruit or crunchy peanut butter… See the in-club posters for more details…