14th September 2018 | Portsmouth
Manager's Welcome
With the summer coming to an end this could be the perfect time to set those year-end fitness goals. They say beach bodies are made in winter and if you want to look and feel your best for Christmas you should be setting your goals and creating your fitness plan now. If you require that additional motivation and the help of a personal trainer then why not ask for details at the club reception or visit our website and we will put you in contact with the right Trainer for you. Prices range from £35 to £25 per hour depending on the trainer and total sessions booked.
We are also upgrading the studio timetable this month with the launch of Insanity so keep an eye out for the changes in club and on the new Roko App.
Have a great month
Alun Davies and your Roko team
Member Referral
Tell Your Friends & Family - Join Us On National Fitness Day 26.09.18 for FREE
National Fitness Day is the biggest and most visible annual celebration of physical activity. To help celebrate it, we are having a FREE club open day all day where everybody is invited to get active for the day.
To invite your friends along, tag them on our National Fitness Day Facebook post or email them this link: https://www.roko.co.uk/portsmouth/offers/nfd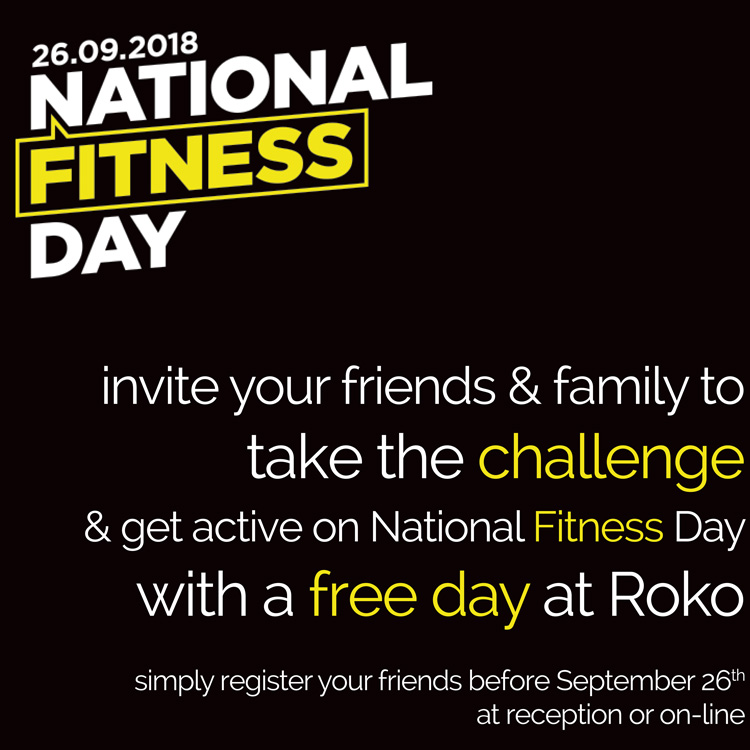 Roko App
If you're not one of the 1,000 + Roko Portsmouth members who have downloaded the app then what are you waiting for?
Using the Roko app gives you 8 days in advance class booking.
You can book your rokofit. sessions via the app: gymfit. stayfit. classfit. familyfit.
And all club timetables are available on the app.
Please click here for full details on how to register once you have downloaded the app.
*Please remember to cancel your place if you can no longer attend.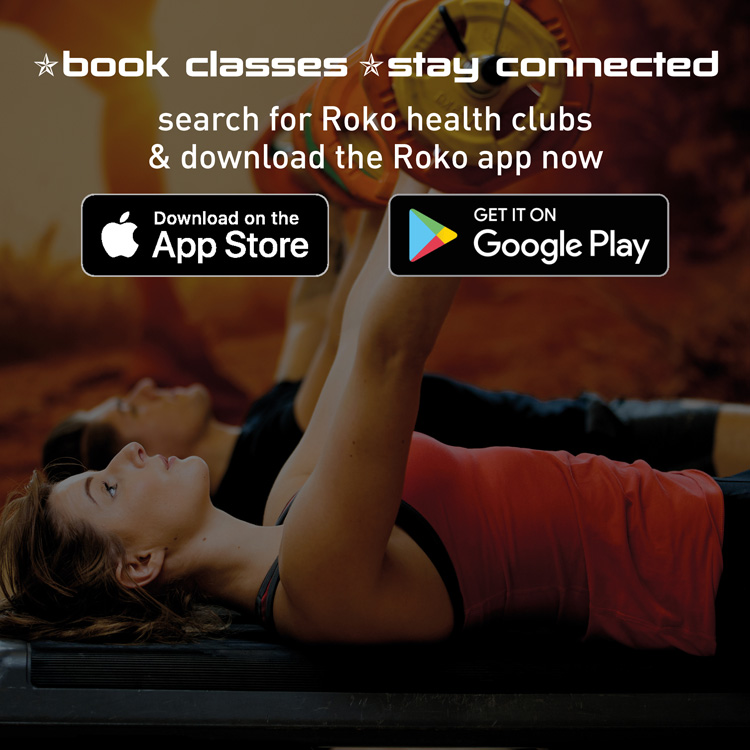 Club News & Events
Member of the Month
This month was an absolutely clear winner from the start Congratulations to Clare Alden on being our member of the month!
All nominations were impressed by Clare's enthusiasm and positivity in the gym classes; she keeps everyone motivated and energised while she is working out as well. "Classes wouldn't be the same" is often the phrase used in the nominations and we couldn't agree more. Thank you Clare for being such a great member at Roko Health Club Portsmouth- Your prize is in the office ready to collect.
Curry and Quiz
It's back! Darin's infamous Curry and Quiz night on Thursday 27th of September starting at 7.30pm.
Tickets are on sale now at £8.00 per person
Raffle tickets will be on sale in the club and the raffle will be drawn on the night. All money raised from the raffle will go to a charity of Darin's choice. See posters around the club for full details and book your tickets at reception!
HALLOWEEN DISCO
Fitness News

IT'S HERE! Starting 14th September 2018- Insanity will be hitting our gym with some new high intensity, calorie burning, challenging workouts in our Studios.
Full details will be on our September timetable and these classes will need to be booked as they will be extremely busy!
National Fitness Day – 26th September 2018
Founded back in 2011 this popular event has been growing year on year encouraging health, wellbeing and a better quality of life. Therefore we would love to invite your family and friends to celebrate the fun of fitness and physical activity by offering them a complimentary day pass here at the club -work out, swim, relax, join one of our many fun and energetic classes or indulge in all!
Simply call 02392 657799 to book their space or visit https://www.roko.co.uk/portsmouth/offers/nfd
Gym Challenge
We challenge YOU our members to our National Fitness Day Gym Challenge!
Please see the Gym team for more information and to book on – who will win….
CHALLENGE YOURSELF ALWAYS
Club Lounge
For the remainder of 2018- The function room in our club lounge will be FREE to hire!
Terms and conditions apply so please ask in Club for full details. But if you have a party from now until the end of 2018 and need a function room to hire, why not enquire today: Call 02392651400 and see how much you can save with us.
Children's Activity News
The brand new timetable has been launched for September! We now have Children's Yoga every Monday and Games Night has made a return!
As always- please can you ensure you book onto these classes to avoid disappointment. We have to exceed minimum numbers for the classes to commence. Junior activities can be booked at any time.
Pick up your timetable at reception now!
Swimming News
We are currently in amidst our current block of 10 lessons; however we do have a few spaces in a few of our classes.
If you would like to join the waiting list for our next block of 10 lessons due to start the first week in October or to fill in a space in one of our current classes: Please call 02392651400 for more information.