3rd November 2016 | Portsmouth
Manager's Welcome
I hope you all received the exciting news last month of the changes we are making to the Club in December. We plan to replace carpets and furniture in the lounge and refresh the bar and menu in the 1st week of December. The significant works to the Gym will be phased over December starting with flooring at the end of the month and then the new equipment and changes will take place from the 2nd of December to the 20th. We do not expect any of the works to disrupt your workout experience at the club and will ensure you have access to all equipment during the works. I have attached the link below if you have not seen what is coming your way.
https://www.roko.co.uk/blog/gym-refurb--coming-soon--exciting-changes-at-your-club
Alun Davies
General Manager
Member Referral Offer
refer a friend who joins - & you both get a Roko voucher pack* worth £110
Introduce a friend to Roko and if they decide to join then we'll give you both a Roko voucher pack worth £110. There's no limit to the number of friends you can refer and receive rewards for and we hope you can really benefit from this voucher pack.
But it can only be yours if you refer a friend to us, here's how:
1. Simply click here, refer your friends on-line and we'll contact them to arrange their personalised tour, or
2. Speak to one of our membership team in club who will be happy to help.
Club News and Events
Thank you to everyone who joined us for our Curry and Quiz night in October. We raised £242 from the raffle that evening and all proceeds were donated to Cancer research UK.
Group Exercise
Every month we monitor class attendance and feedback and strive to update the class timetable accordingly. This means that there will always be ongoing changes. If you have any feedback then please let us know achase@portsmouth.roko.co.uk.
Please remember to pick up a timetable at the beginning of each month to be aware of any timetable changes, or take a look on the Group Exercise board outside the studios.
Class of the Month
Last month our featured Group Exercise class was Les Mills Bodystep. We have seen new class members in the Bodystep classes in the last couple of weeks enjoying this high energy workout!
This month's featured class is BodyAttack !
BodyAttack is a whole body workout that burns calories while toning and shaping. You'll build stamina and our sports-inspired moves will improve your co-ordination and agility. Get quicker off the mark in everything you do!
BodyAttack is a high energy fitness class with moves that cater for total beginners to total addicts! We combine athletic movements like running, lunging and jumping with strength exercises such as push ups and squats. Energising tunes will lead you through the workout, challenging your limits in a good way and leaving you with a sense of achievement!
BodyAttack is suitable for all levels, every high impact move has a low impact option. Don't worry if you have never tried this awesome class before, come and speak to the instructor at the beginning of the class and she will let you know what to expect and ensure there are plenty of options along the way to get you started!
At Roko Portsmouth we run BodyAttack classes at the following times:
Monday 09:30 -10:30
Tuesday 10:30 – 11:15
Wednesday 18:45 – 19:30
Sunday 17:00-18:00
We hope to see you in a class soon!
FitLinxx Announcement
Earlier this year we were notified by the parent company of FitLinxx, who provide us with the FitLinxx system on our gym equipment, that they were putting the company into administration as they were unable to find a buyer for the business.
We have been trying to keep the existing FitLinxx system online and as normally operating as possible, although I am sure at times you will have noticed some shortcomings. These have been somewhat inevitable as FitLinxx withdrew all support from the product in April this year, meaning FitLinxx would not carry out any repairs or provide replacement parts.
This means that the FitLinxx offering at Roko will have to be removed, and will now be phased out during the remainder of the year. Unfortunately we have no other alternative than to do this as FitLinxx will cease to function entirely as of 31st December 2016. We apologise for any inconvenience this will cause you.
If you would like increased fitness support during this phased removal of FitLinxx, for instance to be shown how to work out without FitLinxx, or if you have any specific queries about the system or your workout programme please see a member of the fitness team who will be happy to help you directly or book dedicated time with you.
For Roko members, ongoing fitness support is always available, simply book in with the fitness team for motivational sessions, specific programme advice or to get you back on track.
We have also been exploring alternatives to the FitLinxx system so that we can, if appropriate, have a different fitness technology solution. We are also developing and relaunching our fitness support services within club, through our highly qualified teams, as part of a new programme called "Your Roko FIT" which will be coming soon.
Children's Activity News
Remember Roko Ravers is not on at the beginning of November. The next course will be from Tuesday 15th November- 20th December 2016- Book at reception. Hope to see you all then.
YOUR Junior Activities – You Decide
As we look to develop the Junior Activities programme in the New Year, we would like your input. Please send to Sharvey@portsmouth.roko.co.uk what classes you would like to see as part of the Junior Activities programme. We will be looking to review the programme in 2017 and hope to start the Spring Term with a range of exciting classes for children aged 6 months to 15 years.
Swimming News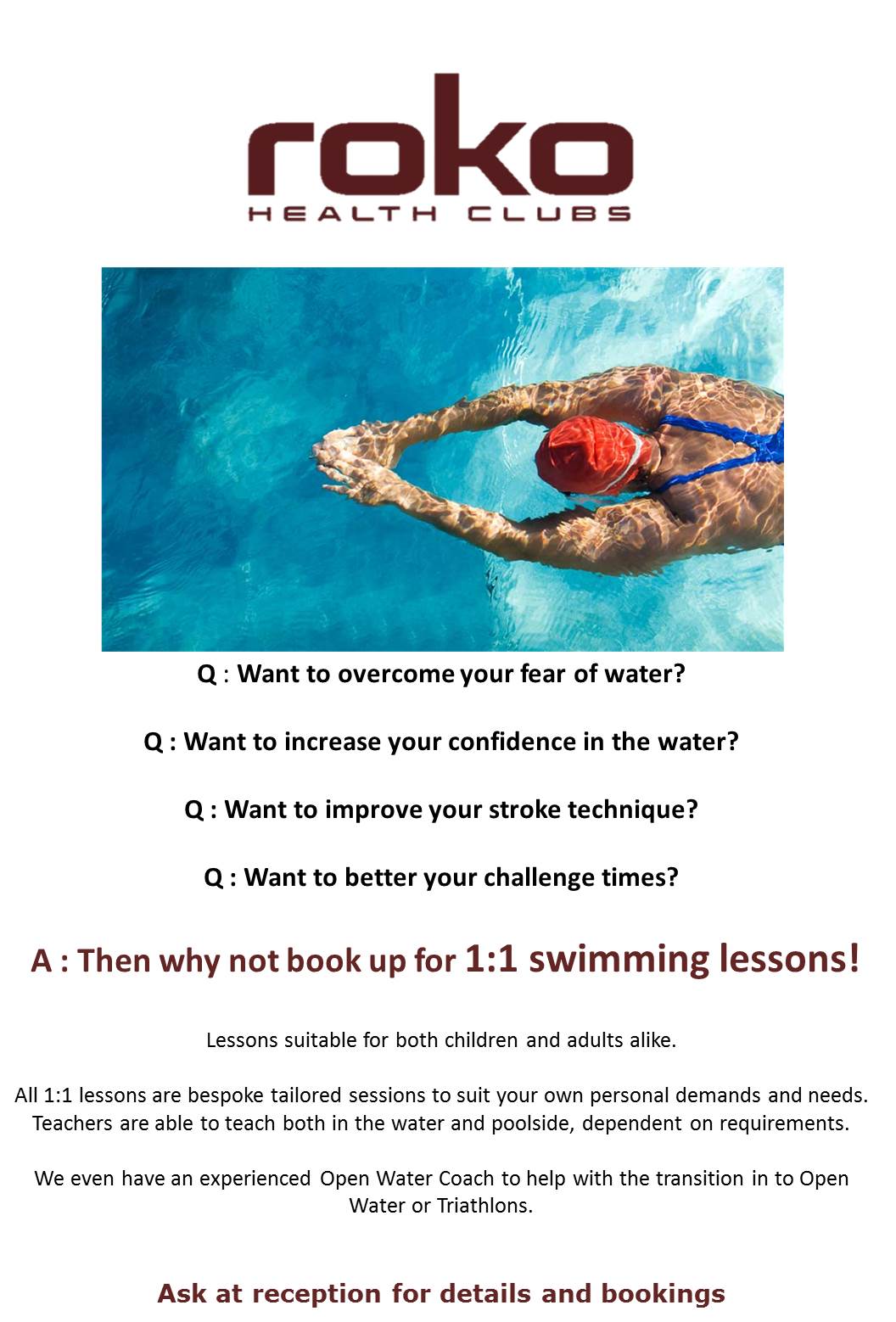 Up and Running
Our two new therapists are offering Sports Massage at a discounted rate of £25 for 30 minutes if booked with George or Vikki throughout November. To book please phone reception on 02392651400.
Don't forget to like us on Facebook to stay up to date with latest news and promotional offers. Search Up and Running Sports Injuries Clinics - Ltd to find us on Facebook.
First Steps Day Nursery
First Steps have a children's photographer visiting on Thursday 10th November 1.30-4pm. All children attending that day will be photographed, if you would like to drop in to have your child photographed , please enquire at nursery reception.
Want to do some Christmas Shopping without the children??
Then why not use our Christmas Shopping sessions for non-nursery children :- Tuesday 22nd Nov 1-5pm £15, Tuesday 24th November 9-4 £30, Thursday 1st December 9-4 £30, Tuesday 6th December 1-5 £15, Thursday 8th December 9-4 £30, Tuesday 13th December 1-5 £15, bookable and payable in advance and subject to availability.
We have the following spaces available :- Baby room limited spaces each day except Mondays, Limited two year spaces available.
Funded only spaces – PM spaces in two year and three/four year old room.
We are now taking booking for January starts, please register and reserve your space ASAP.
Holiday camp – Our Christmas camp program will be out soon. Running 19th – 23rd December.