3rd May 2017 | Portsmouth
Manager's Welcome
I trust you all had a great Easter and I hope all the bank holidays did not impact your fitness routines too much.
I just wanted to make you all aware that we do offer free exercise assessments and programme reviews with our rokofit. and stayfit. sessions in the gym. These are one to one sessions with our fitness team and are bookable online or by asking at reception. The team are on hand to add motivation, offer advice or to simply show you how to use the equipment to get the most out of your membership, so do not delay and book in today.
In this newsletter we want to update you on some summer changes to the club lounge opening times and class booking trials whilst letting you know we have a really good and growing children's programme where you can come together to the club but workout apart from each other.
Have a wonderful May and hopefully some sunshine!
Alun Davies and your Roko team.
Member Referral Offer
Refer a friend who joins Roko and YOU BOTH receive an Elemis pro-collagen kit worth £38.70 Click here for details and to refer a friend.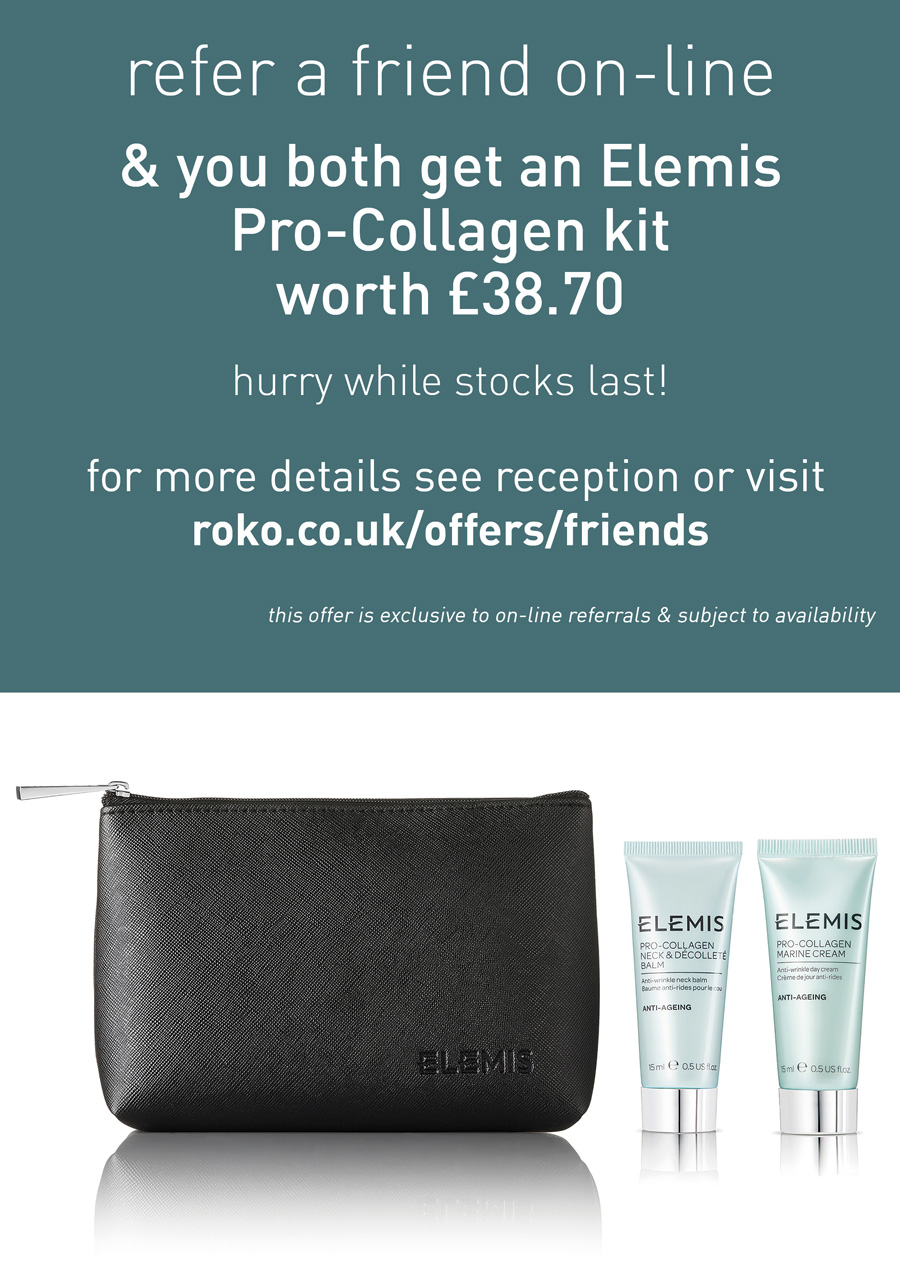 Fitness News
New Yoga Classes
From May 2017 we have a new yoga instructor joining us, and therefore a change to the current timetabled yoga classes. Come and join Lucy at the following times:
Tuesday at 19:30 – Modified Ashtanga – This structured session will focus your mind and discipline your body. Whether you are an avid fitness junkie or new to exercise, this class is a great way to help improve flexibility and strength. Suitable for men and women, all levels of ability are welcome as modifications will be offered.
Saturday at 16:00 – Vinyasa Flow – Whether you want to focus on stretching out or strengthening different areas of the body, this flow class will allow you to explore the different poses of yoga and push your mind and body to new levels of fitness. Suitable for men and women, all levels of ability are welcome as modifications will be offered.
Class Bookings and Etiquette
From May 2017 we will be trialling a new booking system. Only classes that regularly fill up will be bookable, these will be reviewed every month. The bookable classes can be booked the evening before, from two hours before club closing time.
If you have booked a class and are unable to attend, please remember to cancel your place to allow a fellow member to have the opportunity to attend.
We would like to take this opportunity to remind members to always arrive on time to ensure that a safe warm up is completed, avoiding injury and disruption. Please refrain from using your mobile phones during the session.
Instructors are available before class to answer any questions, so please let them know if you are new or injured so that they can help to make your class experience more enjoyable and effective.
Please remember to pick up your May timetable to be aware of all changes this month. For all class queries and feedback please email achase@portsmouth.roko.co.uk
Member Feedback
I would like to bring your attention to some points that have been raised in recent comment cards on the consideration of others when you are in the club.
* Mobile phones are very much part and parcel of gym workouts but we do ask you to reframe from taking calls on the gym floor unless urgent and then we would appreciate you taking them off the floor.
* Booking of classes and not phoning through your cancellation if you are unable to attend restricts other from coming to classes.
* Please clean exercise equipment after your use. We provide blue wipes around the gym to ensure that equipment is left clean for the next user. please take a minute to leave it as clean as you would like to find it.
* We are a family club and we would ask all members to reframe from using bad language in the club as experienced in changing rooms recently.
* We have a few disabled spaces and family parking spaces at the club that are being used for dropping off and collection from the club and this restricts the genuine users from access to these spaces. Can I also remind all members that there is a speed limit of 5mph in the car park as we have so many children using the club facilities and PlayFootball.
Club Lounge
Summer opening times for the club Lounge
| | | | |
| --- | --- | --- | --- |
| | Open | Close | Last Food Order |
| Monday | 9.00am | 8.00pm | 7.00pm |
| Tuesday | 9.00am | 8.00pm | 7.00pm |
| Wednesday | 9.00am | 8.00pm | 7.00pm |
| Thursday | 9.00am | 8.00pm | 7.00pm |
| Friday | 9.00am | 5.00pm | 4.15pm |
| Saturday | 8.00am | 5.00pm | 4.15pm |
| Sunday | 9.00am | 5.00pm | 4.15pm |
Children's Activity News
ALL Junior Activities are NOW back on!!
Dynamic Games has started back up on Saturday 9:30-11am
Roko Ravers starts again Wednesday 3rd May 11:30-12:15am
AND LOOK OUT FOR NEW CLASSES STARTING AFTER THE HALF TERM!
For any information speak to Sarah Harvey, Junior Activities Co-ordinator SHarvey@portsmouth.roko.co.uk

Swimming News
Date for your Diary
The NEXT block of 10 lessons will start on week starting Monday 22nd May 2017.
Re-booking Your Swim Lessons
ALL current lessons can be RE-BOOKED week starting from Monday 8th May.
You will receive a rebooking sheet from your swim instructor with the class you should rebook into. You will have 1 WEEK to rebook your space into your current class and then from week starting 15th May the classes will be open for anybody moving up to the next level and NEW swim bookings.
Should you have any enquiries please speak to Rebecca Jordan, Swim Co-ordinator on 023 9265 1400 or email RJordan@portsmouth.roko.co.uk