7th March 2017 | Portsmouth
Manager's Welcome
They say the spice of life is variety and trying something new every day can only be a good thing, and that applies here at Roko this month. Why not try something new in March; be it the new functional floor classes being taken by the fitness team or the new PT bootcamps on a Saturday morning? Make this the month to try out our courts with some squash or table tennis, or why not try one of the many classes that we run each week in our studios? Further details can be found at reception.
You may also want to get involved in our Red Nose Day activities on Friday 24th March…Join us in our all day spinathon/rowathon (300 kilometres) from Portsmouth to Calais to help raise money for this fun and fantastic charity, just pop your name down on our list at reception to take part whether it be for 10 mins or an hour everyone is welcome - Red is the theme for the day with a £1 donation at reception plus we are doing a cake sale from 10.30am – 12 noon (any cake/biscuit donations welcome).
We hope to see many of you lovely members participating in our event and supporting Comic Relief 2017!
Have a great month
Alun Davies
General Manager
Invite Your Friends & Family
to Enjoy 2 Weeks For Just £20 - click here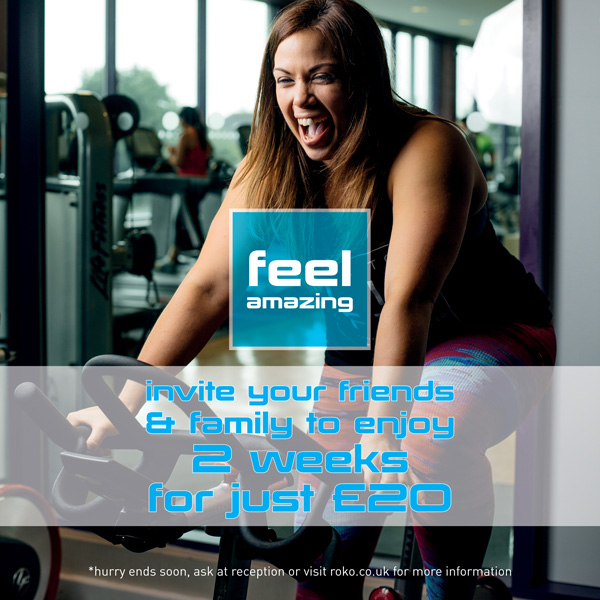 Club News
Lost Property
Here is just a quick reminder to members to make sure that you all check your belongings before leaving the club. We have an unusually high amount of lost property at reception. Please ensure you double check before leaving. We only keep items for two weeks before donating to Charity
Fix it, improve it
Last month we fixed the car park lights and upgraded the upholstery on the strength kit in the Gym and this month we plan to improve the paint markings in the car park, repaint several areas of the club, improve the family changing room and upgrade hand dryers in the toilets and changing rooms
Fitness News
Class Bookings
From 1st March 2017 we will be introducing a new 2 strike action to members who are booking classes and not turning up. Therefore if a member fails to inform us that they cannot make a class within the 1 hour notice; they will receive 1 strike. Once a member has received 2 strikes that month, they will no longer be able to book any class for a 4 week period.
The reason for introducing this procedure is to ensure that ALL members get equal chance to partake in the classes provided and to stop members booking classes that they aren't attending. We hope this process is taken on board by all members and we will review the procedure over the coming months and feedback to you..
Class Timetable
Please remember to pick up your March timetable to be aware of any changes. For all class queries and feedback please email achase@portsmouth.roko.co.uk
BOOTCAMP is BACK
Run by Personal Trainers Antony Pink and Rob Stroud; Bootcamp starts Saturday 4th March 10.45-11.45 on the gym floor. Functional boot camp for all levels. Book at Reception to guarantee your place. Members £3/ Non-Members £5
Easter Timetable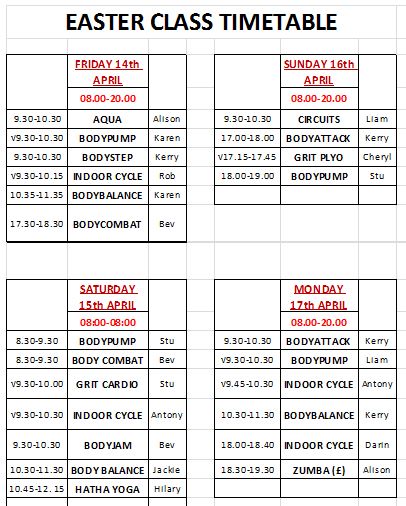 BodyBalance

BodyBalance is ideal for anyone and everyone! It's the yoga based class that will improve your mind, your body and your life! During BodyBalance an inspired soundtrack plays as you bend and stretch through a series of simple yoga moves, and embrace elements of Tai Chi and Pilates. Breathing control is all part of the exercises, and the instructor will always provide options for those just getting started. You'll strengthen your entire body and leave the class feeling calm and centred.
Take a look at our Group Exercise timetable for BodyBalance classes, come along and find out if BodyBalance is for you; no need to book!
Swimming News
Swimming lessons are due to be rebooked NOW ready to commence again from 13th March 2016 with the next 10 week block of lessons. Remember to get your slips in to re-book, before the lessons are opened up to the waiting lists.
Whether you're an adult or child, want to learn to swim or improve your stroke - Roko offers a variety of 1-1 or group lessons to both members and non-members.
The swimming programme is delivered by professional, highly trained, motivated teachers who are passionate about teaching swimming. With all our classes being in either our 20m indoor pool or children's splash pool; we are able to offer to a wide range of ages and abilities; including:
*Parent &Toddler (1-3 yrs)
*Parent & Toddler advanced (3yrs+)
*Junior ASA Swim Programme, levels 1-12 (4yrs+)
*Adult beginner, improver & advanced
*1-2-1 Lessons for all ages
Roko is very proud to offer a structured awards scheme enabling your child to Progress from beginner to advanced levels; continuously assessed through our ASA programme.
For more information or to BOOK your swimming lessons today: Call Becky Jordan (Swimming Co-ordinator) on 02392 651 400 or email: rjordan@portsmouth.roko.co.uk
Children's Activity News
****BRAND NEW CLASSES****
Check out our NEW Junior Activity Timetable- Pick one up at Reception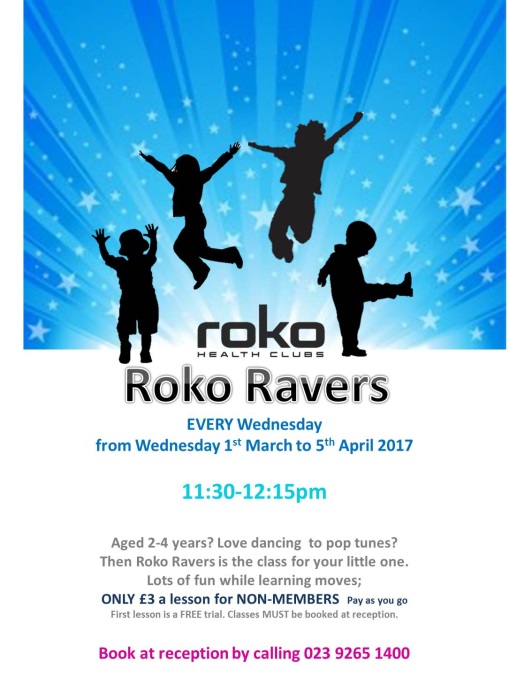 DYNAMIC GAMES
A NEW SATURDAY AM CLUB is starting 18th March. A Junior Sports Games session: Various Games and Team Relays to keep us moving, to improve Team work, practise different skills in a fun environment while making new friends. £3 per Member per session / £5 for Non-Members per session.