4th July 2016 | Portsmouth
Manager's Welcome
Thank you to all those members who invited their friends to join the club in May and June. As you know we ran the promotion to win a 48 inch curved Samsung T.V worth £500. The draw took place on the Monday the 6th of June and I am delighted to announce the Maria (Edwards) now Melia after recently getting married scooped the prize. (Pictured here with Simon from the membership team).

In July we are running another promotion and are offering you the chance to win a Mercedes convertible for the weekend this summer from our partners at Ridgway Mercedes Benz. Good luck!!
Healthy regards
Alun Davies - General Manager
Friends & Family Offer

Invite your friends & family to join you at the club this month with a 4 week membership for just £39.

Visit www.roko.co.uk/portsmouth/offers for details or forward this offer to a friend now!
You Said We Did
Your ongoing feedback is much appreciated at Roko, and it is one of the driving factors behind change and improvement around your club. Feedback cards left at reception have already helped towards many improvements around the club such as the audio system upgrade, the introduction of fully laned swim sessions, changes to the way classes are booked and many other changes detailed in previous newsletters.
In June we have put a great deal of effort into external areas of the club, whilst we prepare for exciting works within the club in the coming weeks and months. That's not to say we haven't kept making improvements in other areas!
"Cars often drive far too quickly around the car park, it's dangerous"
We have now begun repainting all the safety markings within the car park, such as stop signs and the zebra crossing at the top of the bottom end of the car park. We have also reminded our staff and 3rd party users that a 5mph speed limit is in place. We have also placed bins in key walkways to ensure cars are not parking on them to ensure the time people need to walk across the middle of the car park is minimised.
I would also like to take this opportunity to remind our members that we are a family friendly club and promote exercise to younger people. This means we have a high number of children and families around the car park. Please be considerate when using the car park and please do not exceed 5mph.
"The plants around the car park are overgrown and look untidy"
We have now taken on a new contractor to look after our grounds in key times throughout the year. In the past our facilities team have tidied up and Portsmouth FC have helped us significantly with lawn cutting, which we are extremely grateful for this service, but now is the time to really improve the external appearance of your club.
"The Hand Dryers keep breaking!"
We have slowly started replacing hand driers around the club with newer modern dryers. Over the year we intend to keep replacing these until we have a full quota of modern dryers. The new dryers will cut drying time, be far more reliable and are significantly more environmentally friendly!
"I can never find a locker which has a key, pin and coat hanger!"
Over the past couple of months we have made a huge effort to improve our lockers, with frequent audits and checks from the facilities team and Duty Managers. I am adamant that the lockers are currently in the best condition they have been for a very long time, and we have more fully operational lockers with a full complement of "accessories". I encourage you to come and ask a member of the reception of management team if you ever come across a locker that doesn't have a pin, a shelf or a hanger and we can address this right away!
Club Lounge
FREE FUNCTION ROOM HIRE to Members
If you book a function for Sat 2nd July, Fri 8th July, Fri 22nd July, and Fri 5th Aug 2016, You will receive your Room Hire completely free of charge*; saving you a massive £125! To find out further details call Rebecca Jordan on 023 9265 1400 or email RJordan@portsmouth.roko.co.uk
*Terms and Conditions apply. See Rebecca Jordan for more details.
Fitness News
PT Update
Each month we will be promoting a different Personal Trainer, this month it is the turn of Antony Pink.
¨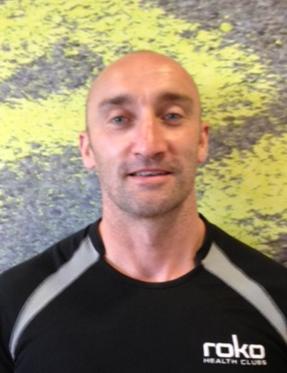 25 years of experience and education
¨ Weight loss and definition specialist
¨ Advanced motivational skills
¨ Assessment & exercise skills
¨ Advanced nutritional plans
Antony has run a successful business at Roko for 6 years; during his time here he has become a favourite with his early morning spins and weekend boot camps! Last year Antony completed his first Ironman event in Lanzarote. Not only did he smash the event in 14 hours 42 minutes this is an amazing effort on its own! He also completed what is well known as the toughest Ironman to compete in as his first ever Ironman. Antony trains hard and gets results.
For more information on how Antony can help you contact him on apink@portsmouth.roko.co.uk
I would like to take this opportunity to welcome David Bellamy to the fitness team, David will also be running a circuit class on a Tuesday night so be sure to check the group exercise timetable for this new class.
BE AN OLYMPIAN!
Throughout July & August we will be running a Personal Training Promotion. Take advantage of the inspiration radiated by the greatest sporting event on the planet, be your own Olympic hero! 8 sessions for the price of 6. T&C's apply.
Group Exercise
Tai Chi group visit to China
In April, some of our Tai chi group visited China. Viv Morgan, who has been a member of Roko since 2001, and a long standing member of Andrew's Tai Chi class, has kindly reported back on the trip!
"Who has ever dreamt of going to China? Not me, certainly. I love holidays in America. I'd go anywhere in Europe, but China?! They eat funny food and you can't understand what they write or say!
I study Tai Chi with Andrew, our fantastic teacher at Roko, and he was organising a small group of us to join a larger party from Manchester for fifteen days in April. It was to be a cultural trip visiting Cheng Du to see the panda sanctuary and the Buddha hundreds of feet high built on the side of a mountain. We also took a pilgrimage to Wudang Mountain, this was an atmospheric and spiritual place to practise our Tai chi and Qigong breathing. We saw the terracotta warriors in Xian, once a capital city of China with wonderful intact city walls. Lastly we visited Beijing, the Forbidden City and the Great Wall of China with it's thousands of steps, such fantastic sights!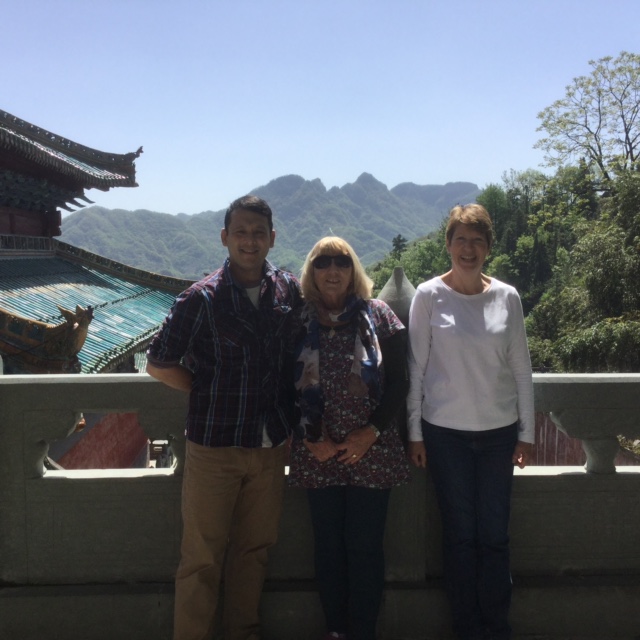 In the parks in China you see small groups practising Tai Chi, it is part of their daily routine. We also practised, it caused quite a stir and some of the locals even joined us!
I'm so glad I went. It was exhausting, exhilarating, great fun and even spiritual at times. The Chinese people were friendly and welcoming. I'm still not sure about the food though!"
If you would like to come and try Andrew's Tai Chi classes, the group would love to welcome new members!
Tuesday 10:30 All levels
Thursday 09:30 Beginners
Thursday 10:30 Intermediate/Advanced
No need to book, just come along!
Group Exercise Timetable
Have you tried our Bodyjam classes? This is the cardio workout where you are free to enjoy the sensation of dance in a fun setting. Bodyjam is an addictive fusion of the latest dance styles and hottest new sounds! Our Bodyjam classes are open to adults and teens. Ages 12 plus are welcome, but under 14s should be accompanied by an adult. This class is included in your Roko membership, open to members only, and runs at the following times:
Tuesday 17:00
Wednesday 09:30
Saturday 09:30
Come along, get fit and have fun at the same time!
Les Mills Class launches
It's that time again! The new releases for our Les Mills classes will be on the weekend of 9th and 10th of July. See the studio board for details or ask at reception, classes are bookable from the day before.
If you have never tried Bodypump, Bodyjam, Bodystep, Bodycombat, Bodybalance, Bodyattack or Les Mills GRIT before, then this is your chance to come and join in whilst the release is new to everyone! For more details on our studio classes you can find descriptions on the back of the timetable or contact achase@portsmouth.roko.co.uk.
Group Exercise Courses
Krav Maga: From 20th July, we have a 'Krav Maga' self defence class starting on Wednesdays at 8pm. For more details visit www.nofear-academy.com or email Darren: Darren@nofear-academy.com.
Post Natal exercise: We also have a post natal exercise course starting on Monday 4th July at 11:45. If you have a new baby and would like to get back to exercise then come along, you can bring baby with you! This is open to members and non-members at a cost of £5 per session. For more information or to book, contact reception on 02392 651400.
Karate - Kokoro karate - Kokoro karate are a long established karate group who train here at Roko. From July they will be moving their Sunday training sessions to the morning (10:00-11:00). The group welcome adults and children, and in addition to the Sunday morning session they also run a Friday evening session at Roko 18:30.
From July, Keith will also be running a Sunday morning Boxing Fitness session at 09:00, this is open to members and non members at a cost of £5 per person.
For information on the karate call 07824 511463 or email kokorokarate@hotmail.co.uk.
For The boxing sessions email bambam73@hotmail.com
Children's Activity News
Swimming News
1-1. Swimming sessions with Steph
This summer holiday Steph will be opening her 1-1 lessons into the daytime on Monday, Tuesday, Wednesday and Thursdays. 1-1 sessions can be booked by anyone of any age, Members and Non-Members. To book any of the limited daytime sessions please call 023 9265 1400 or email RJordan@portsmouth.roko.co.uk Rebecca Jordan, Swimming Co-ordinator
PLAY 5-A-SIDE FOOTBALL IN PORTSMOUTH
ADULT 5-A-SIDE LEAGUES - join one of our competitive 5-a-side leagues.
TEAM TRAINING - block booking and casual pitch hire options mean we are the ideal place to carry out team training.
KICK ABOUT - hire your own pitch with friends or work colleagues.
PAY & PLAY - turn up and play casually from just £4 per player
Birthday Parties at Play Football
Your child and friends will have a day to remember at our venue in Portsmouth. Our football parties are run on state-of-the-art all-weather surfaces under the supervision of a fully qualified FA coach. There will be a series of fun games and challenges for 90 minutes, before the children move inside to our sports bar for food (included in the cost) and presentations. Our parties are suitable for children aged four years and upwards.
Package includes:
• One-and-a-half hours of football
• Professional FA qualified coach
• Party bags for each child
• State of the art 3G pitches
• Party food
• Invites for your child to send out
Follow this link for more information : http://www.playfootball.net/portsmouth/