8th January 2018 | Portsmouth
Manager's Message
Welcome to the first newsletter of 2018. As you can imagine, with one of the busiest months of the year, there is plenty to get involved in at the club as most of us get back to fitness from a period of over indulgence. This month we have the exciting launches of the New Les Mills classes including the new SH'BAM being showcased. The Fitness team are available to help you achieve your goals so should you wish to review your current workout or just need some helpful advice then please book your free stayfit. session through the website on the rokofit. link or at reception when you are next in club.
If you require regular 1-2-1 motivation and advice then personal training might be the perfect way to achieve your 2018 goals. We have an excellent group of trainers who are taking on new clients this month. Please see notice boards in club for individual skill sets of the trainers and their contact details.
Wishing you health and prosperity for 2018. See you in the club soon.
Alun Davies, General Manager and Your Roko Portsmouth Team
Member Referral Offer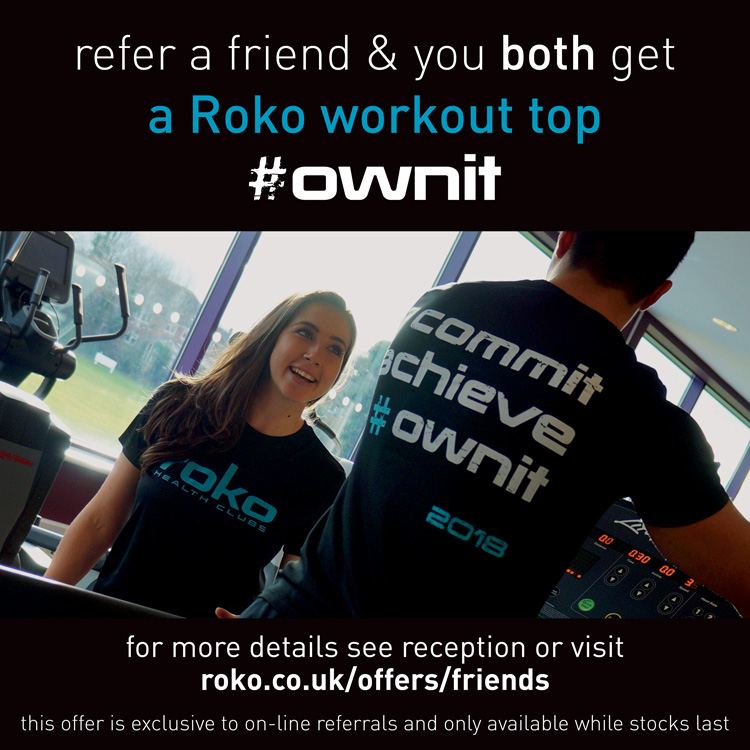 Did you know that you are more likely to achieve your fitness goals with a workout buddy?
So introduce a friend to Roko and you'll both benefit from the additional motivation that you will provide to each other. PLUS, when you refer a friend right now and they decide to join, then we'll give you both a limited edition Roko workout top.
Simply click here to refer your friends on-line and we'll contact them to arrange their personalised tour.
Win 3 Months Free Via Facebook

Tell us your 2018 fitness goals to win 3 months FREE membership at Roko.
What are your fitness goals? Are you hoping to get in shape/ lose weight/ run a marathon? List your goals on the Facebook competition post and you will be in with a chance to win a full 3 months of FREE membership at Roko.
*Terms & Conditions apply. A winner will be drawn on 15th Jan, and the winner will be notified through Facebook. The 3 month membership will start from 1st February 2018 and end 30th April 2018. Entries are only possible by posting a comment in the competition Facebook post. Entries are open to both Roko members and non-members.
you said, we did
My thanks and appreciation goes to all those members and guests who took the time to complete feedback cards in 2017 and to those who attended the four member forums that took place last year. Our 2018 pledge is to respond to all feedback cards within 5 days by telephone or in-club meeting so please do leave your name and contact numbers. Where possible, my team and I would very much like to resolve concerns or pass on congratulations in real time, so please ask the reception team for the Duty Manager if you are happy to discuss face to face.
Group Fitness
Remember you can find ALL Group fitness timetables on the boards in the club or by visiting the website
The group fitness timetable changes monthly to ensure we keep up with the latest trends in classes, to ensure we have the best instructors teaching our classes and to give you a strong variety of choice.
BRAND NEW CLASS
SH'BAM gives you an excuse to dance like no one is watching. This dance workout will have every part of your body moving to the infectious beat of popular hits. And you'll be burning calories while you're at it. SH'BAM instructor Simone Pan tells us more about this fun way to shape up.
How did SH'BAM come about?
Les Mills International is a New Zealand company that is the world's largest provider of choreographed exercise-to-music group fitness classes distributed to health clubs. SH'BAM is one of the programmes of Les Mills International.
What is SH'BAM dancing like?
SH'BAM lets you be the star of your own dance workout. The moves are simple so everyone can be involved in the dance.
How is SH'BAM different from other high-energy dance exercises like Zumba?
SH'BAM is a compelling cardio fitness workout. It burns calories, improves coordination, agility and bone density. A new SH'BAM release is produced every three months with new music and choreography.
What can a person doing SH'BAM hope to benefit from the classes?
If you regularly go to SH'BAM classes (three per week) and maintain a healthy diet, you will lose body fat. Most people will not experience significant weight changes but they will change their body composition. Body fat will be replaced by muscle resulting in a leaner body composition.
Which parts of the body does SH'BAM target?
SH'BAM is an effective program for improving lower limb bone mass as long as the training is significantly more intense than normal daily activities.
(Information from: http://www.elle.my/beauty/Fitness-and-Wellness/10-Things-About-SHBAM)
New Les Mills Launches: 12th - 14th January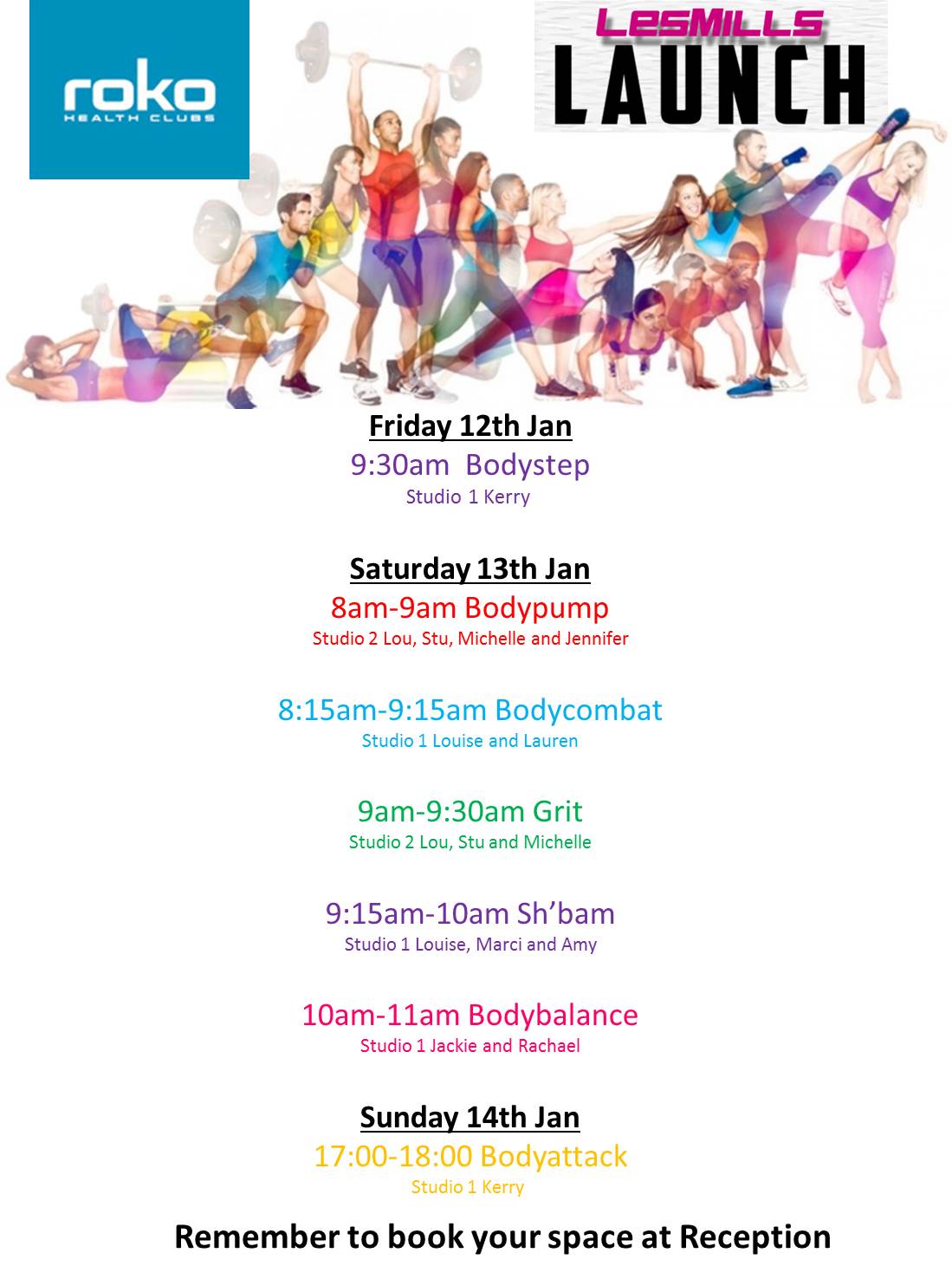 Club Lounge
FUNCTION ROOM HIRE* we have large discounts available on various dates in January and February.
Speak to Rebecca Jordan for full details *T&C's apply. Call 02392651400 or email RJordan@portsmouth.roko.co.uk
Children's Activity News
EVERY TUESDAY 4.15-5pm GET ACTIVE with Tayshia and Yasmin. Remember to book your space to ensure the class goes ahead. Book your name at reception at any time.
Swimming News
What are the benefits of having swimming lessons here at Roko?
* Maximum 6 per class (10 per parent/Toddler)
* Siblings or friends of different abilities can swim at the same time
* Structured awards scheme enabling your child to progress from beginner to advanced levels
* The swimming programme is delivered by professional, highly trained, motivated teachers who are passionate about teaching swimming
* All swimmers are continuously assessed through ASA programme and badges are awarded when achieved
* Priority booking system for existing swimmers
* Heated 20m indoor pool and children's splash pool
We are now taking bookings for the next 10 week course commencing week Monday 8th January 2016. Please book your classes at reception or call 02392 651 400