1st February 2017 | Portsmouth
Manager's Welcome
I hope you have all managed to set some new 2017 health and fitness targets and have started to chip away at them – Man flu has slowed me down but I now fighting fit for February and really looking forward to getting to grips with the new fitness equipment. We have added additional trainers and work placement teams to assist in showing you the new equipment so please, please book your stay-fit induction or attend some technique clinics this month to get the very best use of the gym. I am pleased to announce that we will be trialling some gym floor classes in February on the Synergy rig and RX platform – these sessions are 20 minute in duration are non-bookable. All the classes will be displayed in the club reception and gym desk and will be added to the timetable for March.
Alun Davies and Your Roko Portsmouth Team
Member Referral Offer Continues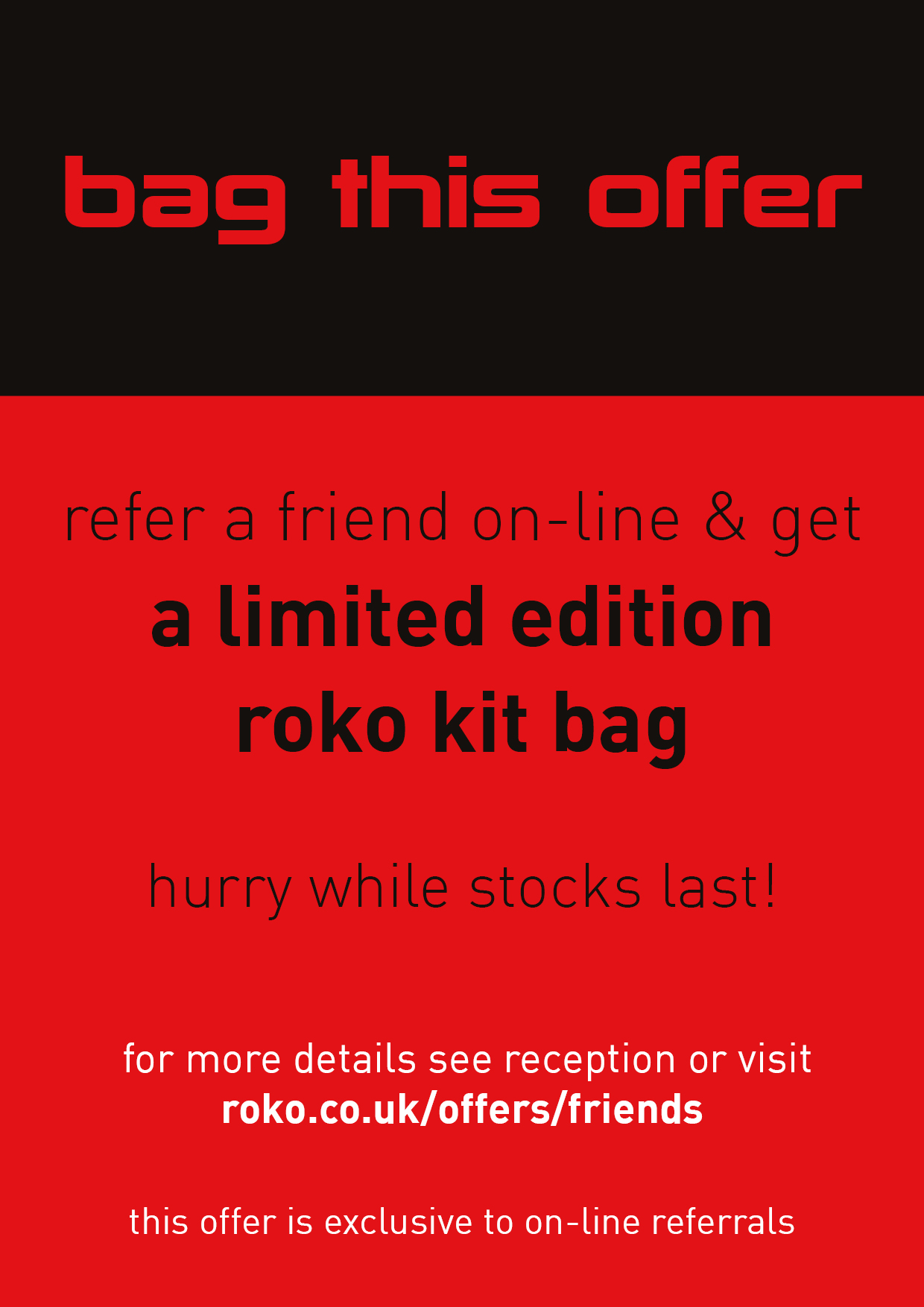 It's A ♥ Thing
Invite one special guest for a free visit any time before the 14th of February to enjoy your club. Simply print this voucher out and present it to reception.
Alternatively click here to fill out an on-line form. And the love does not stop there. We will also offer a half price joining fee if your special guest joins before Valentine's Day. Plus the first 10 joiners on this offer will receive the exclusive Roko kit bag referral gift.
Free Half Term Family Open Week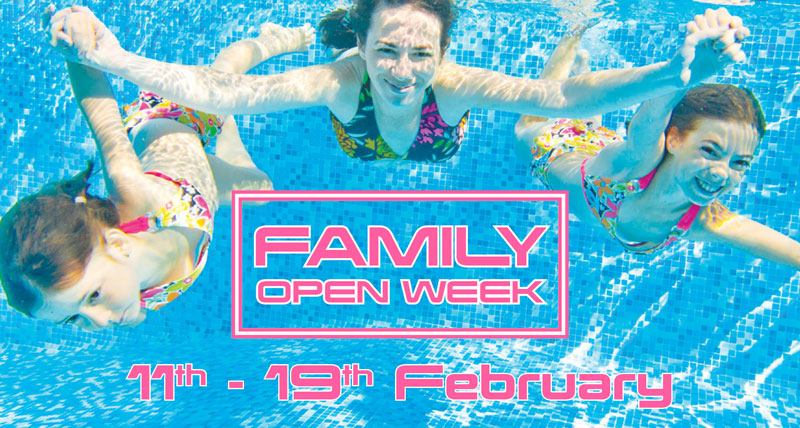 Invite your friends and family to a free day during our free half term open week
To book a friend, couple or family onto one of our free open week days between Saturday the 11th February and Sunday the 19th February call the club, ask at reception or fill out an on-line form by clicking here.
Cub News
Member Forums
Thank you to the dozen or so members that took time to attend my recent Member forums in January. It was great to review the past 12 months and set some new challenges for 2017.
In summary the following points were raised:
*Heating of studios for holistic classes as it is too cold
*Car park lighting and road markings - safety
*Evening cleaning – change balance of cleaning
*Member etiquette - reissuing standards
*Improved food menu – nice to have a change
*More club parties and social events – used to have great parties
Over the next few weeks we will action the points raised and update you of the progress via the newsletter.
You Said - We Did
You Said - Can you please look at the carpark lights as there are several lampposts that have just stopped working recently.
We Did – On Wednesday the first of February we have a specialist lift and electrician booked in to replace the lamps and see why one phase of lights have stopped working.
You Said – Can you please monitor and take action if members who are not disabled or do not have young families park in the designated bays for those user groups at the front of the club.
We Did - We have spoken to the PlayFootball management team to notify their users of our concerns as it is often parents collecting and dropping off at the pitches behind the club. We have recently implemented checks at peak times taking registration plates and displaying signs on cars. Should the situation continue we will make contact with an external company to monitor the spaces and fine users. We will also intend to improve lighting, CCTV and road markings in the near future.
You Said – Can you please ask members to stop taking oils in to the sauna and steam room.
We Did – I said I would mention this in the newsletter that we do not allow members to bring in additional oils – We supply eucalyptus oils in vapour form – oils can burn in these environments and cause irritation, they also impact the Spa PH levels and often come in glass form which if smashed would be very dangerous. We will be displaying new signs to educate all users in the next few weeks.
Lost Property
We hold lost property for 2 weeks- so please contact reception as soon as you have realised your item has been lost. Valuables will always be held longer in the managers safe. Please make sure you check all your items before you leave the lockers and changing rooms before you leave.
Fitness News
Achieve your goals at Roko

Every member within our Club is unique so whatever your health and fitness goal we are here to help and support you – it's personal. Your rokofit ensures you have the best possible opportunity to achieve your health & fitness goals throughout the life of your membership. And there's no better time to book in with one of our fitness professionals to keep your new year's resolutions on track or simply to have a play on some of the new equipment within the gym. All Your rokofit appointments are included as part of your membership and we recommend you see an instructor for 30 minutes every 6 weeks or so to ensure you stay focused and are achieving your all-important lifestyle goals. If of interest, a short fitness assessment is also included to track your progress.

gymfit.
1 hour in the gym with a member of the fitness team. gymfit. sessions are for all members regardless of experience; we will tailor the session to you, your experience and needs. We will take measurements and design a programme to help you achieve, then track your progress over time. More simply we can show you some new techniques and make sure you'll be using the equipment safely and effectively.

swimfit.
30 minutes in the pool with a swim specialist. Our swimming specialist will guide you through pool based activities available within the Club. swimfit. is also a supervised pool based session where you can get in the water, try out a session and pick up hints and tips on technique to ensure you fully enjoy your swim sessions.

classfit.
30 minutes with a member of the fitness team. classfit. gives you the opportunity to meet with one of our qualified and experienced instructors to get the full run down on all things class related. You can find out all about the group exercise classes we offer in our Studios, Pools and on the Gym floor - which ones are right for you and how to get involved.

stayfit.
30 minutes in the gym with a member of the fitness team. stayfit. sessions can be motivational, give specific programme advice or get you re-focused and back on track – it's what you need it to be. stayfit. also lets you have your measurements re-taken to check your progress and reset goals. It's worth having regular stayfit. sessions every six to eight weeks to keep you focused and moving forwards.
Next time you're in club, why not book your next rokofit. session.
Group Exercise
Booking CYCLonE Sessions
Please can ALL members make sure that they cancel if you are unable to attend. We have had a lot of CYCLonE classes fully booked on the system and then bikes not being filled on the day.
We always have at least 3 people on the waiting list ready to fill the bikes if someone isn't able to attend so your earliest notice is appreciated.
From 1st February- this will be monitored very closely so please take the time to ensure you cancel properly.
classfit.
If you have yet to try one of our Group Exercise classes and would like more help and information, why not book in to one of our 'classfit.' sessions. During these small group sessions, our Group Exercise co-ordinator will take you through how the studio classes work, what each class entails and show you how to set up for the classes that may interest you! These sessions can be booked at reception.
Synergy and RX Classes
Don't forget that we will be trialling some gym floor classes in February on the Synergy rig and RX platform – these sessions are 20 minute in duration are non-bookable. All the classes will be displayed in the club reception and gym Desk and will be added to the timetable for March.
BodyPump 100 launch
Thank you to everyone who came to the class on January 14th, the global release date of the 100th release of Bodypump! Participants class were given a longer workout than usual and worked extra hard, so well done to all of them!
Roko member Anna Chalk has taken some fantastic photos of the day!
Kokoro Karate
Have you always wanted to try karate? Try something different this year!
Kokoro karate are a long established karate group who train here at Roko. Both adults and children are welcome to join the group, the sessions at Roko are as follows:
Friday 18:30-20:00
Sunday 10:00-11:00
For information on the karate call 07824 511463 or visit the website www.appliedkarateassociation.com
Club Lounge
LOOKING FOR SOMEWHERE TO HOST A PARTY ?? Birthdays, Engagements, weddings, Christenings ,Baby showers.
We currently have availability on these dates:
Fri 10th Feb Fri 24th Feb
Fri 3rd March Fri 24th March Fri 31st March
Fri 7th April Sat 8th APRIL Fri 14th April Sat 15th April
Fri 21st April Fri 28th April Sat 29th April
To book any of these dates or more throughout the year, please call Rebecca Jordan on 02392 651400 or email rjordan@portsmouth.roko.co.uk
REMEMBER you MUST book before 31st March to get your 50% the Room Hire.
Swimming News
Make sure you book your FREE swim lesson at reception.
Up & Running
If you have been struggling with an injury then you are probably in need of some rehabilitation. We are offering 3 x gym-based rehab sessions for a special price of just £60. This is on a 1-to-1 basis with our therapists that will provide you with expert advice and an individual plan specific to you.
To book simply contact reception on 02392 651400 and book your sessions or email therapy@upandrunning.org
First Steps Children's Day Nursery
Nursery – we have a few spaces available for children eligible for the additional 15 hours funding (30hrs) on a Thursday and Friday 8-1/1-6/8-6 term-time only or spread across the year for 20 hours per week . We can also spread the hours over the year for two, three/four year olds. We have two year old spaces available every day except Monday.
Crèche – Our crèche facility is often busy during the morning especially within the baby room. Please ensure you book and pay in advance and phone if cancelling a space, cancellations made within 24 hours or less will be charged. New users, please note the first session is complimentary, failure to attend without notification will result in the loss of this free space. Roko members why not use the crèche as an extended settling in period, with a view to joining the nursery. The nursery can also, be used as pre-school funded sessions whilst using the gym.
Holiday camp - We are taking bookings for our February half-term holiday camp for school children aged 4-12 years. Cost £28 per day 8.30-5.30, £17 per half day 8.30-1/1-5.30.
Children's Activity News
New Class GET ACTIVE is now on every Tuesday 4-5pm and Friday 4:30-5:15 pm. This fun sports class is for ages 7-11 and includes a variety of games and activities to keep us active and entertained while making new friends. Book your space at reception 023 9265 1400
MORE JUNIOR CLASSES COMING SOON
We will be launching MORE Junior Activities after February Half Term – these will include the popular Dance & Beats, Homework Club and a Saturday morning session. Look out for the revised Timetable out on 20th February 2017.