1st August 2017 | Portsmouth
Manager's Welcome
Make the most of your club this summer, wind rain or shine there is always something for you to get involved in at Roko. This August and September we have added a few more events and family activities so please read on for more details.
We have a summer studio timetable out now on the big displays in reception and outside the studio so why not try something new this summer and watch out for the new summer gym challenge starting this month.
Have a great August.
Alun Davies
General Manager
Invite Your Friends & Family
to Enjoy 2 Weeks For Just £20 - click here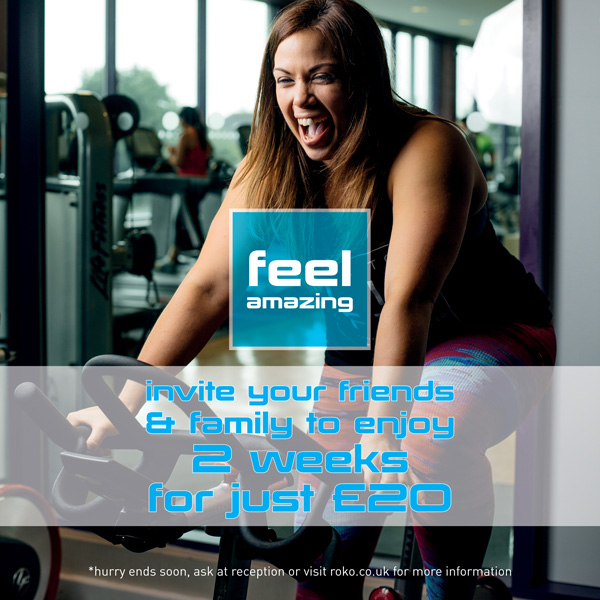 You Said, We Did
I wanted to say a huge thank you to all those who have sent in comment cards into the club over the past few months. On average we receive around 40 cards per month and they are used to shape the club.
Some quick follow up points to past comment cards.
* The new music system for studio 1 and 2 will be replaced on or before the 5th of August
* We were unable to fix the Smith Machine so have ordered a new one that will be on site from the 18th of August. My apologies for the length of time this has taken.
* This month we will be taking the spa area out of action for one weekend whilst we repaint the walls, doors and ceilings, grout the steam room and improve the lighting and airflow to the area. Dates to be confirmed on club notice boards.
* Thank you for the kind words on the improvements you have seen to the cleaning of the club, I have passed this on to the cleaning team.
Club News and Events
Thank You!
A MASSIVE well done and thank you to everyone who took part in raising money for the Bradley Lowrey Foundation. We raised £792 !
Pool Party & Family BBQ
This summer we will be ending the summer with a Family BBQ! Great food, Music, Bar and friends- Come and join in the fun. Tickets on sale at reception.
For ALL Events – see our events board in club or visit our Facebook page.
Calling For Donations
Sarah and the Junior Activity team will be improving the Children's Area in the Club Lounge this month. If you have some toys or books or games that are in a good condition that other children will enjoy playing with- then Please would you donate these to Sarah to help us to improve the area.
Group Fitness
It's SUMMER
We are now running our Summer Group Exercise timetable. The timetable is condensed through the summer due to lower numbers in classes- this is temporary and classes will return in September.
Please could members be sure to check the timetable (either on our website or in the club) for any temporary changes. Any queries regarding this or any other timetable change please email achase@portsmouth.roko.co.uk
Fitness
We are pleased to inform you that Jodi McAllister has joined the Roko Personal Training team. Jodi has previously been a member of club and has a keen interest in taking part and teaching group exercise classes. She is very much looking forward to helping members achieve their personal fitness goals through 1-2-1 training.
Junior Activity News
Summer Holidays have now begun and our Junior activities are in full swing through the summer. Don't forget that there are limited spaces – so please ensure you have booked on to avoid disappointment.
AND Make sure you follow us on Facebook- as each week we advertise which activities are on that week.
Personal Training
Jodi McAllister
* Weight Training
* Specialized Diet Plans
* Weight Loss Management
* Fitness Competition Coaching
* Taster session available (book via text/call)
*GAURANTEED RESULTS!
PLEASE CONTACT ME ANYTIME ON 07572685185 or JODIGMC2016@GMAIL.COM
Swimming News
Swimming Gala
We are looking to organise a swimming gala on Sunday the 24th September 2017 for all swimmers, it will consist of fun mini races and relays with a presentation to close out the day. If you think this is something your child would like to participate in then please register their name at reception, more details will follow.