5th April 2017 | Portsmouth
Manager's Welcome
April is an EGG-citing month here at Roko… (Sorry could not resist) and there is plenty for you and your friends to get involved in this Easter. We will again be donating eggs to those who require some additional Easter cheer. Last year we were able to deliver 76 chocolate Eggs from your kind donations to the QA Hospital Children's Ward and at the same time supported those members who wanted to join a friend by discounting the joining fee to help fund their Egg purchases.
Back by popular demand we will also be running our long weekender pass over the Easter break 14th to the 17th April – this pass allows you to bring in a guest for any 3 days for just £12. Please ask a member of the membership team to book your pass or book on-line here.
Have a great Easter
Alun Davies
General Manager
Invite Your Friends & Family
to Enjoy an Easter Long Weekender - click here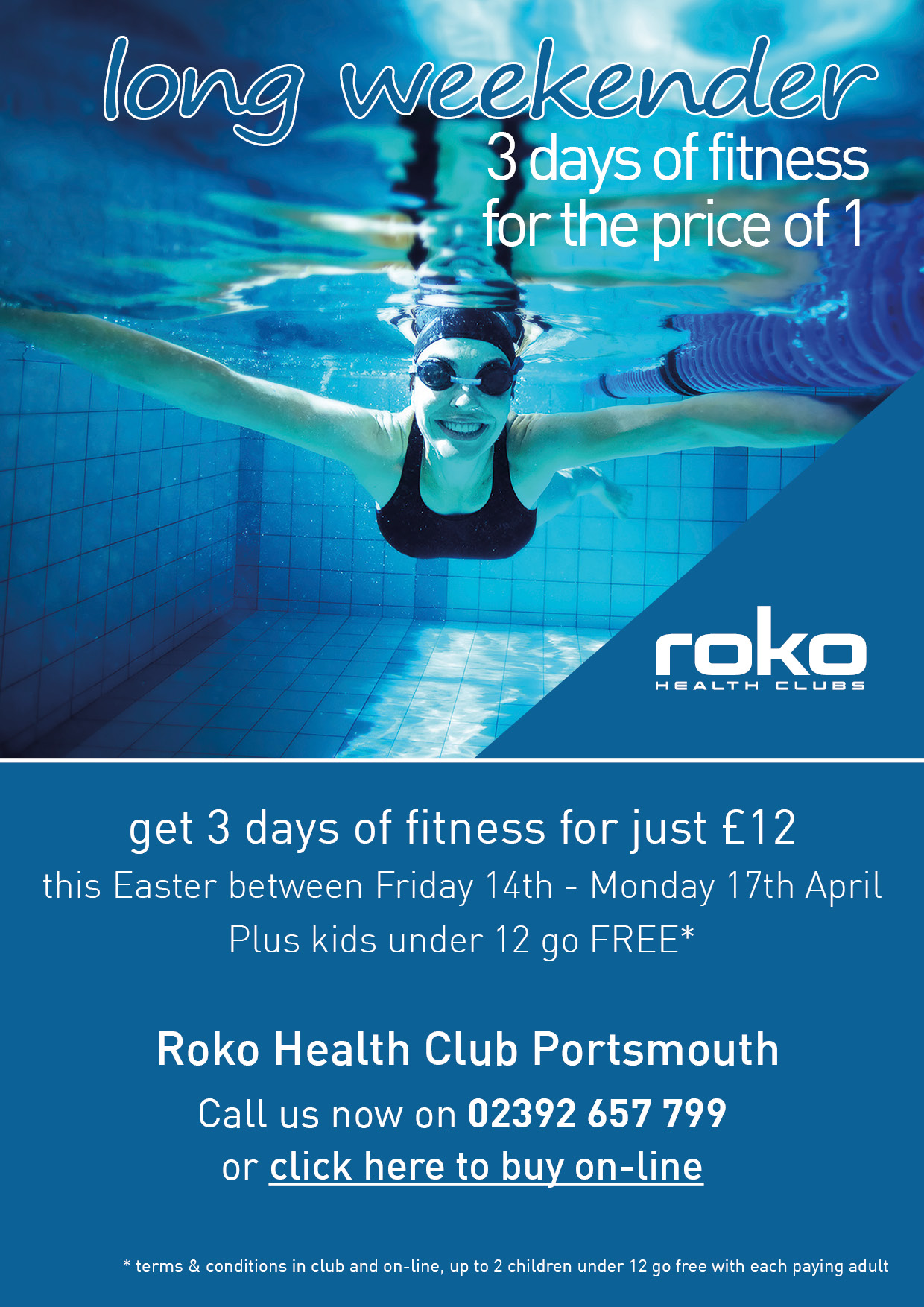 Club News
EASTER EGGTRAVAGANZA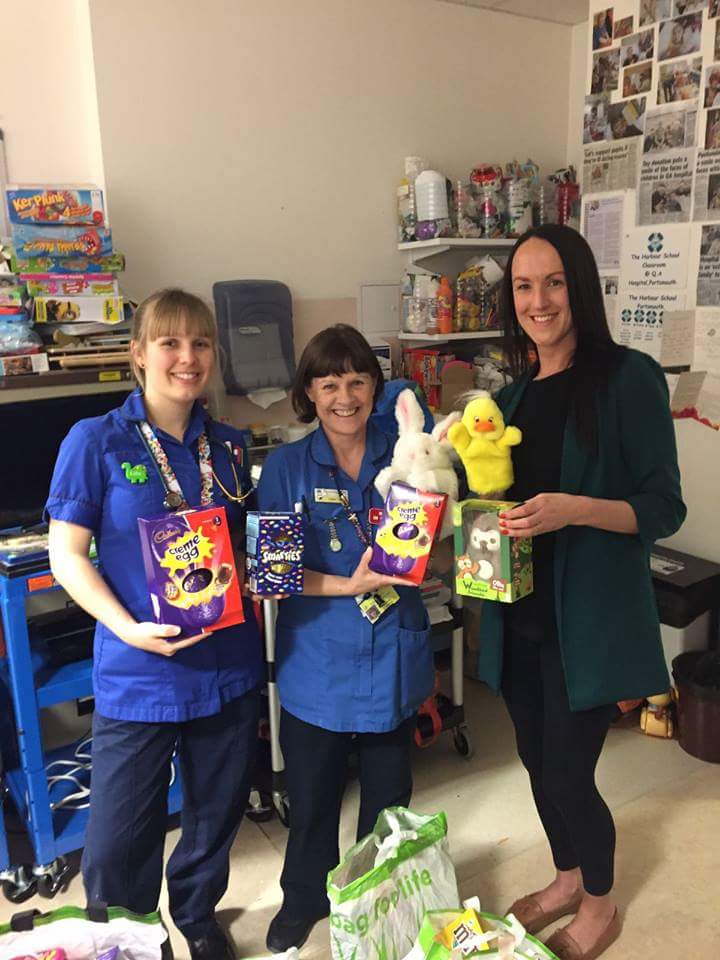 We are donating eggs to QA Hospital Children's Ward again this year! Please donate your eggs at Reception before Easter Sunday 16th April.
If you have a friend who would like to join Roko Health Club Portsmouth- they can have half price joining fee if they donate an egg before 16th April 2017
Red Nose Day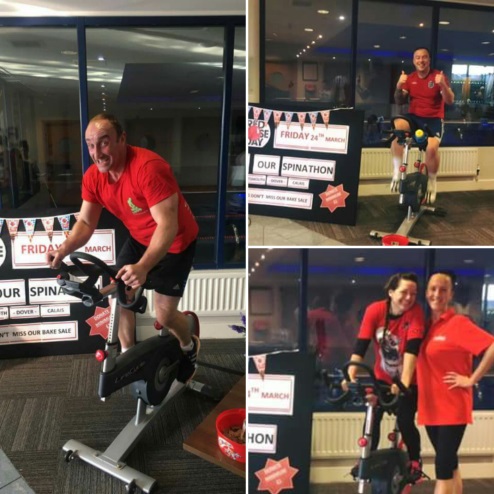 The Red Nose Day Spinathon was a HUGE success- we successfully rode Portsmouth-Dover-Calais a total of 279.2 km in 9 hours! Thank you to all staff and members who made time to get on the spin bike and to EVERYONE who donated. We raised a fantastic £258.
Darin is Heading to London (Again)!
Our very own Darin Melville will be running in his 11th London Marathon on 23rd April! We are asking everyone show their support as he raises money for Children with Cancer UK; use the link below to make your donation or you can sponsor Darin- his sponsor form is at Reception.
http://m.virginmoneygiving.com/mt/uk.virginmoneygiving.com/fundraiser-web/fundraiser/showFundraiserPage.action?userUrl=Ninabdarinm2017&faId=764444&isTeam=true
Fitness News
Easter Timetable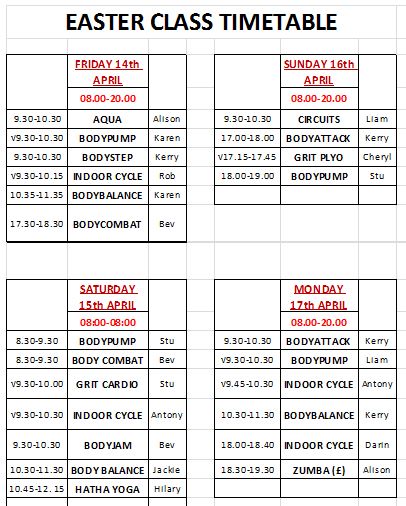 Gym Floor Classes
Functional Fitness is our brand new gym floor class!
What is it?
Functional fitness is a 30 min HIIT based circuit class on the gym floor using our new equipment. The instructors will mix up the sessions with different exercises to add to your training. Kit being used will vary from body weight exercises to weighted moves using VIPRs, Core Bags, KettleBells and Dumbbells. There will also be the inclusion of new performance kit, Sparc and Skillmill.
Check our Group Exercise timetable for Functional Fitness times.
Thank you to everyone who attended our New Les Mills Releases the first weekend in April; if you haven't yet tried the new releases come along and give them a try.
Class Feedback
If you have any class feedback or suggestions please send them to AChase@portsmouth.roko.co.uk
Club Lounge
Children's Activity News
Dynamic Games with Sarah and David
Now on EVERY Saturday 9:30- 11am- Term time ONLY!
Just £3 to Members and £5 for non-members; so if your aged between 5 and 11 years old, come join us for a fun filled active morning!
Roko Ravers finishes for the term on 5th April- There will be a 3 week break over the Easter holidays. Classes will return Wednesday 3rd May 2017. Enjoy your Easter break everyone!
Swimming News
Group lessons are in full flow this term; the next block of 10 sessions will begin Mid may. To get your name on the list to book into the May sessions or foe any swimming information please call Becky Jordan on 023 9265 1400 or email RJordan@portsmouth.roko.co.uk
Looking to improve your technique, learn a new stroke or train for an event? Why not get some extra help with our 1-1 lessons with Steph and Luann.
Speedo Here at Roko
We have a wide variety of Speedo items for Sale at Reception for all our swimmers from Child to Adult. Prices range from £5 to £34
More sizes available
Ask Reception for more details