1st April 2016 | Portsmouth
Manager's Welcome
If the Easter Bunny has managed to get the better of you this Easter then do not panic – The Fitness team are on hand to help you fight back.
We are currently running the Fitness challenge on the gym floor where you need to row 1000 metres, run 1000 metres and cycle 5000 metres. The best male time is held by Sam George at an impressive 13 minutes 59 seconds and the best female time is held by Cherie Cheeseman 15 minutes and 2 seconds – The challenge ends on the 30th of April so plenty of time to burn off some chocolate eggs.
We have reviewed our current guest policy and pricing and we have amended the price to £12 for an adult to use the club for the full day and £6 for children – We will no longer offer any other rates on single passes from the 1st of April 2016. The club will still provide members with the opportunity to bring guests to the club at selected times including open weekends, buddy weeks and at special membership trial rates (like right now, see below). We want to ensure that the club remains a member's only club and your memberships are protected by this rate.
Alun Davies, General Manager
Back by Popular Demand

Friends & Family Offer

Invite your friends & family to join you at the club this month with a 2 week membership for just £20. Visit http://www.roko.co.uk/portsmouth/offers/2weeks for details or forward this offer to a friend now!
Add a Child from only £9.99 per month

Did you know that with no change to your contract length, you could add children to your membership from just £9.99 each per month? That's unlimited swimming and free access to our programme of children's activities.

Children's memberships are fully flexible (just one month's notice of cancellation is required) so you could add them to your membership for holiday periods or for the longer term.

You can add an unlimited number of children plus they need not reside at your address, so for example grandparents can add grandchildren or parents can add their child's friends.

For more information ask in club or enquire on-line by clicking here.
Roko in the Community
As part of our Easter Extravanganza, we received an amazing 75 Easter eggs and 4 soft toys to donate to Queen Alexandra Hospital's Children's Ward for the Easter Sunday celebrations. Thank you to all the members who did donate.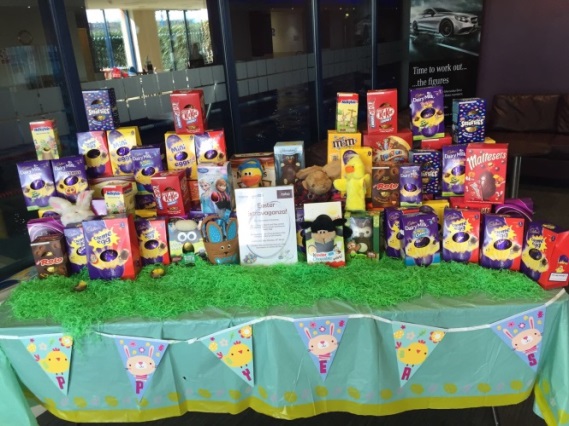 Roko Portsmouth staff participated in a Fancy Dress Fun Run for Sport Relief 2016 and we raised a fantastic £150! Thank you to all the staff that took part
Club feedback - You Said, We Did
This section of the newsletter we will discuss all the 'hot topics' from March and let you know exactly what we have done and what we have planned for the near future from your feedback!
In recent weeks we have trialled the addition of a 3rd lane rope in the pool. The early feedback we have received is that it is a good idea, but not something to have at all times. We will look in detail at the best times to use this lane and update our published swim timetable accordingly!
You said – "Can we have a sofa back outside the studios please?"
It was important that we didn't turn the area outside the studios into a social area, it blocked fire escapes and caused overspill into the free weights rea, which could have been dangerous. At the same time, we understand that people in Yoga, Body Balance and Pilates classes do need somewhere to sit to put on and remove shoes for classes. We have now provided a bench outside the studios which we believe will be a suitable and practical replacement for the sofa.
You said – "Visibility to the Copnor Road is poor when driving out of the car park"
We agree with you, and now the spring is upon us we understand that the hedges at the front of the club will grow back very quickly. We are in the process of cutting back all the hedges to a much lower level, which will improve visibility and safety at the junction, and make our club visible from the road side! We are also repainting the stop sign and the zebra crossing at the top end of the car park, to make a much safer environment – We will also ensure that the gate is pinned back during opening hours.
You Said – "Please can you review your booking system for classes as a painful trying to get through in the mornings?"
A lot of you have suggested that our booking system for classes isn't always fair on members who can't make phone calls or be in the club at 8am the day before a class. Going forward we will be looking to move a few more classes' non-bookable if we find that they are not fully occupied.
You Said – "The Roko Junior timetable needs updating and offer more for children"
We intend to release a brand new and exciting junior timetable in time for the May half term holiday. The timetable will take a new format which will be easier to read, and will have new and exciting supervised sessions and family focussed events for all ages. We intend to launch this timetable at a family fun weekend in May. As soon as details are finalised, we will let you all know! Classes being discussed are street dance, floats and fun, Friday disco and lots more.
Finally, I would just like to remind all members that it is extremely important that you bring your membership cards with you every time you visit the club. As of May we shall be tightening our 3 visits without a card rule. After 3 visits without a card a £5 charge will be applied for a replacement card. To help with this, new membership cards will be available from reception for a discounted price of £2.50 throughout April before full charges will apply.
Comment cards can be found at Reception and all feedback is welcomed. You won't find the comment box on reception anymore, but please hand the cards to reception who can find somebody to speak to you straight away for an instant response!
Fitness News
Each month we will be focussing on a different Personal Trainer, this month it is the turn of Cherie Cheeseman.
* Level 2 Fitness Instructing
* Level 3 Personal Training
* Gym Based Boxing
* Studio Cycling
* Circuit Training
* Metafit Coach (Only coach in this area)
* Level 3 Sports Nutrition
* Weight Management
* Post Natal Experience
* Military Experience
Cherie has been in the leisure industry for over 8 years, she brings a wealth of experience to the fitness team and is dedicated to helping her clients achieve their goals. Metafit is a great way to ensure a high intensity workout in a short space of time. Cherie also has great experience of Post Natal fitness training. For more information on how Cherie can help you contact her on ccheeseman@portsmouth.roko.co.uk
Nutrition Advice
Breakfast is the most important meal of the day, but many people skip this meal. In fact, studies have shown that less than 40 percent of us eat breakfast every day. Most people have very busy schedules, and that leaves little time to eat breakfast. However, you should try your best to eat a nutritious meal before you start your day. There are a number of benefits that you can reap from eating breakfast:
Energy Boost
Help you focus better
Prevent you from gaining weight
Boost your metabolism
Help decrease your LDL cholesterol
Prevent heart attacks
To find out more about how breakfast can help with the above, click on the link below.
Source - http://www.naturalnews.com/042084_skipping_breakfast_health_benefits_mental_focus.html
Training Tip - Follow an Effective Exercise Routine
The American Council on Exercise (ACE) recently surveyed 1,000 ACE-certified personal trainers about the best techniques to get fit. Here are their top three suggestions:
Strength training. Even 20 minutes a day twice a week will help tone the entire body.
Interval training. "In its most basic form, interval training might involve walking for two minutes, running for two, and alternating this pattern throughout the duration of a workout," says Cedric Bryant, PhD, FACSM, chief science officer for ACE. "It is an extremely time-efficient and productive way to exercise."
Increased cardio/aerobic exercise. Bryant suggests accumulating 60 minutes or more a day of low- to moderate-intensity physical activity, such as walking, running, or dancing.
To ensure you are following an effective exercise routine call the club today and book in for a member review. Member reviews are all part of the service here at Roko so take advantage of our highly trained fitness team.
Group Fitness
This month you will see the addition of 'levels' to our class timetable. This is to give members an idea of any sessions that are a little better suited to complete beginners, or sessions that may be a little tougher going. Across the timetable, most of the classes are suitable for all fitness levels. The descriptions of the classes can be found on the back of the timetable. If you would like to try one of the sessions and are uncertain due to fitness, injuries or suitability, please come and speak to the instructor at the beginning of the class. All of our instructors are experienced in coaching levels and alternative options where needed, and guiding you through your workout safely and to you own level.
Class Bookings
Where possible, we try not to make our classes bookable as we understand it can be inconvenient to have to phone in. The only classes on our timetable that are bookable (indicated by a tick on the timetable) are those that are regularly over- subscribed or have to be limited due to use of equipment. These can be booked from 8am the day before.
We have removed a few more from our booking system this month, including Friday morning Aqua Workout and a few of the BodyPump classes. We will continue to review bookable classes on a regular basis.
New Class!
From May 2016 we are trialling an early morning Vinyasa Yoga class on Tuesday mornings at 7am with Jackie Moon. For more information on this or any other class please get in touch: achase@porsmouth.roko.co.uk and we will be happy to answer them.
At the beginning of each month, Please pick up a copy of our group exercise timetable at reception or take a look on our website, so that you are aware of any timetable changes.
Club Lounge
Try our NEW Smoothie Range Available NOW in the Club Lounge
Carrot boost is good for vision skin and hair; contains Pineapple, papaya, carrot and goji juice.
Green reviver is good for digestion; contains Banana, kale, mango and lemon grass.
Ginger beets is good for colds flu and winter/spring viruses; contains Beetroot, pineapple, wild blueberry and ginger.
Up & Running
APRIL OFFER - Throughout April- Book your 30 minute Sports Massage with James for just £30
Facebook – Like and Save £5
Save £5 on your next Sports Therapy/Physiotherapy session in April if you "Like" the Up and Running Facebook page & Invite 3 friends to "Like" that page too. Just mention "Facebook Offer" when booking your next appointment with Up and Running. T&C's apply.

Ask the Experts
Have you ever wanted to talk to an expert on any of the following:
Diet & Nutrition for exercise and/or weight loss,
Exercise metabolism; are you exercising correctly for your goals,
Psychological issues of adherence to exercise and diet.
Up & Running would like to run a session where by YOU can talk to specialists to gain the answers to your questions. If this is something you are interested in please email upandrunning@hotmail.co.uk
Children's Parties
Swimming News
What are the benefits of having swimming lessons here at Roko?
Maximum 6 per class (10 per parent/Toddler)

Siblings or friends of different abilities can swim at the same time

Structured awards scheme enabling your child to progress from beginner to advanced levels

The swimming programme is delivered by professional, highly trained, motivated teachers who are passionate about teaching swimming

All swimmers are continuously assessed through ASA programme and badges are awarded when achieved

Priority booking system for existing swimmers

Heated 20m indoor pool and children's splash pool
The current 10 week course started on 14th March 2016-Yet we still have spaces in some classes. To book your classes call 02392 651 400 or Speak to Reception