29th January 2016 | Portsmouth
Manager's Welcome
Welcome back after what I hope was a happy holiday period. No doubt many of you will be feeling well fed and watered by now and I ask why not? A record number of you kept your programs going and visited the club in the last two weeks, but if you slipped out of the habit and didn't make it, it only takes one visit to break this pattern!
Most of us will have made and broken at least one New Year's Resolution in our lives. Each year we try to change something about our behaviour and research suggests most of them fail. This same research identifies three things that separate those that stick and those that don't.
Make Your Goal Attainable: It may be more exciting to choose a target like losing 50 lbs or giving up alcohol for ever. However, it is far more practical to take manageable steps than attempt a complete life overhaul. The advantage of setting achievable goals is that you can always up the ante and set another target.
Know That You Will Stumble. That's Inevitable, and Okay: Beware the 'what the hell' effect. This is where you miss an exercise session or eat something you shouldn't and so think "this day is ruined I'll just start again tomorrow, or next week, or next month".
Be Motivated and Committed: Behaviour change is hard. A key task is to plan ahead the steps that are required to achieve what you want, rather than just diving in with wishful thinking. Do you have enough gym kit? Where will you keep it? What will you do if your training buddy can't make it, do you have another program? When will you visit the club? And so on. Work out the obstacles to you being successful and come up with the solutions in advance.
Good luck and if you get stuck don't forget to ask for help!
Alun Davies and Your Roko Team
Club News and Events
get your exclusive make it happen wristband & bring a friend for FREE - pick up your card from reception
kick start 2016
•Book a FREE Touch Base programme review with a member of the fitness team to refresh your programme and get you on track.
•Bring a friend to workout with you for FREE before 29th February 2016. (Pick up your card from reception.)*
Fix it Clean It
During December and continuing into January we are redecorating and improving shower and spa areas. This may add to a little disruption from Monday the 11th to 15th but we will endeavour to keep this to a minimum.
House Rules from Member feedback in December
Could I kindly remind Members that they are required to bring a towel to the gym and ensure equipment is clean after their use for the next user. Members should also bring a closed water bottle (with lid) to the club when exercising. My final request is to please make sure that lockers are not being used overnight and pool shoes that are provided are worn on poolside and wet areas of the club at all times when outdoor shoes are being used.
Please continue to use the comment cards at reception to let me know what is working well and what can be improved.
Many Thanks, Alun
Thank you for your support
The Gym fitness team headed by Darin Melville and Anthony Pink have continued to raise money towards Adele's basketball Wheelchair. We had a great turn out at our Christmas Curry and Quiz evening and managed to raise a huge £463.16!
Please visit https://www.gofundme.com/z445wns and donate what you can afford.
Members Feedback Forums
We would like to hear what you have to say about YOUR health club. As always the Members feedback forms are displayed at reception and we are happy to hear any queries you may have about certain aspects of the gym.
As part of our Fix it Clean it campaign, we are also holding member forums in January: The areas we are looking for members to support are:
• Family activities and junior programme
• Group exercise
• Food and beverage and social functions
• Fitness experience
• Club standards and member feedback
• Wet side facilities and activities
The forums have a limited number of spaces left, if you would like to show support, please contact reception.
Fitness News
Personal Training
According to www.forbes.com only 8% of new year's resolutions are actually kept! If your resolution is fitness based let us give you the best possible chance of success. Book in for a complimentary member review and our qualified and experienced personal trainers will give you all the help you need. Make 2016 your year!
Maltron BF-906 Body Fat Analyser OFFER
Anthony Pink can analyse your Body Fat %, Body Fat Weight, Target Body Fat (min/max), Body Mass Index (BMI), Basal Metabolic Rate (BMR) (Kilo-Calories) (Resting), Body Impedance (Z), Target Weight (min/max), Lean Weight, Lean %, Water Litres, Water % and Target Water (min/max) with the Maltron BF-906 Body fat Analyser
Special offer for January £10 (normally £15)
Anthony Pink will be running a body analysis day Saturday the 9th January 11:00 am onwards and Monday 11th January 14:30 onwards. Bookings only.
Exercise Tip
"Don't strive for perfection or an improbable goal that can't be met," says Kara Thompson, spokesperson for the International Health Racquet and Sports Club Association (IHRSA). "Focus instead on increasing healthy behaviours."
In other words, don't worry if you can't run a 5K just yet. Make it a habit to walk 15 minutes a day, and add time, distance, and intensity from there.
Source http://www.webmd.com/fitness-exercise/guide/10-workout-secrets-expert-exercise-tips
January Gym Challenge
Join January's gym challenge to help burn off the Christmas pud!
Run the London Marathon at Roko Health Club, throughout January! Keep track of your running in club and tick off famous land marks as you go. You will have 30 days to complete the marathon distance of 42.2KM. For every 1KM you run, jog or walk you will be able to tick off a box and track your progress around the London Marathon route.
Nutrition
The image below provides a guide for a well-balanced diet, Orange = 33%, Green = 33%, Blue = 15%, Red = 12% and Yellow = 7%. Please note that this may not be suitable for specific goals, any personal trainer will tell you that what you put into your body is just as important as the exercise plan you follow. For more specific nutritional information please speak to one of our personal trainers.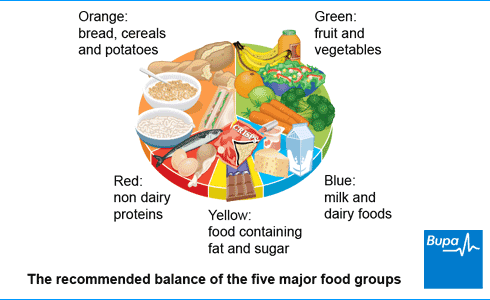 source https://www.bupa.co.uk/health-information/directory/h/healthy-eating
Group Exercise
New Year, new Les Mills releases! Our class launches will be held on the weekend of 9th and 10th January, details of the classes are on the boards outside the studios, or ask at Reception.
Club Lounge
New for 2016 a full years listing of our events will be available at Reception from Mid-January.
If you would like to suggest an event for the year ahead that you would be interested in attending; please email RJordan@portsmouth.roko.co.uk
ALL ideas welcome.
Swimming News
What are the benefits of having swimming lessons here at Roko?
Maximum 6 per class (10 per parent/Toddler)
Siblings or friends of different abilities can swim at the same time
Structured awards scheme enabling your child to progress from beginner to advanced levels
The swimming programme is delivered by professional, highly trained, motivated teachers who are passionate about teaching swimming
All swimmers are continuously assessed through ASA programme and badges are awarded when achieved
Priority booking system for existing swimmers
Heated 20m indoor pool and children's splash pool
We are now taking bookings for the next 10 week course commencing week Monday 4th January 2016.
Please book your classes at reception or call 02392 651 400
Up & Running
Special Offer
30 minutes Sports Massage with Katie Tabner is just £30! To book please call reception on 023 92651 400.
Show your support
In 2006 and 2011, following a successful application made by The Society of Sports Therapists, the Health and Care Professions Council (HCPC) made a recommendation that Sports Therapists should be statutorily regulated. To date, this recommendation has not been legislated, although the need for it continues to increase.
In order to highlight the need, a petition has been launched on the UK Government and Parliament Petitions site. This gives everyone who agrees with and supports the recommendation made by the HCPC the opportunity to electronically sign the petition. The closing date for this petition is the 29th January 2016.
If the number of signatures reaches 10,000, either before or on the closing date, then under the terms of these petitions, the Government must take notice. Additionally, if 100,000 signatures are received, then the mechanism for legislation must be addressed by the UK Government. If you agree with the Society of Sports Therapists that Sports Therapists should be statutorily regulated, please click on the link: https://petition.parliament.uk/petitions/105291
Children's News - First Steps Children's Day Nursery
Crèche
Crèche facilities are available to book for your child aged 8weeks-5years, bookings can be taken up to two weeks in advance, payment at time of booking required please. Why not try an early session 7.30-9am? Also, afternoon sessions are often quieter. Check out the Roko Facebook page for daily availability, and phone 02392639777 to book. Or see our web page: www.childrensdaynursery.co.uk
Parties
Our parties take place on Saturdays and Sundays only, please book early and secure with a non-refundable £50 deposit.
We can offer the following:-
1.5 hour Splash party (for 10 over fives) for £100. *subject to lifeguard
Traditional party £120
Superheroes/pirates/princess party £120
£12 per additional child over the ten applies.
All parties are 1.5 hours long and priced up for ten children (including the party child), with extra children chargeable, includes party food, served within the nursery and invites containing guest passes for the club. We ask that for children to get the full enjoyment from their party that parents leave them in the care of our experienced nursery staff. All of our parties cater for under eight year olds only.
Please make enquiries through phone - 02392639777 or E-mail jenny@firststepsnursery.net
Children's Activity News
**Dance N Beats **
Aged 4-8? Sundays at 10am Join Sarah in Studio 1 to dance to your Favourite pop tunes and learn some new dance routines. Pay weekly, learn a performance routine and have lots of fun with new friends.