31st October 2017 | Nottingham
Manager's Message
Welcome to November! It's now officially the time that we can mention Christmas without feeling bad about it. Fitness, activity and exercising really do help you to become more productive so use this as the month where you can be all smug and turn your productivity in to Christmas shopping! Getting your workout done early in the day can also help with productivity so we've had a play around with the group exercise timetable and added some more choice to our early bird classes.
For those who like a slower pace, there are still places left on all three of our yoga workshops. Work on balancing your Vata with Valentina, increase flexibility and mobility with Victoria or work on your air time with Victoria's arm balancing workshop. All lovely ways to spend a Sunday afternoon. More details are below.
Our charity focus for November is UNICEF's global campaign, workout for water. Save the date of 18th November to help us raise funds to install clean water pumps in vulnerable communities.
Best Wishes for November
Julie Bowley and your Roko Nottingham Team
Member Referral Offer Continues
Introduce a friend to Roko and if they decide to join then we'll give you both a Roko voucher pack worth over £100. There's no limit to the number of friends you can refer and receive rewards for and we hope you can really benefit from this voucher pack.
Simply click here to refer your friends on-line and we'll contact them to arrange their personalised tour
Club News
Carpark News
In August we made major improvements to the car park to improve security as we had experienced difficulties with unauthorised access and occupation of the car park and fields. An area within the first bay on the left was then created exclusively for the use of members and guests who have high-sided vehicles as the main car park is no longer accessible to them.
Unfortunately despite our best efforts to manage this area we have had a large number of people still persisting in parking in the high-sided vehicle area denying members and guests with high-sided vehicles the ability to park and therefore to use the club.
Please be aware that in order to successfully resolve this matter we will be outsourcing car park management to CPS Car Park Management from 1st November 2017.
Please ensure you comply with the car park restrictions as penalty fines will be issued by CPS for vehicles parked inappropriately in the high-sided vehicle area. New signage for the area will be very prominent in addition to the signs already in place so that everyone is fully aware of the parking restrictions.
We are sure you will agree that all members should be able to park and use the club at all times, therefore we thank you for your understanding and co-operation in this matter.
Premier Partners
Just a reminder from our friends at Ego at the Dorset Arms and their exclusive – and really very good! – offer available to Roko members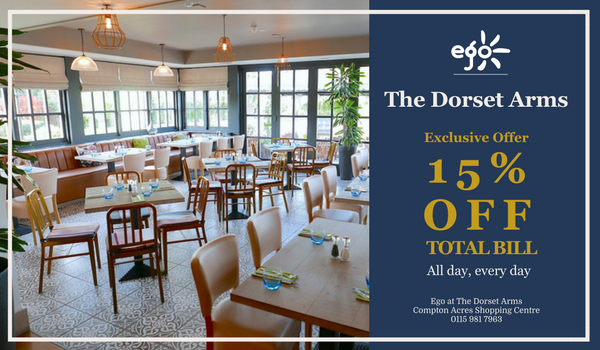 Fitness News
Personal Training
it's time to get personal
Personal training means something different to everyone. Whether you are training for a particular event, have weight loss goals, fitness aims, or health and lifestyle ambitions, personal training can help you to:
* Achieve more with your health and fitness
* Lose weight faster
* Stay motivated to come to the club more regularly
* Boost yourself out of a fitness plateau
* Add variety to avoid workout boredom
* Prepare for an upcoming event.

Personal training is great value and is within reach of everyone. Providing motivation, inspiration, support and guidance, personal training will give you the boost you need to move on with your health and fitness and achieve your goals more quickly than you thought possible. Roko personal trainers are friendly and approachable but the most important decision is choosing the best one for you. Our elite personal trainers have specific areas of expertise, additional training and qualifications and will suit those who have specialist requirements.
For a FREE CONSULTATION or to book a personal training session please see reception or any member of the fitness team or click here to enquire on-line.
WORKOUT FOR WATER – NOVEMBER 18TH 2017
Save the date for November 18th when we will be working out for water as part of Les Mills and Unicefs global campaign. Did you know that 2.1 billion people around the world don't have access to clean water? A shocking statistic when water is fundamental for our survival and to fuel our bodies – and our workouts.

We're still finalising details of events on the day and gym challenges that will we be running from Monday 13th November to raise awareness and more importantly, funds to help install clean water pumps in vulnerable communities.

In the meantime, if you'd like to donate, check out our fundraising page here… https://movetheworld.live/uk/17-193

It costs around £315 for one water pump…how many would we be able to install?
TIMETABLE CHANGES
We're adding to our timetable and giving you even more options to choose from before you head off to work. These changes and new classes take effect from Monday 30th October…

MONDAY

06.45 – 07.30 BODY PUMP NEW TIME

07.00 – 07.30 CIRC-X NEW CLASS

TUESDAY

06.45 – 07.30 CYCLONE NEW TIME

07.30 – 08.00 CORE-X NEW CLASS

WEDNESDAY

07.00 – 07.30 STRENGTH-X NEW CLASS

THURSDAY

07.45 – 08.15 CORE-X NEW CLASS

FRIDAY

06.45 – 07.30 BODY PUMP NEW TIME

07.00 – 07.30 BODY-X NEW CLASS

We've also made some changes to Thursday mornings which now looks like this…

09.45 – 10.30 Zumba

10.45 – 11.30 Strictly Dance

Strictly Dance is a new class being delivered by Claire and combines your love of dance and strictly. You will dive in to the world of ballroom and Latin building a new routine each week.
YOGA WORKSHOPS
We've got not one but three Yoga workshops coming up for November and December, each with a different focus.
November 12th 2.00 – 4.00pm – Vata Balancing with Valentina
What does Vata mean?

Late fall and winter are known as Vata season because they have some of the same qualities that characterize Vata: cold, dry, light, clear.
When too much Vata accumulates in the body and mind, the imbalance may manifest as physical or emotional disorders such as insomnia, dry skin, arthritis, constipation, high blood pressure, anxiety, and depression.
You are invited to the Vata Balancing Yoga Workshop to help keep you grounded and energised during the cold months.
We will explore poses gradually and steadily, moving very slowly, focusing more on grounding in standing and balancing poses.
You will have some practical ideas to nourish your body and your mind, such as the practice of Abhyanga self-massage for a deep feeling of stability and warmth. It nourishes the entire body, calms the nerves, moves the lymph, aiding in detoxification and better deeper sleep.
Available to book at club reception now; £18 members, £20 non-members
November 19th 2.00-3:30pm - Flexibility and Mobility Workshop - a Yin yoga approach to finding inner peace with Victoria
This workshop focusses on gaining bigger range of motion in movement and flexibility with dynamic and static stretching, combining with a yin style of yoga while breathing and settling in postures for 3-5 minutes each. This will allow our bodies to achieve deeper mobility in joints and activate fascial release. A chance to do a Yoga Nidra at the end, which is yogic sleep encouraging a practice of deep conscious relaxation - perfect to relieve any insomnia, anxiety or stress, leaving you feeling calm and restful.

This is a workshop for ALL levels. Perfect for those who would like to take their practice into a slower controlled pace to allow our mind to coordinate better with our proprioception.
*** Please bring extra layers and even a blanket to keep yourself warm and cozy for the Nidra practice.
December 3rd 2.00 – 3.30pm - Arm Balance Workshop with Victoria
Ever wondered how to get into a headstand properly and safely? Curious to try that yoga pose you saw on social media but not quite sure how to start? Let's get some air time balancing on your hands and a chance to get upside down!

This workshop focusses on activating the core, breaking down more challenging postures with detailed asana analysis and of course a chance to try it out safely with guidance and assists.

Great if you want to find your inner strength and learn how to find centre of gravity while working the full body.

This is a workshop suited to those who already practice yoga, where you can build up bodily awareness when having a playtime balancing on your hands instead of your feet!
Victoria's workshops are £12 members and £15 for non-members with the offer to do both of them for the special price of £20 for members and £25 for non-members
Swimming News
Welcome back to old and new swimmers, let's make this a great term of swimming!
New teachers: Marion who's our new teacher on a Saturday has now joined the team along with Grace and Natasha.
New classes: We now have a stage 9/competitive swimming class running on a Sunday morning at 11am this is a 45 minute class aimed at fitness and technique, great for children who aren't quite ready for a swimming club and/or who want to continue with swimming.
We will be running some "Fast Track" classes in January, 3 children in a class of similar ability, these will be limited to certain time slots and the most experienced teachers will be leading them. Contact jennie.keast@nottingham.roko.co.uk if you want to find out more.
Check out this great calorie cruncher app below for swimming!
http://www.swimming.org/justswim/just-swim-app/#.WfB7k7yniPo.email
Kids Activities
We're working hard to bring you lots of new activities for your little ones. We've still got some tricks up our sleeve but for now we're bringing you the following from Monday 9th October
Monday
16.30 – 17.15 Actif Circuit for 5 – 11 yrs Studio 2
Friday
16.00 – 16.45 Actif Circuit for 5 – 11 yrs Studio 2
PARTY AT ROKO
Children's Birthday Parties are back
If you're looking for a birthday party venue, look no further! Here at Roko we have 2 large studios and a splash pool to host your little ones parties.
Dance, football and pool activities along with set party menus are available.
For further details please contact hcooke@nottingham.roko.co.uk
The Joshua Tree
Through November we will be offering 3 treatments for £55! Call in to the salon for more information on 0115 9813111 or book online for Spa info@joshuatree-salon.com
We've also got lots of new products available for the festive season…
Pure-fume hair mist
Shampure pure-fume mist with calming aroma
Beautifying pure-fume mist to up lift
Stress Fix hand crème – perfect for the colder days to avoid dry hands
New Texture Tonic - Get the straight off the beach look for your hair!
Organic ginger and ginger lily's moon white blossoms candle
Candrima moisturiser, crème cleansing oil & body polish gift set
Renewing journey hand crème trio gift sets
Vibrant Hair shampoo & conditioner colour conserve gift sets.
*if you would like any more information or advise on any Aveda products please come into the salon and speak to one of our professionals who will be happy to give you their expert advice.
Extended and Christmas Opening Hours
From 2nd November to 21st December our Thursday hours are 09.00 – 20.00
Tuesday 19th December we will be open 09.00 – 20.00
Christmas Eve we are open 09.00 – 15.00
The Salon will be CLOSED Monday 25th, Tuesday 26th and Wednesday 27th December
Thursday 28th December we are open 09.00 – 21.00
New Year's Eve we are open 09.00 – 15.00
The Salon will be CLOSED Monday 1st, Tuesday 2nd and Wednesday 3rd January 2018
Normal opening hours resume from 4th January 2018
HotPod Yoga
We have loved meeting so many of you in the new Hotpod studio since we opened 6 weeks ago. Hotpod yoga is all about yoga for real life: no pretzels, no chanting, no Sanskrit. You move, you breathe, you sweat, you rest and somehow emerge after an hour feeling energised and super charged…all against a backdrop of chilled urban tunes and delicious relaxing aromas, and possibly even having had little massage for your efforts! Seriously, forget everything you think you know about yoga, and come and use your 10% Roko member discount with our Introductory Offer for Newcomers - just drop a mail to
notts@hotpodyoga.com to get your personal discount code. To keep up to date you can find us on Facebook, Instagram and Twitter as @hotpodyoganotts – and here is our FAQ page if you are interested to learn more
https://hotpodyoga.com/uk/yoga-classes/west-bridgford/#tmup=/p/180744-hotpod-yoga-nottinghamshi/10075-10076-14751-16397/
See you in the pod soon