7th March 2017 | Nottingham
Manager's Welcome
March is here and that means it's almost time to unwrap the outdoor pool ready for the summer. Less than a month to go! We're starting to raise the temperature and ensure all the chemical levels are correct so it's all ready to go on the 1st April. Start praying now for sunshine!
This month I'd also like to praise a few members of our fitness team. Helen, our fitness manager, along with our fitness apprentices Alex and Zoe have been invited to an awards reception at the House of Commons. The ceremony pays tribute to the work apprentices do and appreciates how integral they are to the fitness industry. Well done to all three of them!
Our partners at the Joshua Tree have got some lovely Mother's Day treatments available…make sure you book in plenty of time!
And don't forget that the clocks go FORWARD on Sunday 26th March…another sign of summer!
Wishing you a Marvellous March!
Julie Bowley and your Roko Nottingham Team.
Invite Your Friends & Family
to Enjoy 2 Weeks For Just £20 - click here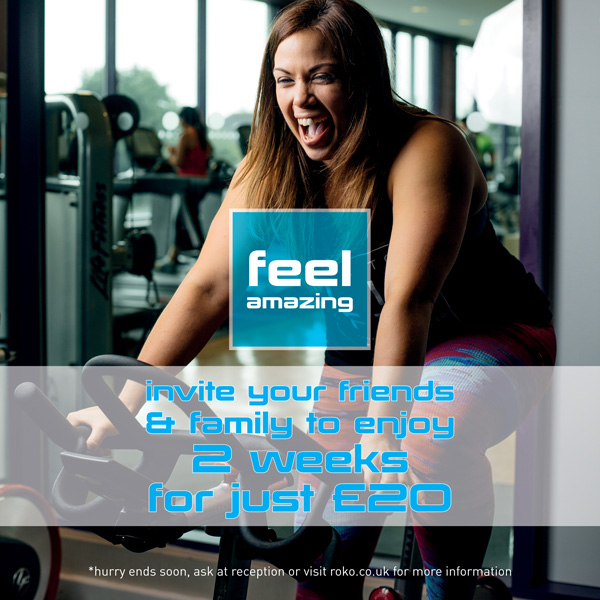 Fitness News
What are the psychological benefits of exercise with depression?
Improved self-esteem is a key psychological benefit of regular physical activity. When you exercise, your body releases chemicals called endorphins. These endorphins interact with the receptors in your brain that reduce your perception of pain. Endorphins also trigger a positive feeling in the body, similar to that of morphine. For example, the feeling that follows a run or workout is often described as "euphoric." That feeling, known as a "runner's high," can be accompanied by a positive and energising outlook on life.
Endorphins act as analgesics. This means they diminish the perception of pain. They also act as sedatives. They are manufactured in your brain, spinal cord, and many other parts of your body and are released in response to brain chemicals called neurotransmitters. The neuron receptors endorphins bind to are the same ones that bind some pain medicines. However, unlike with morphine, the activation of these receptors by the body's endorphins does not lead to addiction or dependence.

As well as the better known health benefits of exercise such as strengthening your heart, reducing body fat, strengthening bones, regular exercise also has the following benefits:
*Reduced stress, tension and mental fatigue
*Ward off anxiety and feelings of depression
*Boost self-esteem
*Improve sleep
*A natural energy boost
*A sense of achievement
*Focus in life and motivation
*Less anger or frustration
*A healthy appetite
*A better social life
*It's fun!

Plus, research has shown that exercise is an effective but often underused treatment for mild to moderate depression.

Do particular types of exercise help depression?
Any form of exercise can help depression. You should aim for 30 minutes of moderate exercise 5 times per week. It may sound like a lot initially but isn't as daunting as it first appears. Moderate exercise means being energetic enough that you have to breathe a little heavier than normal but are not completely out of breath and so that your body feels warmer but you don't end up pouring with sweat.

Overcoming barriers…
It can be a bit scary making changes to your life. Most people get anxious about trying something new. Practical and emotional support from friends, family and experts really does help.

Fear of failure…
Our fitness instructors can tailor a programme specific to you. Start small and increase, for example, a brisk 1km walk on the treadmill gradually building the pace to a run. Try a different group exercise class; all classes here at Roko are designed for everyone with options to decrease or increase impact and/or intensity. Just let the instructor know at the beginning that you're new to class. There will be no singling out but they will know to take extra care of you.

Staying on track…
After the initial motivation to start, maintaining an active lifestyle can have its challenges. Sometimes staying active is hard, both physically and mentally – but there are plenty of rewards.

Stress…
This is a normal part of life. Keeping active can help you deal with it. Remember, the natural chemicals that exercise produces can help put a smile on your face.

Feeling low…
When you feel down it can be hard to motivate yourself. Ask your friends for some support. Or try a different activity if that helps.

Seasons …
When the clocks change for winter sometimes it seems more appealing to just go home after work. Try and keep in mind how much better you will feel if you go and do your programme.

Energy…
Not all of us leap out of bed full of beans and ready for exercise. Work with your energy highs and lows. Listen to your body and accept that some days it's best to take a break.

Injury or illness…
Always ease back into your exercise routine – take advice from your GP or speak to a member of our fitness team if you need to. If an injury is going to be an on-going problem, switch to a more suitable activity.

Rewards…
There are many positive spins offs from being active. Enjoy the ups – give yourself a quiet pat on the back or celebrate with others. Nothing can beat that natural high. Take a moment to recognise how you feel more positive about yourself and life. Goal setting plays an important role in how rewarding exercise can be. Once you've been exercising for a while, think about your initial goals and how you felt when you achieved them. If you're not quite there yet, do ask yourself, why not? Perhaps the goal or time frame was an unrealistic one, were there influences outside your control that got in the way? Maybe you've just not been quite as dedicated as you thought you were being – this isn't a bad thing! Chalk it up to experience and move on with more motivation. It is impossible to see improvements every day. Making the commitment to regular physical activity is an achievement in itself.

New motivation…
If you've achieved your original goals, think about something else that provides a new challenge. Perhaps sign up for a charity event. You'll have something specific to train for and you'll be raising money for a good cause.

If you're after a little extra motivation or support, book in with a member of our fitness team.
Get Fit, Stay Fit – It's the Roko Promise. We have built on research and best practice to create a series of solutions which we know enhances your ability to succeed and stay successful. We know that every member within our Club is unique so whatever your health and fitness goal we are here to help and support you – it's personal. All your rokofit. appointments are free and included as part of your membership and we recommend you see an instructor for 30 minutes every 6 weeks or so to ensure you stay focused and are achieving your all-important lifestyle goals. If of interest, a short fitness assessment is also included to help track your progress and to keep you accountable to your goals.
For more information click here.
Children's News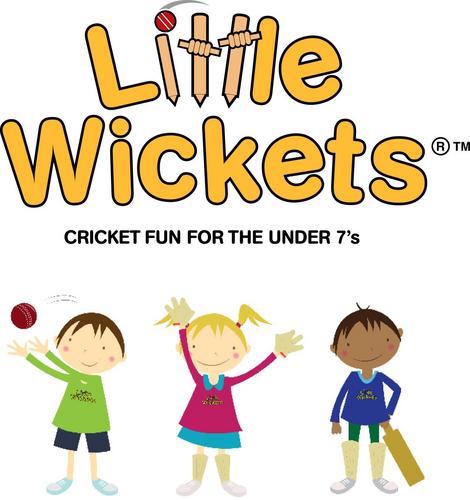 Little Wickets
Bring your pre-schooler (aged 2 ½ till they start school) and join us at Roko for some cricketing fun on Fridays at 10.45am or 11.30am. The sessions are 45 minutes long and are run by one of Little Wickets experienced, qualified and fully vetted coaches and a coaching assistant. The coaches start with some fun warm up games and then introduce some fun skill based activities. It's not a cricket match! The activities all have cricket at their heart and are based on the 'FUNdamentals of movement', developing hand eye co-ordination, individual skills and team co-operation. Each session has a particular theme whether it be batting, bowling, catching, throwing or fielding but all of the elements of the sport are incorporated into all the sessions.

The coaches always encourage the kids to join in as independently as possible; however, the grown-ups can join in as much or as little as they feel is necessary.

Here is what one of the mums who brings her son to the sessions had to say and is exactly why the coaches work so hard ... "I just wanted to say, that I think the Little Wickets classes are brilliant. My son loves the class and has grown so much in confidence. Both Ben and Sam are great with all the children. I really admire the teaching and the discipline. It is one of the best things that we have done."

The cost with your Roko membership card is £8.50 per session. For the rest of this term starting on Friday 20th the cost is £34 or Friday 27th its £25.50. Starting after half term the cost for 6 weeks is £51.

Just email sara@littlewickets.com to register your child.

Happy cricketing!
Premier Partners
As we say Goodbye and Good luck to our friends at The Riverbank we also welcome more Premier Partners to bring you great local discounts:-
Ego at The Dorset Arms
17% off ALL meals, ALL day, EVERY day!
Ego @ The Dorset Arms, West Bridgford is a beautifully extended and refurbished 120 seat bar and restaurant. With a stylish bar, open plan kitchen and large restaurant space the venue is perfect for family dining, group parties and intimate occasions. Located in the Compton Acres shopping precinct there is ample parking as well as an al fresco dining area for the summer months.
Ego @ The Dorset Arms offer great discounts and special deals on different days of the week. Check out their website for further details.
Tom Browns Brasserie, Gunthorpe
20 % off the main menu Monday to Friday lunchtimes and evening.
Tom Browns Brasserie, Gunthorpe, combines the stunning charm and character of an Old Victorian School House with an elegant, contemporary interior. Sitting on the leafy banks of the River Trent it offers some gorgeous views of the river and local wildlife, especially from the heated outdoor sun terrace. Tom Brown's hold two AA Rosettes (2008-2016) & a Michelin Restaurant Guide 2016 entry; and work exceptionally hard to deliver consistent quality.
Check out all our Premier Partners here…https://www.roko.co.uk/nottingham/premier-partners
SWIMMING NEWS
Swimming lesson re-enrolment is now open!
You should have all now received information with regards to next term and which class your swimmers will be going into. The current term ends on Sunday 12th March with the new term starting on Monday 13th March, running for 10 weeks up to Sunday 21st May. We kindly ask that all payments are in by Sunday 5th March, after this date swimmers will be booked in from the waiting list and anyone wishing to swim with us will be booked on.
We will be welcoming Sophie back as a teacher on a Friday, Georgina will also be staying and teaching some of the lessons on that day also. Natasha will be taking on some of my lessons on a Saturday next term allowing me to continue to grow the programme and put on some new classes on a Saturday morning. We also have Joe our water helper who will continue to help out on a Saturday and Sunday morning.
Adult group lessons
We are currently taking names and contact numbers from people interested, there will be two groups beginners and improvers-contact jennie.keast@nottingham.roko.co.uk to register your interest.
Thank you for your continued custom, I have thoroughly enjoyed watching all the swimmers progress along with all the teaching team, and look forward to seeing you all next term!
Don't forget with the lighter and brighter evenings the outside pool will be unveiled on Saturday 1st April!
Happy Swimming!
Jennie Keast

Mother's Day - Sunday 26th March
What a way to give flowers with pure flower and plant essences for your loved one.
ROSE £80.00
· 2 hours 15 minutes
· Aveda massage or facial
· Aveda Spa manicure or pedicure
· Body polish & replenish
JASMINE £65.00
· 1 hour 30 minutes
· Aveda massage or facial
· Body polish & replenish
GERANIUM £35.00
· 1 hour
· Opi gel manicure or pedicure
· Stress fix hand or foot massage
*Gift vouchers available for the above are valid until 26th May 2017
You may also purchase gift vouchers from £10.00 + valid for 6 months from date of purchase.