5th June 2017 | Nottingham
Manager's Welcome
We love the summer! Bright mornings make it easier to get up and the light nights make it seem like anything is possible. What is possible is achieving your health, fitness and lifestyle goals. The Roko promise is Get Fit, Stay fit and we really mean it with our unique your rokofit. programme. It has something for everyone whether you're new to the gym and want to get started or maybe you're just lacking a little motivation and need a refresher. Our fast classes are also a great way to get involved – look out for rok-x coming the gym floor!
Our friends at the Joshua Tree have got some lovely treatments available for the warmer months including Aveda's hair and body cleanser and their cooling foot relief treatment – perfect if you're on your feet all day or just fancy a pamper.
And don't forget our limited edition Roko hoodies, on sale now. Here's to a jumping June!
Julie Bowley and your Roko Nottingham Team.
Member Referral Offer Continues
Refer a friend who joins Roko and YOU BOTH receive an Aveda shampure kit plus a £10 Joshua Tree voucher. Click here for details and to refer a friend.
Fitness News

ROK-X FAST CLASSES
Last month we added more gym floor fast classes to our schedule. This month the classes see something of a re-vamp and will have more of a focus which will change each month. Same days, same times but as follows…
Monday
Tuesday
Wednesday
09.00
circ-x
09.00
body-x
09.00
circ-x
11.00
The Eternal Youth Club
19.00
body-x
19.00
plyo-x
17.15
strength-x
19.00
core-x
Thursday
Friday
Saturday
09.00
strength-x
09.00
body-x
09.00
body-x
11.00
circ-x
Sunday
09.00
strength-x
11.00
core-x
body-x: Designed to challenge your cardiovascular and muscular endurance using mostly bodyweight exercises.
plyo-x: Fast-paced, sport based, high energy plyometric (also known as jump training) workout. This class is designed to increase your power strength and speed.
strength-x: Designed to test your cardiovascular and muscular endurance limit using weighted equipment.
circ-x: Circuit based training combining strength and endurance exercises, giving the benefits of both a cardiovascular and strength training workout
core-x: Body weight and weighted exercises are included to work the all-important core and to strengthen stabilising muscle groups.
When attending these classes please ensure you are already warm so you can make the most out of the half hour session and always take time to cool down and stretch if the instructor does not add this to the programme. All classes are suitable for all abilities. Instructors will include progressions and regressions of exercises in classes.
With the addition of rok-x and our plyo-x classes, we know that some of you may not have done plyometric training before (or you may not have realised you're doing it!) So, here it is…
Simply stated, a plyometric exercise is a movement that is performed rapidly where there is a quick stretching or loading of the muscle followed by a forceful contraction. Some examples of plyometric exercises are skipping, sprinting, throwing objects at fast velocities (think baseball, football, and Olympic throwing), and even punching or kicking like in martial arts.

If you're new to plyometric training, exercises like jumping rope, skipping, hurdling and jumping on low objects are great ways to get started. If you're more advanced, you can challenge yourself with harder exercises like box jumps, plyometric push-ups, and burpee pull-ups.

Benefits of Plyometric Exercises
Plyometric training has a whole host of benefits;
It induces an oxygen debt which means it causes you to feel muscular burn and fatigue, and makes you go breathless; therefore, plyometrics have high fat-burning potential.
It trains your fast-twitch muscle fibres, which are responsible for speed and power. Fast-twitch muscle fibres tend to be bigger than their slow-twitch counterparts meaning better muscle shape and definition – think of a sprinters legs versus a marathon runners legs.
Over time, plyometric exercises train your muscles to store more energy because they increase the number of mitochondria (the energy-producing powerhouses of your cells) in the trained muscle groups.
They're a fun and effective way to train
Plyometric exercises are a great addition to any comprehensive strength or wellness program because of the demands they place on your muscles and cardiovascular conditioning. With the right plyometric exercises you can simultaneously improve your weaknesses, increase your coordination and agility, build your power and cardiovascular endurance, and burn more fat as your fitness, recovery from training, and overall performance improve.

Plyometric Workout Tips
Plyometric exercises can be performed as a superset or in a circuit. A more advanced option is to superset heavier strength training exercises with plyometrics.
Here are some important tips to keep in mind:
Quality comes first! Within a few minutes you're heart rate will be up and you will be BLOWING! So, mentally prepare and don't let your exercise form suffer. Performing plyometric exercises with poor technique is a great way to get injured.
Train different body parts in your circuit. Consecutively fatiguing the same muscles can decrease your workout performance over the 20-min session (or much sooner) and lead to poor exercise form and as we've said above, is a fast-track to injury.
Understand oxygen debt and EPOC (excess post-exercise oxygen consumption). What you're really doing here is asking your muscles and body to do more work than you can provide oxygen for. The result is increased calorie and fat-burning, even after your workout is over – can't be bad!
Limited Edition Roko Hoodies
Feel Inspired with The Limited Edition Roko Hoodie, available for £29.99 from Reception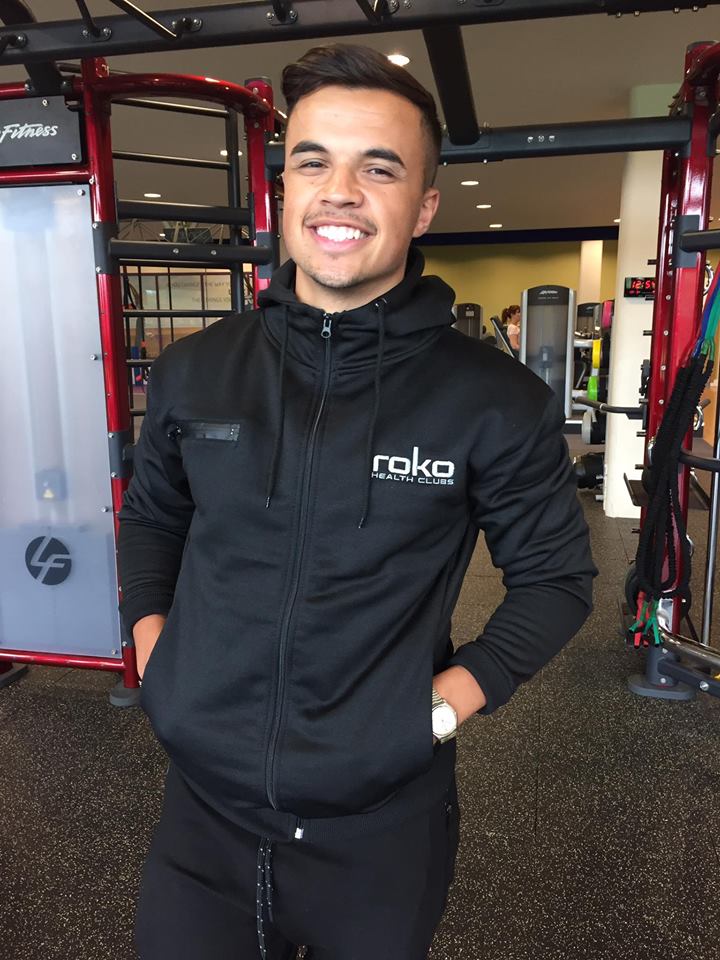 Swimming News
Term 3 is now under way and we would like to say a big welcome to swimmers old and new! We have been taking advantage of the hot weather and using the outside pool to jump into at the end of the lessons which has been great fun!
We do still have a few spaces available across the programme so if you haven't booked give us a call and we can try and get you in. Swimming is a really important life skill and the only one which will save your life! Literally! Even more so at this time of year with lots of inviting cool water to swim in!
Adult group lessons on a Monday evening have proved successful and are filling up quickly, we have 2 groups, beginners and improvers so if swimming is something you've always wanted to do but you never got round to it, give us a call whatever your level and we will be able to help you achieve this.
And finally, just a small reminder to please shower before using the pools, Jacuzzi and between each of our treatment rooms; hygiene is important to us and this really does help – particularly in keeping our pool waters crystal clear but it is also good for you – a nice cool shower after a steam does wonders for your circulation!
Happy Swimming
Jennie and the Roko Swim Team
Club Lounge
Now that the weather is finally starting to heat up no doubt lots of you are starting to think about getting beach-ready. Obviously a lot of this will be down to the hard work you are putting into your training, but what a lot of people often neglect is the benefits of a good, balanced diet. If you are training hard, but then filling yourself with unhealthy food, then unsurprisingly you will not see the progress you are hoping for in your training. We have a great range of options available to you in the club lounge café, whether you want a quick snack to grab on the go, or a more filling main meal.
Grab and go snack examples:
Battle Oats
Nutramino Bars & Shakes
GoPro Shakes
Pro juice real fruit smoothies
Meal examples:
Salads with your choice of toppings
Jacket potatoes with a range of toppings
Omelettes with various fillings
Joshua Tree News
Protecting your skin from the sun is essential but do you think about your hair? Aveda's Hair and Body Cleanser not only removes salty residue from the sea and chlorine from the pool but also gently removes any build-up of sun cream from your skin. Follow with Aveda's After-sun Hair Masque, enriched with morikue protein to strengthen the hair and a blend of tamanu and coconut oil which will moisturise hair that had been exposed to the sun.
Treat your feet and toes with Aveda's cooling Foot relief. This cream instantly moisturises and contains fruit acids to exfoliate your feet. The cooling aroma of peppermint, will not only sooth your tired feet after a long hot day but also has a deodorising effect. If your feet have been stuck inside boots for the last few months and they need some TLC, we have the wonderful Joshua Tree Pedicure that will get rid of dry skin, tidy up your cuticles and will make your feet look beautiful. Choose a colour from the new collection inspired by the beautiful pacific island of Hawaii. Our gel colour finish for fingers and toes lasts up to 2 weeks so it's ideal for holidays. Why not upgrade to a deluxe pedicure for the ultimate foot treatment.
Find the Aveda hair colour that's right for you. If you want vibrant, fade-resistant colour Aveda full spectrum™ hair colour has you covered. Choose from permanent hair colour, highlights or a semi-permanent colour, that we can customise just for you and it's up to 99% naturally derived so it is kind to your hair as well. To make sure your colour lasts as long as possible we recommend the Colour Conserve Range of shampoos, conditioners and treatments. Please ask one of our stylists for more details.
It's Prom Season! We know you want to look your absolute best so why not visit the Joshua Tree for all your beauty treats. Choose from a Fake Bake Spray Tan, a Joshua Tree Express Manicure, a Joshua Tree Express Pedicure, a blow dry or hair up.