5th July 2019 | Nottingham
Manager's Message
I hope you are making the most of our warmer and longer days. With the Women's World Cup, the Cricket World Cup, Wimbledon and the Netball World Cup coming up we are being spoiled for sporting choice! Does it all spur you on to work harder in your group exercise classes? Or to challenge yourself in your workouts in the gym? What is your motivation?
Check out what our group exercise instructors have been up to over the past few months and if you are new to Roko and feel inspired to do more then book in for your free gymfit. and get started on your fitness journey.
Be sure to read on for details about our brand new spin bikes - also make sure to visit our Facebook page where we have posted some great instructional videos about the new bikes.
Here's to a great summer.
Best wishes
Julie Bowley and your Roko team
Member Referral
Tell Your Friends & Family - 4 Weeks at Roko For Just £44
You are more likely to achieve your fitness goals when you work out with a buddy. And right now your friends can spend 4 weeks with you at Roko with a no commitment trial membership. Tag your friends on our 4 week Facebook post, refer them via the app or email them this link: https://www.roko.co.uk/nottingham/offers/4-weeks-44
Club News
Our Club Lounge opening times:
Mon-Fri 09:00-19:00
Sat 09:00-18:00
Sun 09:00-16:00
Good News! Our £5 minimum spend on card no longer applies.
Continued Investment - New Spin bikes
We were delighted to welcome brand new spin bikes into the club at the end of June and really looking forward to seeing lots more members getting an even better workout on the new matrix spin bikes.
The new bikes have some fantastic features which you can read about below:
• Ideal for precision tracking during workouts that target watts, heart rate, RPMs, distance or calories, providing personalized intensity and progress metrics
• Intuitive touchscreen Target Training Display offers engaging graphics and an LED colour wrap that helps instructors and riders gauge intensity (compatible with ANT+ and Bluetooth)
• A variety of programs including interval, pace, heart rate, goal-based workouts and Sprint 8 give riders individual training options
• Narrow Q-factor optimizes ergonomics for a real outdoor riding feel
• Low-maintenance, well-protected rear flywheel design includes magnetic resistance for smooth, consistent adjustments and watt measurement within 3% accuracy
• Contoured resistance lever provides tactile feedback for quick changes
• Intuitive adjustments customize the cycle to each user's body
• Ergonomically sculpted seat relieves pressure on touchpoints
• Comfortable multi-position handlebars with an integrated water bottle holder simulate the different grips of real road racing
• Forged steel pedal cranks include quick-adjust straps
• Quick-release access panels and easily removable pedal cranks simplify service
• Dial levelers make it easy to adjust the levelling foot after installation, maintenance or hard use without lifting the cycle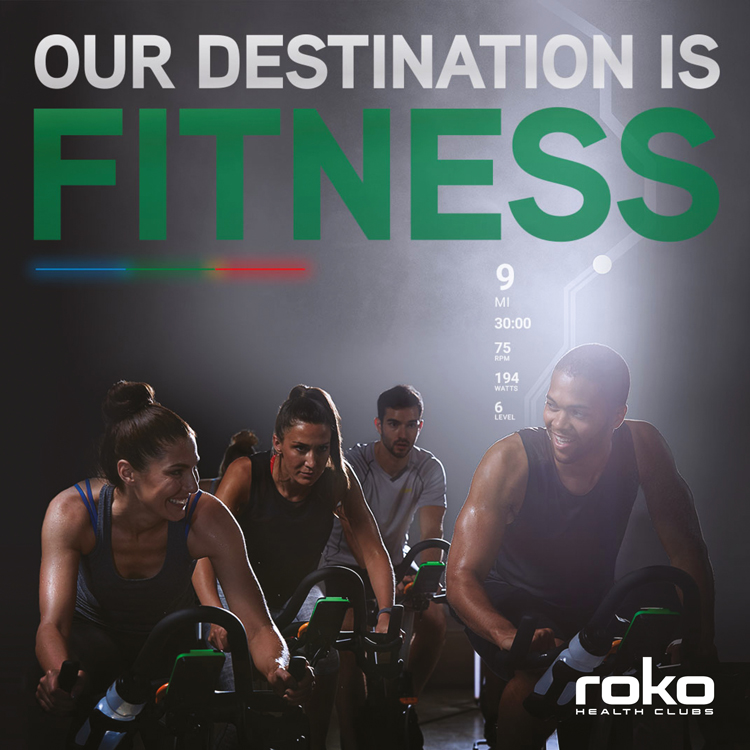 What a way to end the season!
Many of you will take part in Katherine's classes throughout the week, spurred on by her motivation and excellent coaching skills. Always delivering excellent classes. But did you know that outside of Roko she is an inspirational team player with Clifton Ladies? This weekend she received Manager's Player and Club's Ladies Player of the year award. Massive respect for this talented team player! Well done from all at Roko.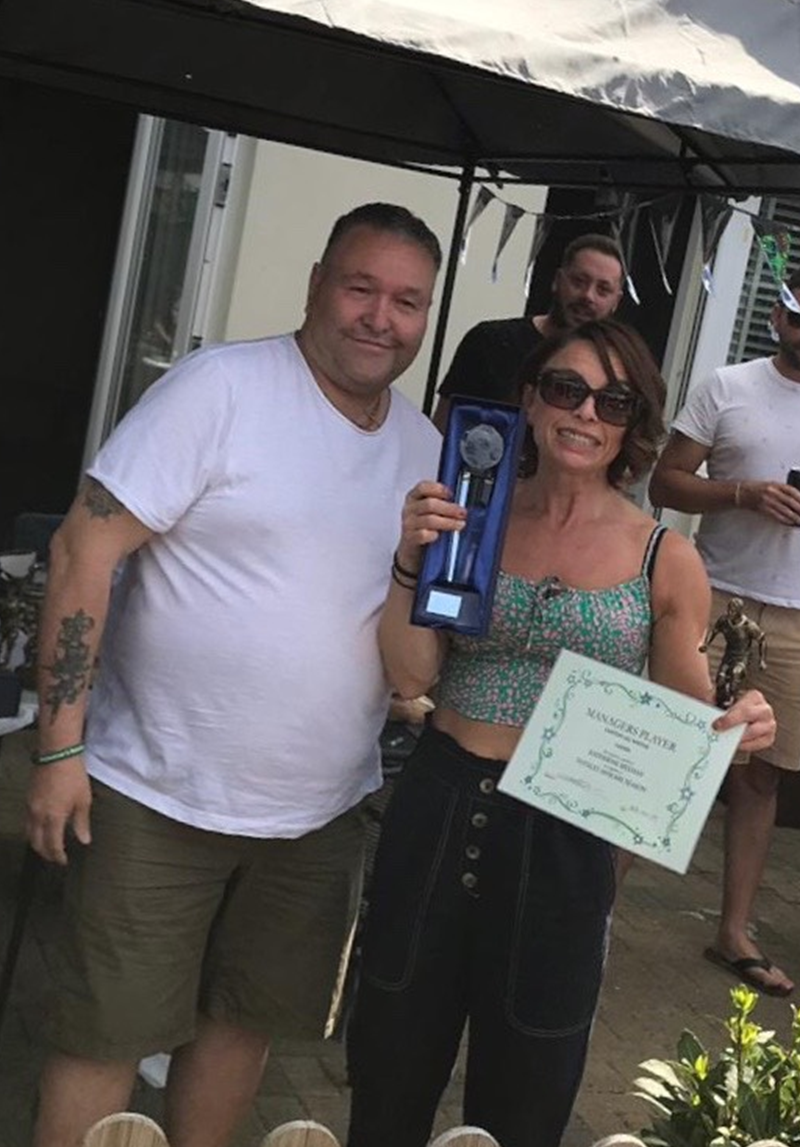 Fitness News
What challenges you can only make you stronger!
It's not every day that you look a mountain in the face and say I'm going to climb up you (on 2 wheels!). But I did and I did it twice. This got me thinking what pushes you and motivates you to meet your goals. As I was making my way up from Bedoin to the Summit of Mount Ventoux all sorts of thoughts popped up, some I can't repeat! when I was absolutely heart bursting, legs crying all I could think of was getting to Chalet Reynaud which is 6km before the summit. What motivated me then was knowing that I could rest when I got there and recover for the next section (some cyclists will do it all in one go, I am not there quite yet). We need to dissect our goals and praise ourselves after completing each section. Sometimes we need extrinsic motivation – mine was a disabled cyclist passing me (an amputee with one leg, if he can do it then I sure can) and also a gentleman who was going to celebrate his 80th Birthday by riding up Mount Ventoux. We all need that extrinsic factor of motivation not just the 'I'm doing it to get fitter, stronger, leaner'. I take my hat off to all who have conquered their goals be they big or small, be they sport related or maybe just conquering their fears of coming to the gym or a studio class for the first time.
Be proud of whatever you achieve!
Keep challenging, keep finding aspiration to motivate you and keep achieving.
Les Mills Launches - What's On
Body Attack 105, BodyBalance 85, Body Pump 110, Body Combat 80 and Body Jam 89
All new releases, new choreography, new challenges ahead!
From Friday 12 July
Class Focus - BodyJam
Fuelled by the latest street culture, BodyJam could be the best class to boost your fitness and energy.
We all love the feeling we get from our high intensity cardio and strength classes, these classes really challenge our athletic minds and push our bodies to meet our own personal goals . But, what about when you want to challenge your inner dancer, that frustrated dancer that longs for the latest dance styles and where the focus is as much on having fun as breaking into a sweat!
BodyJam ticks those boxes, House, hip-hop, Drum 'n' Bass, all styles of electronic dance music. You'll almost forget you are in an exercise class but it's good to know that you will be getting a great workout and burning lots of calories.
New music and choreography introduced every 3 months just to keep you on your toes but more importantly it is a proven fact that getting your 'groove on' is not just great for fitness, it's great for brain health too. It combines the processing, coordination and execution of unique movements and requires a lot of genuine concentration."
The latest research shows that dance can increase the number of cells in the brain's hippocampus, the region of the brain responsible for long and short term memory as well as spatial navigation. It's also the area of the brain that is most susceptible to decline as we age – so we need to look after it!
Come and try out BodyJam with Anne every Tuesday evening 18.30.
In the Gym - Roko gymfit.
The best way to reach your goals in the gym is to know that what you are doing is safe, effective as well as challenging your fitness. Watching Instagram fitness posts and you tube videos is great if you know what you are doing but having an instructor advising you in person whilst you are going the exercise will certainly enhance, compliment and may even challenge your workouts more.
If you are new to the gym or have never had a gymfit. then you can now book via the Roko app or at reception.
So, what is a gymfit.?
A free 1 hour session with our fitness instructors
Specifically designed programme to suit your goals and experience
Shown new techniques on how to use the gym safely and effectively to give you the confidence to workout.
We can also offer simple nutritional advice to help weight loss and improve muscle gain.
We can track your progress over time and when you need pushing more book your free 30 minute stayfit. session.
8 Week Shred 2.0
Due to the success of our 8 Week Shred programme with Conor, we will be running a further 8 Week Shred course from the 8th July at 6.45pm.
The course will consist of both cardio and weight training aspects and will include measurements and nutrition advice.
Interested? Book your place at reception
£56 for members and £80 for non-members
Check out our pointers on good rowing technique
The Rowing Stroke
How it works: The drive is the work portion of the stroke; the recovery is the rest portion that prepares you for the next drive. The body movements of the recovery are essentially the reverse of the drive. Blend these movements into a smooth continuum to create the rowing stroke.
The Catch
Arms are straight; head is centred; shoulders are level and not hunched.
Upper body is leaning forward from the hips with the shoulders in front of the hips.
Shins are vertical, or as close to vertical as is comfortable for you. Shins should not move beyond perpendicular.
Heels may lift as needed.
The Drive
Start the drive by pressing with your legs, and then swing the back through the vertical position before finally adding the arm pull.
Hands move in a straight line to and from the flywheel.
Shoulders remain low and relaxed.
The Finish
Upper body is leaning back slightly, using good support from the core muscles.
Legs are extended and handle is held lightly below your ribs.
Running Workshop
What type of Runner are you?
Based at the foothill of the Swiss Alps lies the Swiss Sports Lab which has developed a comprehensive technique over the last 20 years to analyse "Running Preferences" and I was lucky enough to spend a week in Switzerland with them in my role as Head of Sport Science for Beyond Pulse completing their Masterclass on how to identify natural running patterns and how this affects injury risk. It was probably the most challenging and rewarding course that I have ever attended and has certainly changed how I assess running and running based injuries.
What type of Runner are you?:
According to this system we can all be profiled as either a Terrestrial or Aerial type runner. Terrestrial runners are those who are more suited to endurance type running and tend to be the slower type of runner. One of the defining characteristics of Terrestrial runners is that their heel will be the first part of their foot to strike the ground when running and as a consequence they will spend a longer time in contact with the ground in comparison to Aerial type runners. In contrast, an Aerial type runner is generally more suited to running faster over shorter distances will strike the floor with their mid foot first and therefore spend a shorter time in contact with the ground.
Diagram 1: Example of Movement Preferences for Aerial & Terrestrial Runners
Running Analysis:
The explanation above is just a snippet of one of the differences between these two types of runners. To understand the "Running Preferences" which are individual to you we would need to carry out an in-depth movement analysis, which would include assessing how you clasp your hands, fold your arms, head position, pelvic position, stride length and cadence for walking, jogging and running. We would also need to identify what is your movement quadrant of preference.
For example, as a Terrestrial Runner my heel hits the floor before any other part of my foot when running, my hips are posteriorly rotated, I generate movement from my elbows rather than from my shoulders, my stride length is quite short and my quadrant of preference is behind me and to the right. The quadrants that I am least balanced in, are in front of me both to the left and the right and therefore these would be the quadrants that would contain the most risk of injury for me.
But I wanted to be an Aerial Runner:
If you browse anywhere on the World Wide Web you will find running analysis experts from all over the globe expounding the virtues and benefits of being an Aerial type runner. They advocate that ALL runners should aim to strike the floor with their mid to forefoot, lean forward and assume a high knee drive to improve running economy, efficiency and speed. Over the last 15 years I have tried and failed miserably to adopt this type of running posture in an attempt to improve my running performance and concurrently reduce injury risk.
In truth, adopting this type of Aerial running technique was disastrous for me. The reason being is that I am inherently a Terrestrial runner. I am not built for speed and am more suited to endurance running. My natural preference is to strike the ground with my heel first. By trying to change to a mid foot strike I was asking my body to run in a way that it simply was not designed to do and as a consequence my running times did not improve and I also picked up my own fair share of ankle, knee, hip and low back injuries.
In summary, being a Terrestrial or an Aerial runner is neither good nor bad and what is more important is that you identify what type of runner you are and that you use your Movement Preferences to help improve your running efficiency and reduce your injury risk rather than trying to be someone you are not. There is probably a good lesson in life here too, but I digress.
This type of "Movement Preferences" testing is excellent if you suffer from foot, ankle, achilles, knee, hip or low back pain. And once we identify what type of runner you naturally are, we are then able to select a number of corrective exercises to enable you to return to pain free running again.
So if you fancy finding out what type of runner you are, how to improve your athletic performance and how to help reduce your future injury risk then investing in an in-depth "Movement Preferences" assessment might be the best thing you ever do. If you want to find out more then please feel free to get in touch with me.
Best wishes
Johnny
Mama Baby Bliss

Having a baby is such a special time and pregnancy is when we should be celebrating the amazing process of growing a new life and little person inside of us. But often, because of the busyness and stress of life, it can be a time of anxiety with little time to focus on looking after ourselves. Using a combination of yoga-inspired postures, breathing, relaxation and mindfulness techniques, our PregnancyBliss pregnancy yoga classes are designed to foster that magical connection with the baby as well as strengthening the body, relaxing the mind for birth and alleviating some of the discomforts of pregnancy.The course is also very sociable and a great way of meeting new friends . We have seen lots of lasting friendships formed during our courses . We look forward to meeting you and your bump !
We have just started our latest Pregnancy Bliss Stretch and Relax Course on Monday's at 7.45 till 9 pm at Roko . The next one will commence at the beginning of September . It is always a good idea to get booked in as soon as possible as places go really quickly and we always end up with a waiting list. Roko members do receive discounted spaces.
For further information visit our website www.mamababybliss.com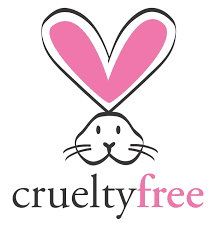 Having Trouble with Thinning Hair? Aveda have the solution!
Treat thinning hair to the Aveda Invati™ Scalp Revitalizer; an innovative treatment that works to create an optimal scalp environment for healthy hair growth.
The densiplex™ complex combines Ayurvedic herbs, Turmeric and Ginseng to energise hair follicles, whilst Vitamin E boosts micro-circulation when massaged in. Suitable for use on damp or dry hair, the powerful formula helps to reduce breakage and hair loss, leaving you with a thicker, fuller-looking appearance and stronger strands from root to tip. Apply once daily. Lift hair in sections to spray directly onto scalp. Spray 16 times, evenly covering head. Hair may be damp or dry. Gently massage in. Do not rinse. Use with the complete invati advanced™ system.
If you would like a full consultation from one of our highly experienced stylists. please call 0115 9813111
Back by popular demand! 3 for £55
Why not book in for our fantastic 3 for £55 treatment. Treat yourself to an Indian head massage, Express manicure or Pedicure with our fabulous offer!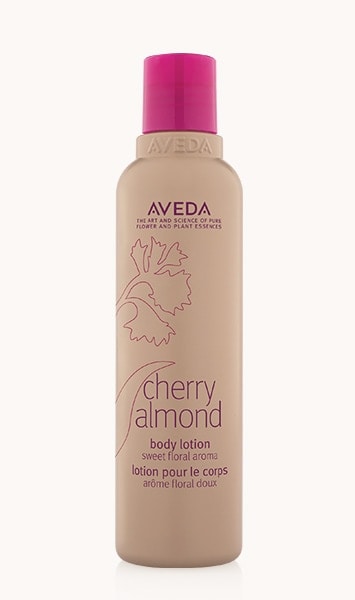 NEW - Cherry almond body lotion
Experience all-day moisture and instant radiance with our lightweight, quick-absorbing body lotion.
Powered by nature, cherry blossom extract and sweet almond oil moisturize, leaving skin soft and supple.
For all skin types. Features Aveda's iconic sweet, juicy floral pure-fume™ aroma with 38 flower and plant essences including Tonka bean, certified organic orange and ylang ylang.
6.7 FL oz/200 ml
£24.00

Cherry almond hand and body wash
Gently cleanse and condition skin with our nourishing hand and body wash.
Powered by nature, babassu-nut derived surfactant cleanses skin, while nourishing cherry blossom and sweet almond oil nourish and condition.
For all skin types. Features Aveda's iconic sweet, juicy floral pure fume aroma with Tonka bean and certified organic orange, ylang ylang and other pure flower and plant essences.
£20.00
HotPod News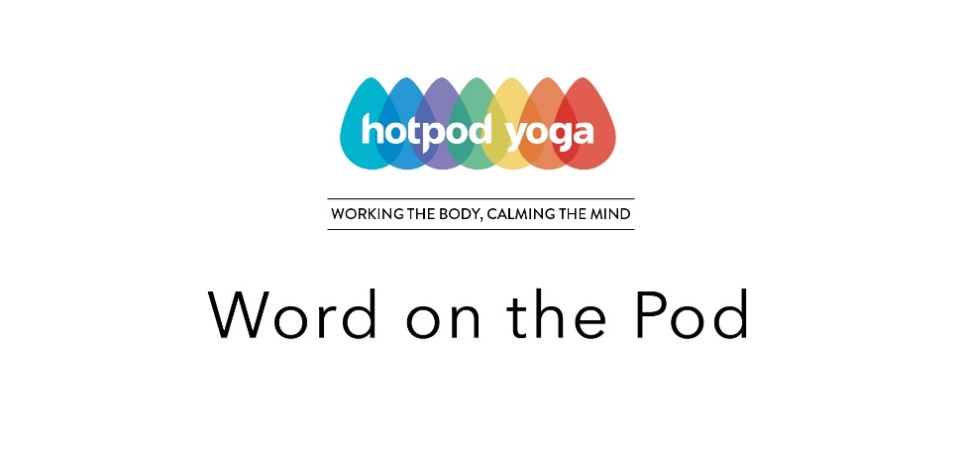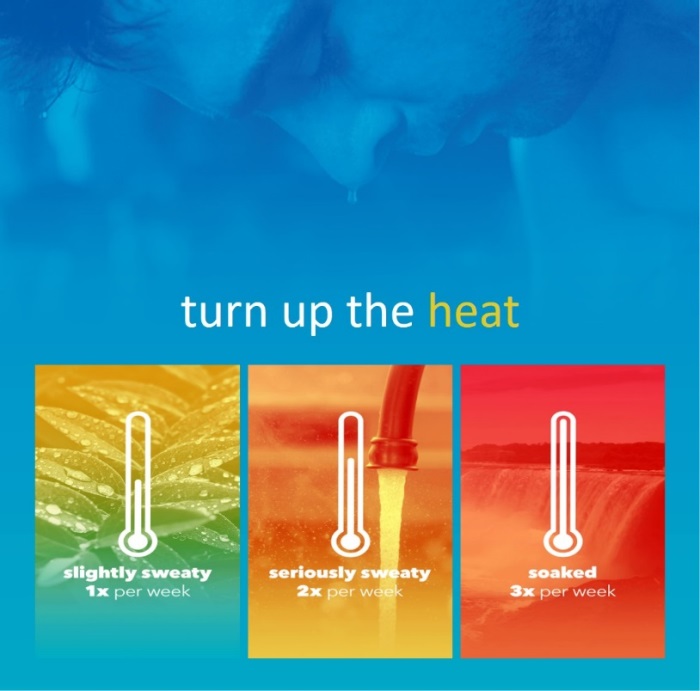 - J U L Y –
Getting into the sweat of things with our
Hotpod Summer Challenge,
whatever the weather.

Our 12 week challenge has begun! Whether you are aiming for a slightly sweaty 1 class every week or a soaked 3 times or more, we are going to make it the hottest summer yet!
Everyone who completes it will get a reward and there is a big old prize draw too. (… don't forget to tell us if you are away for a bit on holidays, we can put a freeze on 2 of your 12 weeks)
Looking for something a bit different for your hen or stag?
Could be the perfect pre-tox , or de-tox!
Get in touch with us to find out more on taking the pod over as part of your own hen or stag event.
Our intro offer for newcomers is a great deal and runs all year long:
3 classes over 14 days for £13.50 with your Roko member discount.
Message notts@hotpodyoga.com if you haven't claimed your personal discount code yet.