4th July 2017 | Nottingham
Manager's Message
We welcome July and of course, the onset of the summer holidays! We will have activities throughout July and August for your kids to attend so pick up your copy of the timetable later this month.
July 22nd is a big day for us in club as we'll be doing a charity gymathon in aid of #FEARLESS a charity which helps premature babies. Read more about that in our fitness news but be sure to mark it in your diary now as it promises to be a great day of fun, fitness and classes with our fantastic team.
Best wishes for the summer,
Julie Bowley and Your Roko Team
Friends & Family Offer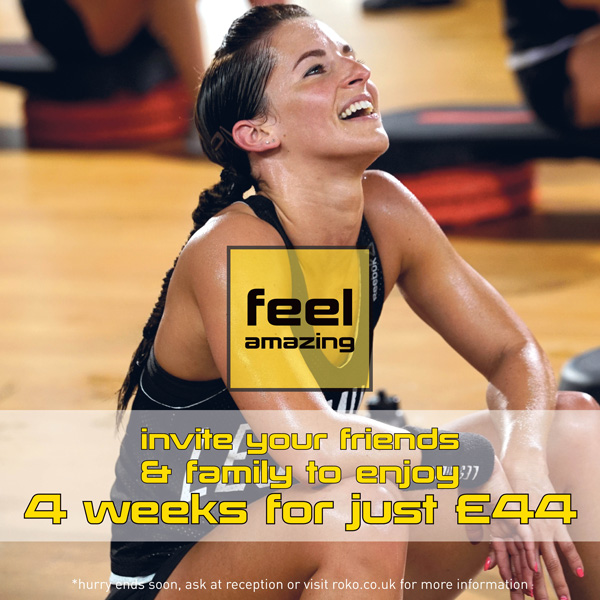 Invite your friends & family to join you at the club this month with a 4 week membership for just £44.
FITNESS NEWS
Les Mills Launches
In Fitness news this month we're all about the classes!
Les Mills Launches take place from Friday 7th July as follow:
Friday 7th July @ 18.00 Body Combat

Saturday 8th July @ 09.35 Body Attack and @ 10.35 Body Pump

Tuesday 11th July @ 18.30 Body Jam

Wednesday 12th July @ 09.35 Body Balance
As always, we expect these master classes to be popular so please do book your place at reception to guarantee admittance.
And finally, this month, we're all about being #FEARLESS
Join us on Saturday 22nd July for a charity gymathon! One of our members, Laura Robinson will be exercising from 8am – 7pm on this day and it is an open invitation to join in, all in the name of charity. #FEARLESS is part of Nottingham University Hospitals charity and supports the premature baby unit in buying Billy Blankets which are especially important where premature babies are born with jaundice. These special blankets contain lights which enable tiny babies to be held outside of the incubator but whilst still receiving the care that they need. Laura has taken inspiration from a friend of hers, Gethin, whose baby was born early and received the care and support needed through Nottingham's hospitals and was compelled to help further and so, #FEARLESS was born. Gethin will be taking his own challenge in October and will be running the length of Wales from North to South in just 5 days…our gymathon is easy by comparison!
Join us for a special day of classes and sessions as follows:
08.00 – 08.30: Stretch. Mobilise. Prepare!

08.30 – 09.30: Body Pump

09.30 – 10.30: Body Attack

10.30 – 11.30: Body Combat

11.30 – 12.30: Body Jam

12.30 – 13.30: Body Balance

13.30 – 14.30: Swim

14.30 – 15.30: Gym Floor Machines and Body Weight

15.30 – 16.30: BootCamp

16.30 – 17.00: Spin

17.00 – 18.30: Body Combat MegaMix

18.30 – 19.00: Stretch. Relax.
Suggested minimum donation £1 per session attended or complete the day for a £10 donation.
As always, please book your classes at reception from 7 days in advance – bookings will open 15th July.
Please see notices in club as classes may be subject to change.
Children's News
Summer Holidays
It won't have escaped your notice that they summer holidays are almost upon us! We will of course be offering children's activities throughout the holidays but at time of going to press are unable to confirm these. Please see notices in club and grab a timetable once they are available.
Joshua Tree News
Protecting your skin from the sun is essential but do you think about your hair? Aveda's Hair and Body Cleanser not only removes salty residue from the sea and chlorine from the pool but also gently removes any build-up of sun cream from your skin. Follow with Aveda's After-sun Hair Masque, enriched with morikue protein to strengthen the hair and a blend of tamanu and coconut oil which will moisturise hair that had been exposed to the sun.
Treat your feet and toes with Aveda's cooling Foot relief. This cream instantly moisturises and contains fruit acids to exfoliate your feet. The cooling aroma of peppermint, will not only sooth your tired feet after a long hot day but also has a deodorising effect. If your feet have been stuck inside boots for the last few months and they need some TLC, we have the wonderful Joshua Tree Pedicure that will get rid of dry skin, tidy up your cuticles and will make your feet look beautiful. Choose a colour from the new collection inspired by the beautiful pacific island of Hawaii. Our gel colour finish for fingers and toes lasts up to 2 weeks so it's ideal for holidays. Why not upgrade to a deluxe pedicure for the ultimate foot treatment.
Find the Aveda hair colour that's right for you. If you want vibrant, fade-resistant colour Aveda full spectrum™ hair colour has you covered. Choose from permanent hair colour, highlights or a semi-permanent colour, that we can customise just for you and it's up to 99% naturally derived so it is kind to your hair as well. To make sure your colour lasts as long as possible we recommend the Colour Conserve Range of shampoos, conditioners and treatments. Please ask one of our stylists for more details.
It's Prom Season! We know you want to look your absolute best so why not visit the Joshua Tree for all your beauty treats. Choose from a Fake Bake Spray Tan, a Joshua Tree Express Manicure, a Joshua Tree Express Pedicure, a blow dry or hair up.