30th January 2017 | Nottingham
Manager's Welcome
Welcome to February and the start of slightly lighter mornings and evenings which seems to make everything better! Hopefully you're all fully back in your routine after the festive period. If not, check out our fitness article which showcases your rokofit. - ensuring you have the best possible opportunity to achieve your health & fitness goals throughout the life of your membership. Book in to see a member of our fitness team today.
We also welcome back Julie Robinson who will be delivering a two-hour yoga workshop for stress and anxiety. Julie left her regular yoga class in December and we are sure you will welcome her back with open arms.
We've also got some fantastic offers from two of our premier partners this month – Nottingham Forest and Sandicliffe – check out what they have to offer below.
And finally, why not have a go at some of the meal ideas we've got in our club lounge article. If you love them, we may add them to our menu here.
Wishing you a fabulous February.
Julie Bowley and Your Roko Nottingham Team.
Member Referral Offer Continues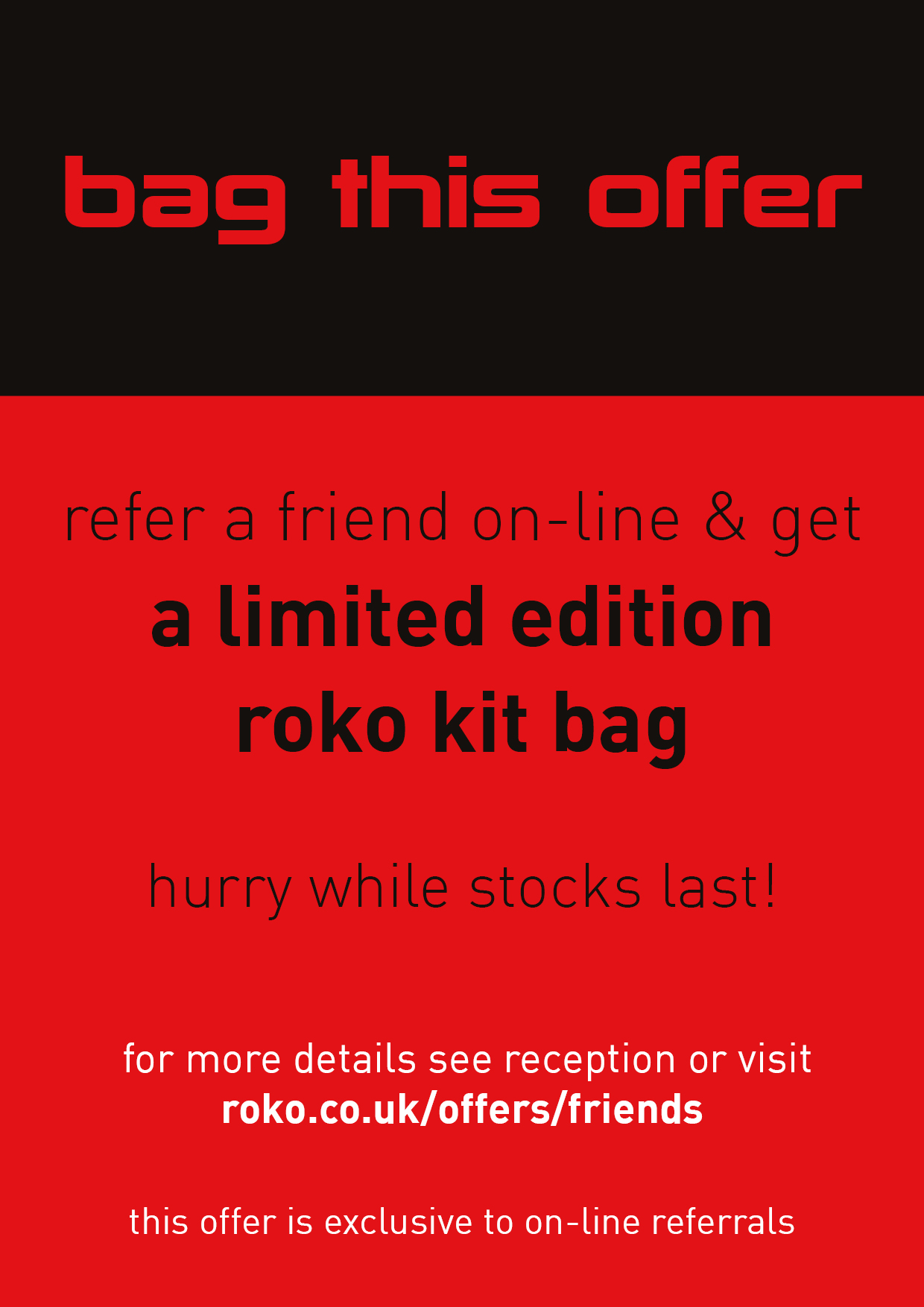 Free Half Term Family Open Week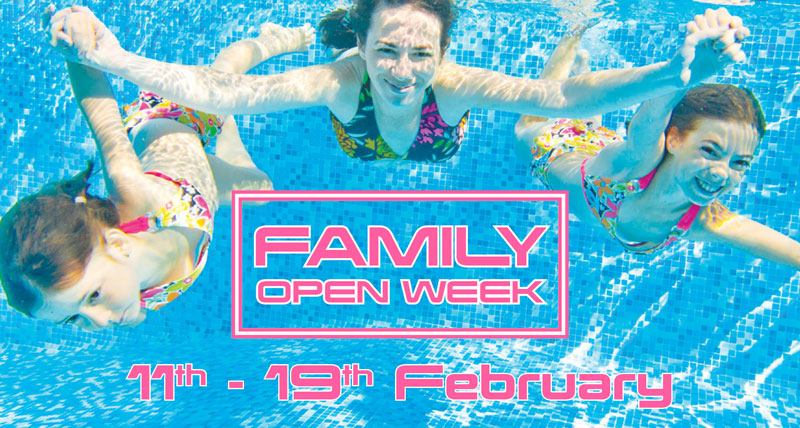 invite your friends and family to a free day during our free half term open week
To book a friend, couple or family onto one of our free open week days between Saturday the 11th February and Sunday the 19th February call the club, ask at reception or fill out an on-line form by clicking here.
It's A ♥ Thing

Add a loved one to your membership during February to create a couple membership and your partner will get the rest of February for FREE. Click here for more information.
Premier Partners
Being a member at Roko Nottingham is so much more than just having access to our fantastic facilities, it also gets you some great deals with local businesses. For full information look on our website or ask in club.
LATEST PREMIER PARTNER OFFERS
Nottingham Forest VIP Hospitality

There's nothing quite like watching the Reds take to the field at The City Ground.

Imagine this coupled with VIP treatment as you immerse yourself in the atmosphere at a Nottingham Forest home game.

Whether you're looking to network with clients or relax with friends and family, we have the perfect package to suit your needs. With hospitality beginning two hours pre-match, until up to an hour post-match, you have ample time to enjoy the full Forest experience.

We have two home games this month again Aston Villa on Saturday 4 February (kick-off 5.30pm) and Sheffield Wednesday on Saturday 18 February (kick-off 3pm).

The Robin Hood Suite has spaces available for only £126 + VAT and this includes a two-course meal, seats in the Peter Taylor Stand and a pre-match interview with a VIP guest.

Alternatively, the 1865 Club is priced at £116 + VAT where supporters can watch the game from a padded seat located on the halfway line as well as have access to a private lounge and bar while listening to stories from a selection of Forest legends.
For more details, please follow this link.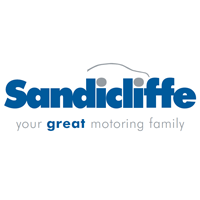 Sandicliffe Exclusive Ford Fiesta Zetec Offer for Roko members
Available from Sandicliffe Ford, Trent Bridge Nottingham for a limited time only!! .

Model: Ford Fiesta 3 Door 1.0T 125 St-Line Nav EcoBoost Start+Stop 17
£175 initial rental and only £175 per month
Contract hire based on a 36 month, 6000 miles agreement
Specification includes:
The following are included as standard
Full exterior bodystyling kit with large rear spoiler and ST-Line wing badges
Sports style front bumper, front fog lights, upper and lower mesh front grilles and lower aerofoil
Rock metallic 17" 8-spoke alloy wheels
Sport-style seats with red stitching
Ford DAB Radio with 4.2" TFT screen, SYNC and Emergency Assistance, Bluetooth connectivity, remote audio controls and six speakers
Plus more

Plus 2 years free servicing. Subject to terms and conditions.

At the end of the agreement the vehicle and the ownership rights will remain with Sandicliffe. 36 month contract hire offer. 6000 miles per annum. Excess mileage charges will apply. Offer available on any orders placed before the end March 2017 . Further charges may apply on vehicle return subject to contract wear and tear guidelines and mileage. VAT payable at applicable rate. Available to over 18s. Subject to availability. Terms correct at time of print and are subject to change. For full Sandicliffe terms visit www.sandicliffe.co.uk

To enquire and take advantage of this great offer please contact Phil.lycett@sandicliffe.co.uk and state you are from Roko.
Fitness News
Achieve your goals at Roko

Every member within our Club is unique so whatever your health and fitness goal we are here to help and support you – it's personal. Your rokofit ensures you have the best possible opportunity to achieve your health & fitness goals throughout the life of your membership. And there's no better time to book in with one of our fitness professionals to keep your new year's resolutions on track or simply to have a play on some of the new equipment within the gym. All Your rokofit appointments are included as part of your membership and we recommend you see an instructor for 30 minutes every 6 weeks or so to ensure you stay focused and are achieving your all-important lifestyle goals. If of interest, a short fitness assessment is also included to track your progress.

gymfit.
1 hour in the gym with a member of the fitness team. gymfit. sessions are for all members regardless of experience; we will tailor the session to you, your experience and needs. We will take measurements and design a programme to help you achieve, then track your progress over time. More simply we can show you some new techniques and make sure you'll be using the equipment safely and effectively.

swimfit.
30 minutes in the pool with a swim specialist. Our swimming specialist will guide you through pool based activities available within the Club. swimfit. is also a supervised pool based session where you can get in the water, try out a session and pick up hints and tips on technique to ensure you fully enjoy your swim sessions.

classfit.
30 minutes with a member of the fitness team. classfit. gives you the opportunity to meet with one of our qualified and experienced instructors to get the full run down on all things class related. You can find out all about the group exercise classes we offer in our Studios, Pools and on the Gym floor - which ones are right for you and how to get involved.

stayfit.
30 minutes in the gym with a member of the fitness team. stayfit. sessions can be motivational, give specific programme advice or get you re-focused and back on track – it's what you need it to be. stayfit. also lets you have your measurements re-taken to check your progress and reset goals. It's worth having regular stayfit. sessions every six to eight weeks to keep you focused and moving forwards.
Next time you're in club, why not book your next rokofit. session.
GROUP EXERCISE NEWS
Yoga for stress and anxiety workshop with Julie Robinson
Feeling stressed or overwhelmed? Experiencing anxiety, low mood or symptoms of depression?
Join this leisurely afternoon session to learn effective ways to release some of the heaviness that these experiences and conditions bring.
Using yoga, movement, breathing techniques, energy work and relaxation we will work to power down your 'wired' nervous system. Learn techniques to take away with you to use when the pressure builds.
Leave feeling lighter and brighter as you learn to 'let go'
All are welcome!
PLEASE WEAR LAYERS OR BRING A BLANKET FOR RELAXATION
Saturday 18th February 2017, 3 – 5pm
£15 members/ £18 non members
Places are limited so contact the club to book your place!
www.yogalighthouse.co.uk for more information
New Classes from February 2017
Aqua 10.45-11.30 Thursday - Commences February 9th
We are pleased to be able to offer you a new Aqua class on Thursday mornings. As always we recommend that you book your place as we have limited space available.
Pilates 1800 – 18.45 Tuesday - Commences February 7th
For those of you looking for a shorter pilates class with a focus on mobility, stability and strength, look no further!
Please do continue to give us suggestions as to which classes you would like to see more of and how you feel we can improve the Group Exercise offering here at Roko. Changes that we make are not made lightly and a lot of thought goes in to how we can run an efficient and enjoyable timetable.
CHILDRENS ACTIVITIES
It's been a period of change for the children's activities…please note the following time changes:
Tuesday - Actif Kidz – now at the later time of 17.00-17.45
Thursday - Actif Kidz – also slightly later at 16.30-17.15
Don't forget that whilst the children are in their classes you can be working out in the gym, swimming or just chilling in our spa area!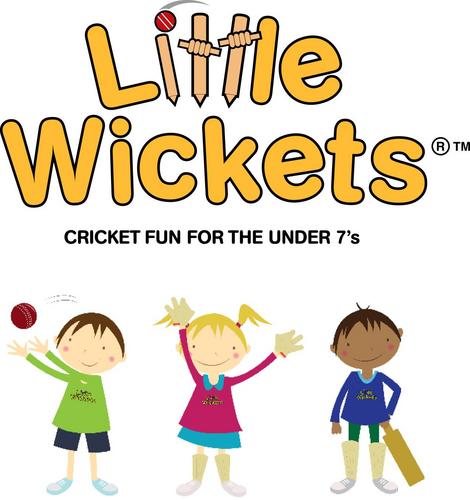 Bring your pre-schooler (aged 2 ½ till they start school) and join us at Roko for some Cricketing fun on Fridays at 1045am or 1130am. The sessions are 45 minutes long and are run by one of Little Wickets experienced, qualified and fully vetted coaches and a coaching assistant. The coaches start with some fun warm up games and then introduce some fun skill based activities. It's not a cricket match! The activities all have cricket at their heart and are based on the 'FUNdamentals of movement', developing hand eye co-ordination, individual skills and team co-operation. Each session has a particular theme whether it be batting, bowling, catching, throwing or fielding but all of the elements of the sport are incorporated into all the sessions.

The coaches always encourage the kids to join in as independently as possible; however, the grown-ups can join in as much or as little as they feel is necessary.

Here is what one of the mums who brings her son to the sessions had to say and is exactly why the coaches work so hard ... "I just wanted to say, that I think the Little Wickets classes are brilliant. My son loves the class and has grown so much in confidence. Both Ben and Sam are great with all the children. I really admire the teaching and the discipline. It is one of the best things that we have done."

The cost with your Roko membership card is £8.50 per session. For the rest of this term starting on Friday 20th the cost is £34 or Friday 27th its £25.50. Starting after half term the cost for 6 weeks is £51.

Just email sara@littlewickets.com to register your child.

Happy cricketing!
SWIMMING NEWS
Welcome back to all our swimmers old and new! You all seemed refreshed after the Christmas break and raring to go! It really is fantastic to watch all our new little swimmers getting more and more confident each week in the water and our more experienced ones gaining distance awards.
Stage 4 swimmers upwards will start to receive their rookie booklets and teachers will be leading classes through the bronze, silver and gold awards, some swimmers have already been enjoying swimming in their pyjamas!
Well done to the Monday swimmers Luke, Liam & Yasmin who have all recently received distance awards! Also Saturday swimmers Lilly, Eva, Annabell & Jessica-Brilliant work!
Next term we will be putting on group lessons for Adults, if you're interested in getting fit and learning a new skill get in touch and we will place you on a waiting list.
Jennie.keast@nottingham.roko.co.uk for more information or to book
Happy Swimming!!
Roko Swim Team
CLUB LOUNGE
This month we want to hear what you have been eating and drinking to help you reach your new year's goals; and, who knows, if we like what you say then you could see it coming onto the club lounge menu!
Whether you want to lose some weight, gain some muscle or simply maintain a healthy lifestyle everyone's dietary requirements will be different. But eating healthy doesn't have to be boring and flavourless. Below we have some suggestions of simple, tasty meals for you to try at home…
Breakfast
Overnight Oats - A really simple and tasty alternative to your boring porridge for breakfast. Before you go to bed just combine in a jar 40g porridge oats, 200g fat free natural yoghurt and a mix of blueberries, raspberries and strawberries. Leave in the fridge overnight and by the time you get up in the morning you will have a delicious jar of goodness. Don't be afraid to experiment with this one, the possibilities are endless; apple and cinnamon is a personal favourite!
Coffee & Banana shake - To give you that much needed energy boost in the morning get your blender out and mix up half a banana, 1 cup of almond milk, 1 cup of coffee, 1 scoop of vanilla protein powder and a handful of ice cubes. Give it a blitz and you're good to go!
Lunch
Sweet potato bruschetta - Instead of bruschetta you have slices of grilled sweet potato, topped with avocado, grilled halloumi cheese, slices of tomato, cucumber and red onion, a squeeze of lemon juice and agave syrup and serve with some mixed salad leaves. This will give you a delicious, colourful lunch that ticks all the boxes!
Dinner
Cauliflower pizza - Hear us out on this one, it may sound like a strange suggestion, but once you've tried it you will be amazed!
Simplified method – (Google it for full details) Whiz up cauliflower and ground almonds in a food processor to make this gluten-free pizza base - top with tomatoes, aubergine and cheese or whatever healthy toppings you would normally have on a pizza and you can finally have a guilt free pizza night!
If you try any of the above suggestions make sure you send photos of your attempts to ross.mann@nottingham.roko.co.uk
JOSHUA TREE NEWS
Stay cosy this winter and experience one of our Winter Warmers.
Treat you – £40
Be cocooned in our spa chakra rooms and enjoy a 1 hour Aveda Fusion stone massage, Elemental nature massage or Elemental nature facial. All of our treatments are expertly delivered by the healing caring touch of an Aveda Spa professional and the science of flower and plant ingredients. The treatments include hot towels and your chosen Aveda essential oils.
Treat your hair – £40
Give your hair and scalp the care it deserves with one of Aveda's Deep conditioning hair treatments. Think of it as a facial for your hair that combines a wonderfully relaxing head massage, hot towels and luxurious essential oils to feed the hair ready for winter. This hair treatment gives your hair maximum strength, gloss and shine! Price includes a blow dry.