2nd March 2018 | Gillingham
Manager's Welcome
I think we will all be looking forward to getting into March and hopefully slightly warmer weather.
We have a busy month at the club with our Member's Forum on Wednesday 14th March. Join us for an informal chat with the team and a coffee. We will be running 2 sessions; 11am – 12noon and 7pm – 8pm in the club lounge, we look forward to seeing you there.
We also have a charity spin class on Saturday 10th March, in aid of the Stroke Association. They are also hosting an evening event from 8.30pm and a kid's disco at 7.30pm. There are more details further down the newsletter.
We will also be supporting Sport Relief this year, so keep a look out on Facebook and around the club for more details and gym challenges...... see if you can beat the Roko team time challenges.
Our Beauty department have some lovely Mother's Day offers that are worth checking out too!
On Mother's Day you can bring your mum into the club for free, why not treat yourselves to a cream tea and glass of prosecco.
Have a great March
Sue Brothers and you Roko Team
Member Referral
Tell Your Friends & Family - 2 Weeks at Roko For Just £20
You are more likely to achieve your fitness goals when you work out with a buddy. And right now your friends can spend 2 weeks with you at Roko with a no commitment trial membership. Tag your friends on our 2 week Facebook post or email them this link: https://www.roko.co.uk/gillingham/offers/2weeks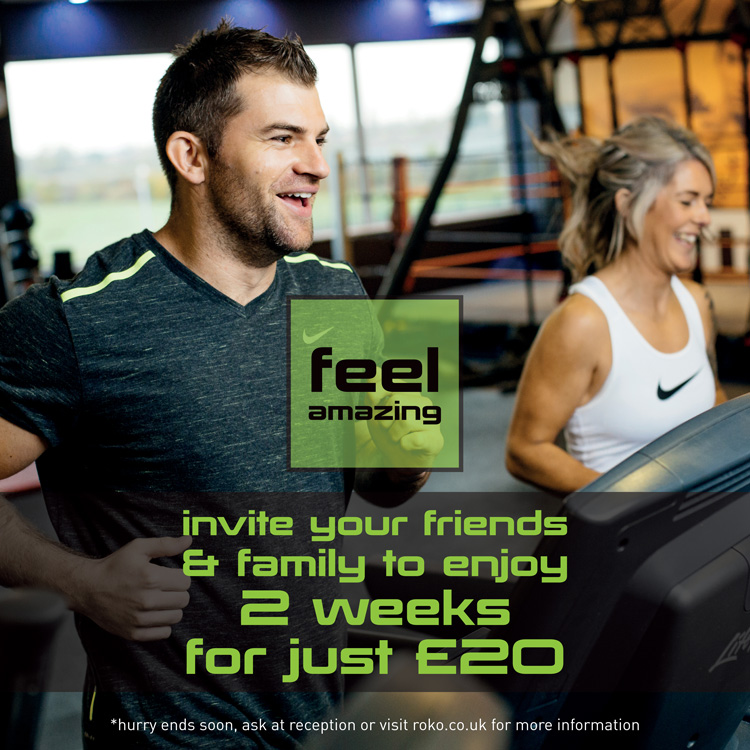 Fitness News
Rok-x
Want to get a good full body workout in but can't commit an hour gym session? Then come join our Rok-x classes! Just a 30 minute HiiT styled class that utilises different training methods to help you get the results you want. Increase your strength with bodyweight and weighted movements as well improve your fitness and endurance. Classes are held on the gym floor and taught by our very own Fitness Instructors! Get involved and reach your fitness goals!
Personal Training
Interested in Personal Training? Then book in for a free PT taster session with one of our Personal Trainers! We now have Craig and Olly offering personal training and Tabitha joining the team alongside Tony and Sharon. We have a great variety of trainers who specialise in a range of areas wanting to help you reach your goals whether they are losing weight, increasing strength, training for a sport or just general health and well-being. For more information either check out our new PT board on the gym floor or speak to one of us at the Gym Desk!
Gym Challenge
With Sports Relief coming up 17th-23rd March, we will be holding some gym floor challenges on that weekend where donations can be made. So come along, test yourself and contribute!
Club News
Saturday 10th March 2018 - Charity Spin Class
Help us raise money and awareness for the Stroke Association
A 3hr spin class starting at 10am, if you wish to take part in the spin class it will be a £10 donation on the day or through the JustGiving page
Please book your place at reception
Evening Disco
7.30-8.30pm Kids Only Disco!
8pm-12am Charity Disco, (kids still welcome!)
£5 entry on the day or through JustGiving.
Mother's Day Offer