7th March 2017 | Gillingham
Manager's Welcome
This March it's time to spring into fitness at Roko Gillingham. Dust off the forgotten resolutions, dig out those trainers and start something new with us this month.
Our members are not just numbers, you are our family and the heart of everything we do. We want you to succeed and your goals are our goals. Take advantage of all the amazing facilities and services we offer at Roko that will not only help you meet your goals, but see you smash them this Spring. Whether it's taking part in one of our 90 classes each week, swimming in our heated pool, relaxing in the spa, trying our new cardio equipment or toning up a little with our resistance kit we are here to see you conquer your goals. This month it's time to stop thinking about it, it's time to do it. You know it's time!
We welcome back an old friend which many of you know as FitLinxx, now powered by Activelinxx. Not heard of it before or need a reminder how it works, ask one of our friendly fitness team. Keep a look out for the website and app launching this year.
This month we have two events, the first on 24th March to support Red Nose Day and also an event to celebrate Mother's Day. Keep a look out in club for further information.
Don't go it alone when you come to Roko Gillingham, it's more fun to come with someone you love. Refer a loved one over the age of 16 yrs who joins this month and receive £50 to spend in the club. First come, first served.
Sam Lewis
General Manager
Invite Your Friends & Family
to Enjoy 2 Weeks For Just £20 - click here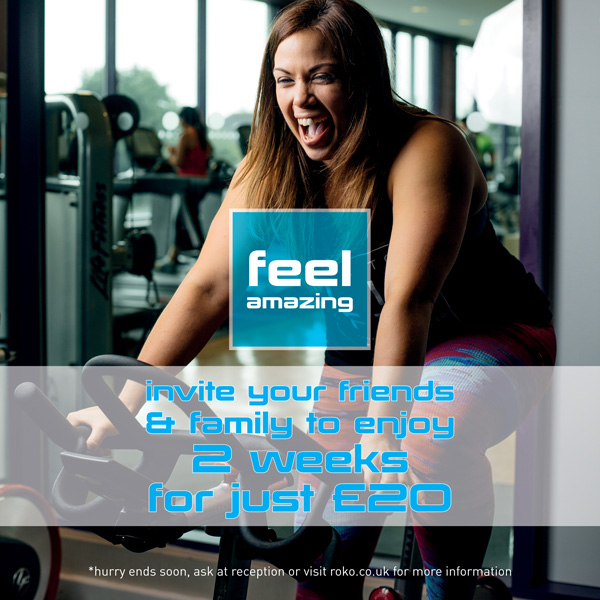 Fitness News
BodyCombat – the kick-ass way to build core strength
The best way to develop core strength is through crunches, right? Well, not necessarily. Research shows that if you embrace your inner fighter during a BodyCombat™ class you can get all the core training benefits of doing over 1700 crunches without having to do a single one.

No matter what your fitness goals, core training is something you can't afford to ignore. A strong core is vital to whole body health; it provides us with stability, helps with balance and can assist with injury prevention. When it comes to developing core strength many believe that crunches are the best option, but a study from Dr Jinger Gottschall at Penn State University proves that this is not necessarily the case. This research proves that BodyCombat is a supreme vehicle for delivering one of the best core workouts around.

How did we find this out?
During the Penn State study Dr Gottschall engaged a group of 20 participants (including some BodyCombat instructors) and each participant did crunches, punches and kicks while being hooked up to an EMG machine. The participants had electrodes placed on the relevant core muscles, in this case the rectus abdominus and the external obliques, and a computer monitored the muscle activation. The more activation the harder the core is working.

Each of the participants then performed all of the moves from a BodyCombat workout (in this case BodyCombat 51) and the activation levels from specific moves were measured against the crunch. In every comparison muscle activation levels were a lot higher in the BodyCombat moves such as jabs, kicks and high knees than they were in crunches.

The reason why BodyCombat is such an effective core workout is because of something called reactive core training. Reactive core training is what happens when you exploit your body's muscle wiring and natural reflexes by doing movements that force your core muscles to automatically respond as they're meant to. Jabs and kicks are great examples of reactive core training. This type of training unlocks your functional core strength – and that's the core strength that you need for everyday life.

So, with this in mind, prepare to break tradition and get a great core workout with the proven results of BodyCombat and reactive core training. After all, you can get all the benefits of 1700 crunches without a single crunch.
Book in to one of our BodyCombat classes today:
Monday at 18:30-19:30 with Tash
Tuesday at 09:30-10:30 with Bex
Thursday at 09:00-10:00 with Adam
Saturday at 09:30-10:30 with Diane
Mother's Day
Bring your yummy mummy for a complementary day on us
Sunday 26th March for Mother's Day
Please call to arrange this with the membership team on 01634 382333
Pre booked appointments only
The Spa
Hi everyone! Spring is fast approaching, the long dark nights soon to be a distant memory and lighter brighter days to look forward to! To get you in the mood for springtime happiness, days out and longer evenings why not treat yourself to our special "Calorie free!" Pick 'n' Mix! We have 3 for 2 across many of our treatments, mix and match and receive the cheapest treatment FREE! This offer will last throughout March, Monday- Thursdays only. Don't forget we are open 7 days a week, and late evening appointments are also available.
Don't forget Mother's day falls on Sunday 26th March this year and we have the perfect gift for your mum that she will love!
Mother's Day gift Vouchers available for:
*Back, neck and shoulder massage £20 (usually £26)
*Full body, face and scalp massage £40 (usually £47)
*Anti-ageing Facial £50 (usually £60)
Great savings and quality treatments at Roko Gillingham The Spa.
We also have on offer a selection of lovely Elemis products from £15. Come into the club and see our range of products on offer.
Mother's Day Raffle!
£1 a strip for your chance to win a pro-collagen night cream, worth £95!!!!! Wow!!!
Happy pampering! Tickets available from Reception.
Speedo Sale
All Speedo Swimwear now has a HUGE 30% OFF
Come and browse he range in-club