5th June 2017 | Gillingham
Manager's Welcome
Summer is here and what better way to get in the spirit, aside from BBQ's and Pimms on a sunny day, than to come to Roko and get your mind, body and soul into summer mode. We have everything you need to make sure this summer is the best one yet. It's time to realign those goals because there is still time to smash those goals you made earlier in the year before it's time to pack your suitcase and head off on holiday to sunshine and sandy beaches.
Book yourself in for a rokofit. session to start you on your way to health & happiness or if you have completed one recently, how about a stayfit. session with one of our fantastic instructors to track your progress and set yourself up for the next round of body beautiful goals. If a little extra support is needed we have excellent Personal Trainers who are here to motivate you and make sure you get to where you dreamed of whether that is a beach body to rival the celebrities, running a marathon or simply getting fitter so you can run after the children or grandchildren this Summer.
After all that hard work visit our relaxing Beauty Spa and indulge in some TLC Elemis style with a massage, a facial or both if you really worked hard. Visit our Beauty Angels ahead of you holiday for that golden glow known as Sienna X tan then don't forget to top off with summer bright gels for your fingers and toes.
We are feeling social this Summer so keep a look out for our new social events calendar around the club with events such as our Family Fun Day and Summer BBQ, Wimbledon On The Big Screen With Afternoon Tea & Pimms, Lions Tour On The Big Screen and Friends On Fridays – from 5.30pm every Friday indulge in two bottles of wine amongst friends for just £10. Roko isn't just about fitness, we are here for the inner you too - rest and relaxation … get social with Roko this summer!
We look forward to shortly re-launching our Children's room this month, growing our junior time table and running our Kids Club over the summer holidays. Being a family club we love to look after our little members too. Don't forget this summer when the children are bored that we offer Teen Gym, Swim and Splash sessions plus use of the pool…perfect for burning off some excess energy over the holidays.
Whether it is by yourself, with your family or your friends, this is the place to be this summer for some R and R ….Roko and relaxation
Sam Lewis, General Manager
Member Referral Offer Continues
Refer a friend who joins Roko and YOU BOTH receive an Elemis pro-collagen kit worth £38.70 plus a £10 pro-collagen facial voucher.
Click here for details and to refer a friend.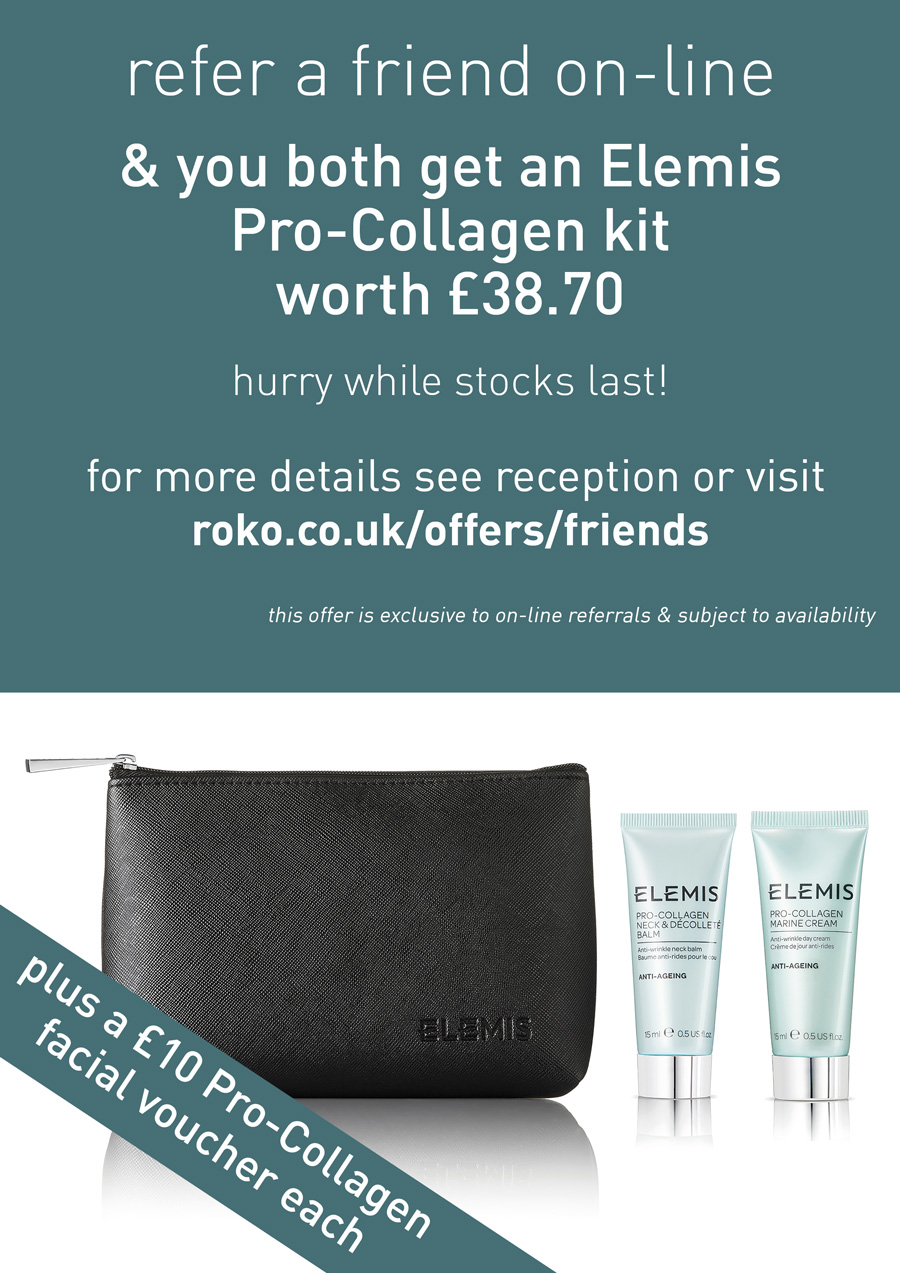 Fitness News

Starting Monday 5th June - Rok-x xpress training systems – 30 minutes of Hiit on the gym floor
Half hour functional training classes for all ages and abilities. There are many benefits to High Intensity Interval Training and you only need half an hour to have a fantastic all over body workout!
When attending these classes please ensure you are already warm so you can make the most out of the half hour session and always take time to cool down and stretch if the instructor does not add this to the programme.
Body-x
Weight bearing circuits. This class is designed to push you to your cardiovascular and muscular endurance limit using mainly bodyweight.
Plyo-x
Fast-paced, sports based, high energy plyometric (also known as jump training) workout. This class is desighed to increase your power strength and speed!
Strength-x
This class is designed to push you to your cardiovascular and muscular endurance limit using weighted equipment.
Circ-x
Circuit based interval training combining strength and endurance exercises, giving the benefits of both cardiovascular and strength training workout.
Limited Edition Roko Hoodies
Feel Inspired with The Limited Edition Roko Hoodie, available for £29.99 from Reception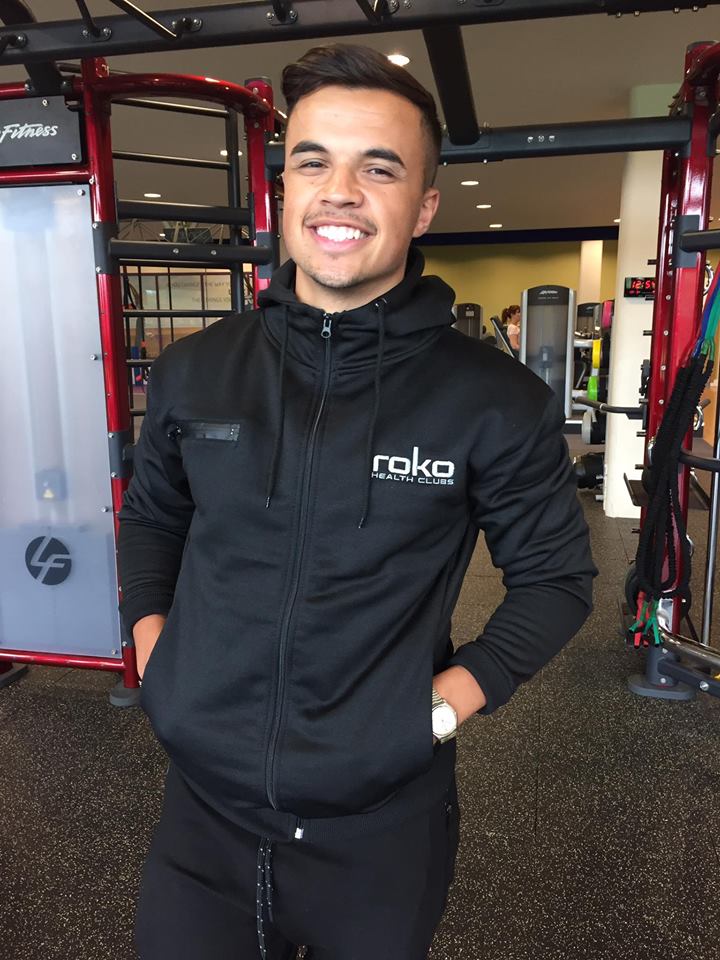 The Spa
This month's offer in the spa, we have a treat for you with a selection of £18 SPECIALS!
Choose between:
Elemis Eye Detox
Shoulder, Face & Scalp Massage
Foot & Leg Massage
All of these treatments are 25 minutes long and are used with Elemis products. Choose one of each for £18 or why not mix and match to make a longer treatment.
Any of our beautifully smelling oils take your fancy? All Elemis Oils on sale for £25 each this month!
Elemis Frangipani Monoi Body Oil
Drift away to Polynesia with this indulgent 3 in 1 body, hair and nail nourishing oil. Exotic Tahitian monoi, infused with frangipani flowers provides superior moisturisation, giving skin a glorious sheen.
Elemis Cellutox Active Body Oil
This powerful synergy of sea buckthorn, sea fennel, lemon and juniper essential oils is the perfect body detox. Can be used as part of an anti-cellulite and body cleansing programme.
Elemis De-Stress Massage Oil
The relaxing synergy of pure rosewood, melissa, marjoram, geranium, rosemary, lavender and chamomile in Elemis De-Stress Massage Oil soothes the mind, melts tension and harmonises the body.
Elemis Japanese Camellia Body Oil Blend
For centuries this was the Japanese beauty secret for healthy nails, hair, scalp and skin. This nourishing light oil, rich in plant collagen, keeps skin supple, helping to combat stretch marks and perfect for baby massage too.
Elemis Sweet Orchid Body Oil
This divine body oil is rapidly absorbed providing superior moisturisation for dry, parched or mature skin. The unique infusion of exotic Tahitian Monoi Oil, a traditional blend of Tiare Flowers infused in Coconut oil is fragranced with delicate notes of Japanese Stone Orchid and enriched with hydrating Mauve Butterfly Orchid extract to leave skin feeling beautifully soft, nourished and delicately scented.
Elemis Musclease Active Body Oil
This Oil is perfect as part of a fitness programme this synergy of maritime pine, sea buckthorn, sea fennel and rosemary essential oil helps ease muscle pain and stressed joints.
Also don't forget Father's Day Sunday 17th June! Stuck for ideas? Why not book your dad in for a treatment in The Spa? Or what about a Gift Voucher? Elemis also have a great range of skincare products for you to choose from so make sure your Dad is feeling loved this Father's Day!
Roko Parties and Events.
Roko a premium health Club and Gym with a modern club lounge, the perfect party venue.
Event Menus
Why not take a look at our Roko Finger and Fork Buffet Menus and let us do the work for you.
Parties
Anniversaries, a landmark birthdays ,weddings, christenings, "works do" school proms , club presentations, charity events and quiz nights, live bands, and black tie events, we can host your perfect evening!!
Surprise Parties
Can you keep a secret? We can! Let us help you make all the arrangements - with nobody being none the wiser.
Christmas Parties 2017
Looking to a hold a Christmas Works Party then why not celebrate the festive season this year at Roko Gillingham.
18th And 21st Birthdays
Not many venues hold 18th and 21st Birthdays, but we will! We can provide SIA registered door staff at cost (£75 per doorman).Two doormen required for up to 150 guests. It's like your own private Nightclub.
Afternoon Teas and Baby Showers
Make someone feel special and help them celebrate their new arrival! Reservation only midweek and Sunday afternoons.
For more information Please email: events@gillingham.roko.co.uk