9th January 2019 | Gillingham
Manager's Welcome
Well let me begin firstly by saying, Happy New Year to you all and welcome to the year of I CAN, I WILL. I would also like to introduce myself; I am Kieran Street and the new General Manager of Roko Gillingham. I previously worked as the manager of The Village hotel in Maidstone and have worked in the leisure industry for a number of years. I am looking forward to utilising the skills I have gained to give our members the best experience possible.
Let's make 2019 the year of transformation; a year of transformation for our members to achieve their health goals and for Roko Gillingham to deliver excellent customer service, making this a club we can all be proud of.
We have a Resolutions Wall at the top of the gym stairs that we are all writing our 2019 resolutions on. The idea of the wall is to commit to your fitness resolutions by writing them down on the wall and making goal achievement a focal point for the Club. Please write your 2019 goal on the wall!
I look forward to meeting you all in due course.
Healthy Regards
Kieran Street, General Manager & your Roko Team

refer a friend who joins
& you both get a limited edition roko workout top
As a Roko member, you've already committed to achieving your goals - and we're here to support you. But did you know that you are more likely to achieve your fitness goals with a workout buddy?
So introduce a friend to Roko and you'll both benefit from the additional motivation that you will provide to each other. PLUS, when you refer a friend right now and they decide to join, then we'll give you both a limited edition Roko workout top. Simply click here to refer your friends now: https://www.roko.co.uk/gillingham/offers/tshirt

The Roko App
We wanted to thank you for your take up and usage of the Roko Health Clubs App; we are really pleased that so many members are utilising the convenient way to book and cancel classes, stay in touch with the club and manage bookings. In response to feedback received and to ensure continued great member experience at Roko, the following changes to the Roko Health Clubs App have been made:
You are now able to book classes from 9pm 8 days in advance
Waiting list alert emails for class availability are sent at 7am each morning
It is also important to let you know that although lots of classes show large waiting lists throughout the week, in many cases when the actual class starts there are spaces in the class because either lots of people have cancelled or simply not turned up for the class. To counteract this we are asking for your help and are actively encouraging members to only book classes they are committed to attending and if for some reason they cannot attend to ensure that they cancel their place via the app, over the phone, or in club to allow another member to take that place.
Moving forward should this problem persist we will be enforcing a dishonour rule which will suspend pre-booking rights for a period for members who fail to cancel their space or do not turn up.
Fitness News
Les Mills Launch 12th January 2019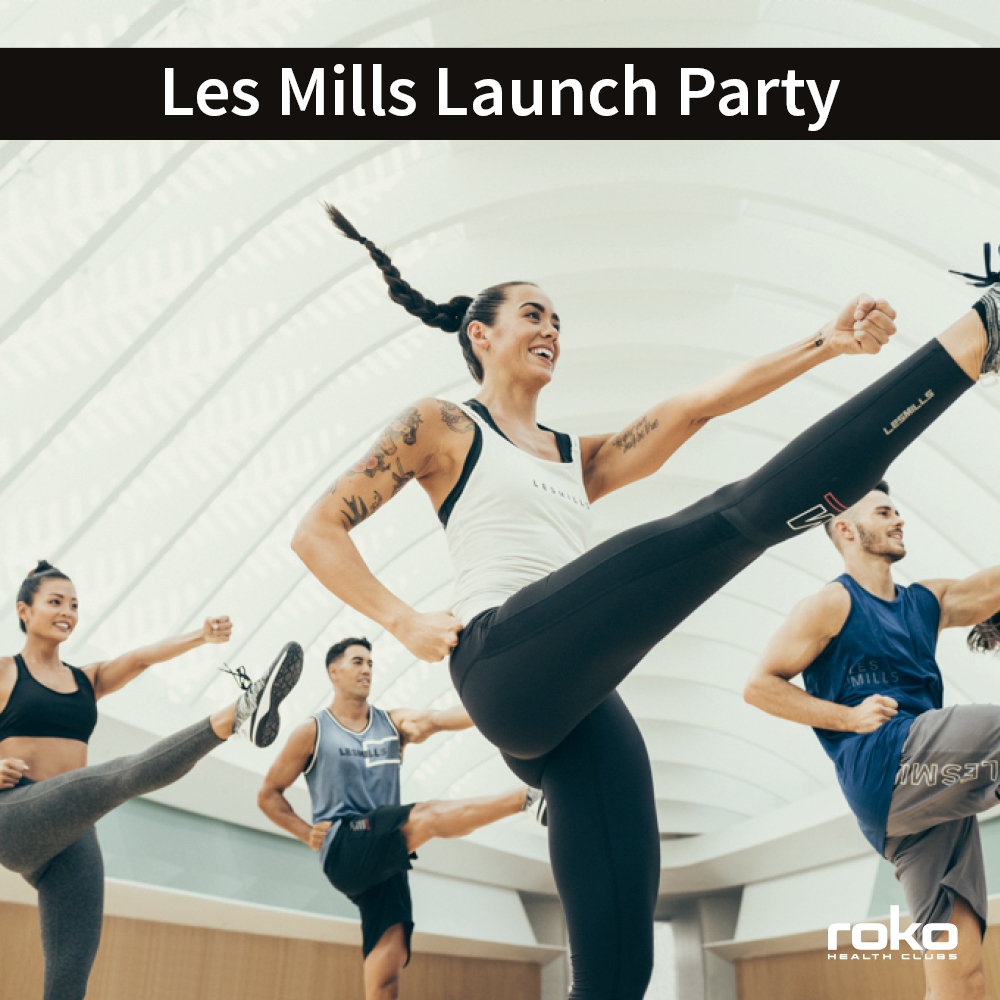 Come join our Roko Gillingham Les Mills instructors as we start the New Year with the new Les Mills programmes for all.
As part of the Les Mills launch we are offering spaces to ALL members and non-members so bring a friend! Book your space today on the app and book your friend at club reception!
Saturday 12th January
8.15 to 9.15 BodyPump
9.30 to 10.30 BodyCombat
10.30 to 11.30 BodyAttack
LIMITED SPACES SO BOOK NOW!
I Can I Will try something new for 2019
The Spa
Happy New year to you! Firstly we'd like to give a warm welcome to our new Beauty Manager Daisy! She's worked in the beauty industry for 5 years now and looks forward to seeing The Spa thrive through the year.
We hope you had a very Merry Christmas and are looking forward to the New Year ahead! Get your 2019 off to a kick start with our January extended special offer of the 'Winter Warmer' which includes a Swedish full body massage including hot stones used on the back.
Celebrating some fresh new Jessica Geleration colours we will be offering:
Gels on fingers or toes for just £20! (saving £5)

​New Year New Skin New Skin Care Story!
Rewrite your skin care routine with four curated kits for every concern, powered by potent ingredients.
We have 4 brand new Elemis sets available:
- Healthy Superfood Kickstart £40
The story of healthy skin starts here. Get your greens and feed your skin with the natural oils of avocado, broccoli, kale and cucumber. Inspired by the kitchen, these active, Superfood ingredients maintain your Pre-Biotic levels, benefitting skin health and giving you an outdoor-fresh glow that lasts.

- Restore, Refresh, Renew £50
The story of refreshed skin starts here. Indulge your skin with our around-clock system inspired by the English countryside. Harnessing the power of Night Scented Stock, abundant with powerful omegas and a concentration of Vitamin E up to ten times higher than many other known natural oils used in skincare, this Super-botanical works with your body-clock to keep you looking radiant all day long.
-A Smooth Start £55
The story of smoother skin starts here. A gentle alternative to harsh chemical treatment, our specially developed range is created using natural enzymes from fruit and barley source. It's your secret shortcut to smoother, radiant skin.
-Face A Firm Future £65
The story of firmer skin starts here. Powered by the Mediterranean sea, this collection intensely hydrates and plumps skin with the rich, water attracting properties of super seaweed, Padina Pavonica. Giving your skin the building-blocks for healthy, toned, younger looking skin.
If you received a Gift voucher for Christmas it can go towards your treatments or any products that you treat yourself to!
Keep up to date with any of our monthly and daily offers with our Roko Gillingham Facebook page.
We look forward to seeing you and making the start of the New Year a great one for you!
From all of us at Elemis Beauty Spa