8th January 2018 | Gillingham
Manager's Message
Happy New Year to you all, I hope you all had a lovely Christmas and New Year and I wish you all a happy and healthy 2018. As we start January it's time to get back on track to achieving your all important goal… until the next goal arises!
Make Your Goal Attainable: It may be more exciting to choose a target like losing 50 lbs or giving up alcohol for ever. However, it is far more practical to take manageable steps than attempt a complete life overhaul. The advantage of setting achievable goals is that you can always up the ante and set another target.
Be Motivated and Committed: Behaviour change is hard. A key task is to plan ahead the steps that are required to achieve what you want, rather than just diving in with wishful thinking. Do you have enough gym kit? What will you do if your training buddy can't make it, do you have another program? When will you visit the club? And so on. Work out the obstacles to you being successful and come up with the solutions in advance.
In the club we have some new faces joining the team in January. I would like to welcome Jade who will be our new Senior Beauty Therapist, Jamie as Sales Consultant and Will as our new Fitness Supervisor. And we say farewell to Stuart our Gym Manager, Jake our Sales Consultant and Natalie our Beautician. We wish them every success in the future and thank them for their contribution to Roko over the years.
And lastly myself, Sue Brothers, I am now your Acting General Manager of the club. I am delighted to be given the opportunity to make a difference and a face you all know. With the team there will be lots of new exciting concepts and ideas coming over the next few months so keep an eye in club and on our Facebook page.
I look forward to seeing you all around the club and wish you all a fantastic January.
Sue Brothers and your Roko Gillingham team
Member Referral Offer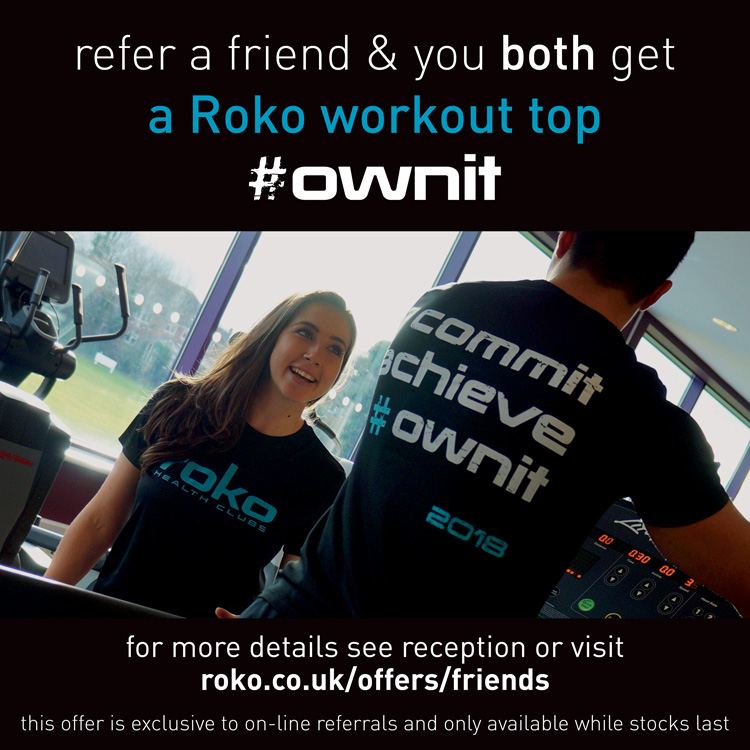 Did you know that you are more likely to achieve your fitness goals with a workout buddy?
So introduce a friend to Roko and you'll both benefit from the additional motivation that you will provide to each other. PLUS, when you refer a friend right now and they decide to join, then we'll give you both a limited edition Roko workout top.
Simply click here to refer your friends on-line and we'll contact them to arrange their personalised tour.
Win 3 Months Free Via Facebook

Tell us your 2018 fitness goals to win 3 months FREE membership at Roko.
What are your fitness goals? Are you hoping to get in shape/ lose weight/ run a marathon? List your goals on the Facebook competition post and you will be in with a chance to win a full 3 months of FREE membership at Roko.
*Terms & Conditions apply. A winner will be drawn on 15th Jan, and the winner will be notified through Facebook. The 3 month membership will start from 1st February 2018 and end 30th April 2018. Entries are only possible by posting a comment in the competition Facebook post. Entries are open to both Roko members and non-members.
Fitness News
Remember you can find ALL Group fitness timetables on the boards in the club or by visiting the website
Achieve your New Year goals at Roko with your rokofit.
Every member within our Club is unique so whatever your health and fitness goal we are here to help and support you – it's personal. Your rokofit. ensures you have the best possible opportunity to achieve your health & fitness goals by defining your own, tailor made solutions throughout the life of your membership.
Click here for more information about the different rokofit. sessions available and don't forget that every member can book regular free-of-charge stayfit. sessions for programme reviews, advice and motivation. Please book through the rokofit. page here.
New Year - New Class
Roko is proud to offer rok-x: half hour, gym floor based classes for all ages and abilities. Rok-x is a fusion of High Intensity Interval Training (HiiT) and Functional Training.
If you haven't already tried these fantastic classes then let January be your motivation for giving one a go! What better excuse to try something new than the New Year?
There are many benefits to this type of training and you only need half an hour to have a fantastic all over body workout!
HiiT is where you give 100% effort in quick, intense bursts of activity, followed by short, sometimes active, recovery. This type of interval training enables sustained elevated heart rate and burns more fat in less time.
Simply turn up to one of the gym-floor rok-x classes scheduled on the studio class timetable; there is no need to book. Please click on the classes page to download the latest studio class timetable.
The Spa
Happy New year to you all! We hope you had a very merry Christmas and are looking forward to the New Year ahead!
Get your 2018 off to a kick start with our January special offer, one of our favourite combination treatments.
Back, neck and shoulder massage and Elemis Express Facial for just £40, saving £14!!!
During the massage we will focus on pressure points, relieving stress and muscle tension using pre blended aromatherapy oils. Then moving on to the facial we will decide on specific products to suit your skin type bringing back the glow to your complexion, rebalancing and giving it a moisture boost to restore your skin to its natural radiance.
Don't forget to use your loyalty cards, collect a stamp for every visit to receive a half price treatment on your 7th visit, if you haven't already got yours please ask at reception or one of the beauty team.
For bookings and enquiries please call us on 01634233348
Club Lounge
Kick start your New Year with a Protein shake from the Bistro