4th January 2017 | Gillingham
Manager's Welcome
January comes and with it we say good bye to Rob Brownsword and I say a very warm hello.
Over the coming weeks I look forward to meeting as many of you as possible and getting to know you. To be GM of this club is something I am very proud of and, along with the team, I am committed to bringing you, our members the very best customer service and experience possible. Our members are at the heart of everything we do and the most important thing in our club is you.
I would welcome any feedback you may have so that where possible, changes can be made to make your time with us as positive as can be to ensure you not only reach your fitness goals this year but smash your goals and reach even further than you imagined you could.
Whatever goal you may have, whether it be climbing that big hill without getting out breath, losing that last stubborn stone, running a half marathon or training for the Olympics we are here to support you and your goals no matter how big or small.
Time for a New Year and a New You!
Sam Lewis
General Manager
Please Note
The back car park will be having some repairs completed on Thursday 5th January so this area will not be available and access will be blocked from the top of the side road down the side of the building.
We apologise in advance for any inconvenience caused.
Member Referral Offer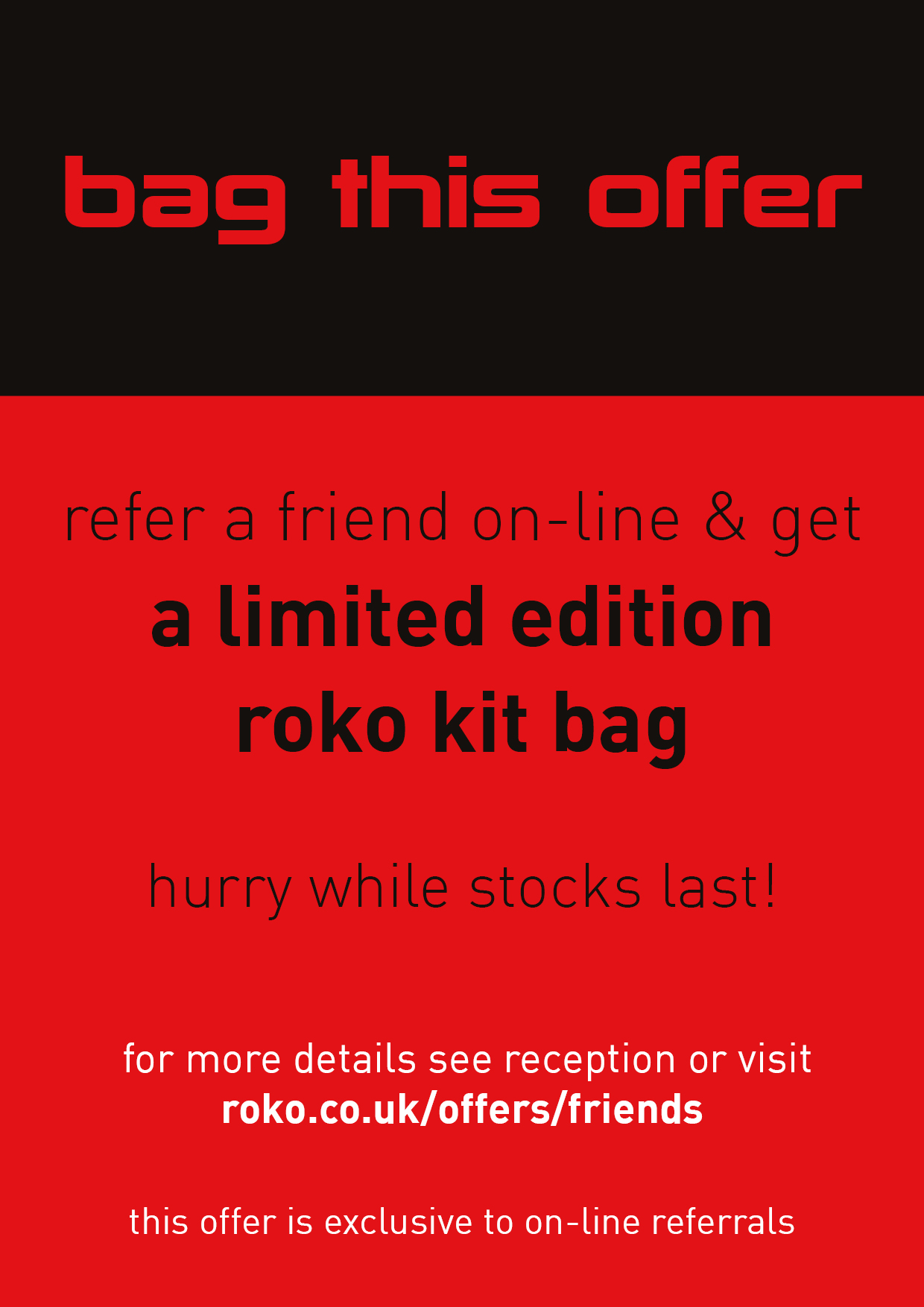 FITNESS NEWS
Happy New Year from all the Fitness team!
Now's your time to make that change, a fresh start and new goals to be set. At Roko we have re-invented our fitness path so get the most out of your membership and help you achieve your goals.
Let's kick start the New Year together!

Your rokofit. is formed of gymfit., classfit., swimfit. and stayfit. These sessions are designed to give you a personalised start to your time with us in the areas of the club that are most relevant to you, and also to keep you motivated and engaged throughout the life of your membership. Depending on your interests you may choose to take part in one or more of the rokofit. sessions.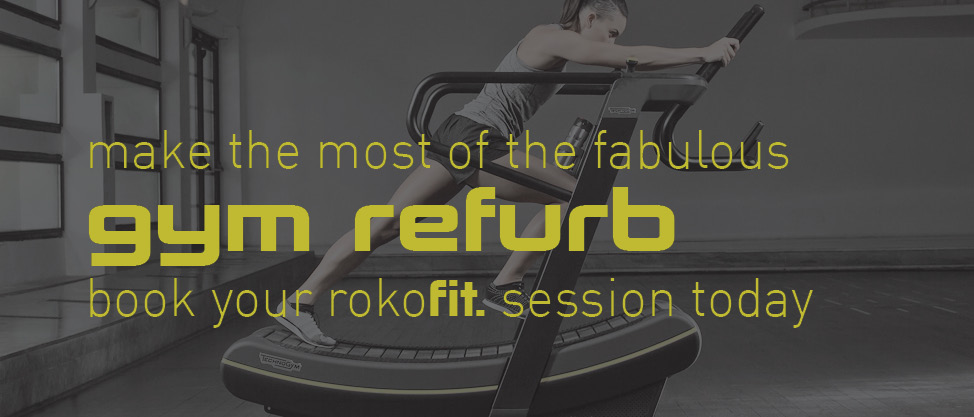 book your rokofit. session now
to make the most of the gym refurb and hit your January resolutions hard
The amazing gym refurb is now complete. It's a really exciting time but you may be feeling a little unsure about all the changes and new additions. Well this is where your rokofit. can help you. You can book a stayfit. session to get instruction on how to use the new kit. It will be you and a member of the fitness team, together on the gym floor for half an hour to get a run down on how the new kit works and how you can best benefit from it.
So book your rokofit. session now and really hit your resolutions hard!. Book at reception next time you are in, or enquire on-line by clicking here.
A few tips to keep you pushing to reach your New Year goals:
1. Start small
Some goals can seem like giant, insurmountable obstacles. Losing a lot of weight, for example, can feel impossible. But breaking down a big task into smaller chunks means you can slowly but surely chip away at the challenge to reach your goals.
Set yourself short (1-4 weeks), medium (3-6 months) and long-term (12+ months) goals which are SMART (Specific, Measurable, Achievable, Realistic, Time-bound). Every time you hit a small target you'll feel motivated, giving you an additional push towards achieving success.

2. Reward yourself
Why not! If you're putting in hard work to achieve your goals, you deserve to reward yourself. Rewards provide an additional layer of positivity, encouraging you to succeed. One caveat – the rewards should be in proportion to the achievement and shouldn't be detrimental to achieving your goal.

3. Remind yourself
With busy lives it's easy to put your goal to the bottom of the priority list, but if you want to succeed then you have to ensure it stays front of mind. A great way to do this is to set regular alarms on your phone with motivational messages like 'Congratulations…You're one week into your weight loss challenge. Keep at it!' Alternatively, get your friends to do it for you!

4. Tell your friends
Talking of friends, making them aware of what you're trying to achieve can help prevent any unintentionally negative peer pressure, to 'skip the workout' or 'treat yourself', for example. If they know what you're striving for, they are more likely to rally around and help you to reach your goal.

5. Be consistent
Being consistent with your health routine, whether it's your approach to exercise, nutrition, sleep, stress or emotional wellbeing, will help you to achieve your goals and maintain good health in the long-term.

6.Don't beat yourself up
It's important to be consistent but if you fall off the wagon, jump straight back on. Everybody has off days, but being consistent means if you do, you don't let it affect the rest of your week/month/year.

This January, it is time to make those changes and make your dreams happen. Let's do it together.
The Spa
Happy New year to you all!
We hope you had a very merry Christmas and are looking forward to the New Year ahead! Get your 2017 off to a kick start with our January special offer, one of our favourite combination treatments. Deep Tissue Back, neck and shoulder massage and Elemis Express Facial for just £35, saving £19!!! During the massage we will focus on pressure points, relieving stress and muscle tension using pre blended aromatherapy oils. Then moving on to the facial we will decide on specific products to suit your skin type bringing back the glow to your complexion, rebalancing and giving it a moisture boost to restore your skin to its natural radiance.
New Treatment!
Elemis Targeted Toning Tightener.
A powerful blend of massage and detoxifying clay for targeted toning and improved circulation. A blend of salts, minerals and seaweeds work together to target cellulite and poor skin tone on hips & thighs, abdomen and backs of arms.
BENEFITS
* Tightens and tones
* Improves skin tone and texture
* Deep cleanses
* Promotes smooth silhouette
* Invigorates the body
* Aids elimination of toxins
* Cleanses the digestive system
* Deeply detoxifying and decongesting
* Increases blood and lymphatic circulation
One Area (30mins) £30
Two Areas (60mins) £60
Three Areas (90mins) £90
Legs, Abdomen & Backs of Arms
Corporate Membership
Fitness for yourself is important and as a Manager I know how fitness in the workplace is just as important. Do you work for or even own a business – independent, small or large? Do you value and want a more productive work force?
If you answered yes to any of these questions we understand the importance of a how health and fitness can lead to a happier and healthier work environment, not to mention lower sick rates and we want to help!
Roko can support you, your company and your people, not just in the gym, but also out of it with ideas like fitness advice for your employees, Get Desk Fit, health days in your business, fitness and gym challenges, attendance at corporate events, health open days and any other idea that helps you and your business. We offer membership discounts for businesses as well with many different options available.
Employees are the most important part of your businesses and work life balance is important, are they doing a charity event, needing sponsorship or taking part in something – let us know as we may be able to help support them.
For further information please contact Mark Porter on m.porter@gillingham.roko.co.uk
Regards
Mark