7th February 2018 | Gillingham
Manager's Message
January has gone by very quickly and I hope your News Year's resolutions are in full flow.
We have new classes added onto our class timetable, rok-x, so come and give them a go. Also keep a look out for our new Personal Training profile board and taster days.
We will be introducing 'Meet the Managers' sessions which is an informal chat to share your thoughts and comments about the club. This will be advertised in the club and on Facebook soon.
Valentines if just around the corner and our Beauty department have some lovely offers so please do take a look.
We wish you all a fab and fit February
Sue Brothers and your Roko Team
Member Referral Offer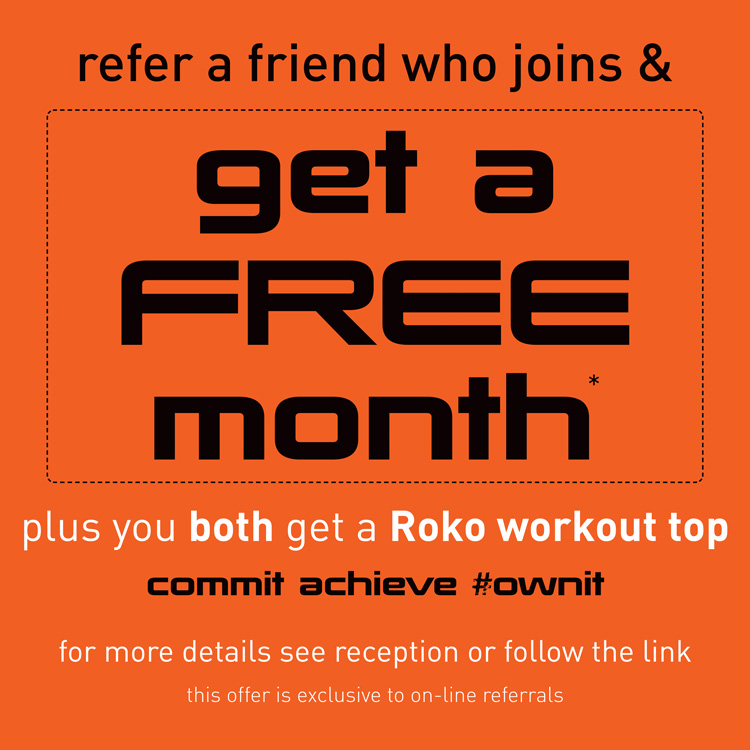 You are more likely to achieve your fitness goals with a workout buddy!
So introduce a friend to Roko and you'll both benefit from the additional motivation that you will provide to each other. PLUS, when you refer a friend right now and they decide to join, then we'll give you a FREE MONTH'S MEMBERSHIP plus we'll give you both a limited edition Roko workout top.
Simply click here to refer your friends on-line and we'll contact them to arrange their personalised tour.
Win 2 FREE PT Sessions Via Facebook

Roko Member Competition:
Upload your best Roko gym photograph, video or selfie and tell us what you love about your workout, tag Roko in to your post and use the hashtag #LoveMyRoko for your chance to win 2 free PT sessions. Visit our Facebook page to read more.
T&C's: New PT clients only. Competition closes 14th February. Winner will be drawn and notified on 15th February. PT Sessions must be redeemed by 15th March
Reception
So Christmas and all the joyous festivities are over and we are left with the cold winter blues.
Why not cheer yourself up and feel good and warm again with a glowing tan by having a few sun beds.
Here at Roko you can buy a sun bed course and get 50 minutes of tanning for just £25.00 or if you prefer you can just pay as you go each token is £1.30 for 2 minutes
We also sell enhancing creams to go with the sun beds at just £1.30
Ask at reception for more details
The Spa
We hope your new year has begun to a great start and your new year's resolutions are still going strong and we hope you have been enjoying all facilities the club has to offer.
The month of love is upon us. What better way to treat your loved one than to a romantic treat in the spa?
Valentines special £120
Treat yourself and a loved one to our fabulous Valentines offer. Available throughout the whole of February! Unwind with 80 minutes of pure bliss. This package includes:-
❤ Express facial
❤ Full body massage each
❤ Glass of prosecco
❤ Full access to the gym, and wet facilities
❤ Towel, dressing gown and slippers
❤ A free Elemis candle to enjoy at home
This offer is also available for one person at £70
For bookings and enquiries please call us on 01634233348
We look forward to hearing from you.
Personal Trainer Focus – Tony Ilett
I think it is about time to introduce myself as I am one of the new Personal Trainers at Roko. My name is Tony Ilett and I run the circuit classes at the following times:
Tuesday evening 6pm – 7pm, Thursday morning 6:30-7:30 am, and Saturday mornings 10:30-11:30 am,
The group I have are really friendly, so come on down and give it a try, everyone is welcome regardless of your starting point or level of ability, all I ask is that you try your best!
My background in exercise and fitness is briefly as follows; I studied Human Sciences for 5 years at University, learning gross/clinical anatomy, exercise physiology, nutrition, neurology, biomechanics, exercise rehabilitation etc. I also travelled to India to study various massage modalities. I researched online for the best place to do Personal Training qualifications in the UK and the general consensus was the YMCA in Tottenham Court Road, so that was my next destination. In between doing all this study I ran a successful Integrated Massage Therapy business in Essex and studied for approximately 25 years doing various forms of Martial Arts and circuits, and ran a couple of Martial Arts clubs teaching Jujutsu and self-defence.
My philosophy is that everyone should feel comfortable in the gym, every person that walks through the door is trying to better themselves in some way and I love that, we all have our own individual journey, the gym is the most positive place you can be. Roko gym itself is great, loads of space and equipment, the staff are very helpful and friendly and so are the members. If you see any of the fitness instructors (orange tops) or the personal trainers (lime green tops) then feel free to say hi, it would be nice to meet you.
Enough about me, I look forward to seeing you at Roko, Happy New Year!