7th August 2019 | Gillingham
Manager's Welcome
I can't believe how fast this year is going but it's going well. The club has had its challenges and changes this year and I just want to thank all of our members because this has been helped along because you share your experience with the team and this then helps us to improve and make your time here as enjoyable as possible, so please keep the feedback coming.
I hope that some of the additions to the club are going down well. The new aqua music box seems to have caused a splash (I know terrible pun), the new hand weights have gone down well and its really good to see more children taking up exercise in the kid's camp.
We will also be having our free weights benches re-upholstered and we are also progressing with works in the steam room to bring this area back to life. The studio 2 temperature has now improved but of course we will closely monitor this moving forward.
The pool temperature with the plant room challenges has fluctuated as of late, however we have worked on this and it is now returning back to normal, although it has remained within the parameters we aim to maintain a consistent temperature.
Can I ask that we continue not to park in the disabled bays without a badge and that when using the over flow car park the parking area is used with other members in mind and not to park at the edge of the car park as this doesn't help people driving in and out of the car park.
I hope you have a great August. Remember, keep those goals in mind, action is what will create the changes you are looking for and consistency is key.
Kieran Street and your Roko team
tell your friends & family - 2 weeks for just £20
You are more likely to achieve your fitness goals when you work out with a buddy. And right now until the 18th of August, your friends can spend 2 weeks with you at Roko with a no commitment trial membership. Refer your friends via the app, tag them on our 2 week Facebook post or email them this link: https://www.roko.co.uk/gillingham/offers/buynow20

club news
Bank Holiday 26 August 2019
Opening Hours 08.00-20.00
We will have a revised timetable on that day so please do check our App and Facebook for timetable
Member use of other Roko Health Clubs
We wanted to update you on our Member use of other Roko Health Clubs – Policy. All members can use and enjoy all other Roko Health Clubs as part of their membership price. In order to do so you must have a current status membership and also use the club you are visiting within the same access times as per your home club allowed access times.
Please note that there are two exceptions to this:
Roko Gillingham, Nottingham and York members must pay £7.50 per visit to use Roko Chiswick Bridge.
Roko Health Club Portsmouth members must pay £5 per visit to use Roko Gillingham, Nottingham and York. And £10 per visit to use Roko Chiswick Bridge.
Sales of high-caffeine energy drinks to children under 16
With health and wellbeing in mind please be aware that we are stopping the sale of high-caffeine energy drinks to children under 16 from 1st August 2019.
High-caffeine energy drinks carry advice stating that they are not recommended for children, and there are widespread concerns about the impact that these types of drinks can cause when consumed by children under 16.
Therefore Roko is choosing to proactively act on the manufacturers guidance and these health and wellbeing concerns.
Important Notice: Amendment to the Suspension request procedure
We are looking to streamline our suspension request procedure and make it more consistent among both Annual Members and Monthly Direct Debit payers.
Therefore as of the 1st July, all suspension requests must be given with at least 1 months' notice, with the 10th of each month being the cut-off date to suspend for the following month. Any request given within 1 months' notice, will not be accepted.
Fitness News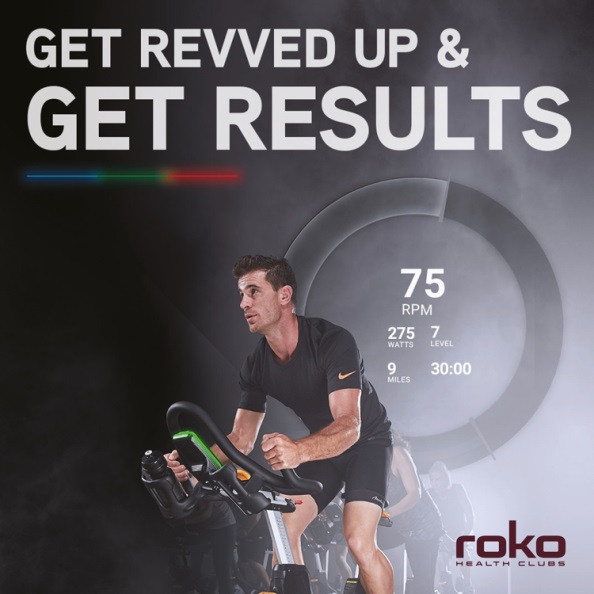 Introducing RokoRIDE
In June we took ownership of our new group exercise bikes.
The CPX Target Training Cycle offers magnetic resistance for a smooth, consistent ride and adjustment and watt measurements within 2% accuracy. The new console brings with it a whole new cycling experience with a unique LED wrap that will encourage riders to reach their full potential with a range of programs including interval, pace, heart rate and goal based workouts. Our instructors completed their training with Matrix, so they are really excited to bring you new innovative ideas into your workouts.
Book your rokoRIDE via the APP
The Spa News
Elemis' BRAND NEW peptide 24/7 facial £10 off until 15.08.19, be quick! (£37 for 55mins)
This facial will be going back to normal price of £47 when this offer expires.

This facial is inspired by the body's miraculous inner clock and formulated to support tired complexions, our skin renewing Peptide 24/7 Skin Sync facial has been designed to target the look of tired skin and help you achieve a well-rested glow, around the clock.

All new launch products will be available to purchase too.
FINAL MONTH- to get £5 off your Jessica GELeration fingers or toes! This offer will be ending on the 31.08.19 so get in quick for all those holidays you have planned!

Always keep an eye out on our easel for daily offers too.

-Elemis beauty team.
Club Lounge

Introducing May Tea, now available in the Club Lounge! Green and White Tea infusions, Low Calorie, Natural Fruity Flavours. Peach and Mango or Raspberry and Lychee- what's your favourite?
@mayteauk (#maytea #lowcalorie #naturalflavours)