1st August 2017 | Gillingham
Manager's Welcome
Welcome to August. The endless days of sunshine (as much as Britain offers), BBQs, ice cream and summer fun continues
Having spent a week in Venice recently and completely overindulged on gelato, pasta, pizza and prosecco, my thoughts can't but help turn to the fast approaching Little Black Dress (or black suits for the gents) season. If any of this rings true then you will know that being a member at Roko is the best place to be to get your fitness back on track and just as importantly start feeling good again.
Try a stayfit. session to get you back on track, a new class or even pop in for a coffee with friends… a foot in the door can sometimes be the first step to getting your fitness mojo back on the road to success.
You, our members, are the most important people to us and we aim to make each visit a magic moment. I constantly feel proud and amazed of the successes our members have and privileged to meet such wonderful people each day. Thank you for your ongoing support and we look forward to making your second half of the year even better than the first.
Best wishes
Sam Lewis
General Manager
Invite Your Friends & Family
to Enjoy 2 Weeks For Just £20 - click here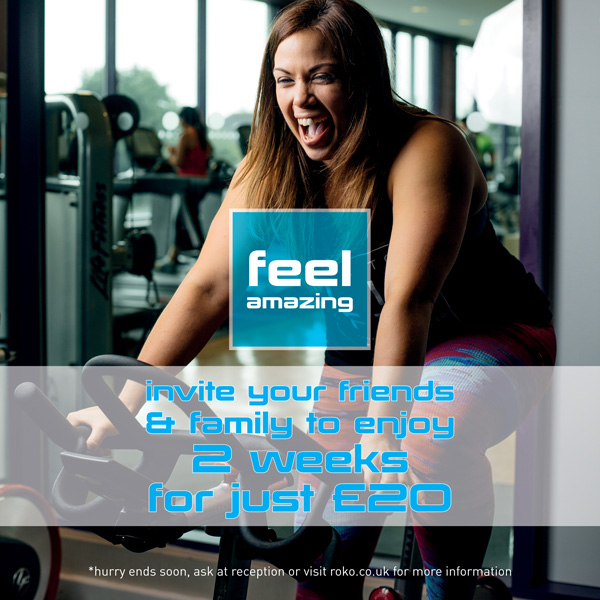 Fitness News
Book a rokofit. program review today!
Whatever your specific goal is, at Roko we are here to help you succeed. Our consultants are some of the best in the business.
In order to take the first step towards your goals all you have to do is provide commitment and consistency to your training. Your consultant will do everything else given this opportunity.
Your consultant is not just there to give you a program and show you how to use machines. They are there to help make the most of your membership. Your consultant can advise you on all aspects of the club, whether you think you just want to swim, you like classes, you don't like classes, or you only have 20 minutes to train. Give your fitness consultant the opportunity to help you train smarter. It doesn't have to be harder.
Your Roko Fitness Consultant will also help you achieve the necessary commitment and consistency to meet your goals. How?
* By optimizing the time you have in the health club.
* By explaining to you WHY you are doing what you are doing. There will be no wasted effort.
* By progressing and adapting your program. This is necessary to hit your goals but also helps maintain your interest.
* By giving you appropriate exercises and explaining their specific benefits.
* By making sure you know what results to expect from each progression.
In everyday life we find the best person for the job and use them. Why not to get the most out of your health club and book a rokofit. session with one of our Roko Fitness Consultants. They are the person for the job of helping you achieve your health and fitness goal so use them.
Together with your Fitness Consultant you can define realistic goals and set your expectations for both short-term and long-term results. Each program will give a result 4-6 weeks later. It is then time for a new program, another short term goal and then another result. Start out on each fresh program confident you are not wasting your efforts and knowing what specific result you are looking to achieve from that program.
You are now not only moving closer towards your ultimate goal but you're getting that boost that results and success brings.
Expect more out of your health club. Book an appointment now - either in club or click here to book on-line.
Roko Outdoor Bootcamps
You'll be put through your paces in the Roko Bootcamps; they are group fitness courses that have been designed for anybody who is enthusiastic about working hard to get results. Led by a Fitness Trainer and within a motivating group it will help you work to your maximum ability and show improvement as you progress each week.
It's the perfect environment to see results, fast. Whether you're looking to tone up, lose weight or just feel better on the beach this summer, the Roko bootcamps will get you there faster!
Roko bootcamps are open to both Roko members and non-members. For more details about session days and times please contact reception today – but hurry, places are limited.
Next course starts Tuesday 8th August at 9.30am
Sign up at reception today as places are limited
£42 members £52 non-members
Corporate Opportunities
Do you work for a company big or small? Work with us to increase the fitness and wellbeing of your staff while reducing sick days! We are looking for local companies to work with to increase work force wellbeing and performance.
Become one of our VIP Premier Partners. More than just a discount.
Contra marketing and promotional opportunities also available.
Email Andy Hill, Sales Manager for further opportunities AHill@gillingham.roko.co.uk
The Spa
We are now into holiday season and the schools have broken up! We are sure lots of you are off jet setting to some lovely places, so what better way to start your holiday than with some much needed pampering to get you looking and feeling great.
Offer of the Month
This month our special offer is the choice of either:
the Full body Massage for £32, usually £42
or
our Back, Neck & Shoulder Massage for £22, usually £27!
plus save £9 on an Elemis Frangipani Back Treatment - was £39 now £30
You can also enjoy 10% off all Elemis Products throughout August!
A great product we advise to use before going on holiday is our Elemis Tan Accelerator. This product will prepare the body for exposure to the sun by stimulating its natural melanin production. Fragrant Tahitian Gardenia and Jojoba Oil leave skin beautifully conditioned this product is excellent for both sun-sensitive skin and for prolonging your tan. For best results start using daily for 2 weeks before your holiday, this product retails at £23.00. All Elemis products are 10% off during August!
For those of you that want to make a safer choice for tanning why not book in for a Sienna X spray tan! Every Sunday throughout August all Sienna X Tans will be £15!! Get your week off to a glowing start, and get that sun kissed look!
Happy Holidays!
The Spa
Roko Parties and Events
Roko a premium health Club and Gym with a modern club lounge, the perfect party venue.
Event Menus
Why not take a look at our Roko Finger and Fork Buffet Menus and let us do the work for you.
Parties
Anniversaries, a landmark birthdays ,weddings, christenings, "works do" school proms , club presentations, charity events and quiz nights, live bands, and black tie events, we can host your perfect evening!!
Surprise Parties
Can you keep a secret? We can! Let us help you make all the arrangements - with nobody being none the wiser.
Christmas Parties 2017
Looking to a hold a Christmas Works Party then why not celebrate the festive season this year at Roko Gillingham.
18th And 21st Birthdays
Not many venues hold 18th and 21st Birthdays, but we will! We can provide SIA registered door staff at cost (£75 per doorman).Two doormen required for up to 150 guests. It's like your own private Nightclub.
Afternoon Teas and Baby Showers
Make someone feel special and help them celebrate their new arrival! Reservation only mid-week and Sunday afternoons.
Reception News
Check out our new speedo accessories which will keep the kids amused in the pool this summer
We have a range of squirty toys and dive sticks and many other swimming accessories all available to purchase at reception.
Don't worry if you forget your swimming costume as we also have a range of speedo swimwear for both adults and children.
We still offer our sunbed courses where you get 50 minutes of tanning for just £25.00 so if you have already had your holiday and want to keep the tan going or want to start your tan off before your holidays then just ask one of our receptionist for details.