3rd May 2017 | Chiswick
Manager's Welcome
Summer is well and truly on the way! April has been a busy month in the club with lots going on. Thank you to those of you who have given such great feedback on the new spin bikes. We are delighted to hear they have been so well received! With my knee now fully healed I look forward to seeing you in a class this month!
We hope that you are also starting to notice the great work that Chris is doing around the club to improve the maintenance. You will hear more from him below in our Staff Member in Focus.
I will be offering the opportunity to come in and meet me to discuss any element of the club on Thursday 18th May at 6.30pm. Please do feel free to drop me a line or come and chat to me in the club at any time though.
Please see below for the usual updates from Lara in The Spa and Liz from the Gym floor.
Warm Regards
Ben Holden, General Manager
Member Referral Offer
Refer a friend who joins Roko and YOU BOTH receive an Elemis pro-collagen kit worth £38.70 plus a £10 pro-collagen facial voucher.
Click here for details and to refer a friend.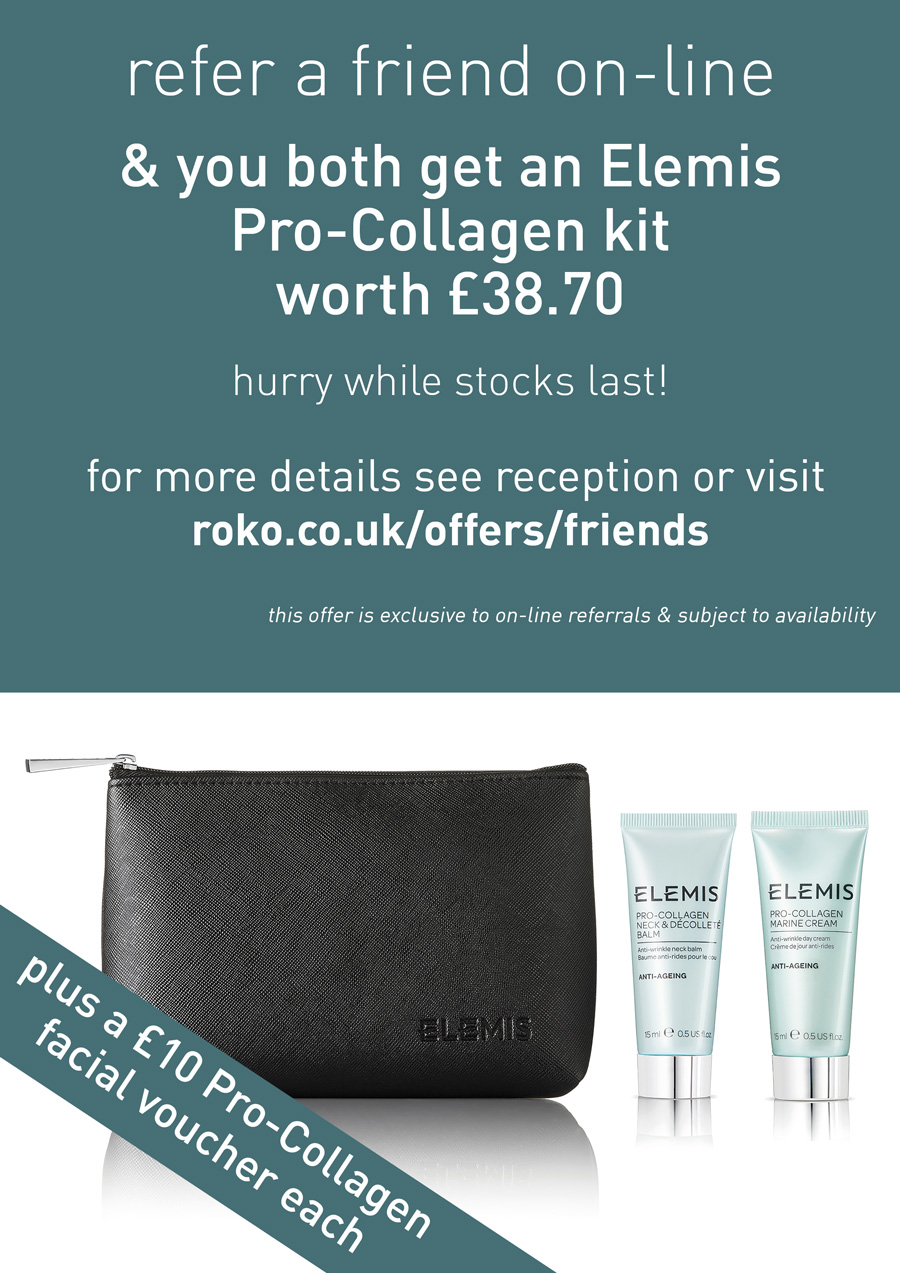 Fitness News
Don't miss out on FITTHER™ this summer! 12-week group training specialising in women's body transformations with Shelley Ford. Sessions run either morning or evening over 7 days (days are varied dependant on phase of the program) at the club. Contact Shelley now on 07545 583835 / shelleyfordfitness@gmail.com to book or for more information.
If that does not appeal, then why not have your own or partner training sessions with Chrispin Mitchell? Lose those few extra pounds or transform your shape ready for that summer holiday, or maybe just to improve your health and lifestyle. Maybe you need rehabilitation? Then book your consultation with Chrispin today on 07985 270784 / motivate2succeed@outlook.com
Staff Profile Oliver Sholay:
What is your job role at Roko Chiswick?
I'm a fitness coach, working here part time.
How long have you been here, and what did you do before?
I've been here since September 2016, and previously I worked in the NHS for 13years in IT.
What's your biggest Pet Peeve?
Rude, unfriendly people.
If you were stuck on a desert island, what one item would you have with you and why?
A solar powered kindle with plenty of downloads as I love to learn.
What's the most unusual fact about yourself?
I used to go to school with Tony Blair's son who always used to call me by the wrong name…David!
The Spa
This month we are offering 25% off packages of 4 facials:
4 x ELEMIS 30min Taster Facial = £117
4 x ELEMIS 30min Anti-Aging Booster Facial = £135
4 x ELEMIS 1hr White Brightening Facial = £207
4 x ELEMIS 75min Skin Solutions Facial = £210
4 x ELEMIS 1hr Pro-Definition Facial = £225
4 x ELEMIS 75min Advanced Anti-Aging Facial = £255
Also, £10 off Gellux Manicure or Pedicure this month!
Includes full standard manicure/pedicure – cuticle work, foot filing, scrub and massage.
Lara Chatten, Spa Manager
Samia Gomez – Clinic4Sport
Getting back into action after a period of inactivity can be a daunting task. Whether you've recently had surgery, picked up a niggling injury or have been overdoing it on the tennis court/golf course, we can help you. Our skilled therapist can assess, diagnose and treat your injury and help you get fully better safely as soon as possible. Our Sports Injury Clinic is based in the gym floor and we are open Monday to Sunday. We are proud to offer you affordable prices so that you can visit us as often as you need to.
To book an appointment please go online: http://www.clinic4sport.com/
Alternative Therapists:
Don't forget we also offer the following Alternative Therapists:
Osteopath – Andrew, Reflexologist – Judit, Semi-Permanent Make-up Artist – Hannah, Facialists from Bellezza Clinic – Sebastiano and Maria, Hypnotherapist – Kate Hudson-Hall and Alexander Technique – Elizabeth Dodgeson.
Staff Member In Focus
Staff Profile: Chris Nicolaou
What is your job role at Roko Chiswick?
Maintenance Manager
How long have you been here, and what did you do before?
I've been working here for 2 months although I have been member since the club opened. Previously I was a Police Officer for 12 years as part of the Tasking Team.
What's your biggest Pet Peeve?
People not tidying up after themselves, mess...
If you were stuck on a desert island, what one item would you have with you and why?
The royal marine survival book – a really, really good read, and useful!
What's the most unusual fact about yourself?
I once played polo with Prince Charles