5th June 2017 | Chiswick
Manager's Welcome
Welcome to the June Newsletter. May has once again been jam-packed with lots of planning for the remainder of the year. Although there has not been a great uptake I will be offering the option of coming and chatting to me about all aspects of the club in the usual monthly informal session. This will be held on Thursday 8th June at 6.30pm
We have also started to stock Nutramino Protein and have a vending machine at the bottom of the stairs. With a fantastic range of both shakes and protein bars look out for the Taster events coming this month!
I have been working this month on improving the Member Benefits and hope to be able to launch an all-new package next month!
Lastly we have 15 limited edition Roko Hoodies left for Sale! These are a one off and are available in small, medium or large for 29.99. Don't miss the opportunity to be one of the best dressed in Chiswick.
See below for the usual updates from Liz and Lara and an introduction to the latest member of our team, Kaye.
Warm Regards
Ben Holden, General Manager
Member Referral Offer Continues
Refer a friend who joins Roko and YOU BOTH receive an Elemis pro-collagen kit worth £38.70 plus a £10 pro-collagen facial voucher.
Click here for details and to refer a friend.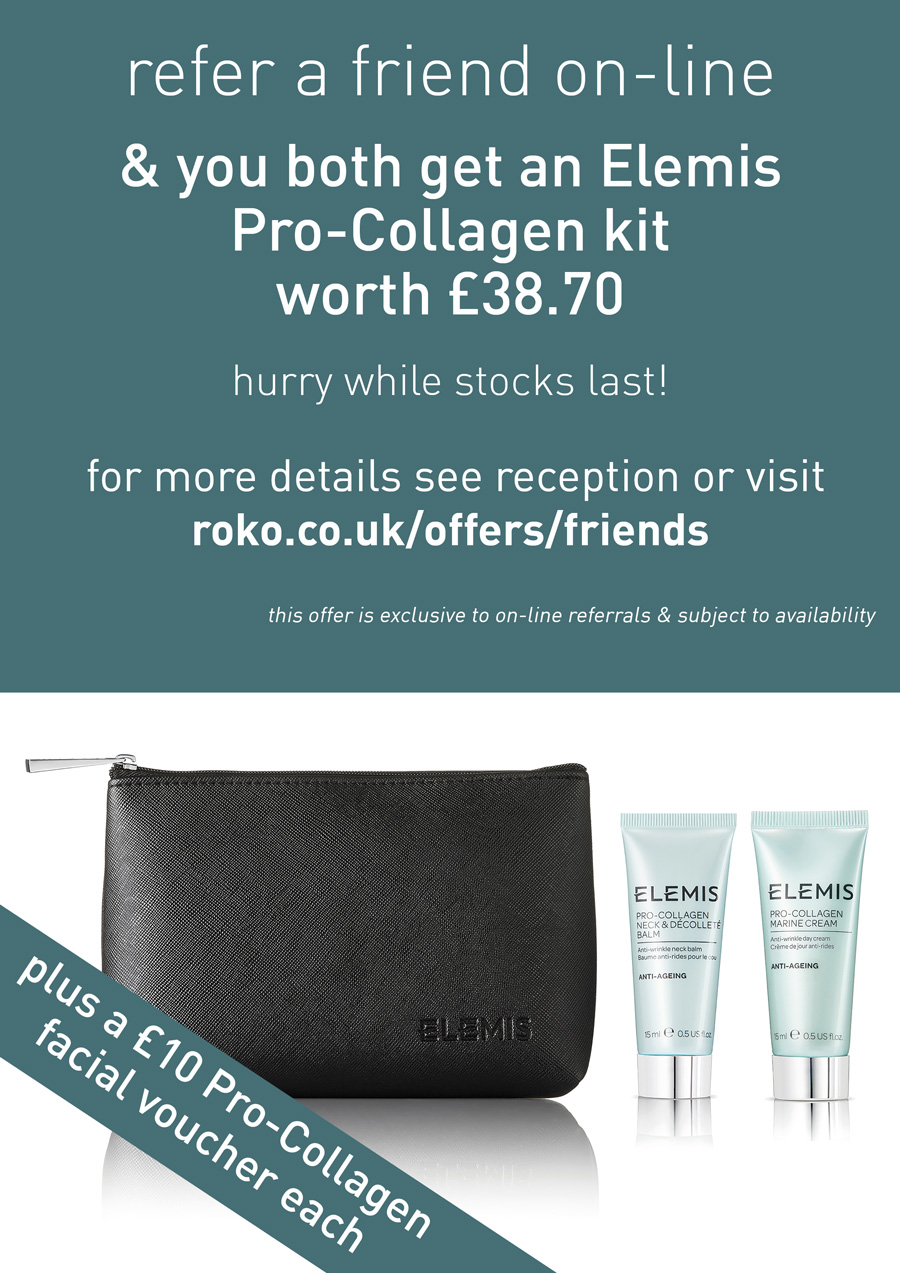 Limited Edition Roko Hoodies
Feel Inspired with The Limited Edition Roko Hoodie, available for £29.99 from Reception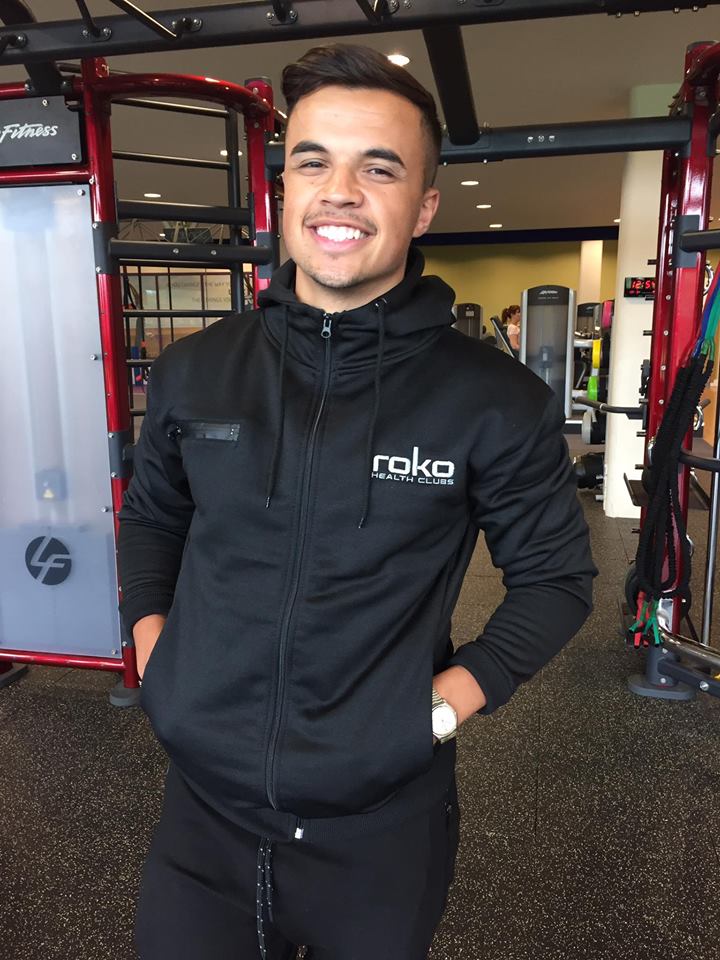 Fitness News
With the start of the summer here don't miss the opportunity to book your Roko Fit or Stay Fit session with one of the team on the gym floor!
We also have Class Fit sessions running weekly with Hugo this is a great opportunity for those of you that have always wanted to venture into the Studio but could do with a helping hand!
Don't miss out on FITTHER™ this summer! 12-week group training specialising in women's body transformations with Shelley Ford. Sessions run either morning or evening over 7 days (days are varied dependant on phase of the program) at the club. Contact Shelley now on 07545 583835 / shelleyfordfitness@gmail.com to book or for more information.
If that does not appeal, then why not have your own or partner training sessions with Chrispin Mitchell. Loose those few extra pounds or transform your shape ready for that summer holiday, or maybe just to improve your health and lifestyle. Maybe you need rehabilitation? Then book your consultation with Chrispin today on 07985 270784 / motivate2succeed@outlook.com
The Spa
This June we are replacing our Aloe Body Toning Wrap with the ELEMIS Targeted Toning Tightener Treatment! Look out for posters around the club and a special introductory offer!
We have a new therapist joining our team – Kaye Coupland. She will be working with us on Tuesdays, Fridays and alternating Wednesdays and Saturdays. Pop into the spa and say hello!
We are still recruiting a part time weekend therapist – if you know anyone please do get in touch.
Finally, Emma is currently training in Aromatherapy Massage. We will be offering massage at reduced prices with her so she can gather case studies for her course. Please see "June Offers" section for more.
June Offers
Summer Package – as it seems summer is now upon us, why not get prepped and ready with a Spray Tan, File and Polish and Lash or Brow Tint for £45 (upgrade to Gellux Polish for £10)
Exam Offer – are you or someone you know in the midst of exams?! This month 16-18 year olds can take the load off for 30mins with a Back, Neck and Shoulder Massage or ELEMIS Taster Facial for £20
Back Cleanse Treatment – has the hot weather got you feeling sticky and clogged? Why not add a FREE Back Cleanse Treatment to any of our massages booked this month?
Aromatherapy Introductory Offer – aromatherapy massage is massage therapy with essential oils tailored to you specifically. Inhaling essential oils through the nose promotes beneficial changes in the mind and body. Emma is offering discounted aromatherapy massage while she finishes her case studies for her course: 30mins for £20 or 60mins for £32. Bookings are subject to availability and only to be booked with Emma. If you would like any additional information about aromatherapy massage, please don't hesitate to pop in and speak to Emma.
New Therapist
Name: Kaye
Job Role: Spa Therapist
Brief Background: Spa therapist, now specialise in massage, deep tissue massage being my favourite.
Hobbies outside of work: Horse riding, country walks with my French bulldog, Maggie.
An interesting fact about yourself: I'm a vegan
If you were stuck on a desert island what would you have with you and why? Food!
Fun Fact for June
Perfume has been around for decades, but during Ancient Egyptian times it wasn't just to make a woman smell lovely. Made from flowers, honey, wine and berries, perfumes were also drunk as a medicine to solve kidney, lung, intestinal and liver problems.
Top Tips for the Summer
Fix self-tanner mistakes with Baking Soda – exfoliate with a mix of baking soda and water on a loofah or flannel. It will help wash away any excess tan so you can try again!
Smooth your feet with a potato – in the summer months your feet are more exposed to the sun and dust and dirt when wearing sandals. In between pedicures, help to keep your feet smooth by cutting a potato in half and coating in sea salt and scrub the bottoms and sides of your feet – instant exfoliator!
Protect your polish in the fridge – keep your fave polishes from forming bubbles by keeping them in the fridge and they'll stay nice and smooth – and cool on your tips.
Switch foundation to a BB Cream – skip heavy foundation and opt for a BB Cream. They act as tinted moisturisers, so you will still get some coverage but your skin can still breathe and it won't melt off your face if you start to sweat!
Dry/chapped lips? – use a sugar cube or mix a little sugar with a little honey for a cheap and easy lip scrub.
Competition
Are you on Facebook?
Like our page "Roko Chiswick Bridge" and leave us a review directly naming The Spa and/or a therapist of your choice, and be in with a chance of winning a FULL BODY MASSAGE at the end of the month!
Alternative Therapists
Samia Gomez – Clinic4Sport
Clinic4Sport is the Sports Injury Clinic at Roko Chiswick Bridge and they offer you:
Physiotherapy & Sports Therapy
Massage Therapy
Acupuncture
Running, Cycling, Tennis, Golf and Ski Fitness
Pilates (one to one injury specific)
SPECIAL OFFER - 15 Minute Injury Check Up for only £20.00, this incorporates a mini assessment with any of our Musculo-skeletal Physio's or Sports Therapists. You do not need a GP referral, we are experts within our field. We will assess your ache, pain or injury, diagnose, give you advice and provide an action plan on how we can get you better. If required we can refer you on for investigations (e.g. MRI scan privately) or onto Specialist Consultants as necessary.