8th January 2018 | Chiswick
Manager's Message
Welcome to 2018 at Roko Chiswick. We hope that you all enjoyed the festive period!
The New Year is often a time to reflect back and many like to start the New Year with renewed purpose and motivation. Many of you will be setting new goals and challenges, these might be resolutions or may just be a renewed focus and determination to finish what you started in 2017
I am delighted to welcome our first guest contribution from Dr Josephine Perry – Consultant Sport Psychologist, taking us all through how to use SMARTER goal setting. The blog that she has contributed makes fascinating reading and I hope will add real value to your training, whatever the goal. Josephine will be offering a clinic in the club from the start of 2018 and her contact details can be found below within her blog.
We are delighted to have added more kit to the gym in December with the Tyr and Soft Plyo Boxes in particular adding great variety to our Synergy360 area. For advice on including these in your workout or support with programming speak to one of the team on the gym floor and they will be happy to help
I will continue to offer Meet the Manager sessions through 2018. These are informal chats over coffee giving you the opportunity to air any thoughts that you have on the club. The sessions this month will be:
Friday 19th January at 10am
OR
Wednesday 24th January at 6pm
The Team and I look forward to welcoming you to the club and offering you any support that you need
Warm regards,
Ben Holden, General Manager
Member Referral Offer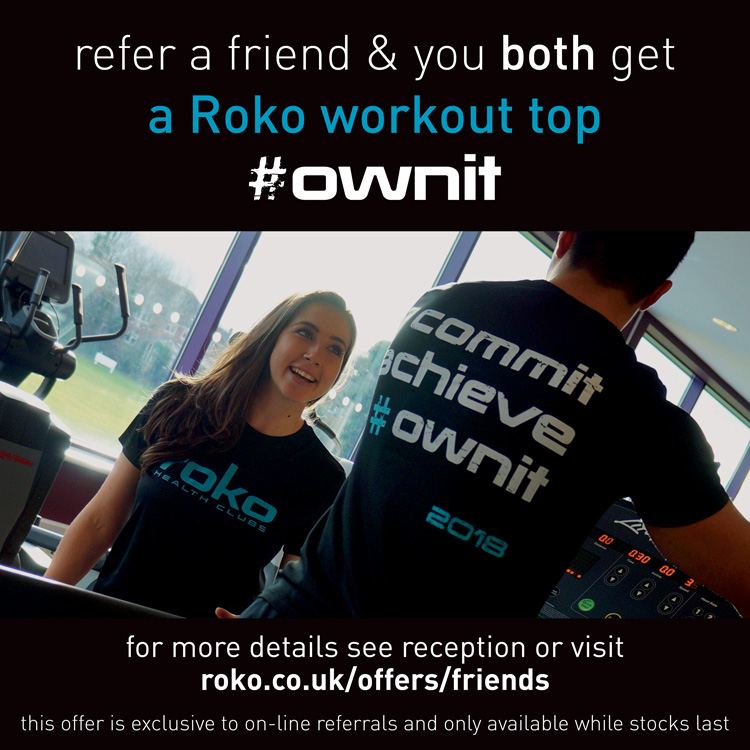 Did you know that you are more likely to achieve your fitness goals with a workout buddy?
So introduce a friend to Roko and you'll both benefit from the additional motivation that you will provide to each other. PLUS, when you refer a friend right now and they decide to join, then we'll give you both a limited edition Roko workout top.
Simply click here to refer your friends on-line and we'll contact them to arrange their personalised tour.
Win 3 Months Free Via Facebook

Tell us your 2018 fitness goals to win 3 months FREE membership at Roko.
What are your fitness goals? Are you hoping to get in shape/ lose weight/ run a marathon? List your goals on the Facebook competition post and you will be in with a chance to win a full 3 months of FREE membership at Roko.
*Terms & Conditions apply. A winner will be drawn on 15th Jan, and the winner will be notified through Facebook. The 3 month membership will start from 1st February 2018 and end 30th April 2018. Entries are only possible by posting a comment in the competition Facebook post. Entries are open to both Roko members and non-members.
Fitness News
Jack Dillon Fitness Manager
Let me just start by saying HAPPY NEW YEAR to you all! I am pleased to say that there are going to be a number of changes coming in this new year up on the gym floor – from new kit to new staff, classes to culture. One of the main changes I would like to happen upstairs is to our environment and atmosphere. I want to raise the energy level and bring a buzz back to training. Bringing in fresh faced personal trainers with their desire to help you achieve your goals will bring new energy, new challenges, support and new training ideas. If you haven't already noticed, the music has been given a new lease of life to help up the tempo in peak times and calm you down when it isn't so.
Rok-x 30 Minute Gym-Floor Classes
Rok-x classes will be given a boost with the help of our new trainers, so if you are on any of our cardiovascular (CV) kit looking down and see the class being set up, jump off and give it a try! It only lasts 30 minutes and will help you change up your session and training to give you that new 'ooomph' you need. If you haven't already tried these fantastic classes then let January be your motivation for giving one a go! What better excuse to try something new than the New Year?
Rok-x is a fusion of High Intensity Interval Training (HiiT) and Functional Training.
There are many benefits to this type of training and you only need half an hour to have a fantastic all over body workout!
HiiT is where you give 100% effort in quick, intense bursts of activity, followed by short, sometimes active, recovery. This type of interval training enables sustained elevated heart rate and burns more fat in less time.
Simply turn up to one of the gym-floor rok-x classes scheduled on the studio class timetable; there is no need to book. Please click on the classes page to download the latest studio class timetable.
Group Fitness Timetable
Group exercise classes have been given a juggle around and some new ones have been added, so don't be shy and give them a try, this is the month for new beginnings.
Click here to download the new group fitness timetable now
I would like to also invite you all to have a look at our Facebook, twitter and Instagram accounts. Starting now we will be posting regular content on there to include: workouts, challenges, PT profiles, games and lots of info about what's going on around the club. In relation to this we will be doing monthly challenges which I hope you'll consider taking part in.
This month's challenge is about improvement - so do speak to one of our team for more info.
Performance In Mind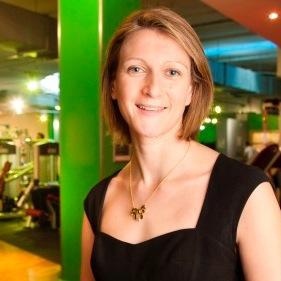 Sport Psychology Consultant Josie Perry has just starting working from the Roko Wellbeing Hub. In this piece she sets out how you can use SMARTER goal setting so that you are in the perfect position to achieve your 2018 sporting ambitions…
Setting Smarter Goals
As someone who enters a lot of races and focuses on my health people usually seem surprised when I say I don't set New Year resolutions. But, having read all the research, I avoid them because I know they usually fail. They are not sticky. They are often negative (i.e. I will NOT do something) and they can be pretty fluffy. Instead I set goals. I set goals because study after study has shown that setting clear goals can increase motivation, commitment, concentration and confidence, reduce negative anxiety and ultimately improve performance. If we set our goals in the same way that athletes do we are much more likely to succeed in achieving them.
So how do elite athletes set their goals? They triple layer them and they make them SMARTER.

Triple layer your goals:
Dream goal - What is the big thing you want to achieve? What, in a year's time, will make you really proud that you mastered? The one rule with this is you need to be able to have direct control over whether you achieve it.

Performance goals – What will it take to achieve that goal? You will usually have about three of these goals. These need to be very specific, and usually something that will be a nice measurable benchmark towards your dream goal. Spread them out over the year so you can stay focused long term.

Process goals – these will sit underneath each performance goal and be specific actions you need to take in order to achieve that performance. Using these goals means you get to follow the progress principle and tick off these smaller achievements throughout the year so you are continually getting the buzz of success and can feel confident you are getting closer to your performance and dream goals.

Making your goals SMARTER:
· Specific – The more specific you are about your goals (giving yourself a very visible direction and target) the easier it is to stick to them. Rather than say: 'I want to run faster' a more specific and effective goal would be: 'I want to run under 25 minutes for 5k by June 1st.' It is much easier to break these type of goals down so you can achieve each element required such as 'I need to be able to run one kilometer comfortably in 5 minutes by May 1st.

· Meaningful – Really understand 'why' you are making this your goal. When you get bored of it, or hit a slump, it is the 'why' which will get you back on track and keep your motivation high. If you are running a marathon you will find it easier to get out for the long runs if you are running to raise money for a charity that means a lot to you. Your goal needs to excite you and you need to feel passionate about achieving it. Motivation will come from that passion, so take time to think through what you really really want to achieve. What will make you get out of bed to come to the gym at 6:30am on a cold, wet, windy, winter morning?

· Accountable – Tell people what you want to achieve. Ask them to help you stay on track. Write a blog about it or put it up on social media. Knowing that others will ask you about it will really help you head out the door to train when you'd prefer to be snug indoors.

· Recorded – Write down your goals and stick them everywhere. The fridge, next to your desk, in your diary, notes on your computer. You need to repeatedly see them. The embarrassment of having to admit to yourself that you gave up on something which once made you so excited is a great prompt to keep going.

· Timed – Every goal needs a deadline. Without this deadline in place goals can drift and you lose momentum. Setting a deadline focuses the mind and allows you to set realistic intermediate goals to keep you on track.

· Evaluate – Keeping track of your goals regularly gives you a boost if you are doing well. It also gives you a chance to make changes if a curve ball has been thrown. If something like an injury, illness in the family or new job arrives in your life, then your goals will need to change to accommodate this so you don't put yourself under unhealthy levels of pressure.

· Realistic – We should all be ambitious and optimistic, but a goal will only work if it is not too much of a stretch. If it is, then perhaps make that your three or five year goal and work backwards to identify something that is achievable in the next year. If it is too easy you'll underperform. Too difficult and you'll lose motivation or destroy yourself. If you are currently struggling to reach 200 watts on a 20 minute cycling time trial, expecting to get to 300 watts in six months is a stretch too far and will be demotivating. But a compromise at 230 watts could be achieved with a lot of work and will push you to keep working hard.
So triple layer your goals and make then SMARTER. If you'd like to make your 2018 really successful come to a free workshop at Roko where Josephine can help you write your personal goals in a way that follows all these rules and will make them sticky, effective and very achievable.
Dr Josephine Perry
Performanceinmind.co.uk
07958 519733
PT In Profile - OMARI BAILEY
Skill Areas
Strength and conditioning
Boxing pad work
Stretching and flexibility
Training Target Areas
Flexibility
Strength
General fitness
What training you can expect from Omari:
As an 'optimistic super vegan', Omari wants to push you to be the best version of you! He will bring a bespoke and fun approach to your sessions to help you achieve your optimum goals. All he needs is for you to be dedicated and determined to succeed, and in return he will give you 120% in training which will support all aspects of your life.
"It's never too late to make a change, no matter your fitness levels. Let the benefits from fitness change your lifestyle for the better" – Omari Bailey, Roko fitness coach and PT
Do get in touch with Omari or any of our PTs to find out more about personal training and what it could do for you!
Maintenance Update
Chris Nicolaou - Maintenance Manager
Currently I am waiting for a new LED (light) driver to arrive to fix lighting in the steam room. Several jobs ongoing since before my leave and into the new year. Do please keep the feedback coming.
January Staff Member in Focus
Name: Indy Samra
What is your job role? Front of house receptionist
How long have you been at Roko and what did you do before? I've been here for three years (approximately), I can't remember! I started working at Roko in sales initially but later changed to the FOH team.
Favourite things about your job? I enjoy seeing and interacting with the members every day and providing excellent customer service.
Do you have any hobbies? I enjoy swimming, walking my dog and reading novels.
What's the most interesting fact about yourself? I am a mother of two beautiful children.
If you were stuck on a desert island, what would you have with you and why? I would have my children with me of course! To keep me company and have fun with (sorry husband!).
Café Terra News
– Eric Fatah, café manager
W H O L E and S U P E R F O O D S remain on offer. ALL at £8.99
Members can follow Eric on Instagram: @ERICSHEALTHBISTRO for great recipe ideas & inspiration.
Sports Injury Clinic
Roko Chiswick Bridge teams with a Sports Injury Clinic who will look after you should you are in need or Injury Treatment, Sports Massage therapy or to help you put a fitness program together to keep you injury free. The Clinic is based in the gym floor and they are open Monday to Friday 8am to 8pm and Saturdays & Sundays 9am to 5pm. Please get in touch and book an appointment online via their website: www.clinic4port.com.
Please see below Therapist profiles for the team from Clinic4Sport our onsite Physiotherapists:
Samia Gomez
FounderBSc Hons Sports Therapist/Massage Therapist/Biomechanics Coach
Samia enjoys keeping fit and healthy and believes in leading by example. Snowboarding is her primary sport and having trained for over 10 consecutive seasons, inside knowledge of the demands and injury possibilities within winter sports. She also is part of the Physiotherapy Team at the All England Tennis Club so happy to help you with your tennis related injuries.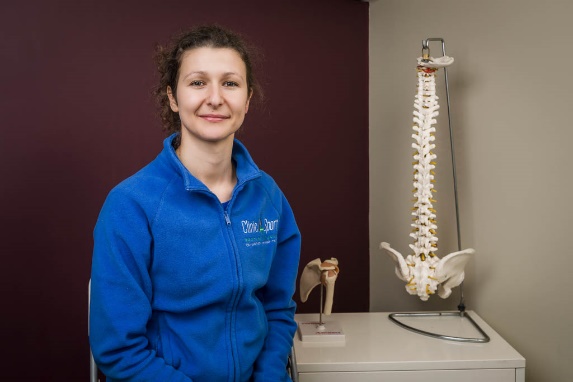 Daniela Cherneva
BSc Hons Sports and Dance Therapist/Massage Therapist /Pilates Instructor
Daniela has been practicing a variety of different sports while growing up – skiing, cycling, rhythmic gymnastics and ballet. She is now ice skating, running and is interested in tennis and team sports. Daniela enjoys getting people better and always look forward to new challenges ahead.
Modestas Adomaitis
BSc Hons Sports Therapist/Massage Therapist/Personal Trainer
Modestas was involved in multiple sports since he was 9 years old. He played badminton, basketball, football Thai boxing and general fitness. Playing football lead to a an increased number of injuries so he decided to become a Sports Therapist and prevent active people from getting injured and help them to recover after. 'Knowing that my skills and knowledge has a positive influence on others well-being makes my sole happy'
Joely Franklin
Massage Therapist/Personal Trainer
Joely comes from a Dancing background having attained a foundation Degree from The Liverpool Institute for Performing Arts. Her main interests include: Dance, Running, Travel and Nutrition and she is in her 2nd year at St Mary's University studying a BSc in Sports Rehabilitation. Being a dancer Joely noticed the high level of injuries present in the industry and so her aim is to work with Dancers in injury rehabilitation and Joely has a special interest in core stability