1st February 2018 | Chiswick
Manager's Message
January has come to a close already! It has been great to see so many of you enjoying the club and facilities this month, many of you have chatted about goals and refocusing! Josephine Perry provides the second blog this month and will also be running a free member workshop on the 22nd of February. Please see the reception team to get signed up.
The big news is that we welcomed Rachel Staggs and her team to the club to re-open The Spa at the end of January. Please see the attached invite to the Launch Event of Rachel Staggs Aesthetics on the 7th and 8th of February.
We are celebrating this "month of love" with our offer of Bring a Friend for Free every Monday throughout February. February also sees the start of the Winter Olympics. Jack and the team will be running themed fitness challenges through the month, look out for more detail below.
This month we also welcome Elvin to The PT team with Nabil also making a start in the Fitness team at the end of January.
Lastly, thank you for your patience on the 31st January whilst we had limited facilities open due to the Thames Water burst water main.
I will be running a meet the Manager session at 7pm on February 15th
I look forward to seeing you in the club in February and welcome your feedback at any time.
Warm regards,
Ben Holden, General Manager
Member Referral Offer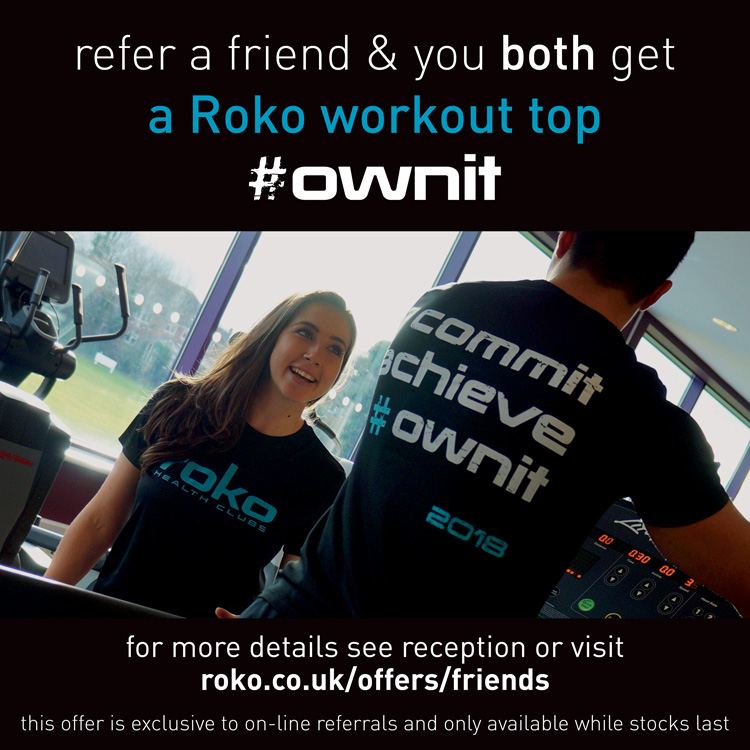 Did you know that you are more likely to achieve your fitness goals with a workout buddy?
So introduce a friend to Roko and you'll both benefit from the additional motivation that you will provide to each other. PLUS, when you refer a friend right now and they decide to join, then we'll give you both a limited edition Roko workout top.
Simply click here to refer your friends on-line and we'll contact them to arrange their personalised tour.
Win 2 FREE PT Sessions Via Facebook

Roko Member Competition:
Upload your best Roko gym photograph, video or selfie and tell us what you love about your workout, tag Roko in to your post and use the hashtag #LoveMyRoko for your chance to win 2 free PT sessions. Visit our Facebook page to read more.
T&C's: New PT clients only. Competition closes 14th February. Winner will be drawn and notified on 15th February. PT Sessions must be redeemed by 15th March
Bring A Friend For Free Every Monday Throughout February
Monday Motivation doesn't get much better than this... bring a buddy to train with you for Free, every Monday throughout February!!
FACT: Training with a partner helps raise motivation and ultimately helps you achieve your fitness goals! Win Win!
Fitness News
Jack Dillon Fitness Manager
I hope you all had an amazing January and start to the year?! Now that we've got over the hurdle of the first month of 2018 it's time to start getting into the swing of things with fitness! We have a great deal going on over the next few months both inside the club and out. With the likes of the Six Nations and Winter Olympics starting this month we thought it would be good to incorporate a themed workout to get you into the spirit of things:
'Winter Olympic fitness league'
This challenge will start on Monday 5th of Feb and finish on Wednesday 28th of Feb. There will be 10 challenges with points being awarded to the top 5 in each event, and we will be doing 2 challenges per week. At the end of the league the person with the most points will win. Prizes for 1st, 2nd and 3rd are TBC. Points awarded as follows:
1st – 5points
2nd – 4points
3rd – 3points
2nd – 2points
5th – 1point
To the gym floor itself. Myself and my team are working hard to be on top of the maintenance of the equipment so if there is a problem with any equipment please raise it with us and we will work to have it repaired ASAP. In terms of new equipment we will be adding more bits and bobs as the months go by.
Classes are an important part of this club and since January we have had some new classes and instructors so if you haven't been to one of these make it a priority to try them out in Feb. In addition to our studio classes we have our Rok-x classes on the gym floor - only 30mins long; there to break up you work out, get off the CV (cardiovascular) kit and come smash 30mins of Body-x or Core-x. I would highly recommend Wednesday at 8am: Body-x with Andrew who will put you through a great workout.
Beauty News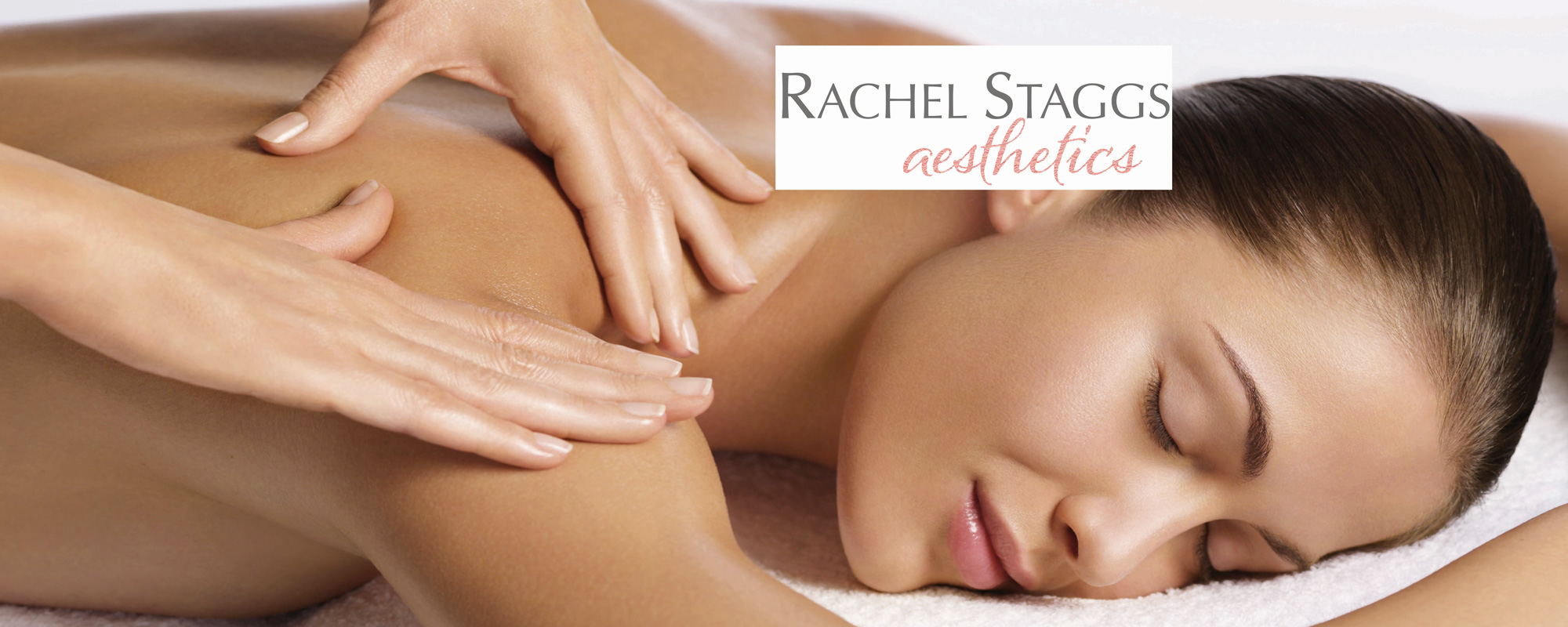 We would like to warmly welcome Rachel Staggs (beauty consultant) and her team of beauty therapists to our newly launched SPA at Roko. From February Rachel will be contributing monthly to the club newsletter to share her knowledge, expertise and spa news. Alongside the spa launch are the following offers:
30% off all treatments from 29th Jan - 11th Feb
10% off services for members ongoing.
The team will be having two open days: 7th & 8th February 2018
More details will be available nearer the time at Roko and on Rachel's website. To contact Rachel and her team:
Email: info@rachelstaggsaesthetics.co.uk
Website: www.rachelstaggsaesthetics.co.uk
Performance In Mind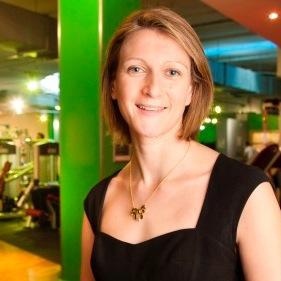 Do you want a new personal best, or to finish your first race? Have you taken a step into the unknown entering a competition or are you focused on improving your fitness this year? Sport Psychology techniques can help you achieve any of these things.
Come along to our FREE members' workshop to learn how to set effective sporting goals, prepare brilliantly for competition and develop the mindset of an athlete. This free workshop will give you practical ideas and tips, skills and techniques to use on your fitness journey. You should come away from the session inspired and excited and ready to compete with confidence and clarity.
The workshop is being held on Thursday 22nd February between 7 & 8pm in the Roko Conference Room. There are only 14 places available so please sign up at reception to secure yours.
Dr Josephine Perry
Performanceinmind.co.uk
07958 519733
PT In Profile - GABI GALASINSKA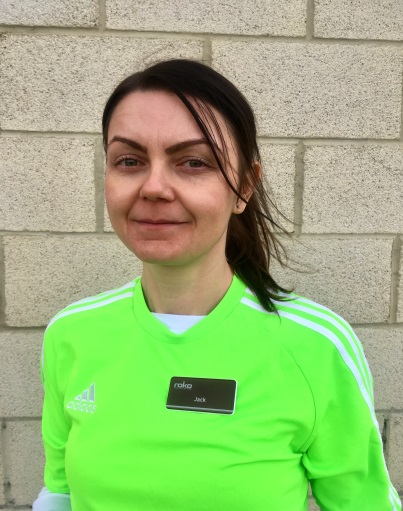 Skill Areas
HITT
Balance & coordination
Agility & speed
Functional fitness
Weight loss
Body transformation
Training Target Areas
Strength & conditioning
Flexibility
Circuits
Plyometric
What training you can expect from Gabi:
Gabi loves this quote: 'it always seems impossible until its DONE!' ~ she will work with you to support you to achieve great results, have fun and smash your goals. Gabi supports you in every way, both mentally and physically. 'It's not how much you do but how well you do!'. Gabi's sessions are full of fun and hard work.
Do get in touch with Gabi or any of our PTs to find out more about personal training and what it could do for you!
Maintenance Update
Chris Nicolaou - Maintenance Manager
Plenty of ongoing jobs and maintenance to keep me busy! I have also changed many of the hairdryers both in the male and female changing rooms to brand new ones.
February Staff Member in Focus
Name: Hugo Camacho
What is your job role? Studio coordinator and fitness instructor
How long have you been at Roko and what did you do before? Almost three years. Previously I was teaching at different gyms around London. I work here part time.
Favourite things about your job? I love teaching people and sharing my passion about fitness. Teach them to enjoy fitness and support them to make it part of their lifestyle
Do you have any hobbies? Travel, holidays, shopping, eating out and cinema
What's the most interesting fact about you? – I was a professional dancer (started age 3); I've been teaching fitness for 22 years! I've been in 6 musicals, 1 play and a soap.
If you were stuck on a desert island, what would you have with you and why? My music – because I can't live without it, or dance!
Sports Injury Clinic
Samia Gomez – Clinic4Sport
Roko Chiswick Bridge counts with a Sports Injury Clinic who will look after you should you are in need or Injury Treatment, Sports Massage therapy or to help you put a fitness program together to keep you injury free. The Clinic is based in the gym floor and they are open Monday to Friday 8am to 8pm and Saturdays & Sundays 9am to 5pm. Please get in touch and book an appointment online via our website: www.clinic4port.com.
IMPORTANCE OF QUADRICEPS FLEXIBILITY
Staying fit and being active puts a great deal of strain on musculature which can result in unwanted and unnecessary pains and aches as muscles can become stiff and short, hence, irritating your daily living. One of the muscles Clinic4Sport would like to emphasise now is quadriceps, the muscle located at the front of your thigh.
When tight, this muscle can cause a number of troubles relating to front of the knee pain when walking up and down the stairs or during physical activity, altering the position of the hip which could result in development of the lower back pain, groin pain and a condition known as Osgood-Shlatter, when tight tendon of quadriceps is pulling on the upper part of the shin bone. This usually affects teenagers. However, there is an effective and simple way to prevent that from happening by STRETCHING!
Healthy quadriceps flexibility will minimise the odds for you to develop any symptoms mentioned above.
There are several ways of how to stretch your quadriceps but the same principle applies to them all. A person should ensure that the hips are aligned, meaning there is no tilting or twisting to one side or another. Also, both knees must be together or as close as possible within your comfort zone. Then gentle pull of your ankle needs to be applied to bring the stretched leg backwards maintaining the neutral posture and knees close by. Stretch must be held for no less than 25 seconds in order to achieve beneficial changes in muscle length.
STAY FLEXIBLE & AVOID INJURY!