11th December 2017 | Chiswick
Manager's Message
Welcome to the December Newsletter. We would like to thank all of you loyal members for what has been a really encouraging year for the club. It seems crazy to say that 2017 is nearly over, the year certainly seems to have gone by in a blur!
This month sees us say goodbye to Klaudia on the Front Of House Team and welcome Gaby and Omari to the Gym Floor Team as Personal Trainers. Look out for more updates from them in the New Year as they start to share their training tips
We also have some exciting news just in with a second wave of new kit arriving late this month. This will include a 60kg Tyre and Soft Plyo Boxes. Watch out for Jack and the team delivering some great classes on the gym floor early in the New year.
We are working hard on planning spend for the first Quarter of The Year, this will certainly include the long awaited repair of the internal doors
I will be taking the final Meet The GM session on Thursday 14th December at 6.30pm
As a reminder we have closed The Beauty Spa from 25/11/2017 and will be opening The Wellness Hub from 02/01/2018. Look out for details in the club and on the website of therapists that will be operating!
We'd like to finish the year by asking you to take a short survey about your membership and your experiences at the club. It should only take around 3 minutes to complete and we'd really value your feedback so please click on the link to complete our survey - thank you!

A very Happy Christmas to you all from myself and the team!
Warm regards,
Ben Holden, General Manager
Member Referral Offer
Tell your friends and family about our 2 weeks of Fitmas Offer - invite them to spend 2 weeks at the club for just £30 this December.
Christmas Opening Times
Sat 23rd December - Normal Hours
Sun 24th December - Normal open to 4pm
Mon 25th December - Closed
Tue 26th December - Closed
Wed 27th December - 8am to 8pm
Thu 28th December - 8am to 8pm
Fri 29th December - 8am to 8pm
Sat 30th December - 8am to 7pm
Sun 31st December - 8am to 4pm
Mon 1st January - Closed
Tue 2nd January - Normal Hours
Maintenance Update from Chris
Keeping Roko safe and running smoothly for members is a constant process. Thank you for your feedback as well as patience and understanding when things aren't working as they should. In November we had some major faults with our steam and sauna. We now have new heating elements in our sauna and a new and upgraded steam kettle for the steam room. Both are working as they should and I hope you enjoy using them again. Amongst other maintenance work we have ordered new poolside showers to improve member's experience.
Fitness News
Jack Dillon Fitness Manager
It's December and almost Christmas time! Gosh this year has flown by. Since we are coming into the festive period the gym will quieten down as many members go off on their holidays and enjoy the celebrations. This can be a good opportunity for other members to get the most out of the club as it won't be as busy as usual. I would really recommend our rok-x classes as they help you break up your daily training. Encourage yourself to do something different!
Looking ahead to the new year I will be planning more involvement with our trainers and fitness staff. We will be starting monthly challenges, a PT information table in reception and not forgetting stage 2 of the gym refurb. We are looking to build on our already amazing functional kit with even more. I am always open to ideas and preferences of, so if you would like some particular kit let me know and I can see what I can do.
Introducing The New Octane Kit!!!
If you are interested in trying the new equipment, book your stayfit. with one of our fitness coaches and learn how to use them to the fullest.
Octane Lateral X
Combining elliptical and lateral movement, the LateralX utilizes varying plans of motion to create muscle confusion for functional exercise that can build stamina, muscular endurance and coordination.
Research shows a 27% increase in caloric expenditure going from lateral width 1 to lateral width 10, and the LateralX motion represents a 30% increase in hip abduction, adduction and knee extension over traditional ellipticals.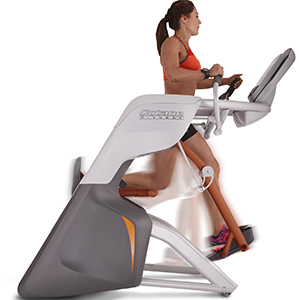 The Zero Runner
The treadmill reinvented - walk or run safely and comfortably, without impact. This state-of-the-art design replicates an exerciser's natural form but eliminates the stressful impact.
Built with cutting-edge innovation, and without a belt, deck or cord, the Zero Runner revolutionizes the gym floor and enables exercisers to maximize workout effectiveness while minimizing discomfort.
xRide
Thanks to its exclusive PowerStroke technology, university studies show that xRide users demonstrate 343% more activity in their glutes, produce 22% more mechanical power and burn 23% more calories than when using a recumbent bike at the same exertion level. That means better results for you.
Plus, the upper body is challenged by the patented MultiGrip handlebars which means you have the ability to incorporate upper and lower-body strength training.
This Month's PT (personal trainer): Shelly Ford
Skill Areas:
Reducing body fat mass
Increasing lean muscle mass
Increasing cardiovascular fitness
Improving Posture
Rehabilitating injuries
Training Target Areas:
Body fat reduction programs (training and nutrition)
Functional training
Interval training
Mobility and stability training
Strength training
With over 15years teaching experience Shelly brings both her passion and expertise to every single session to help you achieve your health, fitness and well being goals.
Shelly specializes in body fat reduction training and body transformations. Clients range from busy mums and working professionals to actors and TV personalities.
Aim to help you achieve long term sustainable results with the end goal of eventually turning you into your own personal trainer by equipping you with the necessary nutrition and correct exercise techniques.
Shelly is fully dedicated to supporting you through your personal journey as you transform, into a fitter, stronger, leaner, healthier and happier version of yourself.
Also works as a health consultant for a leading national workplace wellbeing organization.
*Do get in touch with Shelly or any other of our PTs to find out more about personal training and what it could do for you*
Samia Gomez – Clinic4Sport
Clinic4Sport is a Sports Injury Clinic who will look after you should you need Injury Treatment, Sports Massage therapy or help with putting a fitness program together to keep you injury free. The Clinic is based in the gym floor and they are open Monday to Friday 8am to 8pm and Saturdays & Sundays 9am to 5pm. Please get in touch and book an appointment online via their website: www.clinic4port.com.
November Staff Member in Focus
Name: Tess Towers
What is your job role? Duty manager
How long have you been at Roko and what did you do before? I have been at Roko for 1year and 3months. Before this I was working at a scuba diving equipment store, doing the website management and graphics. I'm also a qualified dive master.
Favourite things about your job? I love interacting with members and staff. I enjoy the sense of accomplishment knowing that I am ensuring that everything is safe for our members and that they are having a good customer experience.
Do you have any hobbies? Yes, beside training I am an avid gamer, enjoy scuba diving, drawing and painting, particularly watercolour.
What's the most interesting / unusual fact about yourself? That I am American, but I consider England my home. Also over the past 2years I've got into Olympic style weight lifting.
If you were stuck on a desert island, what would you have with you and why? I would have to have a coffee machine – because of course I'd be stuck on an island that had coffee trees and electricity!!
Café Terra News
Eric Fatah, Café Manager
W H O L E and S U P E R F O O D S still on offer. ALL at £8.99
Members can follow Eric on Instagram: @ERICSHEALTHBISTRO for great recipe ideas & inspiration.
Other News
E L E M I S 'Christmas Gift Sets' - please see reception for some W O N D E R F U L Elemis beauty gift sets which are incredible value. Elemis is the number 1 luxury British skincare brand. Defined by nature, led by science.
BOTTON clothing – new limited edition pieces available in reception. Perfect for Gifts!
May we take this opportunity to wish ALL of our members a very Merry Christmas and Happy New Year 2018!