1st August 2017 | Chiswick
Manager's Welcome
Welcome to this month's newsletter. Last month I wrote to confirm the agreed Stage 1 of our gym floor refurbishment and this month I am pleased to announce that the phase 1 work will be even bigger than we first thought! In addition to the Synergy Zone and the HD Elite Zone, we will also be installing the first stage of the Performance Zone which will include Skillmills and Wattbikes! Please click here for more details.
The gym refurb planned dates are as follows:
* Tuesday August 29th - The flooring contractor will be on site on the morning of Tuesday August 29th. There will be fairly significant disruption to the gym floor on Tuesday and Wednesday of this week with no Free Weights available on the Tuesday.
* Thursday August 31st - We plan to complete all flooring works no later than Thursday 31st
* Monday 4th September - The install of the new kit will begin w/c 4th September with the install planned to finish by Friday 8th.
We will try to keep member disruption to a minimum but please bear with us while we look to improve the facility
August also sees a much loved member of the team leaving with Liz moving on to take on an exciting new role. We wish her well and will have exciting news on her replacement in the coming week
Just a reminder to both new and long term club members, you are able to take advantage of a Rokofit. session with one of the fitness team. The session is a 1-2-1 designed for you to spend time with one of the team to identify how we can best support and assist you with your training, fitness and enjoyment. gymfit. and stayfit. are available on the gym floor; classfit. for the studios and shortly we will be able to offer swimfit. with the team from sports generation. Please see notice boards or speak to any of the team for further details and to book.
Member Forum – With August the holiday season for many I will have one member forum date this month at 6.30pm on Thursday 10th August
Warm regards,
Ben Holden, General Manager
Invite Your Friends & Family
to Enjoy 2 Weeks For Just £30 - click here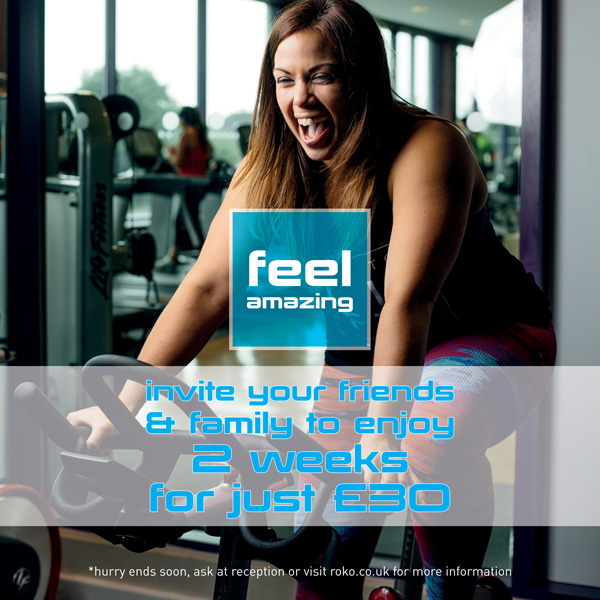 Fitness News
- Liz Jones Fitness Manager
I hope you all enjoy your summer break whenever you are able to take it! As detailed in the July newsletter there is a reduction in classes for the summer holidays. A number of classes will be covered by other instructors – our reception team will have the cover list. Please see the current timetable available on reception and website for details.
The new timetable for September will be launched from 4th September. There are a few changes including an evening aqua class!
And of course, click on the image to read more about our amazing gym refurb starting soon.

August Bank Holiday
Opening hours – Monday 28th August open 8am-8pm
Charity Fundraiser 4th August
On Friday 4th August from 5pm – charity fundraiser - a team of 10 staff and members will be doing 10,000 kettlebell swings as quick as possible whilst trying to swing as much weight as possible. Raising money for Rescue Remedies, a local charity who provide housing for homeless dogs and find them new homes. It costs 8p to house a dog for a day, we want to give more than 1 housing for a month. Please donate if you can to help motivate the team to complete the challenge!!
www.justgiving.com/crowdfunding/rokokettlebell
Maintenance Update
– Chris Nicolaou Maintenance Manager
July has continued to keep me busy around the club and some significant jobs will provide a long term benefit to all. These include:
* Allocation of two parking spaces for disabled badge holders, improving access to the club – please ensure you display your disabled parking badge at all times when using these spaces.
* Replacement of the saniflow unit in the family and disabled change after ongoing issues for months – this is partly due to sanitary products being put down the toilet rather than disposed of in the sanitary bins provided.
* Replacement of the spa and pool dosing units – part of how the duty management team manage the chemical monitoring and disinfection of the pool and spa
The Spa Beauty Salon News
– Lara Chatten Spa Manager
July Offers
Spa Day Offers:
2 x Mini Spa Days = £80
2 x Half Spa Days = £180
2 x Full Spa Days = £300
For details please see Spa Team or spa brochure.
Eyelash Extensions Full Set - £55 (£20 off)
Half Price Intensely Clean Salt Scrub with any of our massages booked
ELEMIS Targeted Toning Tightener £10 off (Booked with LARA only)
£20 off Manicure and Pedicure Packages :
Express Manicure & Pedicure £20
Gellux Polish Express Manicure & Pedicure £30
Standard Manicure Pedicure £54
Deluxe Manicure & Pedicure £58
Gellux Manicure & Pedicure £65
Gents Manicure & Pedicure £35
Fun Fact for August
Kitchen beauty treatments began in the middle ages!
Mayonnaise hair masks and coffee ground scrubs might be relatively new, but women have been using ingredients from their kitchens in their beauty treatments for hundreds of years. The ladies of the middle ages used curdled milk to treat acne, boiled nettles as a toner and cucumber juice to fade freckles!
Top Tips for the Summer
Keep hair colour from fading with vinegar – no matter your hair colour, salt water and the blazing sun can seriously dull the shade. Apple cider vinegar will brighten it back up! Just pour half a cup into a spray bottle and spritz your hair, leave on for 10mins then rinse. Use this trick every time you spend the day outside and your colour will last much longer!
Freeze aloe vera in ice cube trays for great sunburn relief
Create a coffee mask to fight the heat and decrease puffiness – mix 4tbsp clay, 2tbsp coffee grounds and 1-2tbsp apple cider vinegar and smooth over face for 5-10mins until mask hardens. Rinse face and apply light moisturiser.
August Staff Member in Focus – Jamie Baker
What is your job role?
Membership consultant
How long have you been at Roko and what did you do before?
24days. I worked in the financial and financial news sector as a briefing services executive – which is a sales type role, in a nutshell!
Favourite things about your job?
I really enjoy the face to face contact and variety
Do you have any hobbies?
I enjoy boxing, web development and shopping.
What's the most unusual fact about yourself?
I always wanted to do a skydive and I am colour-blind
If you were stuck on a desert island, what would you have with you and why?
It would have to be a coffee machine!! (there would be electricity, coffee beans and milk on the island!).
Other News
New disabled badge holder parking spaces x 2 – for disabled badge holders ONLY. Please ensure you display your badge clearly.
Please dispose of sanitary waste in the bins provided
SUMMER PROMOTION BOTOON FITNESS – till the 12th August in reception. Grab a bargain!
Have you tried the super compression leggings?
They hold, lift and wick away sweat and heat. One size fits up to size 16.
Can pay with cash or card in reception.
Designed and made in Portugal.
New collection from 12th August